Sometimes you just want a salad and a sandwich for lunch or dinner, and there are tons of places to go! From Plain Janes to Italian sandwiches to reubens, this list has every great sandwich you could could want and the salads to go with. Keep it simple or make it fancy with some added flavor and enjoy!
Updated August 2022
---
THE SPOTS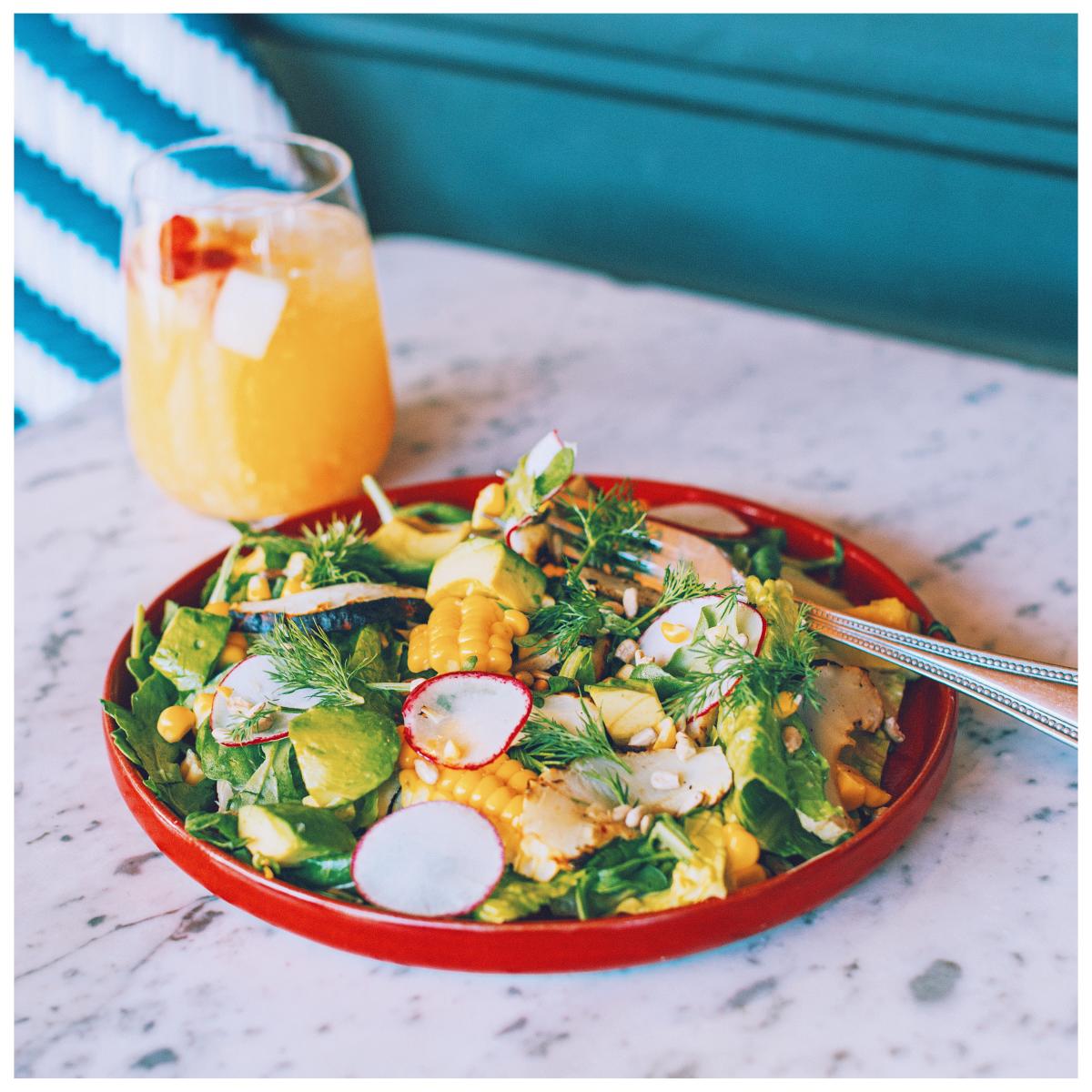 When you are craving Vietnamesse subs, bao buns and salads, try Banh Mi Station located in Sylvan Thirty. Menu highlights include their five spice banh mi and the jackfruit for vegetarians. A bonus is that many dishes are Vegan! 
---
Calling all (bread) Zeppelin lovers! This salad spot has fresh salads with marinated meats and artisian baguettes for their iconic bread bowls. Seafood lovers should try the Pacific beach signature chopped salad prepared Zeppelin style. You can order in person or via their app! 
MULTIPLE LOCATIONS | DIRETIONS
---
Coolgreen is all about healthy alternatives. The menu includes salad and wrap options such as your traditional cobb or cesar options or a seasonal Greek option. For sandwich offerings, there is a pesto chicken or one of their more popular options, the spicy avocado crunch. Not into sandwiches or salads? Try one of their grain bowls.
---
This healthier shop is similiar to Flower Child with organic ingredients and fresh flavors. ChopShop is often loved for their grilled grain bowls. There is no wrong flavor combination, but for the vegetarians of Dallas, try the green curry tofu bowl. And for early risers, Chop Shop has great breakfast options as well.
MULTIPLE LOCATIONS | DIRECTIONS
---
American Bistro Bella Green has all your classic sandwich and salad options. The grilled chicken sandwich is a popular meal with lettuce, mango ranch sauce, and avocado and a few other fixings inside. Complete your meal with a side of french fries and you are good to go! 
MULTIPLE LOCATIONS
---
All we can think of is the kale salad at Flower Child when debating favorite salads and sandwiches! The kale salad has apples, graprefruit, black currants and is topped with apple cider vinegrette- Yum! Compliment your meal with mac n cheese or their seasonal brussel sprouts for something extra filling. 
MULTIPLE LOCATIONS
---
The best part about the Eatzi sandwich and salad scene is how you can customize! With great breads, spreads, and toppings, there is something for everyone. Pro tip: order your custom sandwich or salad online so you can bypass the long lines.
MULTIPLE LOCATIONS
---
With a heavy sandwich focus, East Hampton has an extensive menu of signature sandwiches and even lobster rolls. The turkey, bacon, avocado sandwich is a fan-favorite. Gluten free wraps are available too. The breakfast menu is also quite popular and each item can be served as a sandwich or a wrap. 
MULTIPLE LOCATIONS
---
Freshii is a Canadian based food franchaise. The most popular salad is their Fiesta with everyone's favorites like cheese, avocado, black beans and more. Sounds yummy! 
---
Located in a historic building downtown, The Hospitality Sweet has a variety of sandwiches, soups and pastries. The Havarti Apple Panini is a scrumptious vegan sandwich. Their sandwiches pair great with their daily specialty soups too. 
---
Serving up subs, salads and ice cream, Great Outdoors is the perfect spot for something savory and sweet. The Rueben on Rye is a must-try for Rueben lovers. Pair this sandwich with reuben dressing for the full effect! 
MULTIPLE LOCATIONS
---
Jersey Mikes has turned into a household name with their classic sandwich options and mike's way topping. There are hot or cold subs with just about any deli meat you could imagine. Jersey Mikes is also perfect for picky eaters who prefer a custom sandwich option! 
MULTIPLE LOCATIONS
---
Jimmy's is one of the best kept secrets of the Italian Dallas food scene. The meatball sub is an Italian classic on its delicious bread and fresh, juicy meatballs. Complete your meal with an ooey gooey cookie from the market! 
---
With Latin inspired sandwiches, crepes, salads and more, Latin Deli is located in Dallas off Abrams. Menu highlights include the tomato mozarella sandwich, green sandwhch and the nutella crepe- of course! 
MULTIPLE LOCATIONS
---
Mendocino Farms is all about delicious and fresh salads and sandwiches.The Not-so-fried chicken sandwich is a menu standout. On a ciabatta bun, this sandwich is filled to the brim with mustard pickle slaw, krispies and of course shaved chicken breast. If you are not feeling the trek downtown, order on a food delivery service such as Uber Eats who often has free delivery for this beloved lunch spot.
MULTIPLE LOCATIONS
---
With a full and nutritious menu, Mod Market has all the things! Their sesonal menu includes new entrees, sides and even pizzas. On their summer menu, try the chile steak sandwich. A bonus is that they offer free delivery with orders over $35. 
MULTIPLE LOCATIONS
---
Offering over 30 sandwich combinations, New York Sub has too many good options. Labeled "amazingly good," the italian sandwich needs to be ordered on your next visit. 
---
Patina Green is a lifestyle market and restaurant. Their menu includes a Hickory Smoked Ham sandwich, with Smoked Cheddar and Jalapeno Peach Jelly, on Jalapeno Cheddar Sourdough. How delicious does that sound?
---
The Porch is a Henderson staple and their buttermilk ranch salad is just that! With extra creamy ranch dressing or honey mustard dressing, the salad is prepared with blue cheese, tomatoes, avocado bacon and fried chicken nuggets this salad is perfectly filling and delicious.
---
Roly Poly is another great sandwich and salad chain in Dallas. The seasonal blue watermelon salad is a great option during the spring and summer heatwaves when you are wanting something refreshing. 
---
Salata is all about customization! The salad bar is customizable with three size options and lots and lots of toppings. Ideal for a picky eater! 
MULTIPLE LOCATIONS
---
During your next visit to Sandwich Hag, order the ginger tofu banh mi at this Vietnamese spot. You can dine in, get take out, or delivery, but we love enjoying our meal on their quaint patio. 
---
Another great, customizable salad spot is Snappy. Out of their pre-made options, the buffalo chicken is a flavorful favorite. Snappy Salads also has a great reward system so be sure to download their app for rewards.
MULTIPLE LOCATIONS
---
The Corner Market has been awarded numerous accolades for their sandwiches. Offerings include cold and hot sandwiches, along with premade chef's case options. From the hot menu, the Melrose Chicken sandwich is an awarded favorite. 
---
This local comfort cafe is open for breakfast and lunch with two great, full menus. The lunch menu includes a tuna sammie wrap that is a must for all tuna lovers. 
---
This electic spot in Deep Ellum is full of "sammiches," snacks and burgers. The shaved ribeye is perfect for meat eaters on a baguette! 
---