San Antonio may be known as the historic Alamo City, but boy do they know how to bring the party. From swanky speakeasies and rooftops to riverside patios and wine bars, there is a bar for every kind of person to find their drink of choice. Use this list to plan your relaxing patio moment or rowdy night out!
Updated April 2021
---
THE ESQUIRE TAVERN

Serving classic cocktails since 1933, The Esquire Tavern is San Antonio's oldest bar. Set on the Riverwalk, this bar has a classy vibe with a dark and moody ambiance, perfect for a date night. Head downstairs to lounge right on the river or grab a drink upstairs at the longest wooden top bar in Texas! 
Photo courtesy of The Esquire Tavern 
---
STERNEWIRTH

In the Pearl District at Hotel Emma, Sternewirth is one of the hottest bars in all of San Antonio. The vaulted ceilings and historic cellar give it an industrial vibe with a southern flare. Sit back and relax at the swanky bar serving craft cocktails from Apple in the Alley to their signature Three Emmas drink that even has a scandalous story behind it! 
Photo courtesy of Sternewirth
---
BAR 1919

Can you keep a secret? With its classy feel and jazzy vibe, this speakeasy style bar will take you back to the prohibition era. Once you find the hidden entrance, go down the dimly lit stairs and find top shelf liquor, fun drinks from a blue grass fizz to an upside down pineapple. 
Photo courtesy of Bar 1919 
---
LITTLE DEATH

Down on the St. Mary's Strip, Little Death is not your mainstream wine bar. With its bright colors and murals lining the exterior, you're in for an unconventional wine tasting experience. Prepared for your taste buds to be wowed, as you won't find these unique wines at your local grocery store.
Photo courtesy of Little Death
---
HOWL AT THE MOON

Down on the Riverwalk, this bar is the life of the party. Split one of their tropical buckets with friends while jamming out with the live performers on stage. Dance the night away under the disco ball and even howl at the moon if you please! 
Photo courtesy of Howl at the Moon
---
PARAMOUR

Set in the Museum District on the River Walk, this bar will make all your rooftop dreams come true. Paramour brings the playful energy, with its bright velvet couches and abstract paintings lining the walls. The neon signs illuminate the rooftop, just waiting for that Instagrammable picture to be taken. Be sure to attend their drag brunch and latin night for an extra spicy time!
Photo courtesy of Paramour
---
HIGH STREET WINE CO.

In the playful Pearl district, this wine bar has some high standards. The corner bar with an open patio keeps it light and airy, while the interior has a modern touch. Split a flatbread or charcuterie board with friends while sipping on a wine flight or a refreshing glass of cider.
Photo courtesy of High Street 
---
THE MODERNIST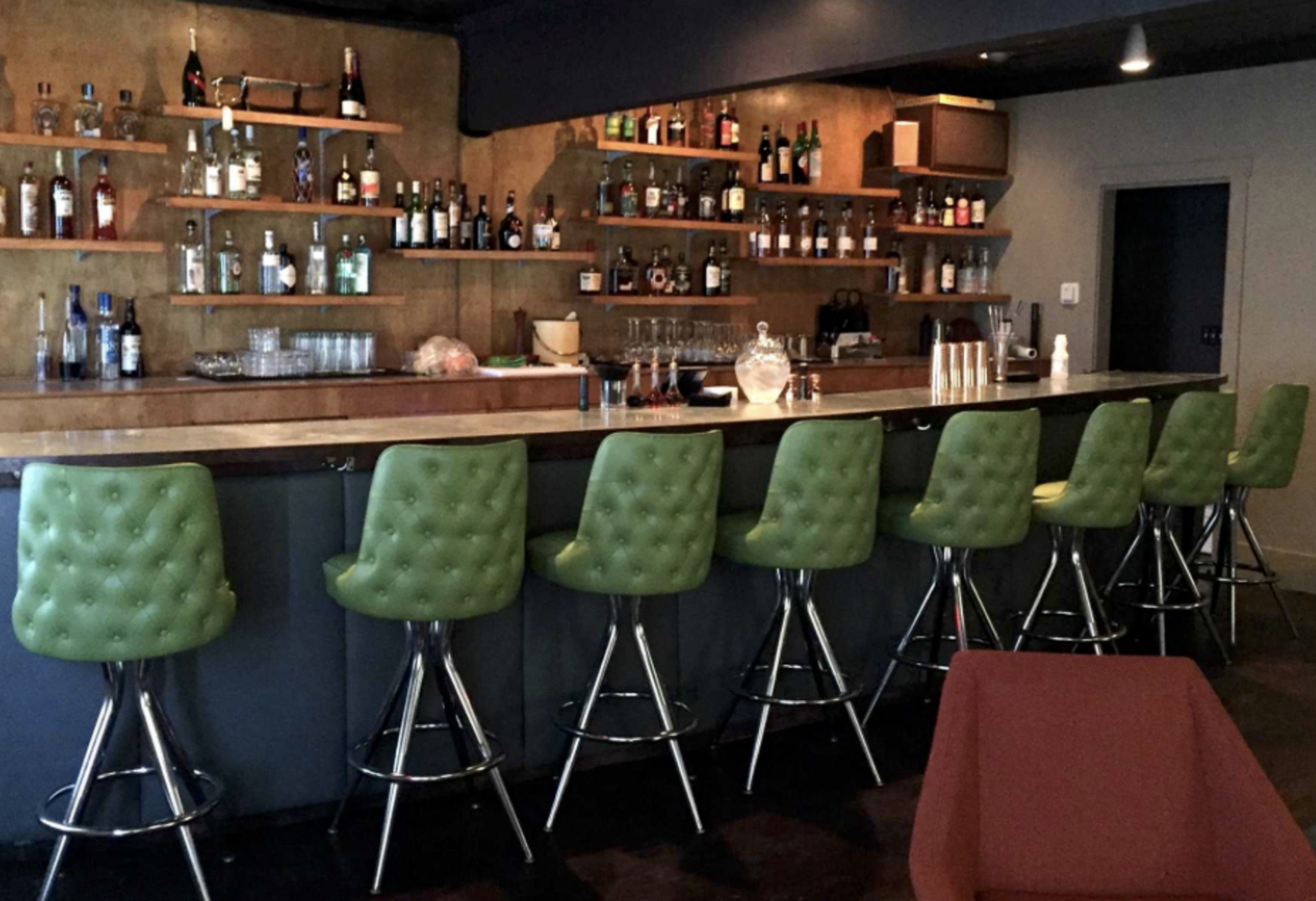 As soon as you enter the mint green door of this cozy house turned bar, you'll feel like you've traveled back in time. With its midcentury modern aesthetic and bright decor, it gives off major 70's vibes. Instead of order a drink off the menu, tell the bartender what you like and they'll personalize a cocktail just for you!  
Photo courtesy of The Modernist
---
ALAMO BEER CO.

Named after the famous Alamo, this is not just a brewery, but an open concept beer hall. Serving up some of the best beer in town, pair your local brew with a giant Bavarian pretzel and bier cheese dip. After a few beers, go embrace your competitive side with a game of corn hole on the lawn with friends! 
Photo courtesy of Alamo Beer Co.
---
THE FRIENDLY SPOT

This ice house in Southtown is THE neighborhood gathering place. Their friendly hour lasts all day long, so bring your entourage and chill out on the patio for a drink and some good old Vitamin D. With a dozen TVs to watch the game and a large kids play structure, there is fun for the entire family!
Photo courtesy of The Friendly Spot 
---
GEORGE'S KEEP

Just north of town in the elegant Eilan development, George's Keep will definitely catch your eye. Feel like you've been whisked away to France with the European style buildings and fountains surrounding the property. From a classic old fashioned to fun drinks like Peach Betta Have My Money, they have cocktails for every type of person!
FAR NORTHWEST SIDE | DIRECTIONS 
Photo courtesy of George's Keep 
---
SANCHO'S

In the Five Points district, Sancho's is a rooftop bar, cocina and cantina all in one. Serving mouthwatering Mexican eats, order a plate of empanadas to go with your margarita or Mexican beer as you enjoy the live music playing out on the patio.  
Photo courtesy of the Sancho's
---
BANG BANG BAR

This local spot is a dive bar with a vintage twist. Picture vinyl records spinning to your favorite songs with mismatched furniture for an eclectic flare. Kick back and relax or play some ski ball in the game room and be sure to order the house specify shot that comes with pop rocks!
Photo courtesy of Bang Bang Bar
---