Football season is officially here! Will this be the year UT Longhorns win it all? No matter what, we are so excited to kick this season off! We're celebrating by rounding up 35+ spots around town where you can catch games on the big screen all season long! Whether you are a Longhorn fan or not, Austin has lots of fun, rowdy places where you can watch several games, and enjoy food, drinks, and good music

Updated September 2023
---
MORE SOUTH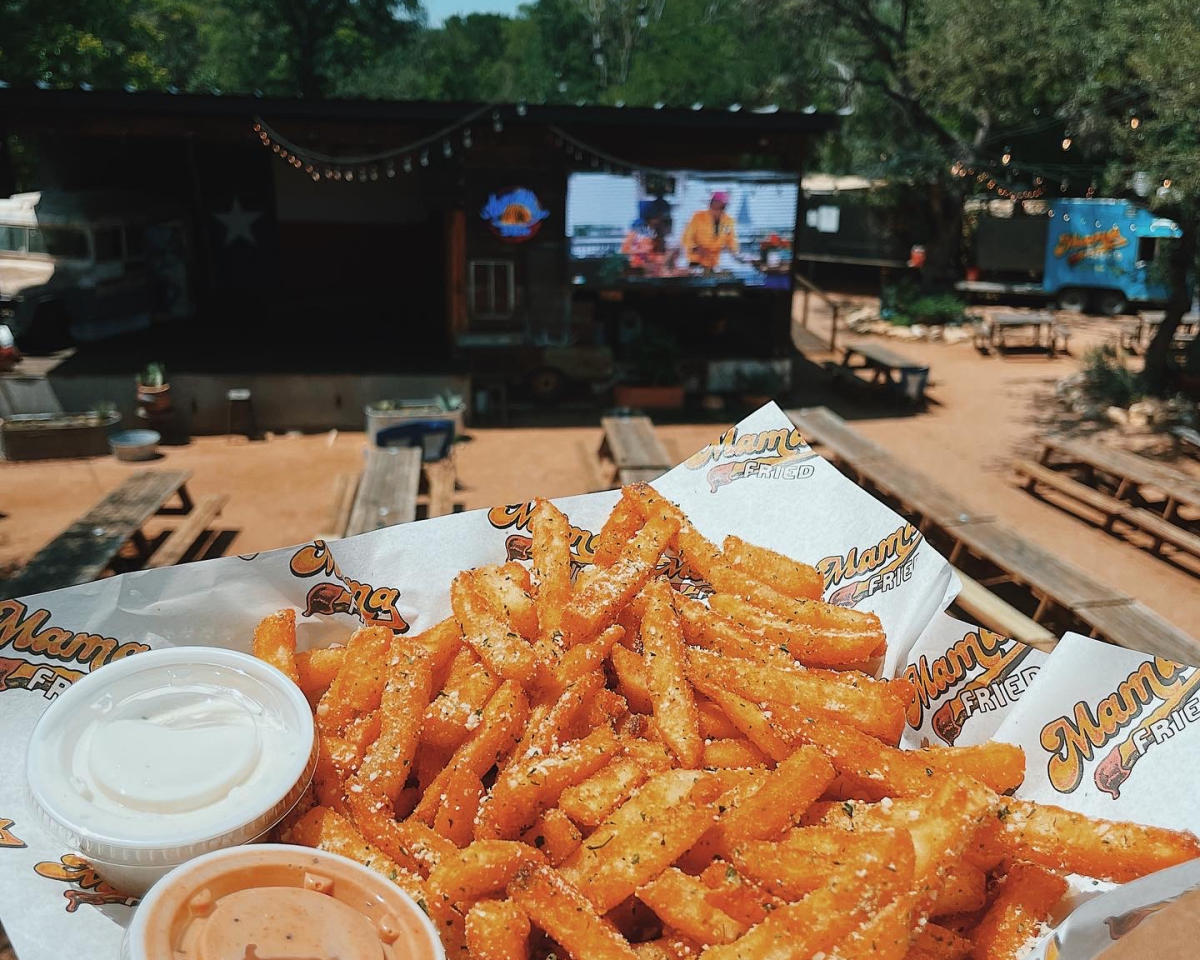 This spot is your go-to neighborhood bar, with several food trucks, delicious drinks, fun yard games, and more! They also have a large dog park so that you can bring your pup while you kick back and enjoy the game. (Pictured)
This spot is very similar to sister restaurant Haymaker, and it has incredible indoor and outdoor spaces! Make sure to stop by on Saturdays and Sundays for their drink specials.
 
Bouldin Acres is an enormous beer garden with a barbecue trailer, two pickleball courts, and a massive warehouse-like indoor bar! Take a seat wherever you please and enjoy a lively crowd at this casual spot.
This low-key bar features on-site trucks of barbecue and Thai food to pair perfectly with your draft beer and game! Catch your football team airing here along with your soccer, baseball, basketball, and other teams here.
This spot has all of the sports, all of the time, with weekend brunch too! Enjoy the game indoors or outdoors on their patios and build your perfect mary or mimosa to sip on.
Kick back at Doc's outdoor or indoor beer garden, sample a Texas craft beer, and grab some good pub grub! They also have a fire pit and a patio that's great for those cooler nights.
Kick back on the expansive patio with colorful shades and good vibes! While you watch, check out all the different cuisines from their food trucks, from street tacos and juicy burgers to coffee and pastries.
Indulge in bold burgers and endless shareables that make for the best game day grub! With TVs that are in view of practically every seat, you and your crew can truly catch the whole game.
Wings, beer, and football...need we say more? Get cozy in a booth and keep them coming while you cheer on your team with your friends!
Toss Pizzeria & Pub has huge slices of New York-style pizzas, craft beers, a full bar, and a large outdoor patio! With giant TVs, washers, and cornhole, it's the perfect entertainment hub for you and your group.

CENTRAL AUSTIN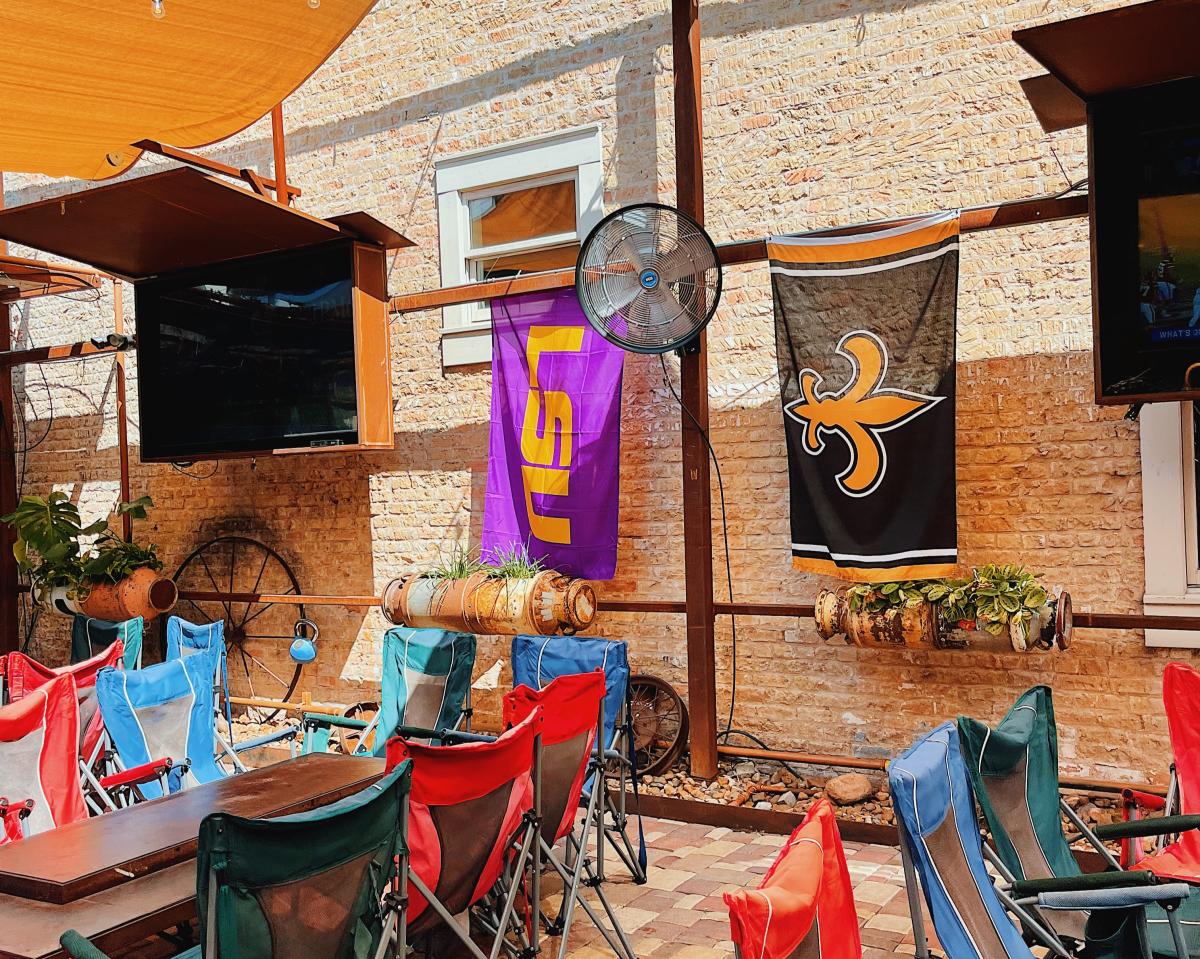 At UT's West Campus bar, you'll find die-hard Longhorns, tasty pub grub, and a large selection of tap beers! Sit out on their spacious patio and order some Abel's sliders and a cold draft beer for a great time.
El Patio is a family-owned Tex-Mex spot with good tacos, great margs, and a laid-back setting! Come for the margs and stay for the game!
This mini-chain has several locations where you can catch all sorts of sports games, from football to basketball to baseball to hockey! Find a spot in their indoor and outdoor spaces and order some food from their on-site restaurant, Thunder Chief.
With a backyard patio that's built for a good time, you can enjoy the game on some cozy outdoor furniture with your fur baby! Their patio bar and yard games are sure to keep you staying a little longer after the game is over.
From TVs and projectors to a turfed yard and a full-service kitchen, Parlor & Yard is where it's at! Lounge around with board games, beer, and your besties here.
Step inside this Western-themed bar for a lively late-night vibe, bar games, and more! Enjoy the game and then enjoy the night celebrating your team's victory at The Ranch!
This Texan patio bar has over 20 draft beers, lawn games like a giant beer pong, HD TVs, and more! The Rustic Tap is also home to LSU, Cincinnati Bengals, Houston Astros, and New York Rangers fans. (Pictured)
Get your Cajun fare and Louisiana sports fixings at Shoal Creek Saloon! Take in the views of Shoal Creek on their patio with fresh crawfish and a game of the Saints, Tigers, Pelicans, and Houston Astros.
Catch some football at this fun ping-pong bar with 10 tables, big-screen TVs, lots of seating, and huge, colorful murals! If you want to host a watch party with friends, take advantage of their VIP lounge with its own bar and covered patio. 
The stars of the show here are pizzas galore, epic bloody marys, and 3 spacious patios! Head to Star Bar when you want to catch all of the football and hockey games.
Watch any sports game on one of their many screens and enjoy their daily happy hour specials! The Tavern is the spot for fans of the Cowboys, Texans, and Chiefs, as well as soccer fans of FC Barcelona.

EAST AUSTIN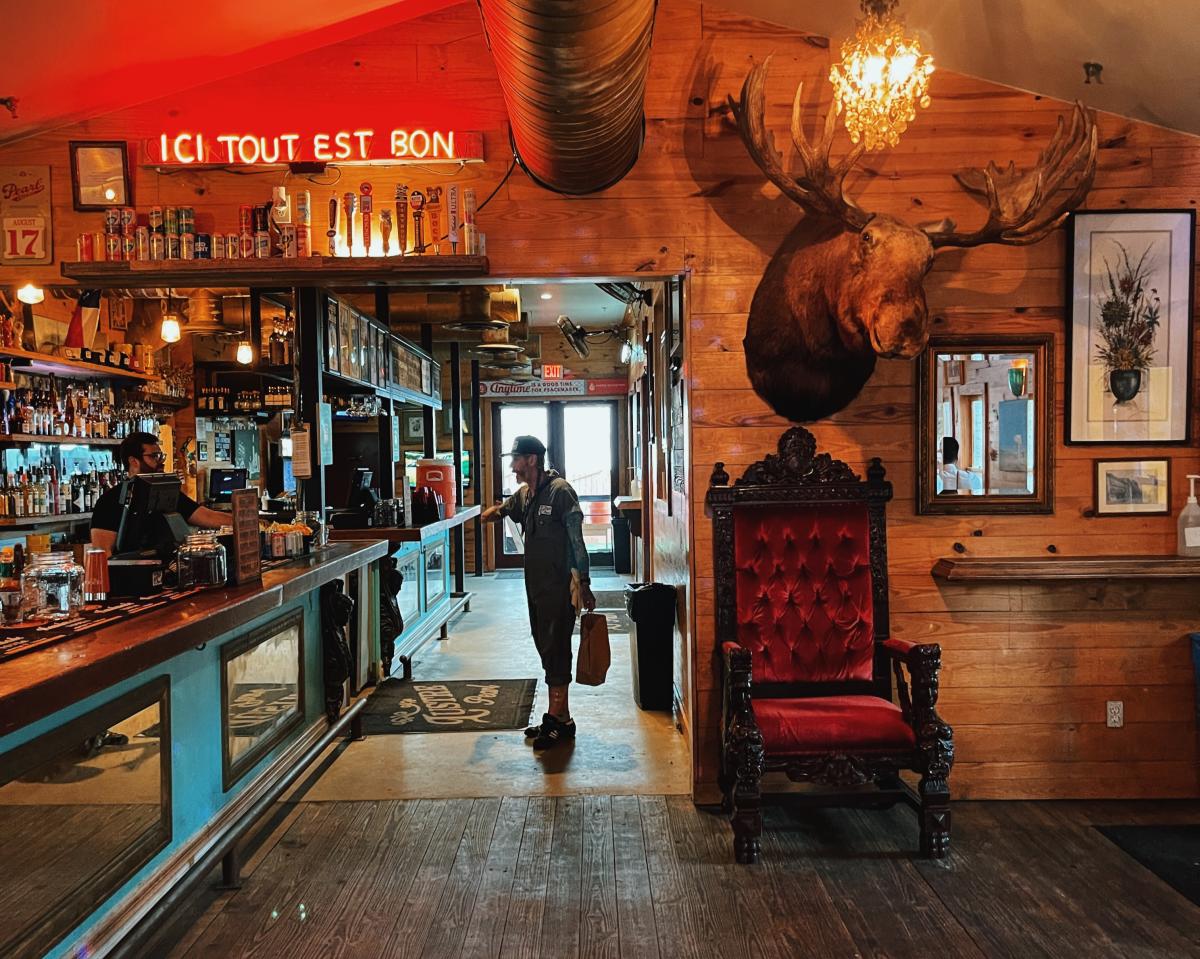 Eastside Tavern is a rustic tavern with a patio and a rooftop deck, serving smoked meats and hearty sides! Order the Brunch Punch or Big Sip Energy for your crew before the game starts.
A duck and dog-friendly bar with a huge patio, wings, cocktails, draft beers, and more! Keep the fun going with a claw machine filled with rubber ducks and a photo booth in the backyard.
Take a step into an old converted home with a huge backyard, picnic tables, and a cute jukebox! Enjoy drinks, snacks on snacks, and games at Lustre Pearl East. (Pictured)
This award-winning neighborhood bar has all of the retro vibes! Head to this dive bar in the fall for cozy seating, Detroit-style coneys, sliders, wings, and more.
With 9 TVs to catch your fave games, a dog-friendly ambiance, and two large patios, you and your friends are set for a good time! P.S. They show all UFC Fight Night's with no cover.

MORE NORTH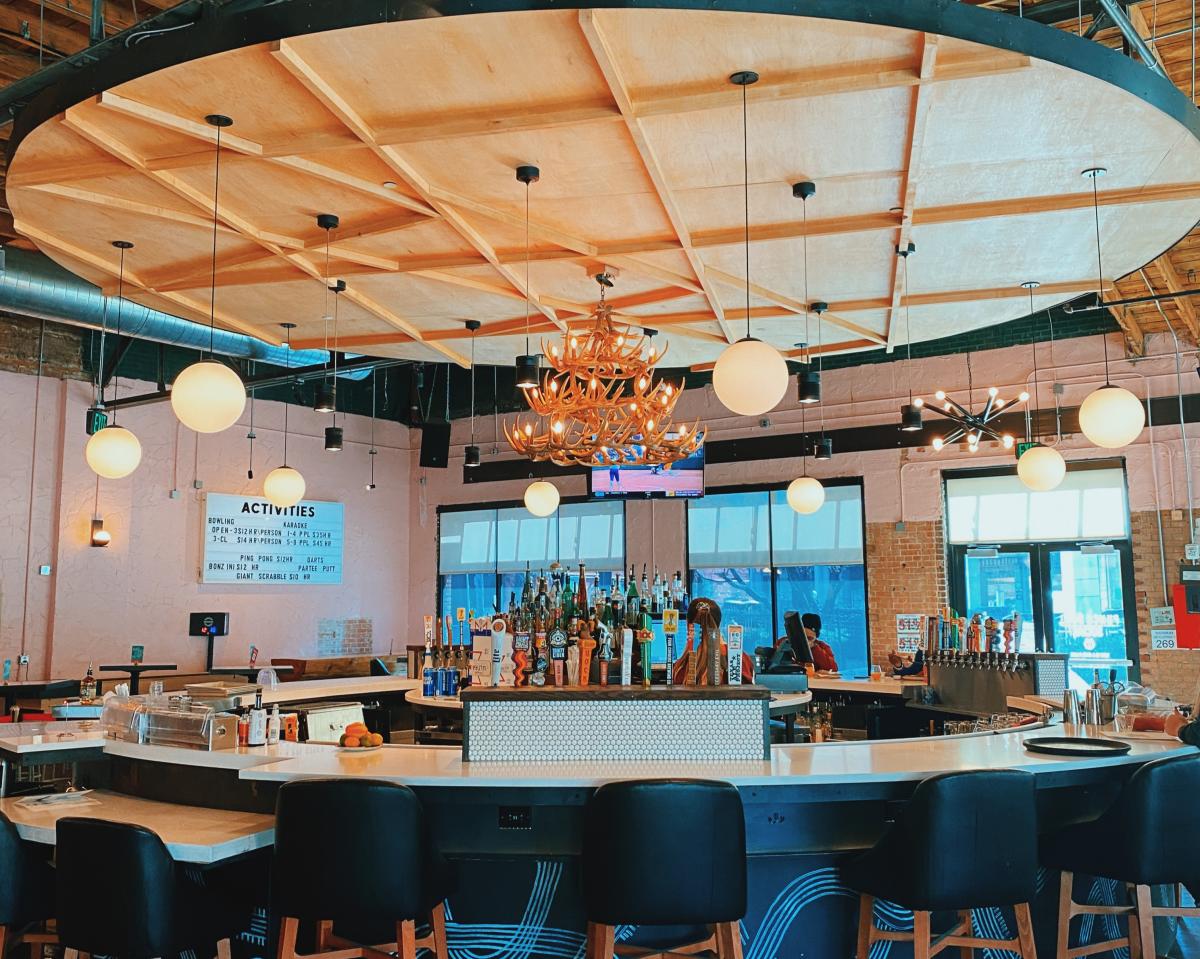 Known as one of the top 10 Irish pubs in America, this spot is home to Austin's official Liverpool FC supporters, New England Patriots, Notre Dame, UT, and Austin FC fan clubs! Indulge in classic pub foods, pints of your fave brews, and Irish comfort while you watch.
The Brass Tap offers over 200 craft beers, a neighborhood atmosphere, and an open-air patio! You can also come in for flatbreads, burgers, quesadillas, and more good game-day grub.
Hang out in the casual and open-air patios with plenty of space and good grub! Dogwood's menu ranges from chicken and waffle sliders to their famous Dogwood burger that's topped with fried green tomatoes, smoked bacon, and queso.
Drop into Culinary Dropout for lively energy and delicious bites! Dig into their famous soft pretzels with provolone fondue and take a seat in their spacious indoor or outdoor seating for the best time.
This perfect spot for drinking good beer and grubbing on some Neapolitan-inspired pizza from a food truck! Grab one of their many picnic tables, gather your squad, and bottoms up.
Specializing in regionally-inspired sandwiches and serving craft beers, Haymaker a great place to enjoy the game! Although it's not known as a sports bar, this saloon has the perfect chill vibes to enjoy watching sports.
Come for great food, endless entertainment, and delicious craft cocktails! Here, you can both play games and watch them! Make sure to pair your game with one of their giant punches, perfect for the whole crew. (Pictured)
The Pitch is located right by to the Austin FC training facility and has four restaurants, two bars, and more. You can find plenty of room and options to choose from, plus you're sure to find a TV with your team's game on!
This family-friendly beer garden is perfect to watch some football with the whole fam! They offer delicious burgers, bar bites, and self-pour beer, so there's truly something for everyone. Create your own drinks by the ounce and kick back and relax!
Revelry is a locally-owned neighborhood kitchen and bar that has two expansive patios, that are both dog-friendly and game-watching-friendly! We recommend ordering some crispy shishito peppers and baja tequila tacos while you watch!