Football season has officially kicked off and lots of you are asking for wing recommendations. What is better than wings and a cold beverage on game day? To celebrate the big football weekend, we have rounded up 16 spots with the best wings in town!
Updated June 2023
---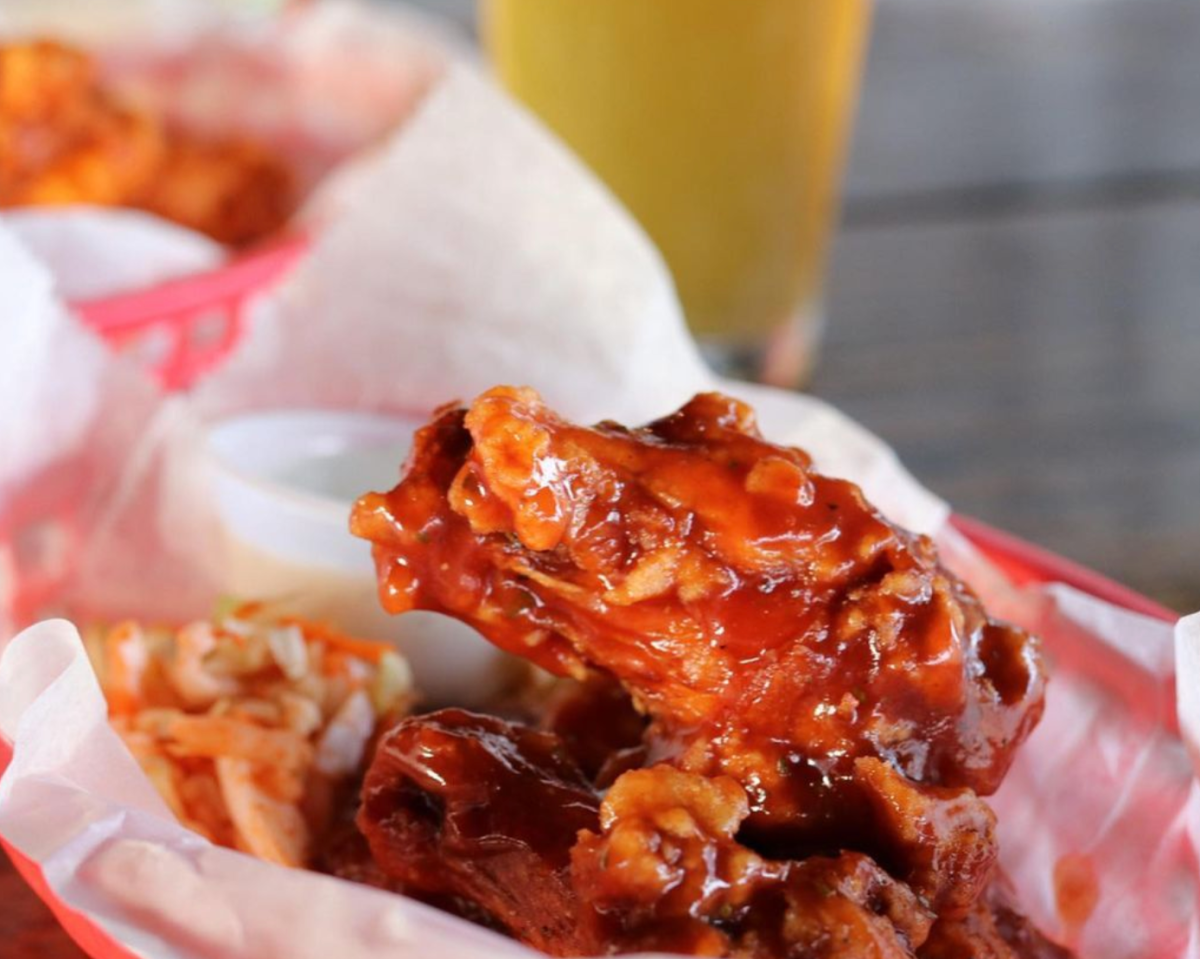 photo courtesy of Black Sheep Lodge
A classic Austin go-to! Black Sheep Lodge is a locally owned and operated neighborhood bar and grill in South Austin with some of the top-notch spicy wings in town! Choose from ten of their flavor-packed flavors Hot Chipotle, Medium Buffalo, Mild Buffalo Teriyaki, Barbecue, Roasted Garlic Buffalo, Garlic & Herb, Lemon Pepper, Ranch, and Nashville Hot Dry Rub. Pair them with an ice-cold beer, and you'll be set!
South Austin | Directions
Le Blue is a small locally owned business, that just wants to make good eats to serve the great people of Austin. Probably not what you would expect to be on this list, but their crispy wings with passion fruit garlic-chili fish sauce, fried garlic, sesame seed, green onion, and radish will blow you away with every bite! For those feeling a little adventurous, add an extra kick of spice with a dab of Sriracha if you can handle the burn!
North Austin | Directions
This dive bar serves elevated New Orleans-inspired pub food, including phenomenal wings doused in their monthly sauce special! With their savory sauces rotating every month, you'll want to stop by regularly to try every NOLA-inspired flavor they've got to offer. The Cavalier even has cauliflower wings for all our vegans out there, so you can get your 6 crispy and juicy wings any way you like!
East Austin | Directions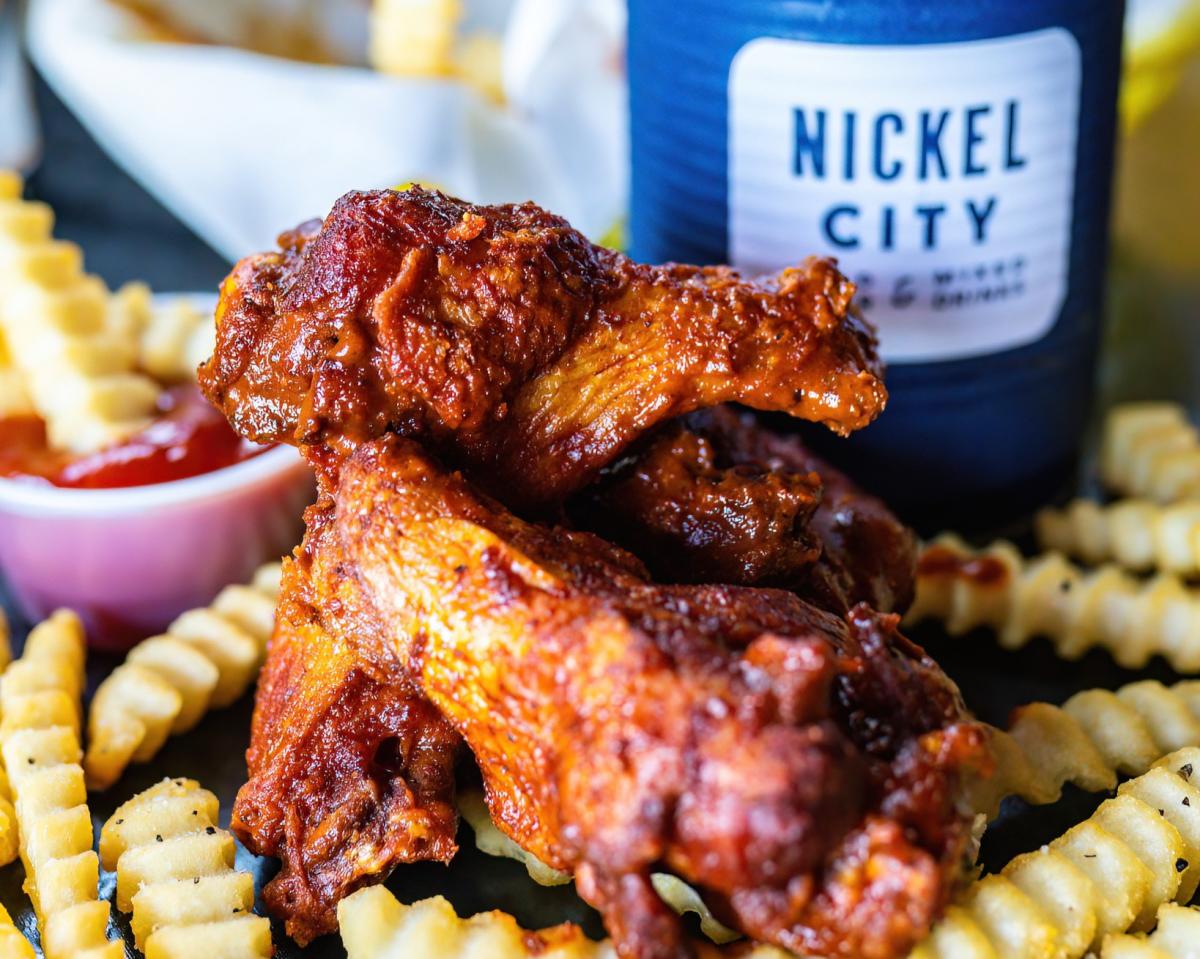 photo courtesy of Del Ray Cafe
Housed at the infamous Nickel City, Del Ray Cafe is a food truck that serves up buffalo-style wings, as well as, mild, spicy, and Franklin BBQ options! To dip, or not to dip, that is the question. Find your truth on Wing Night, where your favorite fried birds are just 99 cents a pop starting at 6 pm every Monday!
East Austin | Directions
Bringing a little Korean twist with lots of sauces including Sweet and Spicy, Peach Habanero, and Honey Garlic Parmesan! Make it a combo and add two sides, from crispy tater tots to giant onion rings. Hiwings is sure to hit the spot every time, so make sure to bring all your wing lovin' friends here next!
North Austin | Directions
This local dive bar has a grand list of wing choices, all smoked first of course! Try their lemon pepper, buffalo, honey jalapeño, cajun parmesan, or ghost chili sauces! Pair them with a draft cocktail, beer, or wine, and hang outside on the large dog-friendly patio. With plenty of games to play and space to chill, you can find a spot to kick it with your crew at the bar, in a booth, or at the pool table! 
Multiple Locations | See Locations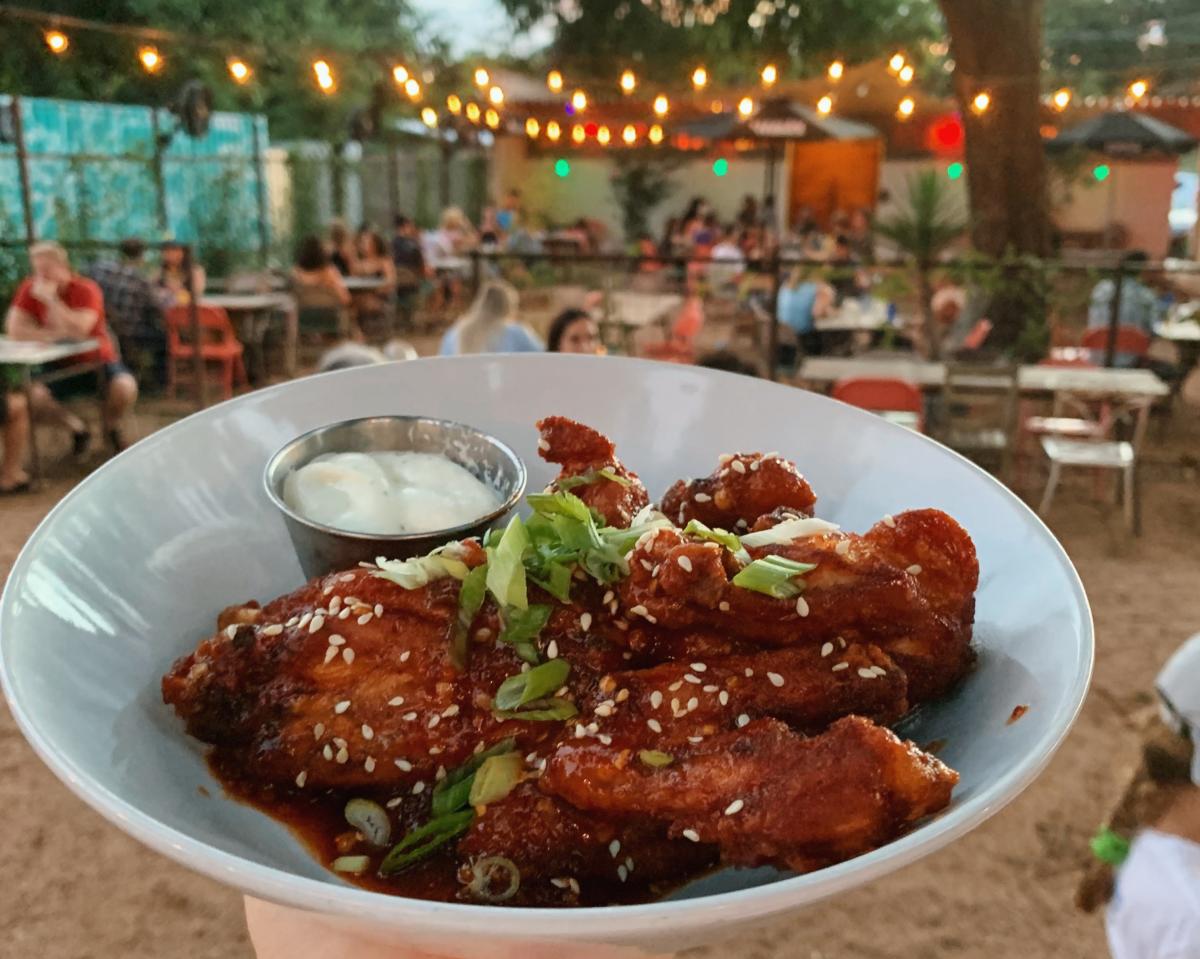 One of our favorite patio setups with big tables, mister fans, and wings on the menu! Choose from dry rub blackened ranch, smokey habanero Valentina glaze, and spicy tamari glaze wings! Dip it in their Lime Ranch Dip for a life-changing experience. Come and enjoy lunch with your friends (or pup), sip on a cold brew while sending some emails, or have a cocktail or two.
East Austin | Directions
Another Korean twist! Known for their dynamite sauce, miso chili, and salt and pepper-styled wings, these flavors will not disappoint! They also have a wings platter that contains 15 fried and crispy wings if you're wanting to try all of the flavors..or share with friends.
Central Austin | Directions
A downtown Austin sports bar with wings and all of the things! Looking for a spot to watch the game that has all of the essentials, from ice-cold beer to classic wings and apps? Lavaca Street Bar has you and your crew covered!
Central Austin | Directions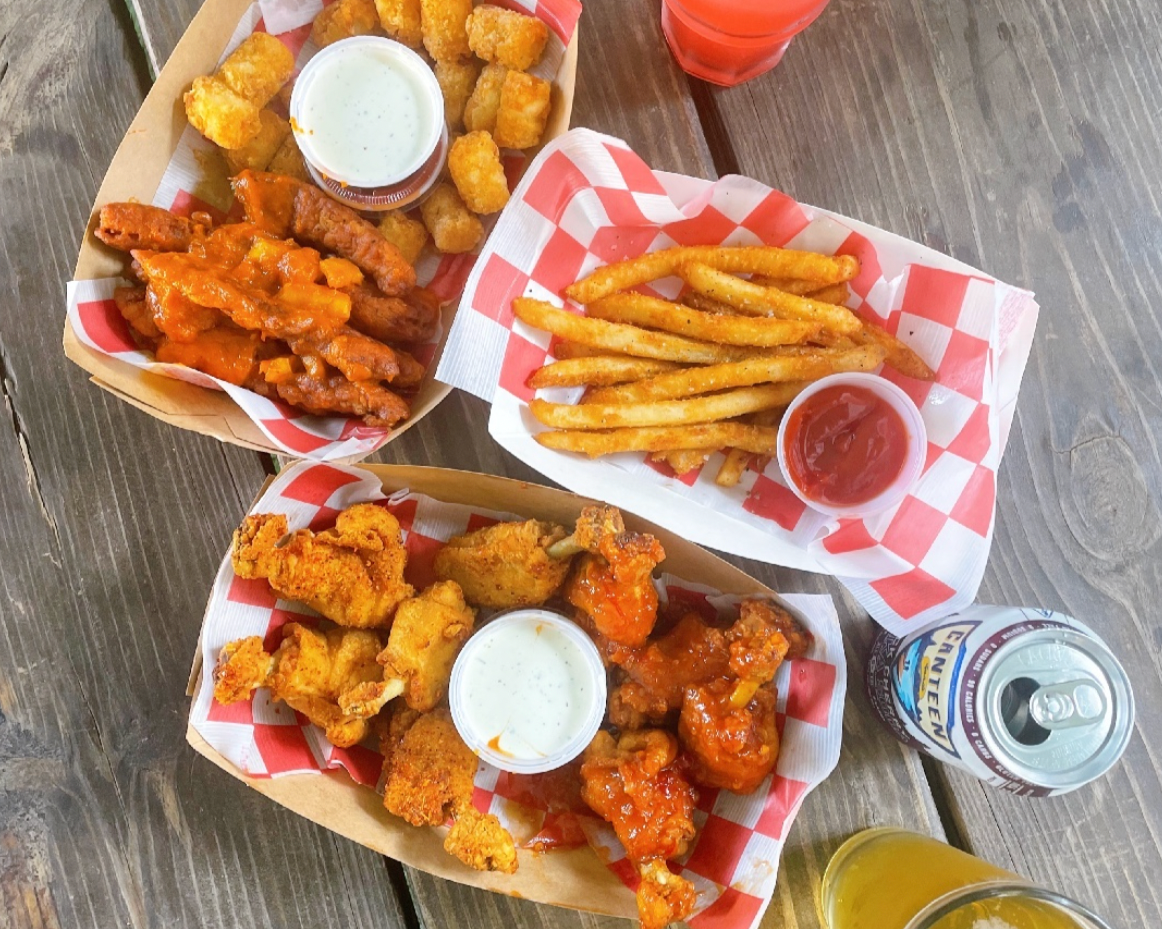 photo courtesy of Lustre Pearl
Lustre Pearl has a few locations across town and is great for game day or Wing Wednesday! They offer 6 wings for $7 and have happy hour specials every Monday through Thursday from 11 am to 6 pm. So stop in and have a cold beer to cool off and wash down your spicy wings with!
Multiple Locations | See Locations
A classic chain that arguably has the best wings in the game. Plus, it is an easy spot to grab and go if you are watching the game at home!
Multiple Locations | See Locations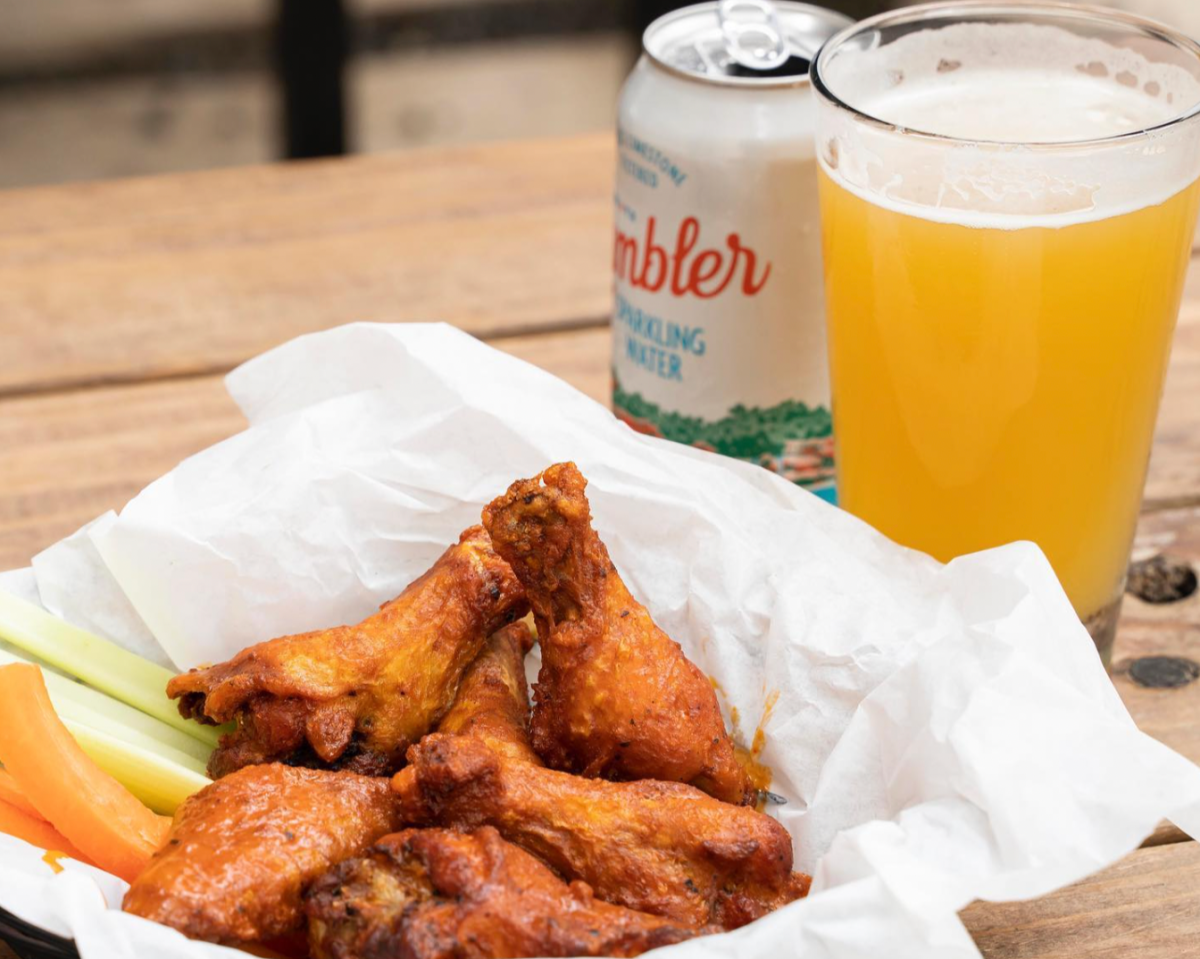 photo courtesy of Revelry Kitchen + Bar
A neighborhood spot serving up classic brunch and dinner favs, and really good wings! If you're in the mood for something sweet and savory, give their waffles and chicken wings a try. It's definitely worth the hype!
6th Street | Directions
A long-time Austin favorite. Get fancy with it and order the Tavern's wings wrapped in bacon and covered in jalapeños, or keep it classic with Buffalo or BBQ - you can't go wrong!
12th Street | Directions
If you're looking to up your chicken wing game, there's a spot downtown you'll most definitely want to try! Tommy Want Wingy is located next to Lustre Pearl off Rainey Street. They make the best chicken lollipops and have everything from lemon pepper to sweet chili to buffalo and beyond!
Multiple Locations | See Locations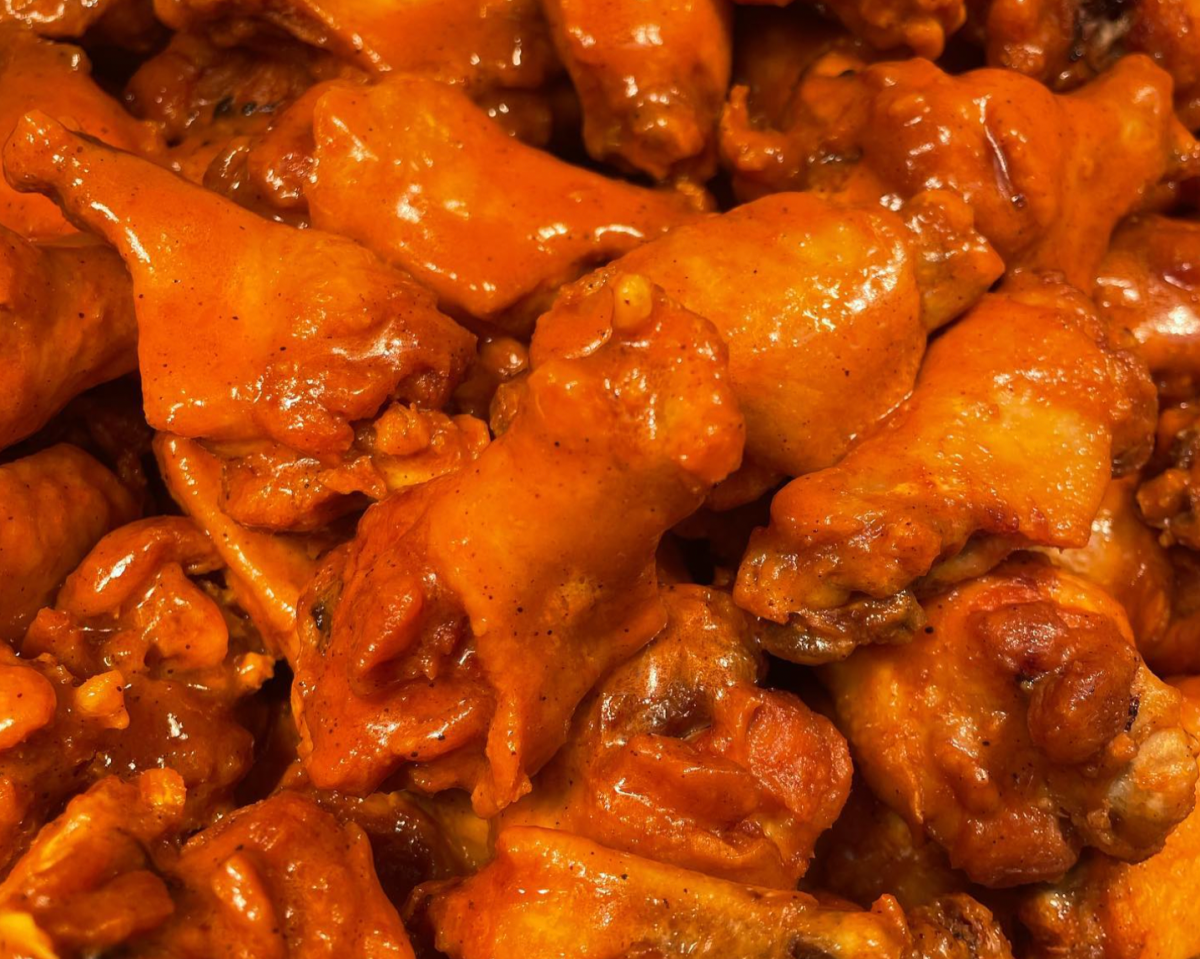 photo courtesy of Wingzup
Wingzup is a classic sports bar with 6 styles of wings, 28 homemade sauces, and good cold beers! Get your wings sauced up with flavors like curry, sweet and garlic, and our personal favorite, Korean sweet chili.
Central Austin | Directions