One of our favorite sports bars, Goodbye Horses, is getting geared up for all the festive fun with their Christmas pop-up! If you're looking for a fun and casual vibe with all the holiday sips and decor to put you in the Christmas spirit, make your way over to Goodbye Horses!
Updated December 2022
---
Goodbye Horses opened earlier this year from Julian Barsotti, Chef behind local Italian favorites, Nonna and Fachini. A new direction for the restaurateur, Goodbye Horses is a local sports bar with a menu of scratch-made bar bites and low priced drinks! Barsotti ditched the frills and flare and wanted this to be a place for anyone and everyone to come and enjoy each other's company.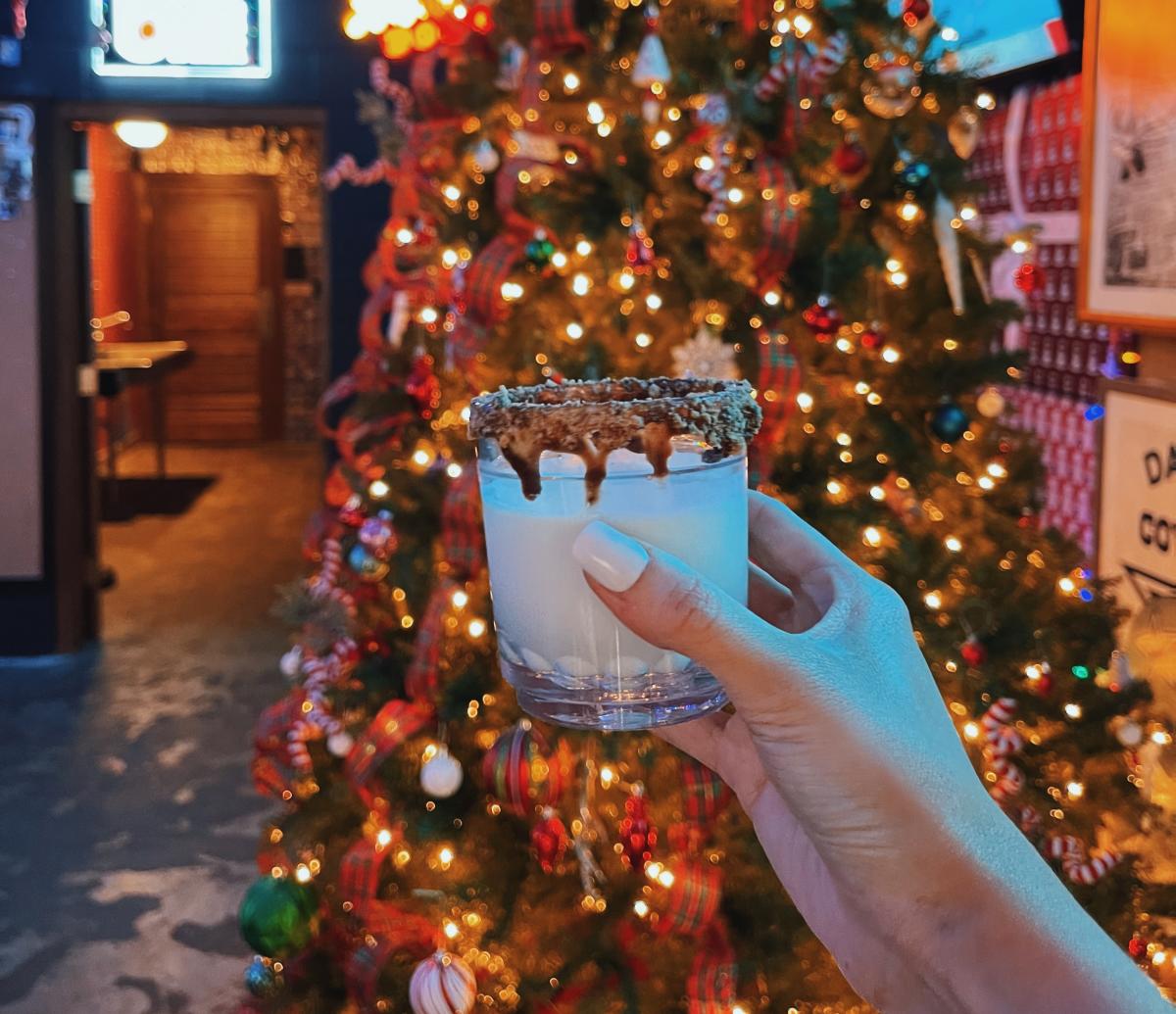 CHRISTMAS POP-UP
Get in the Christmas spirit at Goodbye Horses' Christmas Pop-up! Sip on a full menu of Christmas cocktails and shoot back a seasonal shot. You can even decorate a stocking to hang up on the bar! The space is completely decked out in festive decor from all the Christmas lights to the massive Christmas tree… step inside this sports bar meets winter wonderland or head out to the spacious patio with trees lined with lights and plenty of seating!
 
HOLIDAY COCKTAILS
Come try Goodbye Horses' Christmas cocktail menu featuring 5 seasonal sips & shots! We swung by to try a few and were obsessed with not only the flavor but the over-the-top garnishes and holiday cups! Our faves:
 
The Filthy Animal / Vanilla Vodka, Kahlúa and Cream with a Candy Cane Rim
GIN-GLE Bells and Tonic / Gin, Lime, Cranberry, and Tonic
Peppermint Espresso Martini / Vanilla Vodka, Baileys, and Cold Brew with a Chocolate Rim and a Candy Cane
Not My Gumdrop Button / Titos, Lemon, Simple Syrup, and Cranberry Juice with a Sugar Rim
Santa's Special Sauce / Jameson, Eggnog

If you're looking for something stronger, be sure to order The Grinch Shot or our personal favorite was Santa's Cookies!
 
Grab your holiday crew and make your plans to visit Goodbye Horses' festive pop-up for a date night, girls night or happy hour!
---
YOU MAY ALSO LIKE