We recently visited Lake Travis outside Austin for a weekend lake trip so had to spend an evening at the famous 4-story food & entertainment destination, The Oasis on Lake Travis with 65,000 square feet of restaurant, lake views, shopping, and more!
Updated July 2023
---
Set 450 feet above the lake, The Oasis has been serving locals and out of towers alike for over 4 decades. Built by an entrepreneur in 1982, the Oasis started as a remote ranch house & has since grown into a four-story food & entertainment destination with dining capacity for 2,500 people, an outdoor mall, brewery, live music venue & private event spaces!
They're the self-proclaimed Sunset Capital of Texas because on most days you'll find hundreds of people from all over enjoying the breathtaking sunset views with a bell ringing to signal it's time for sunset!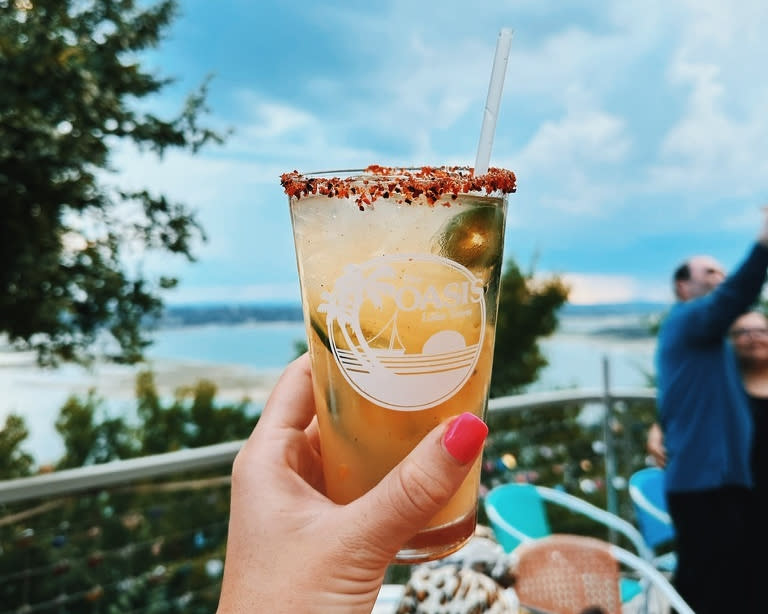 DINING
Grab a seat on the umbrella-covered patio and enjoy Tex-Mex classics like queso, enchiladas and fajitas, or a variety of other dishes like fried cod bites, ribs & burgers. We won't lie, it wasn't the best food we've ever had, but the views and energy definitely make up for it! Plus it was fun to wander where you'll find eclectic decor inspired by the owner's passion for collecting antiques!

Pro tip: The restaurant doesn't take reservations, but there's plenty to do while waiting for a table! And if you plan on joining for sunset it's advised to arrive a least an hour before sunset to ensure you'll get a seat!
BREWERY & MORE
In addition to the main restaurant, there's a brewery, tap room & 8 event rooms perfect for any private event! The award-winning Oasis Brewing serves up delish craft brews & bites, and the attached Barrel Room is the perfect place to sip on hand-crafted cocktails.
If you find yourself at the brewery on the weekend during spring or summer you're bound to find live music!
PLUS A WATERFRONT MALL
If you're looking for other ways to kill time while waiting for a table, walk over to the outdoor shopping complex with vintage shops, a fine art gallery, dessert shop, cafe & more!
LOCATION