Just like that, it's August and the kids are back in school! We're here to make the transition a little easier for you, whether you're looking for new bookstores or boutiques for unique teacher gifts!
Updated August 2023
---
BOOKSTORES
Step into one of the largest book thrift stores in Texas at Half Price Books! You can find everything you need from textbooks to comic books and cookbooks. You can even sell your own books here, and check out their giant reading section if you want to cozy up with a good book while you wait!
Park Cities | Directions
Deep Vellum is a little indie bookstore with local authors of all kinds of genres! Get introduced to your new fave novel, join a book club, grab a cup of coffee, pet the shop dog, or even buy a cute tote bag. You can also come here to enjoy a private concert and other fun events on their roof! Fun fact, it's also the largest publisher of literature in translation in the US!
Deep Ellum | Directions
This relaxed bookstore has a great selection of trending and new books as well as an amazing children's section! You can also find unique school supplies and several book clubs to join. Pro tip: Check their online inventory before coming in for your book!
Lovers Ln | Directions
This local shop buys and sells used books of all genres and has been doing so for 50 years now! Feeling a little nostalgic? Find DVDs, CDs, cassettes, 8-tracks, videotapes, and more at Lucky Dog Books! If you're interested in comic books, manga, magazines, sheet music, and songbooks, they have a great selection of those too.
Multiple locations | See locations
Monkey & Dog Books opened as an independent bookshop for children, but now has books for all ages! It's the cutest spot with a great children's section and cozy seating. If you like to host cozy evenings in your home, you can also find the perfect game or puzzle here for your next night in!
Fort Worth | Directions
This quaint indie bookshop has an incredible curation of literary fiction, memoirs, and poetry, of course! Their charming storefront will have you instantly feeling at home before you even step inside! There are a variety of titles and topics to browse through, plus, the staff is always willing to talk books with you! (Pictured)
Bishop Arts | Directions
Visit the largest used bookstore in Texas and find a huge selection of books, vinyl records, CDs, Blu-rays, DVDs, and other collectibles! This spot is located in the historic Wright Opera House on Denton's downtown square and has been around since 1983. Explore its multiple stories and get lost in the endless rows of books!
Denton | Directions
Talking Animals Books is a woman-owned, cozy, and eccentric bookstore with curated books, puzzles, gifts, and fun community events! It's the first and only indie bookstore in Grapevine with tons of great selections. There are also fun t-shirts, canvas bags for your books, and other goodies you can check out! 
Grapevine | Directions
The Dock Bookshop is an African-American-owned and ethnically-diverse independent bookshop! With a very family-friendly ambiance and a one-of-a-kind gift section, it's the perfect spot for a wholesome bookshop experience. You can also enjoy community events like their open mic nights and poetry slams!
Fort Worth | Directions
Head to Oak Cliff to find this indie bookstore meets bar and coffee shop! Grab a drink and a light bite as you read and browse the shop. Here, you can enjoy your book in a cozy nook inside or under the string-lit and expansive patio in the back! There are also tons of community events at WD, so make sure to keep up to date with them through their socials or website to stay in the loop.
Bishop Arts | Directions
For a small and intimate space, there's a great selection of books and gifts as well as lots of comfy chairs! This bookstore is independent and Latino-owned and is always stocked with great book selections. You can also find thoughtfully curated games and puzzles for the entire family to enjoy! 
Oak Cliff | Directions

STATIONARY + TEACHER GIFTS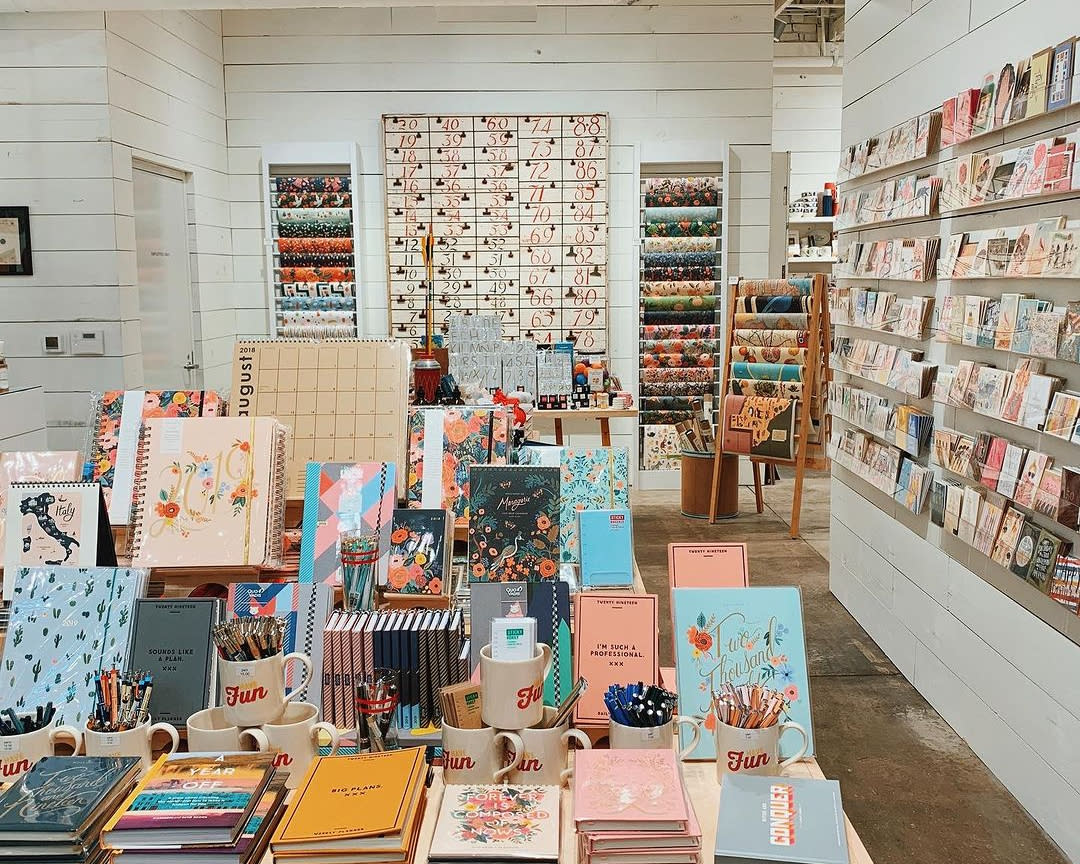 Right at home in the forward and eclectic neighborhood of Bishop Arts, All Good Things offers a curated collection of letter-pressed greeting cards, stylish papers, and modern gifts! You can also find adorable stationery and desk accessories. Give their candles and Texas merch a go too!
Bishop Arts | Directions
Apothecary Social is the cutest boutique with a lot of heart! It's a shopping experience like no other, with a curated selection of stylish clothing (for men too!), accessories, shoes, home decor, and unique gifts. They've also made the boutique so much more than just a place to shop too, stop by on the weekends and enjoy live music and free social events!
Multiple locations | See locations
From pencils to paper-made jewelry, there are all kinds of unique stationary and gift options here! If you're on the hunt for desk supplies and back-to-school items, Archer Paper has amazing selections. You can also find adorable greeting cards for any occasion! (Pictured)
Dallas | Directions
Favor the Kind is a boho boutique of local vendors selling handmade gifts, sustainably produced apparel, and home items! You can find everything from notepads, planners, and pens, to sticky notes and bookmarks. Come in and explore your bookbag's new fave accessories! 
Henderson | Directions
Find a stunning Instagrammable succulent wall located out front of Jade & Clover! Enter inside, and you'll find a fun and interactive plant bar, adorable trinkets like mugs and journals, and more! The store is carefully curated and has gifts for everyone.
Deep Ellum | Directions
The perfect gifts, stationery, and cute cards are so easy to find here! From datebooks and tea towels to candles and glass trays, every item is enticing to get. Looking for a gift that's a little more personable? Needle In A Haystack also has custom graphic design and printing services for all occasions!
University Park | Directions
Paper Affair is a locally-owned specialty boutique with three locations in the DFW metroplex! They have stationery and paper goods like notepads and notecards, and curated gifts of all kinds. You can get all things travel like a weekender monogrammed, a custom address stamp, and many other unique gifts!
Multiple locations | See locations
This colorful, cheeky, and girly stationery shop is the perfect place to stock up on paper goods and gifts! There are creative journals, academic planners, wall art, and greeting cards. You can also find the cutest ceramic mugs, tote bags, and accessories here!
Bishop Arts | Directions