Dallas is quickly becoming a bagel mecca and we're not mad about it! There's been a huge wave of bagel shop openings in the past few years like Shugs Bagels, Starship Bagel, Sclafani's NY Bagels, and now Lubbies Bagels, so if you like bagels, Dallas is the place to be!
Updated September 2023
---
This adorable, locally-owned bagel shop was founded by sisters Andrea and Jen Lubkin in July. It's located just 5 minutes from White Rock Lake at the same shopping center as Hello Dumpling and Goodfriend! You'll find a selection of freshly made bagels, schmears, sandwiches, espresso drinks, and more!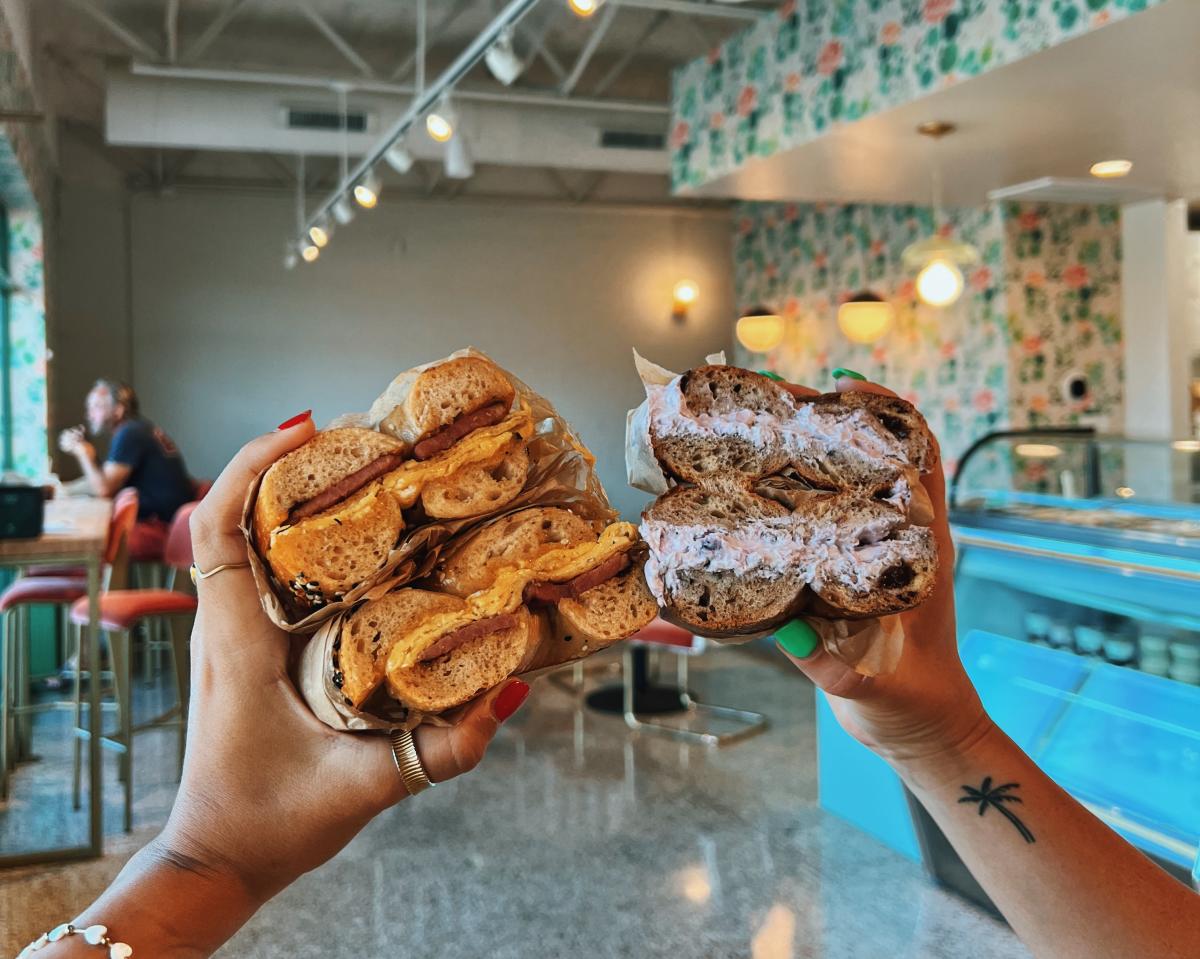 PRO TIP + HOURS
They've been selling out every weekend so if you want a taste we recommend going early! And if you do get caught in a line, be patient with them as they work out all the new business kinks! They're open Wednesday through Saturday from 6:30 a.m. to 2 p.m. and Sundays from 7:30 a.m. to 2 p.m.

THE SPACE
The shop is a small yet bright space with aqua, yellow and floral wallpaper throughout and a few tables and chairs, plus some seating outside! Your luck getting a seat will be slim on the weekends, so we recommend hopping over to the picnic tables at Goodfriend if you're there before they open!

THE MENU
Lubbies has all of your favorite bagels like everything, sun-dried tomato, cinnamon raisin, pumpernickel, and more, as well as unique schmears like blueberry swirl, jalapeño cheddar, salmon dill, and even chopped liver! You'll also find bagel sandwiches on the menu, including a build-your-own option that we loved! Our favorite part is that all of the bagels are made using a homemade sourdough starter, and they use Gina Marie cream cheese which is made with just three ingredients: cultured milk, cream, and salt!

P.S. You can also find espresso-based drinks, matcha, and refrigerated beverages like Olipop and kombucha!

WHAT WE ORDERED
🫐 Cinnamon Raisin Bagel with Blueberry Swirl
🥯 Everything Bagel Sandwich with egg, ham, and cheddar
☕ Iced Vanilla Latte

TAKE A TOUR