Craving the coastal vibes without leaving the city? Luckily, Dallas has some great spots to enjoy ceviche, a refreshing Peruvian raw fish dish we can't get enough of this summer. Here's a round-up of our favorites in the metroplex!
Updated August 2023
---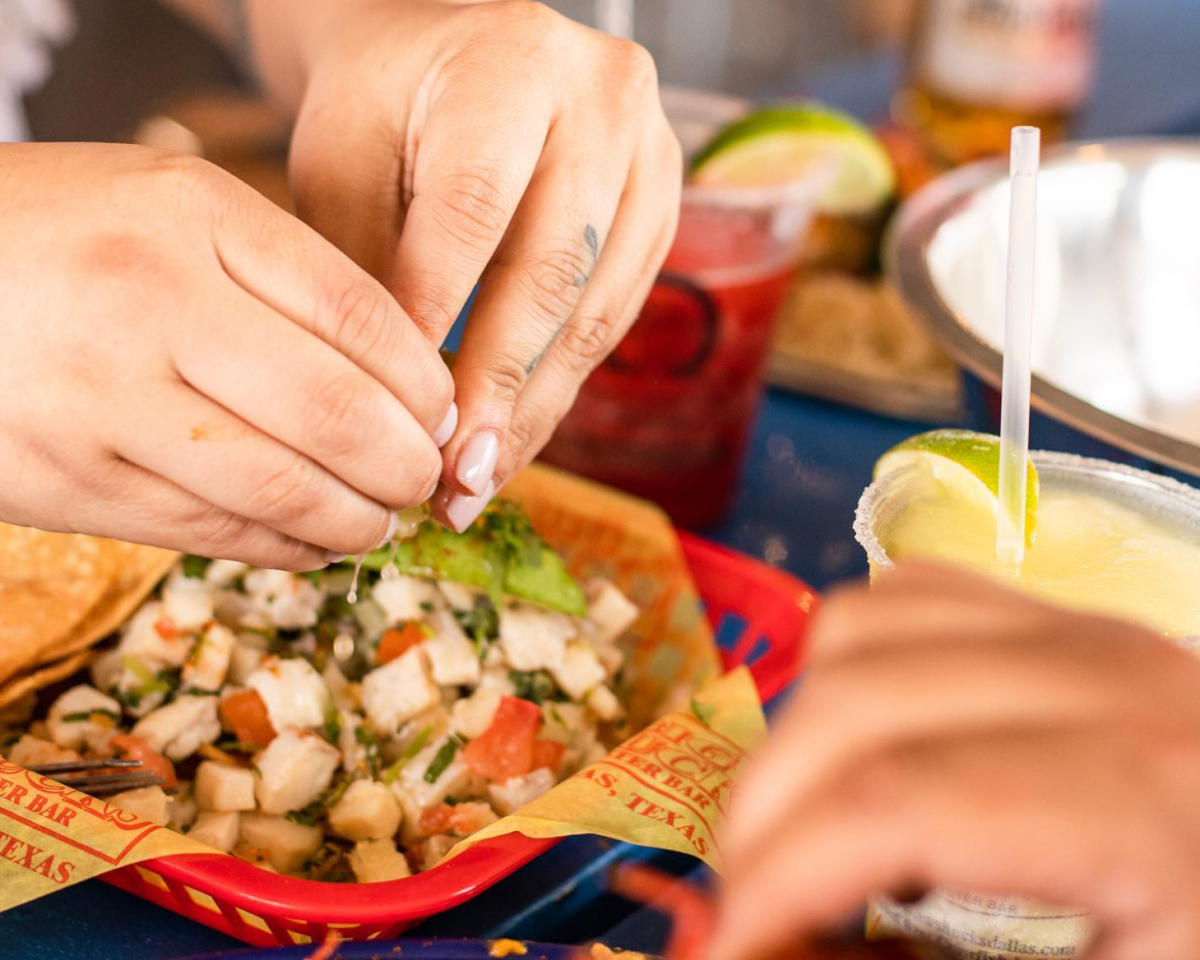 photo courtesy of Aw Shucks

Aw Shucks has a laid-back atmosphere with an endless seafood menu! This casual oyster bar has a delicious Mississippi catfish ceviche marinated in lime juice and herbs and mixed with fresh veggies and house-made chips. Add a Rojo Rita, a frozen marg swirled with chamoy, and a spicy candy straw, for the perfect coastal vibe!
Multiple locations | See locations
Head to Trinity Grove's Beto & Son restaurant for a lively vibe, Wednesday salsa dancing, and the Gulf of Mexico ceviche tower! It's made with fresh Gulf shrimp, slaw, avocado, pico, and their delicious Mexican cocktail sauce. Dress it up with lime and order yourself table-side guac and liquid nitrogen margaritas while you're there!
Trinity Groves | Directions
Cuzco is a casual Peruvian spot with homey vibes and authentic home-style cooking! Their ceviche carretillero is made with lime-marinated fish and rocoto chiles and it is a total must-try. They also have a mixed ceviche and a fish ceviche if you're in the mood for something a little heavier!
Irving | Directions
Indulge in Mexican dishes in an elevated setting at Hugo's! We ordered a variety of plates to try it all but highly recommend the prickly pear Texas red snapper ceviche. The ceviche fresco is also amazing, and it's made with striped bass, paired with mango and avocado! As a bonus, their tortilla chips are baked, never fried!
Irving | Directions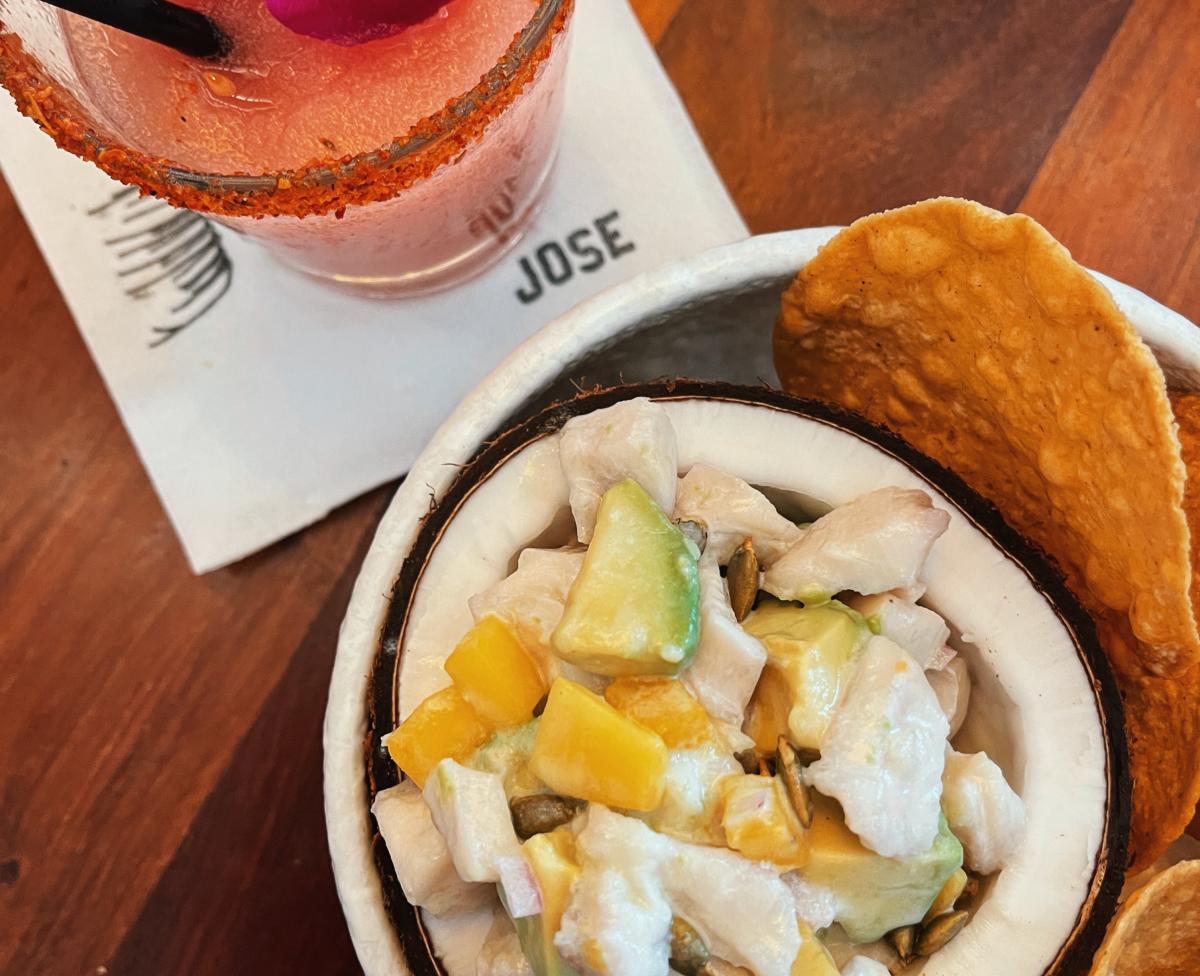 This lively spot has a colorful and vibrant patio with a beautiful fountain in the center! You'll feel like you're dining in a Spanish hacienda courtyard at Jose. Enjoy unique ceviches like a mahi mahi or a coconut ceviche made with mango and coconut milk and take in the stunning views! We recommend making a reservation but if not they're so worth the wait.
Lovers | Directions
Initially opened as a charming, renovated house over 3 decades ago, this family restaurant continues to carry the city's coastal cuisine scene! With family-favorite recipes such as the ceviche and tostadas de ceviche, you can't go wrong at La Calle Doce. Add a fresh agua de jamaica or a marg for a refreshing moment!
Multiple locations | See locations
La Comida is a family-owned Mexican restaurant that began in Addison and has since reopened in Oak Cliff - we love a revival story! Enjoy a shrimp ceviche or their tropical ceviche that comes with mahi, shrimp, mango, pineapple, cucumber, and avocado marinated in their secret sauce. Their tequila cocktails are also incredible and should def be enjoyed on their large patio!
Oak Cliff | Directions
Dine al fresco on a patio or cozy up inside at Las Palmas! This Tex Mex spot delivers every time, and their ceviche app is one of them. It comes with snapper, habanero, pico de gallo, avocado, and chipotle, a perfect combo! Have yourself a cucumber marg to cool down from the heat of the ceviche, or a spicy marg to kick it up a notch.
Uptown | Directions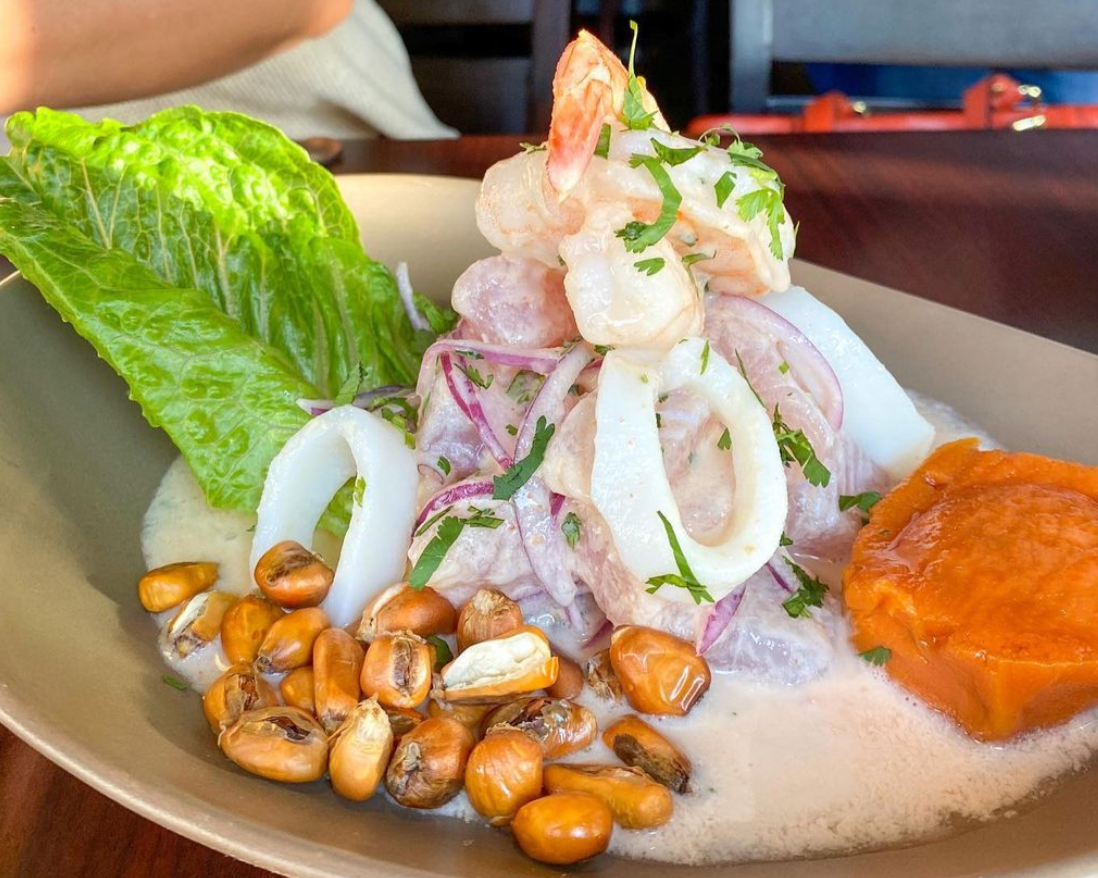 photo courtesy of Lima Taverna

This Peruvian spot has a laid-back setting with dishes that are packed with delicious flavors of Peru! Lima Taverna serves a unique ceviche called ceviche Peruano, and it comes with seabass, shrimp, calamari, octopus, fresh lime juice, and a touch of lemon drop pepper. Their ceviche is also dressed in tiger's milk, a bright and spicy citrus-based marinade! 
Plano | Directions
Los Cuates is a hidden gem and a taqueria that has been serving a classic ceviche with cucumber since 2019! Their authentic Mexican dishes received tons of raving reviews, so now they also serve out of their food truck. It's the perfect spot for a quick lunch or a late-night bite after a night out with friends!
Oak Lawn | Directions
Looking for an upscale and cozy spot to enjoy your ceviche in? Book a resy at Mesero! The shrimp ceviche is loaf-shaped and comes with tiger shrimp marinated with citrus, jalapeño pepper, heirloom grape tomato, green onion, avocado, and cilantro. The flavors are an incredible combo and the ceviche is great as an app or as a meal itself!
Multiple locations | See locations
​Fairly new to the Mexican contemporary scene, Miriam's exudes exotic flavors to pair with zingy cocktails! This woman and minority-owned Latin kitchen serves up a ceviche called ceviche Punta Cana, and it's made with tiger shrimp and baby octopus. It comes with plantain chips, so you can scoop up a shrimp, some avocado, pico de gallo, and fresh cucumber for the perfect bite!
Uptown | Directions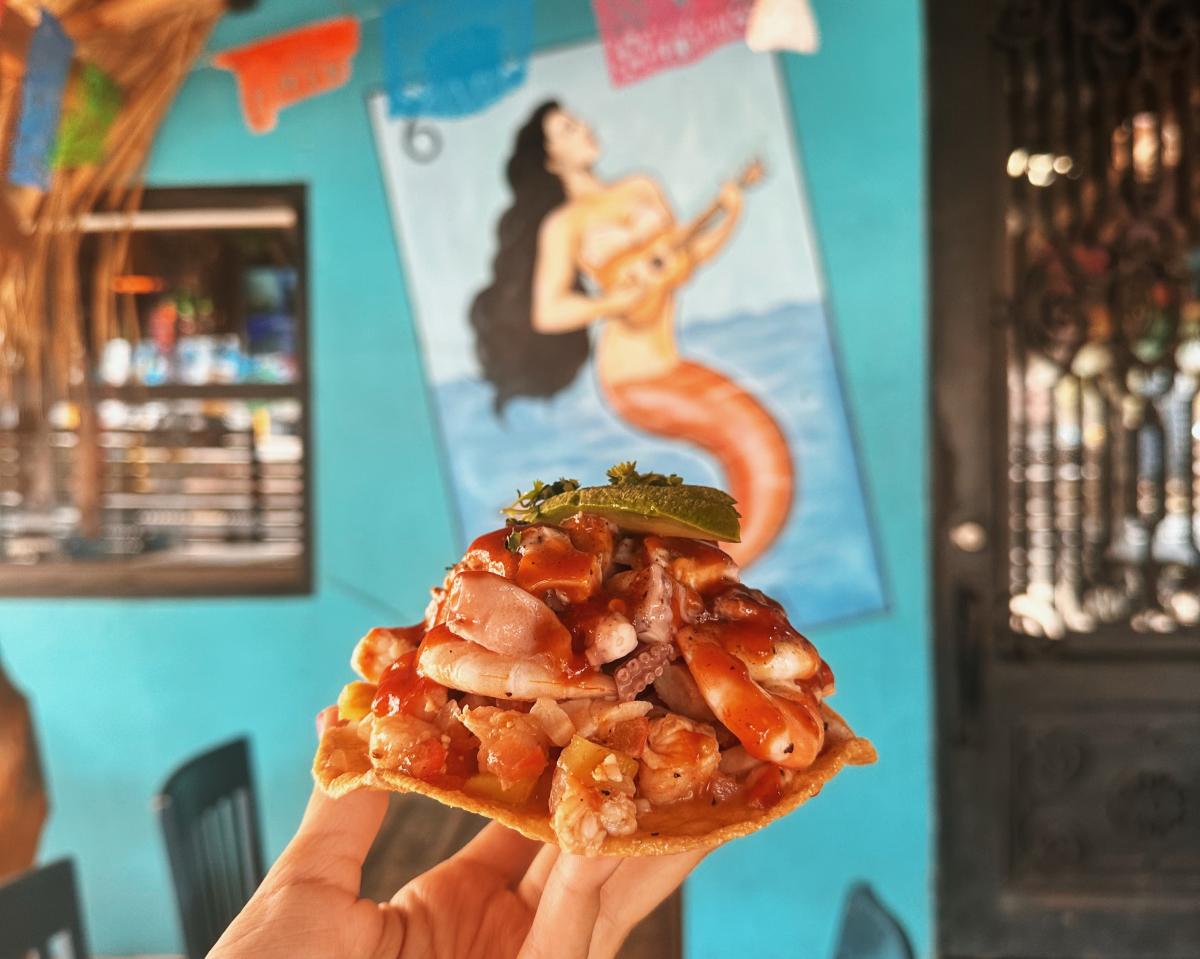 This Sinaloa-style seafood spot is vibrant, fresh, and perfect for a casual outing! With two filling ceviche options from the bar, you might want to try both. The ceviche dorado comes with mahi mahi cooked in lime juice, and the ceviche Mazatlan is a shrimp ceviche topped with avocado! You can also come out and enjoy live music while you're there!
Multiple locations | See locations
An adorable spot with a large patio, a Mexico City feel, and a red snapper ceviche! The ceviche also comes with Roma tomato, red onion, homemade mayo, avocado, and chile serrano for a heat that hits just right. P.S. Rumor has it that when you ask the portrait of the woman in front of the restaurant for a wish, she will grant it to you!
Greenville | Directions
This beachy Tex-Mex spot serves up a ceviche verde that is a must-try! With fresh market fish, serrano, cilantro, lime, garlic, and crisp tostadas, you'll be coming back for more. If you're in the mood for a good marg with your ceviche, make your own on the Patron bicycle at Tejas' Beach Shack outdoor bar!
Bishop Arts | Directions
Looking for a place that has crafted the art of ceviche to perfection? Look no further, it's literally in the name! Tostadas y Micheladas is a casual hole-in-the-wall with classic ceviche and shrimp tostadas. Pair them with a Michelada dressed in chamoy and lime for a mouthwatering duo!
Oak Cliff | Directions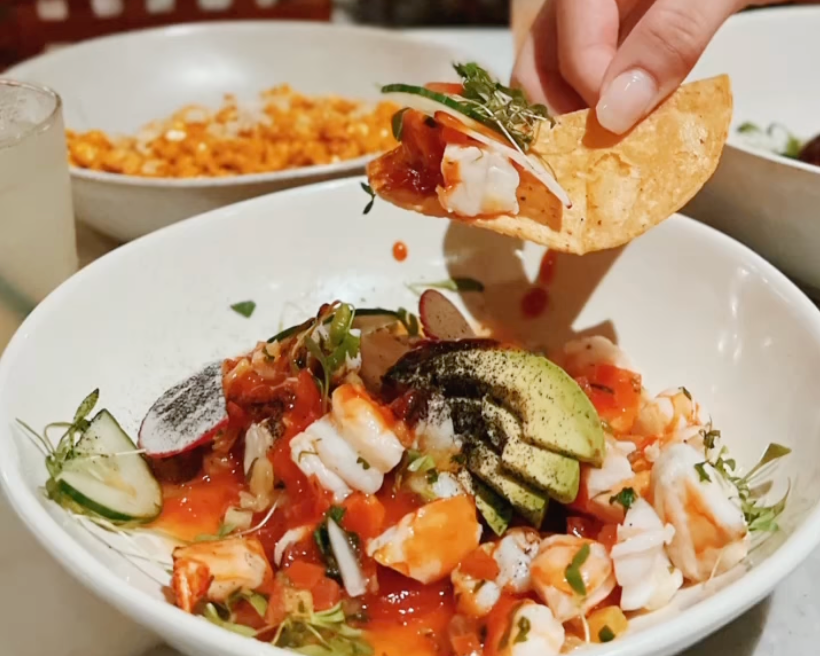 Escape to the Yucatan jungle in style! Their menu is full of upscale and exotic dishes along with innovative Mexican-inspired cocktails, and their ceviche is worth the trip! It's made with guanabana, a citrusy fruit that tastes a little bit like banana, and chili oil for some spice. Be sure to snap some pics at their Jungle Bar too to document your vacay!
Oak Lawn | Directions