Austin is a popular wedding destination, whether it's your hometown or you are new to the city! You can have a city wedding, a hill country wedding, or everything in between! There are so many venues around town that can make everyone's dreams come true.
Updated July 2023
---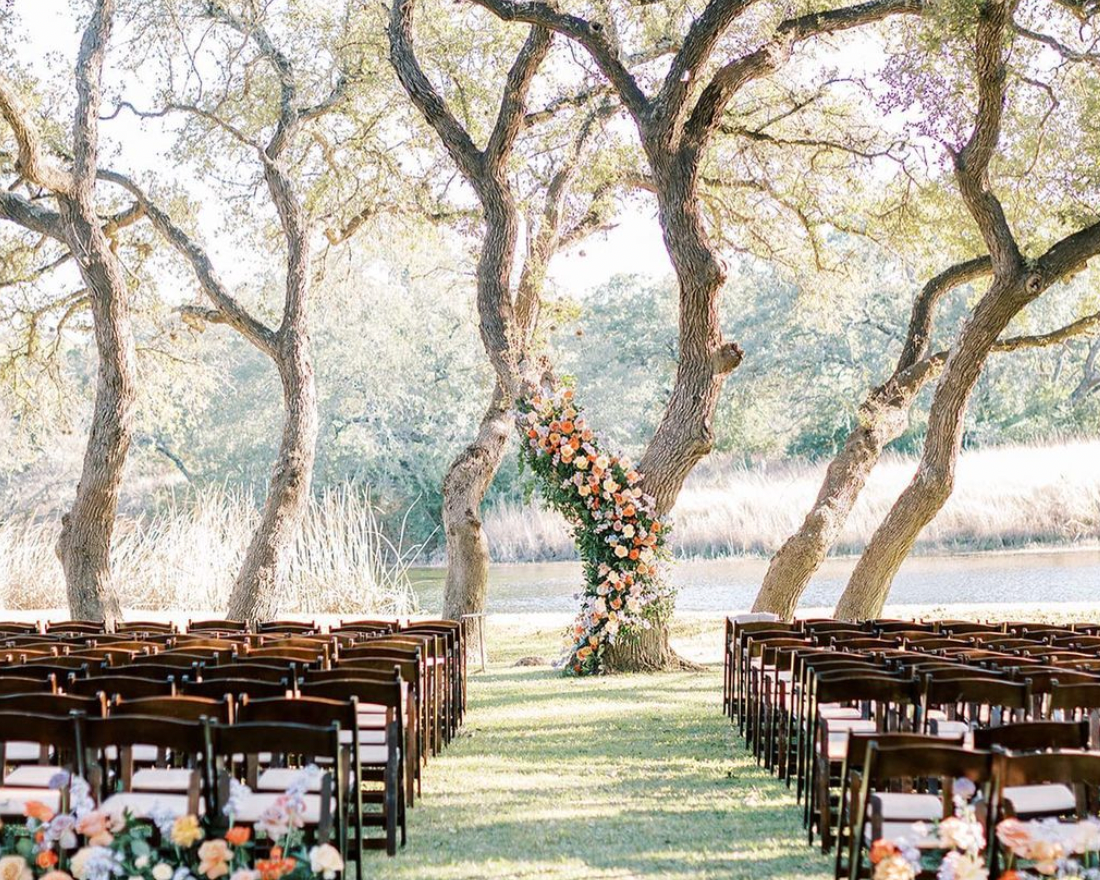 photo courtesy of The Addison Grove

The Addison Grove is a rustic yet modern barn-style venue surrounded by stunning Texas wildflowers and longhorns! The Grove has a path that leads to it's intimate space surrounded by beautiful oak trees. The barn has tons of natural light and high ceilings with a covered patio that makes the perfect cocktail hour destination. Your guests can get cozy at the firepit area, take in the serene lakefront view nearby, and experience countryside charm!
Fitzhugh | Directions
This venue is a Victorian Mansion that has been restored to absolute perfection! The setting is elegant and timeless with oak tree canopies, stunning parlors, open-air courtyards, veranda spaces, and so much more. If you're looking to have your wedding near the winter, they offer winter tents where your guests can keep warm and keep the celebration going!
Downtown | Directions
Barr Mansion is an expansive estate with all of the best options for your special day! From their Victorian Mansion with outdoor patios, an open-air Farmstead, and an Artisan Ballroom with huge glass walls to choose from, you can't go wrong at Barr. This venue has a lot of character, lush gardens, and holds so much space for every guest!
Travis County | Directions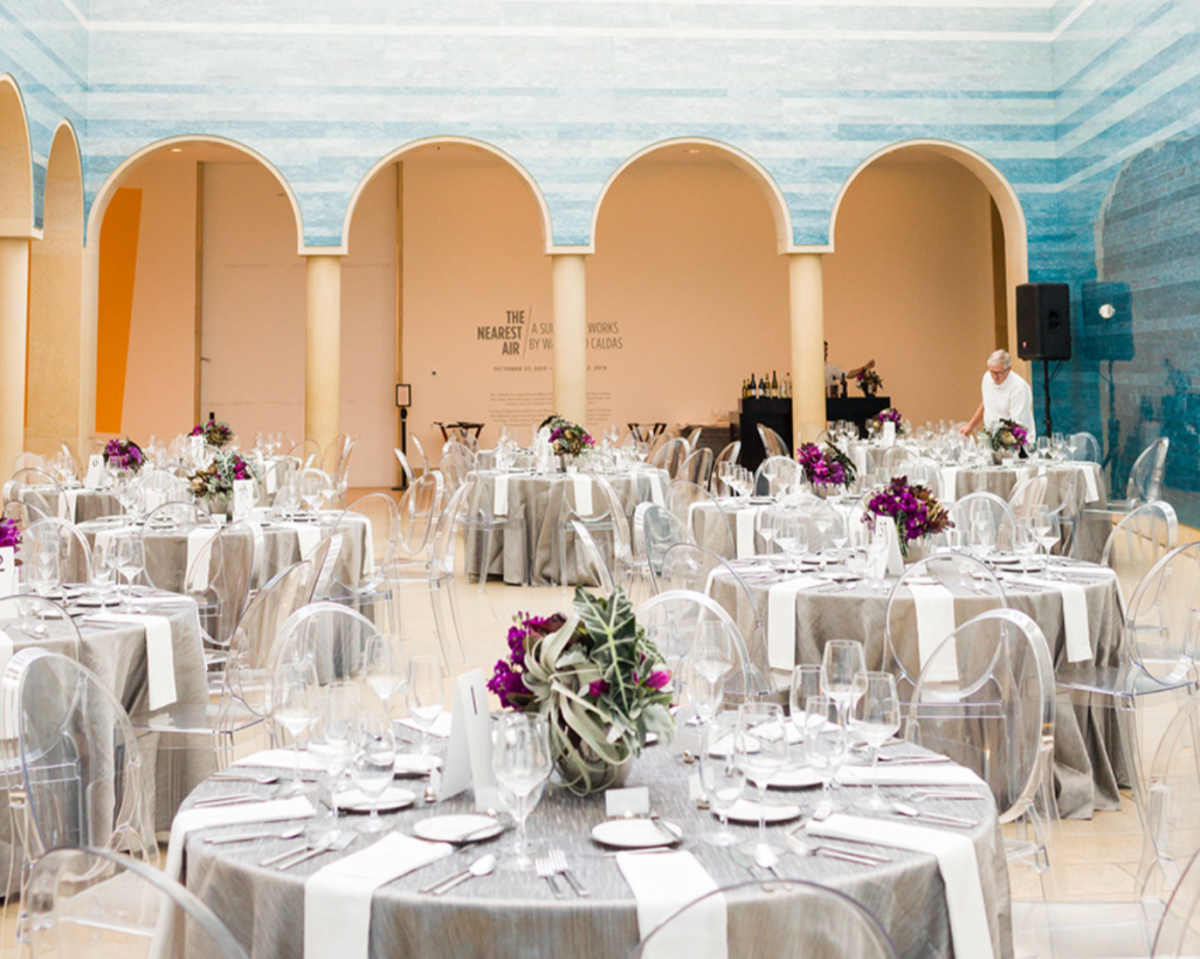 photo courtesy of Blanton Museum

Are you and your partner admirers of art? Have an artistic wedding venue right in the heart of Austin at the Blanton Museum of Art! With its unique architecture, sophisticated setting, breathtaking 50-foot skylights, and remarkable art pieces, it's the perfect place. Your guests can browse through the gallery, which also makes for a show-stopping entrance!
Museum District | Directions
Camp Lucy has venues that provide a Texas Wine Country meets Texas Hill Country setting! With four distinct and elegant venues, from an open-air barn, a French-Colonial chapel, a vineyard, and a grove of ancient oaks, you'll be sure to have a gorgeous wedding. These venues can accommodate up to 350+ guests, so grand or intimate parties are all welcome!
Dripping Springs | Directions
Discover the dreamy ambiance of Chateau Bellevue! Built in 1874, this romantic and elegant venue captivates with its French arches, picturesque courtyard, and spacious ballroom. This venue stands as a testament to a timeless wedding venue with its elaborate hand-carved woodwork and exquisite stained glass windows. Have an unforgettable experience at the Chateau that will leave a lasting impression on you and your guests!
Downtown | Directions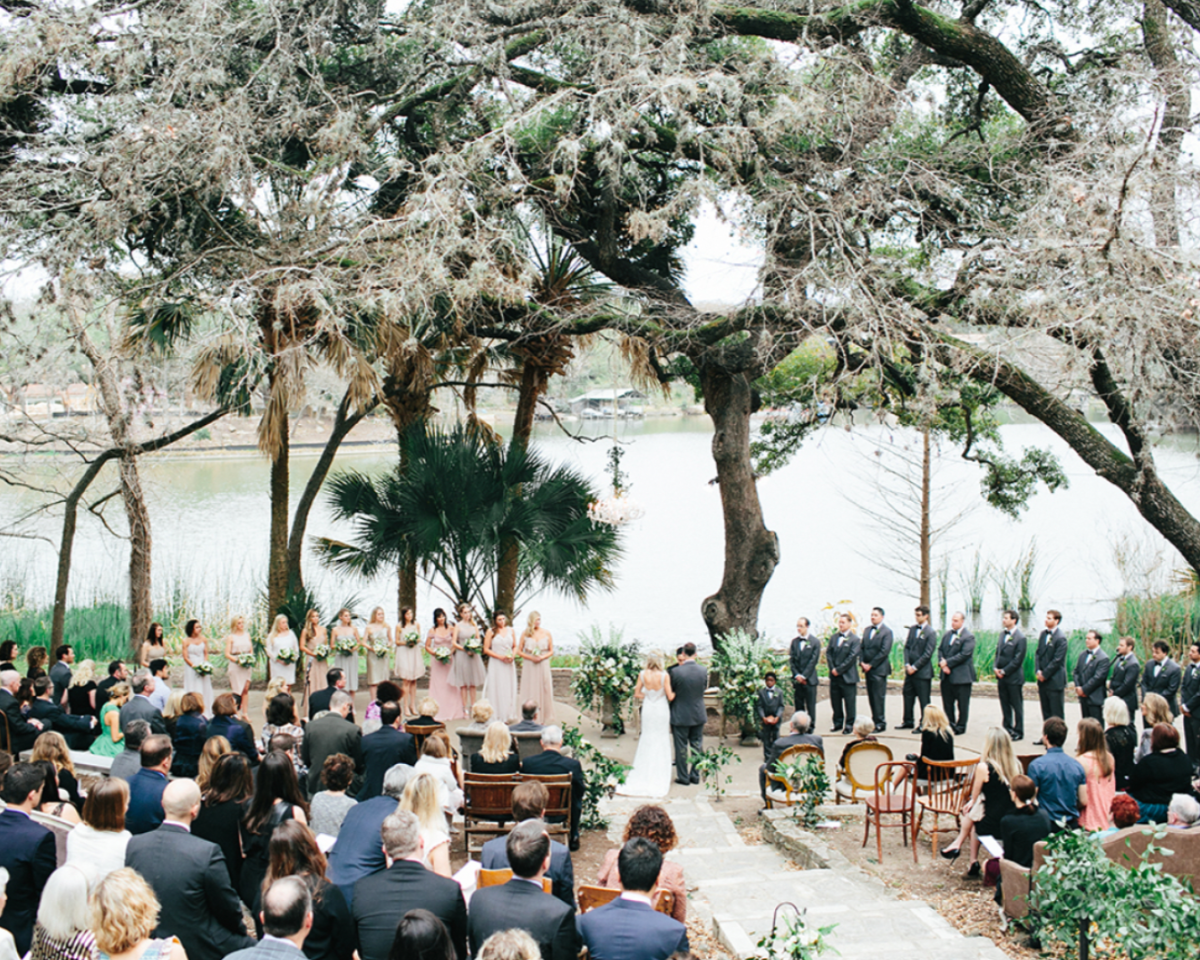 photo courtesy of The Contemporary Austin

These two venues provide a charming setting for your ceremony and reception! The Jones Center is a contemporary art space with an expansive rooftop that has panoramic views of the city. The Laguna Gloria is situated on the glimmering shores of Lake Austin and showcases beautiful outdoor sculptures and a natural landscape. These venues have been recognized as some of the best wedding venues in Austin, so you'll know it will truly set the perfect tone for your big day!
Multiple locations | See locations
Celebrate your special day at The Driskill, named the best wedding venue in the Austin Chronicle in 2023! From hosting former presidents to extravagant galas of the 20th century, this venue serves as the ideal downtown Austin wedding venue. The hotel has beautiful ballrooms for the classic, upscale vibe featuring sparkling chandeliers and gold leaf mirrors. Add your unique story to the legacy of unforgettable celebrations!
Warehouse District | Directions
Experience the beauty of the Hill Country at The Greenhouse! With expansive spaces like 2 glass-encased greenhouses and a deck bordered by ponds, this unique venue offers a setting fully immersed in nature. Surrounded by lush plants and century-old oaks, it provides a calm and effortless vibe. Fun fact, this venue also promotes wildlife habitat, so you can support this cause while providing an extraordinary experience for your special day!
Driftwood | Directions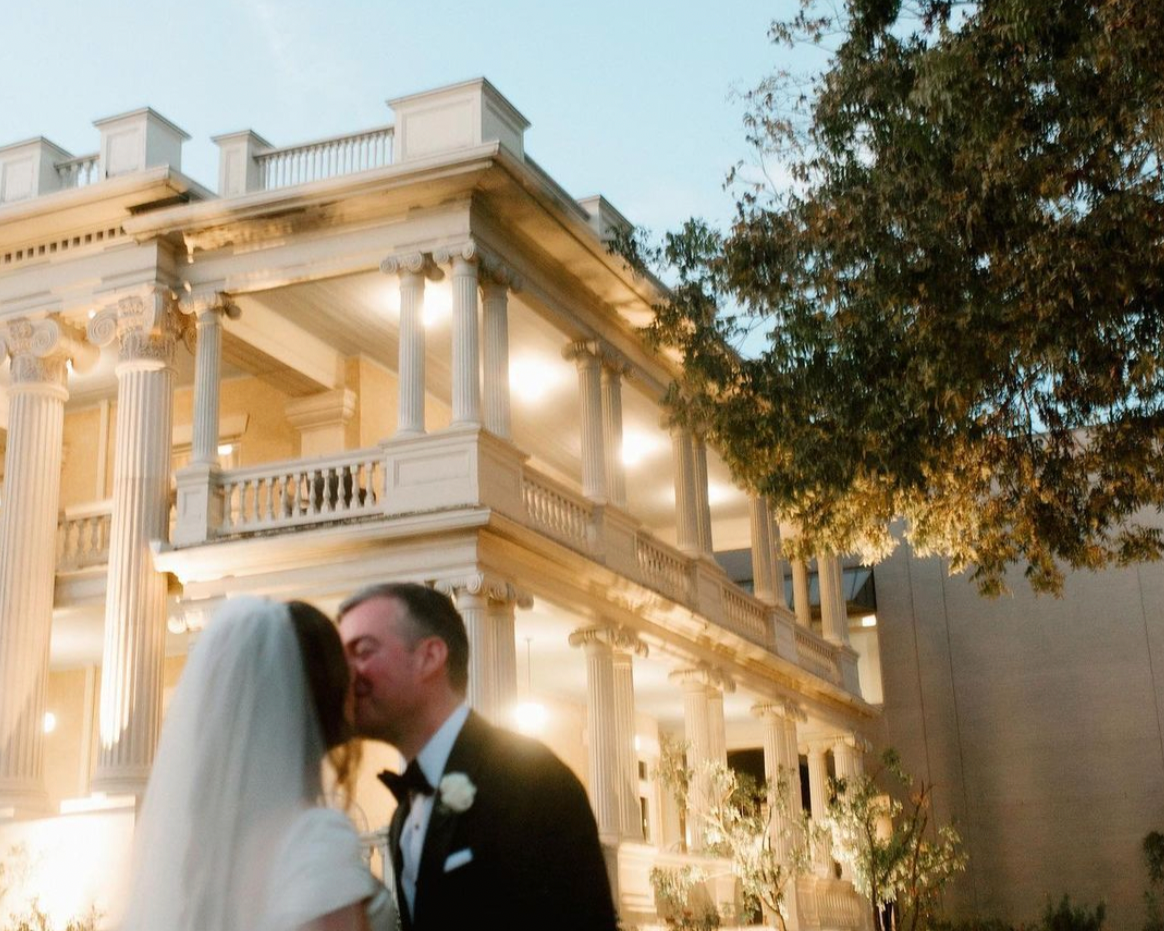 photo courtesy of Hotel Ella

Celebrate your special occasion at Hotel Ella with a range of beautifully designed indoor and outdoor event spaces! From the intimate Parlor Bar to the expansive front lawn, you and your guests can experience an absolutely magical day. Every detail of the mansion truly brings your wedding pictures to the next level, so you'll be able to leave with timeless photos to look back on in bliss!
Downtown | Directions
Hotel Saint Cecilia is an elegant boutique hotel with sophisticated spaces, lush private grounds, and a gorgeous courtyard! With a variety of event spaces, this venue can accommodate ceremonies of just about any size. You can exchange your vows intimately beneath a majestic oak tree or invite your entire wedding party to a spacious outdoor wedding in the private yard!
South Congress | Directions
Hotel San Jose is a chic and intimate wedding venue nestled in the heart of South Congress! With its minimalist design and inviting ambiance, it provides a cozy and romantic atmosphere for your special day. This tranquil setting is perfect for small weddings and the best part is, that you and your guests are able to celebrate your special day in the midst of the vibrant energy of Austin that is just a short walk away!
South Congress | Directions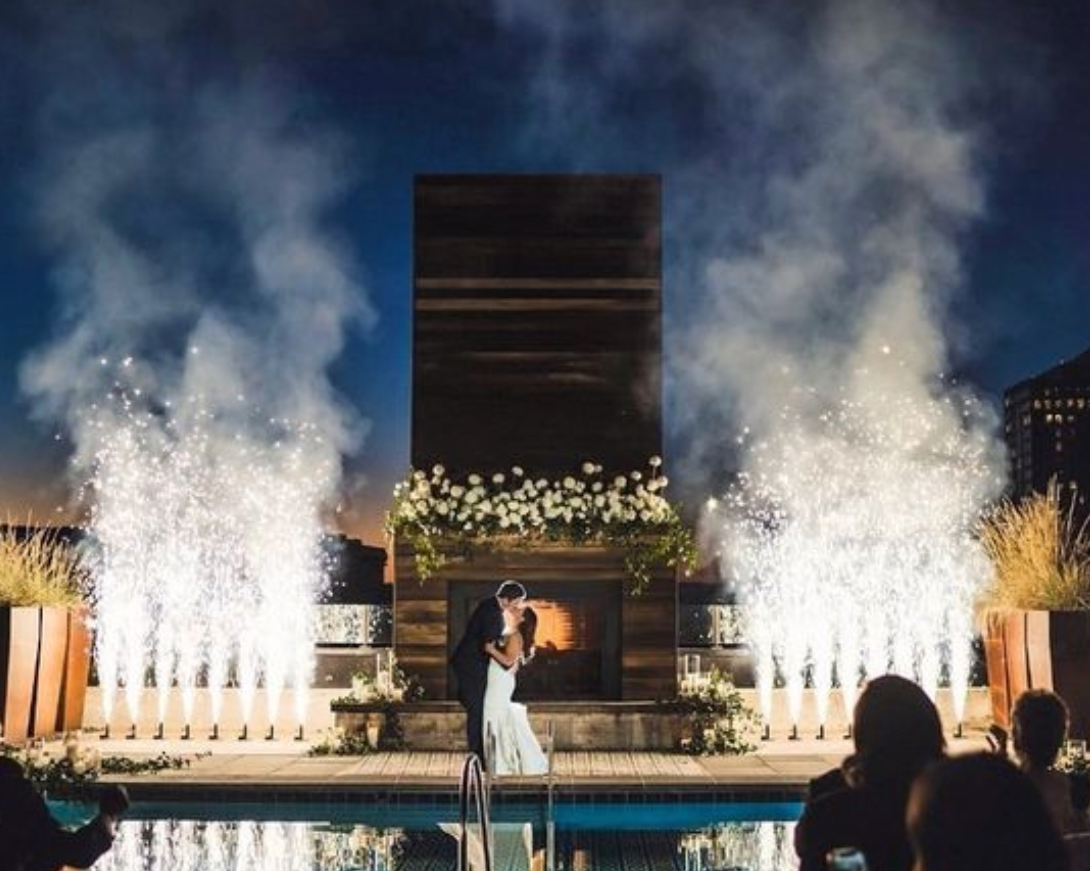 photo courtesy of Hotel Van Zandt

Hotel Van Zandt is a vibrant hotel with a fabulous rooftop setup! With a prime location near popular landmarks and sweeping views of Austin's skyline, it offers both convenience and charm. You can choose from a variety of indoor and outdoor venues that can accommodate up to 700 happy guests! This is the perfect venue for grand and unforgettable wedding celebrations.
 Rainey Street Historic District | Directions
The LINE is an eclectic hotel with stunning views of the infamous Lady Bird Lake! This prime location provides guests easy access to music, shopping districts, and more. Celebrate your special day in unique indoor and outdoor spaces, including spacious ballrooms, intimate studios, and specialty suites. They also have an outdoor saltwater infinity pool and three restaurants and bars for your guests to enjoy!
Downtown | Directions
This wine country venue offers six stunning on-site locations! The Green Cathedral is breathtaking and features an antique French gazebo. The Grove provides the most romantic canopy of oak trees. The Great Hall stuns with a soaring ceiling and crystal chandeliers. There is really something special for everyone at The Ma Maison!
Dripping Springs | Directions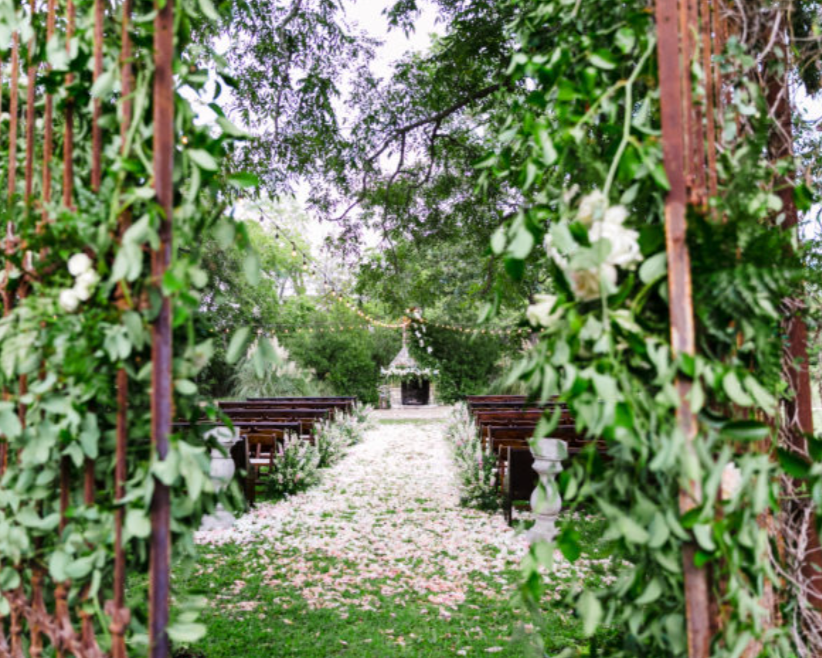 photo courtesy of Pecan Springs Ranch

The Texas Hill Country dream! Pecan Springs Ranch is settled across acres with pecan and oak trees, a creek, springs, and wildflowers. This venue offers beautiful indoor and outdoor options for ceremonies and receptions. Featuring exposed wood beams, romantic lighting, and a glass back wall, the setting is both sweet and charming. They also have a bridal house, a groom's area, and the capability to accommodate large parties of up to 300 guests!
Travis County | Directions
The Riley Building is a modern industrial building with wrap-around window views of downtown and a gorgeous open-air glass-ceiling rooftop! The venue offers an expansive blank canvas, allowing you to create your perfect setting. Whether you're wanting it to be minimalistic or bold, this venue has endless possibilities! It also has a reputation for hosting weddings of all sizes, so bring on the wedding guests!
Downtown | Directions
This venue offers ample interior space, a beautiful courtyard, and lush gardens that can be customized to suit your wedding festivities! With floor-to-ceiling windows and dreamy natural light, the South Congress Hotel creates the perfect ambiance for your special day. This space also allows you to host an intimate gathering or a larger celebration of up to 200 guests!
South Congress | Directions

photo courtesy of UMLAUF

Have your special day at the historic and romantic UMLAUF Sculpture Garden and Museum! The Garden offers picturesque pathways, ponds, and lovely bronze and stone sculptures. The open-air ceremony arbor is perfect for exchanging vows in a serene and romantic setting. Accommodate up to 250 guests here and have them enjoy art immersed in nature!
Barton Springs | Directions
This venue has views of the Hill Country and is located just 10 minutes from downtown Austin! With a grand banquet hall that leads to cascading waterfalls and flower gardens with statues and fountains, the setting is absolutely stunning. Additionally, they provide lounges and bridal and groom suites so that your special day can happen with ease and comfort for all of your loved ones in attendance!
Downtown | Directions
The Wildflower Barn offers a laid-back experience, with two dreamy ceremony sites in the Texas Hill Country! The Bluebonnet Barn and the Meadow Barn are surrounded by lush wildflower fields and are adorned with dreamy twinkling lights. Whether you envision a lavish garden reception or an intimate ceremony, this venue will make your special day feel so enchanting. This venue also features a bridal suite and a groom's suite in a refurnished vintage travel trailer!
Driftwood | Directions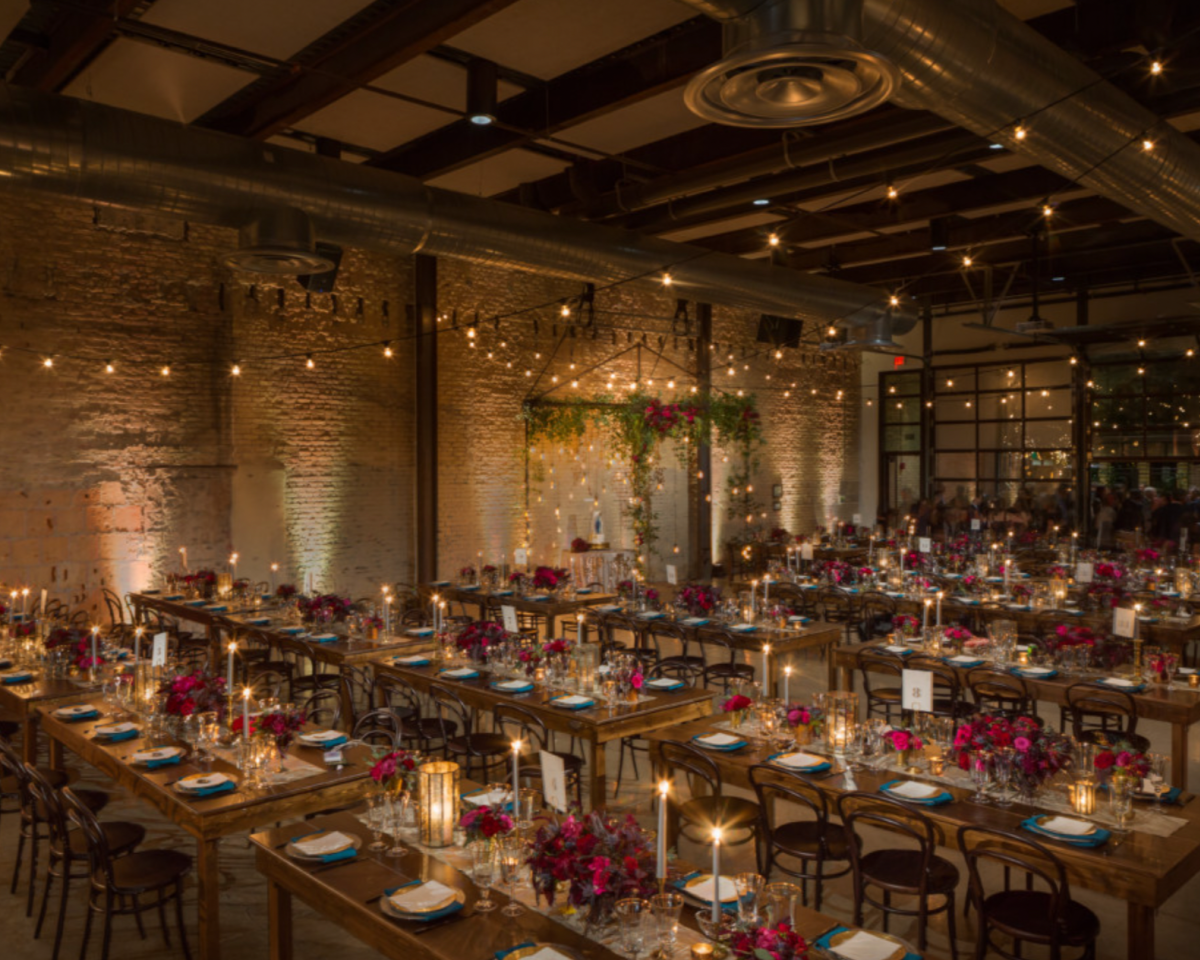 photo courtesy of 800 Congress

Discover this stunning venue in downtown Austin, situated on the iconic Congress Avenue! Offering stunning views of the historic Paramount Theatre and the Capitol building, it's the perfect urban setting. The interior has both modern and historic elements and has so much character with original exposed brick and foundation walls. Accommodate intimate and large wedding parties of up to 600 guests and have yourself a cozy and romantic wedding day!
South Congress | Directions