It wouldn't be a trip to the Windy City without stopping by Portillo's Hot Dogs for a Chicago-style hot dog, and now you don't have to travel far to get one! After much anticipation, they're now open at Grandscape! Welcome to Texas, Portillo's!
Updated January 2023
---
Portillo's got its start back in 1963 when Dick Portillo opened a hot dog stand in Villa Park, IL, called "The Dog House." Since then, Portillo's has become a brand synonymous with Chicago, most known for their famous Chicago-style hot dogs and Italian beef sandwiches!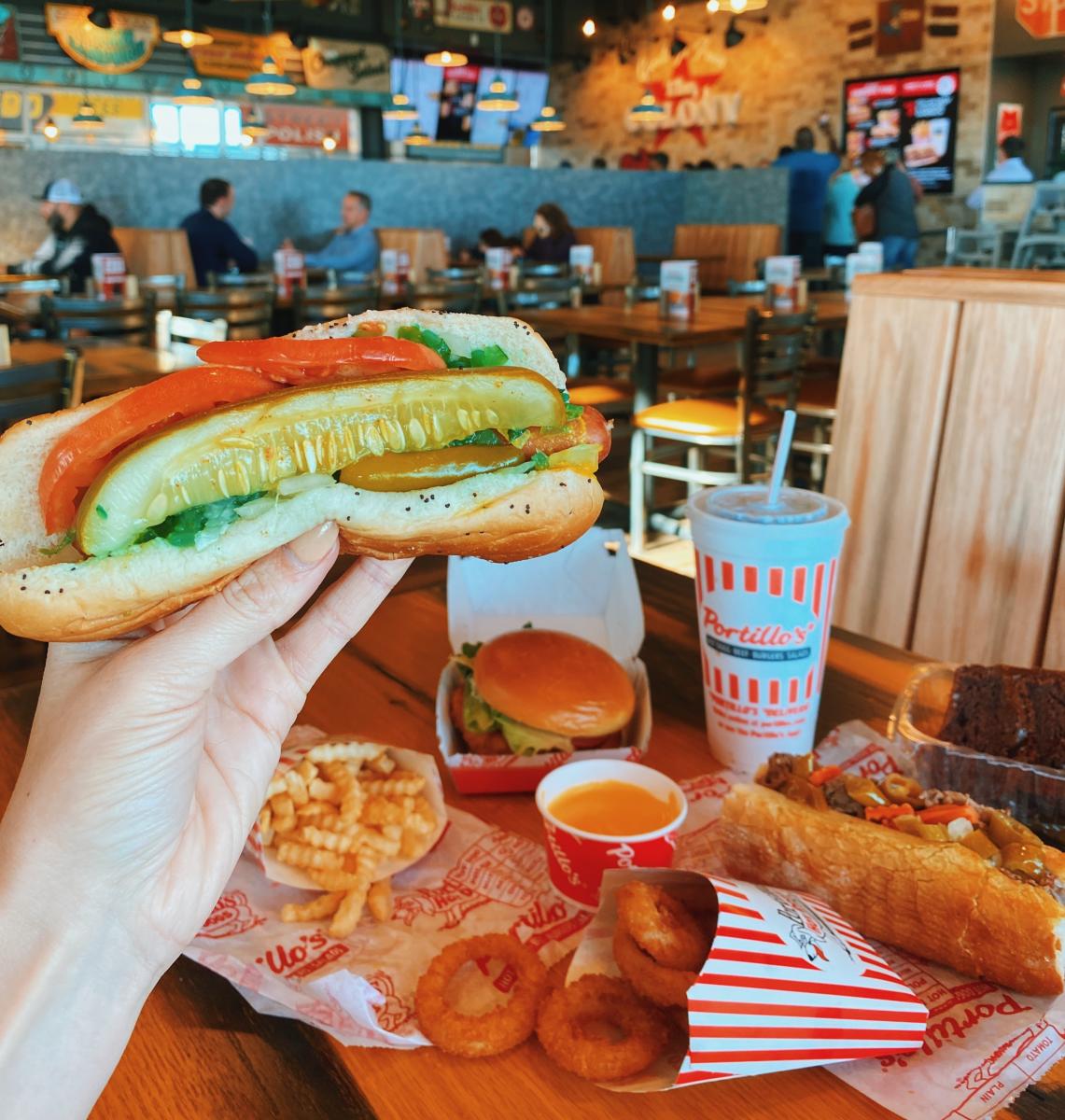 THE MENU
The menu features Chicago-style street food like hot dogs, sandwiches, burgers and beyond! The two things that make Portillo's unique are their iconic Chicago-style dogs and their Italian beef sandwiches, which are both a must-order for first timers! If you've never had a Chicago-style hot dog, it's topped with relish, tomatoes, a pickle spear, hot peppers and mustard on a poppy seed bun… and it's delicious! Although we came for the hot dog, the Italian beef sandwich ended up being the star of the show for us! Make sure to pair your meal with a side of their crinkle cheese fries or crispy onion rings and finish with their famous chocolate cake or a milkshake for dessert!
WHAT WE ORDERED
🌭 Chicago-style hot dog
🌟 Italian beef sandwich w/ hot peppers
🍔 Breaded chicken sandwich
🍰 Chocolate cake slice
🍟 Fries w/ a side of cheese
🧅 Onion Rings
GRANDSCAPE LOCATION
The Colony location is the first Texas outpost for Portillo's and is a pretty exciting new addition to Grandscape! Inside, the space resembles the ones you'll find in Chicago with a retro feel featuring car memorabilia, records on the walls and even some western touches to pay homage to their new Texas location!
Please keep in mind this is their soft opening and they might still be ironing out some kinks. While we had a great experience, we want to be mindful that their Grand Opening isn't until 1/18!