Looking to take a walk on the Wild (West) Side? The historic Fort Worth Stockyards, located north of downtown Fort Worth, will give you a taste of an authentic cowboy experience! Known as where the West begins, the Fort Worth Stockyards is a true taste of Texas, from delicious Tex-Mex to boot-scootin' saloons on cobblestone streets and daily cattle drives, you won't want to miss a stop at this historic district!
Updated June 2023
---
To Eat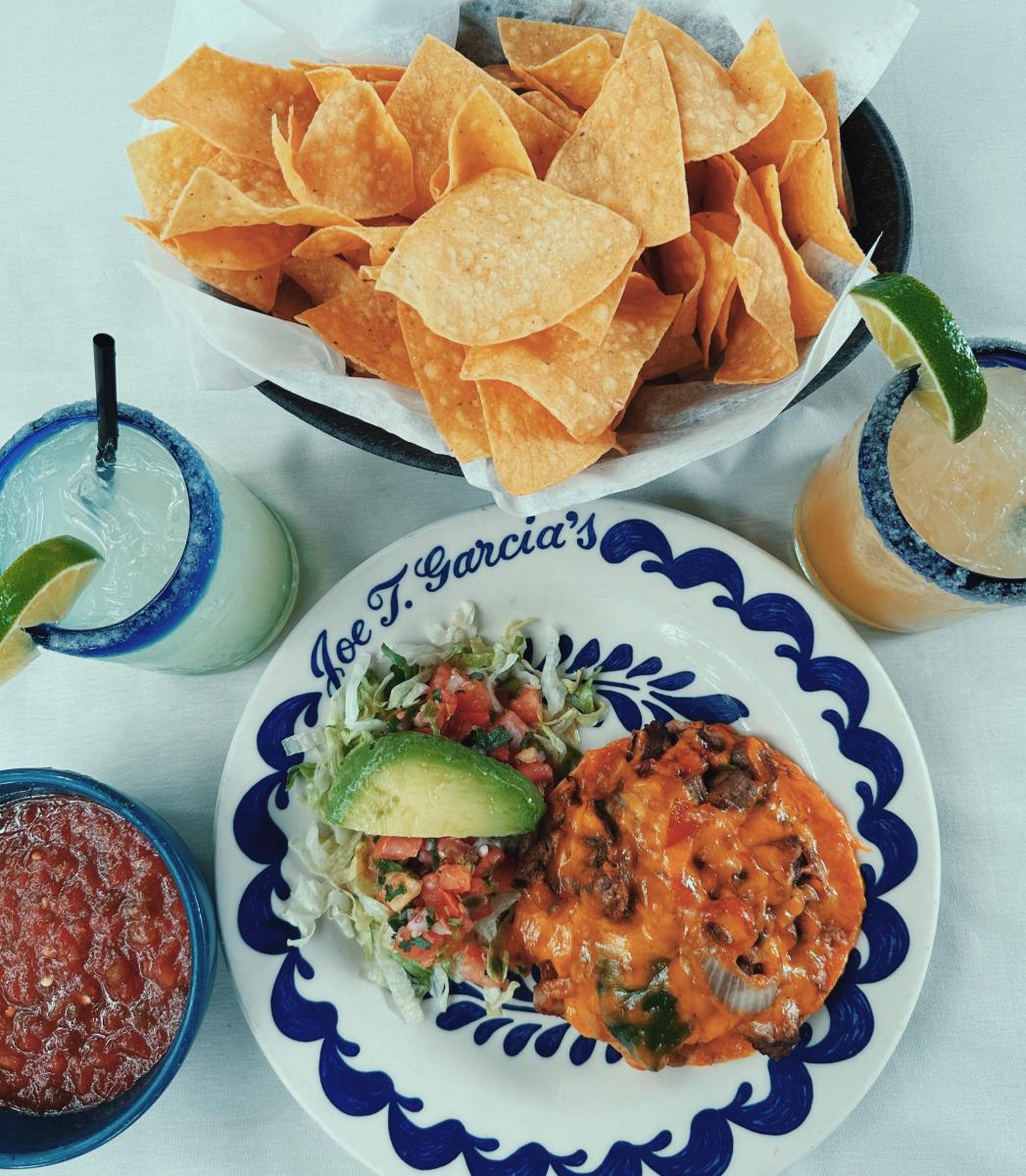 Iconic as they come, Joe T. Garcia's is an infamous restaurant with a stunning outdoor garden patio that is way bigger than imaginable! "Joe T's" is great for large parties, celebrations, or a lively dinner before hittin' the town. While the line can get pretty long, enjoy their margarita (or a pitcher) while you wait to pass the time - and it actually does move fast! You won't be disappointed by the small but tasty menu, made up of fajitas, tostadas, and enchiladas. (Pictured)
Located next to White Elephant Saloon, Love Shack is your classic American burger joint elevated and owned by Cowtown's beloved Chef Tim Love. This casual 2-story joint is perfect for all ages, serving gourmet burgers like the "Dirty Love Burger", hand-cut fries, and even root beer on tap! 
Taco lovers make your way to the ultimate taqueria experience, known as Taco Heads! Located on North Main Street, Taco Heads is a vibrant spot with pink walls, instagramable neons, a Fort Worth mural, and adorable patio. They're serving up award-winning breakfast tacos and have been voted Best Tacos in Fort Worth multiple times! 
Craving some smoked meat and Texas barbecue in a picturesque western-period space? Provender Hall is a casual, yet upscale American Grill in a beautiful two-story restaurant located on Exchange Avenue. From fried okra to shrimp and grits and even oysters and chicken gumbo, this mouth-watering menu is sure to satisfy.
Located on Mule Alley, Paloma Suerte is a Fort Worth Tex-Mex concept created by the one and only Chef Tim Love. Their cuisine includes Birria Tacos and delicious queso plus many more Tex-Mex favorites! It's a lively atmosphere and can get pretty crowded, but it's a great spot with a colorful patio decked out with streamers, huge bar, and unique margs!
---
To Drink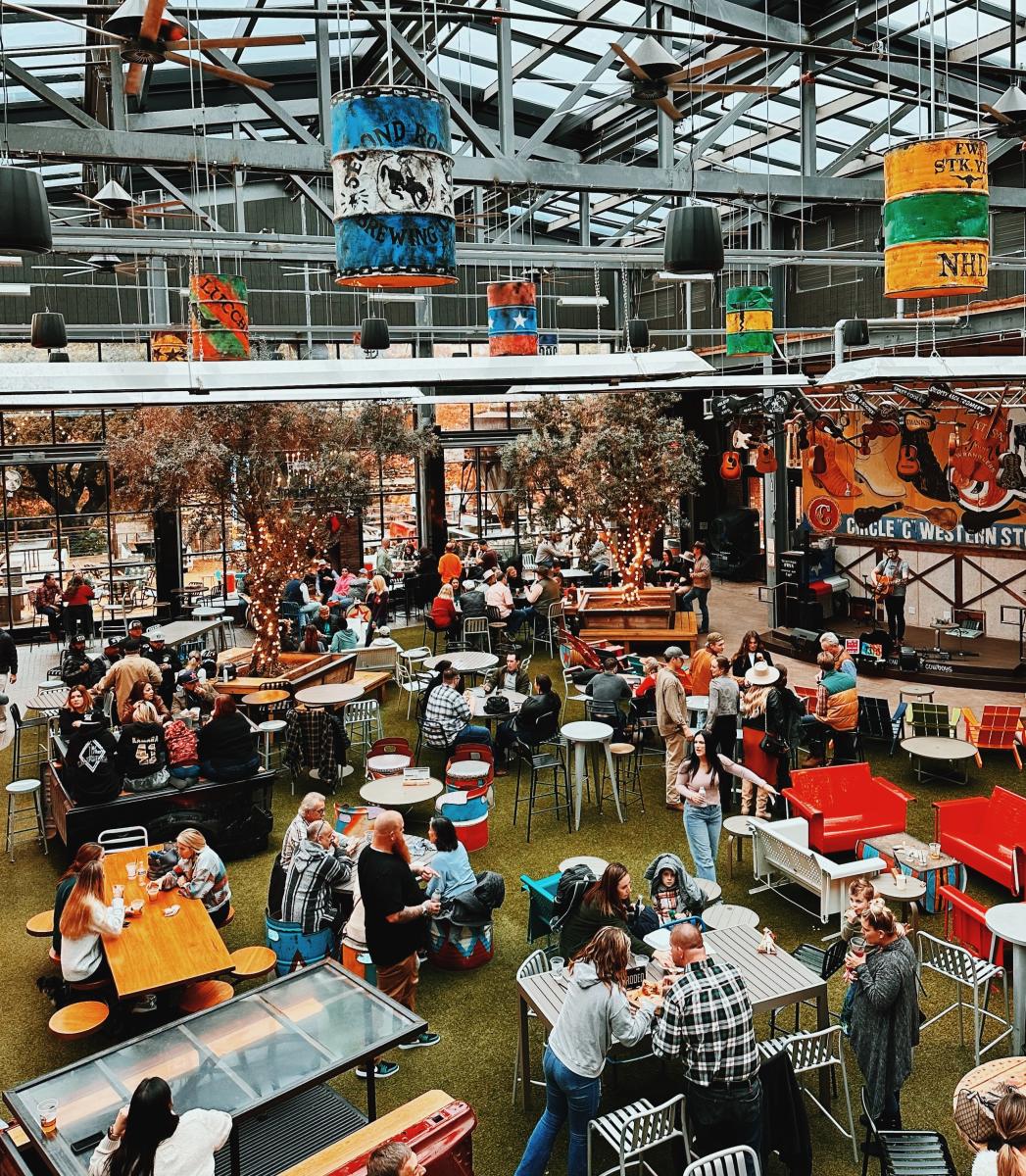 Another Tim Love concept, White Elephant Saloon is a quirky and authentic Texas watering hole offering live music and dancing. Don't miss their ceiling of cowboy hats and other Wild West decor. While mostly composed of a mature crowd this is definitely a place to bring out your dancing boots!
From the same team as the beloved Dallas bar, Truck Yard, comes Second Rodeo Brewing located on Mule Alley. Be transported to a one-of-a-kind backyard oasis with colorful chairs, a beer hall, and unique seating options cozied up next to their epic music stage. They have classic brews to enjoy and even mixed drinks on tap! Their playful atmosphere is dog friendly and perfect for a fun night out enjoying live music and a lively crowd! (Pictured)
To get a different view of the historic Stockyards, all while sipping on luxurious craft cocktails, visit the rooftop bar and tapas stop, Ático. Chef Tim Love brings a taste of Barcelona to Fort Worth through this stunning and swanky eatery on the 6th floor of the Springhill Suites Marriott. The skylight roof and bohemian chic decor create the perfect vibe for an intimate date night or night on the town!
This hidden bar on Mule Alley is a must for a girl's trip or a fun drink to start the night (happy hour is 3-6 pm every day)! All their cocktails are named after famous historic cowgirls and the aesthetic is homey with a twist of Western chic!
Like its namesake, this moody bar is the only bar located underneath the Stockyards on Exchange Ave! This intimate atmosphere offers live music, DJs, and dancing. This joint in the heart of the Stockyards was voted "Oldest Neighborhood Bar"!
---
To Do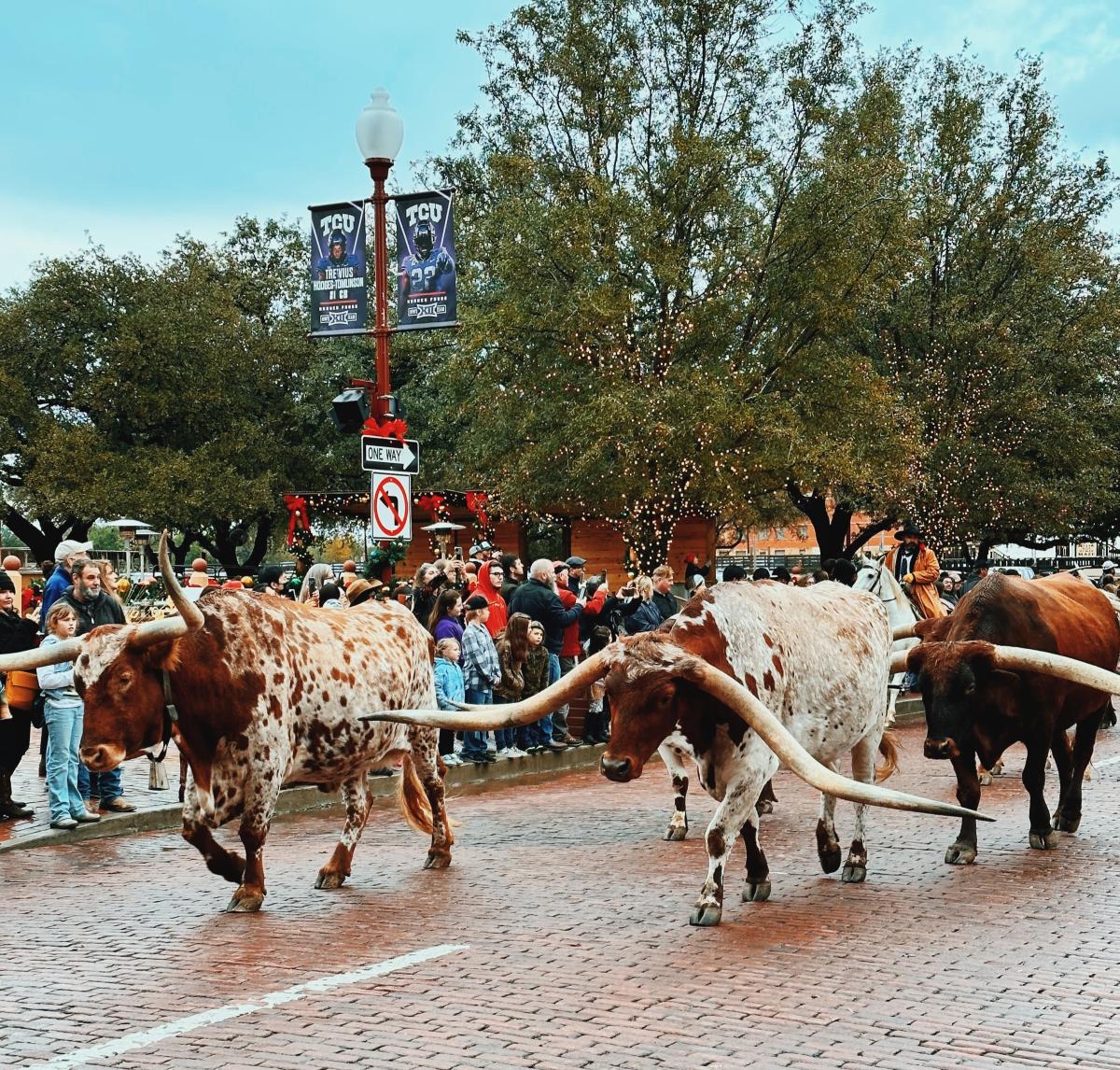 If you've heard of the stockyards, then you've definitely heard of Billy Bob's, the world's largest Honky Tonk! This indoor rodeo arena is home to restaurants, bars, mechanical bulls, shopping, and multiple stages all under one roof that brings in both country icons and up-and-coming artists! It's definitely a must-visit for your Stockyards adventure, with live music and two-stepping every night! 
This cobblestone street is the perfect daytime or nighttime activity for visiting up the newest additions of the Stockyards. Located on Exchange Avenue are many shops and restaurants underneath string lights, such as Flea Style, Provender Hall, Lucchese, and the stunning Hotel Drover at the end of the alley. It's the perfect spot to capture your western photo!
If you need a rodeo fix, then Cowtown Coliseum (built-in 1908!) is the stop for you. When there aren't any events, the Coliseum is open to the public throughout the week for an educational look at the history of the Stockyards!  
Drinks at the Drover
Sip and stay a while at your choice between the Veranda Bar and the lobby bar of Hotel Drover for a plush Western experience. Enjoy their Texas-sized fireplace or beautiful backyard and taste their incredible cocktails and social libations.
Fort Worth Herd Cattle Drive
Thanks to many Fort Worth herd partners, the historic nineteenth-century cattle drive still exists today and is the only cattle drive in the world that happens twice daily! Every day at 11:30 AM and 4 PM watch as the cattle pass through East Exchange Avenue, you don't have to be a UT fan to cheer on these Longhorns! It's a total photo moment and truly feels like the wild west! (Pictured)
---
To Stay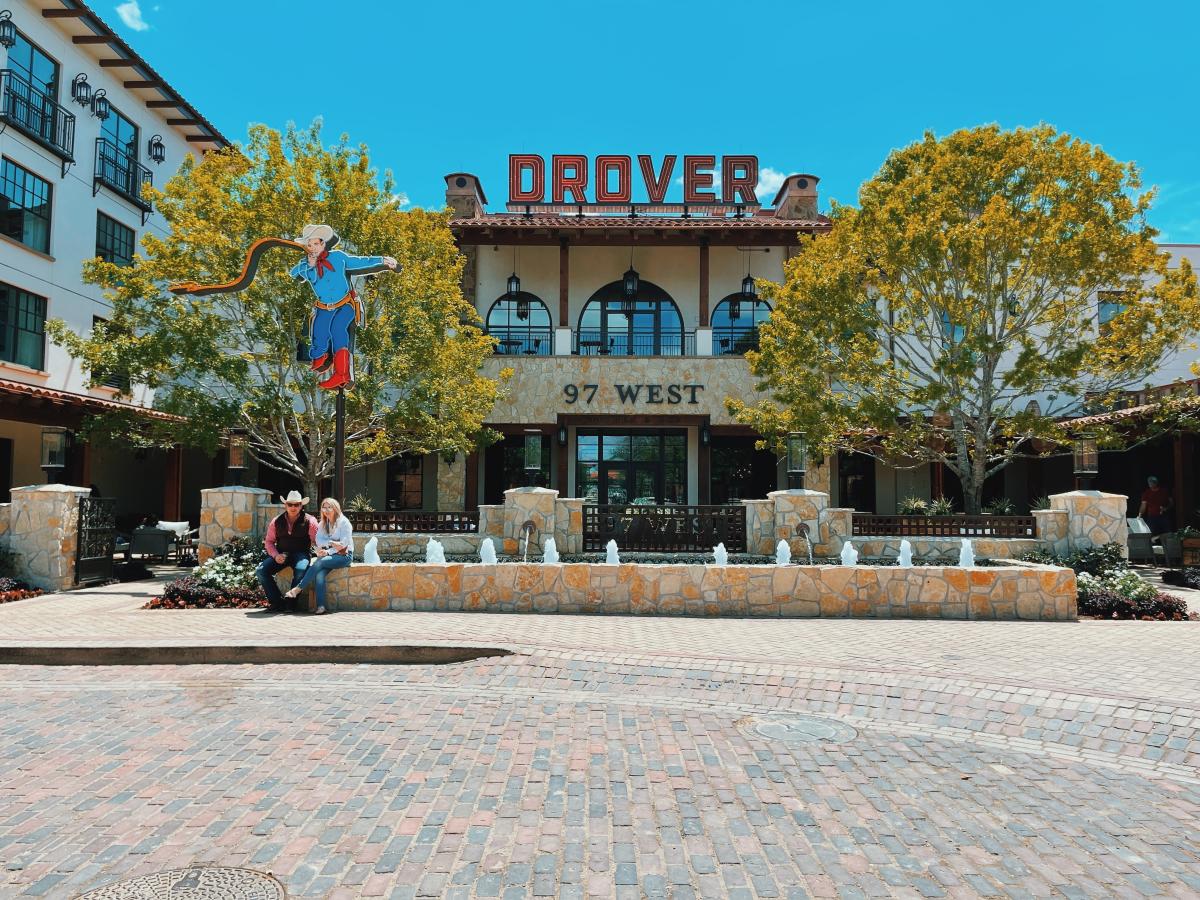 Named after cowboys that roamed the land and slept under the starry skies, this is a stay where giddy-up meets glam. While on the higher end of hotel stays, each room is handcrafted for that upscale Texas look and feel with countless amenities, such as their spacious oasis of a backyard filled with games, fireplaces, a pool, a fitness center, and ritzy multiple bars. Don't miss your chance to stop and smell the leather at this Autograph Collection Hotel. (Pictured)
This beautiful and conveniently located hotel has its own fair share of captivating Western art and is home to the tapas bar, Ático! You'll enjoy a deluxe and comfortable stay while still being in the heart of the Stockyards!
If you are a paranormal activity and history-loving traveler, then Miss Molly's is for you! Built-in 1910, the former brothel is now an 8-bedroom hotel carefully restored museum of a hotel. The oldest bed and breakfast in Fort Worth is known for its elegance and comfort as well as a few apparitions sightings! 
Perfect for the business traveler or those that might prioritize convenience and comfort, the Hyatt Place has that Southern charm and the perfect Stockyard location steps away from Mule Alley.
---
YOU MAY ALSO LIKE