Baseball season is in full swing which means it's time for ballpark food and cold beer while rooting on the Rangers! We recently went to a game at Globe Life and had to try all of the new food they just launched. Aside from your fave baseball classics, you can now find truly unique and delicious options too, and we're breaking down each one, where you can find them + our discount code for tickets!
Updated May 2023
---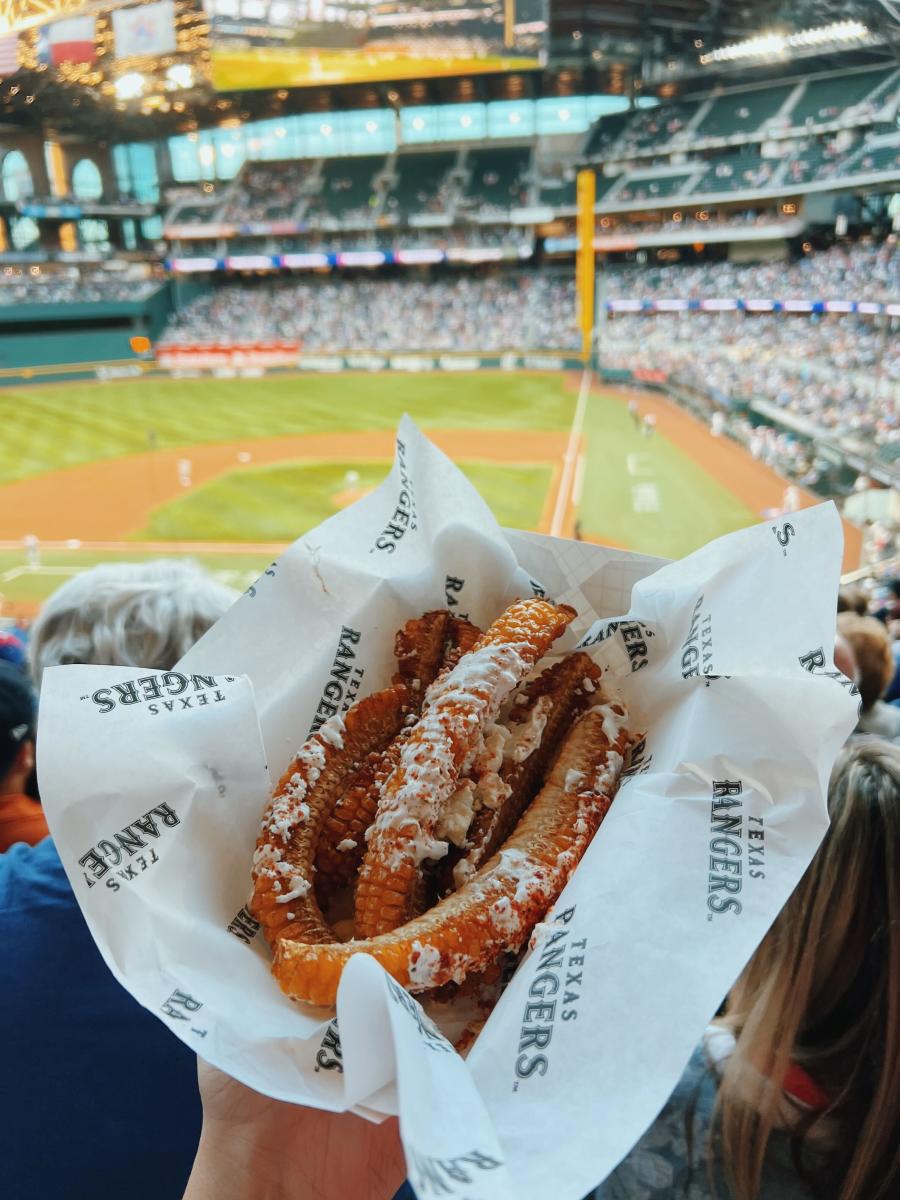 The Boomstick Burger 
The famous 2-foot-long hot dog w a variety of toppings like Texas Chili Company, Rico's Nacho Cheese, Jalapenos and Crisp Onion Rings for $34.99 / Section 132


Brisket Croissant
House smoked Nolan Ryan Beef Brisket stuffed into a golden, buttery croissant & drizzled with Sweet Baby Ray's donut style glaze for $9.99 / Sections 3, 123 and 230


Corn Ribs
Fresh corn on the cob sliced into mouth-watering "ribs," tossed in a spicy lime crema & coated with cotija cheese and tajin for $9.99 / Sections 3,121 and 230


Flamin Hot® Cheetos Pretzel
A fluffy Bavarian-style sourdough pretzel dipped in Flamin Hot Cheetos Cheetle & coated in crushed Flamin Hot Cheetos for $8.99 / Sections 3, 12, 121, 208 and 233


Pizza Dawwg
A Texas Chili Company All-Angus Beef hot dog topped with marinara, melted mozzarella & pepperoni for $11.99 / Sections 3, 133 and 214


The PLT Sandwich
A vegan sandwich made with a balsamic glazed & grilled portobello mushroom garnished with crisp lettuce, tomato and vegan mayo in between freshly baked vegan bread / Section 101


20% OFF TICKETS
Use promo code DALLASITES for 20% off 2023 Single Game tickets all season long! Get your tickets!

Send to someone you want to take out to the ballgame!
---
YOU MAY ALSO LIKE