If you haven't heard about Taquero Mucho, let's taco bout it! The floor-to-ceiling pink embellished space located on Burnet Rd in North Austin is finally opening! The unique concept with a tasty menu and "wow" factor drinks did so well Downtown that a new location was absolutely needed! 
Updated January 2022
---
TAQUERO MUCHO
Founded by Gabriela Bucio, owner of Gabriela's downtown came to realize her customers were mostly women. With this ideal, she decided to create a place where women go to feel loved, celebrated, and empowered. Taquero Mucho is just that.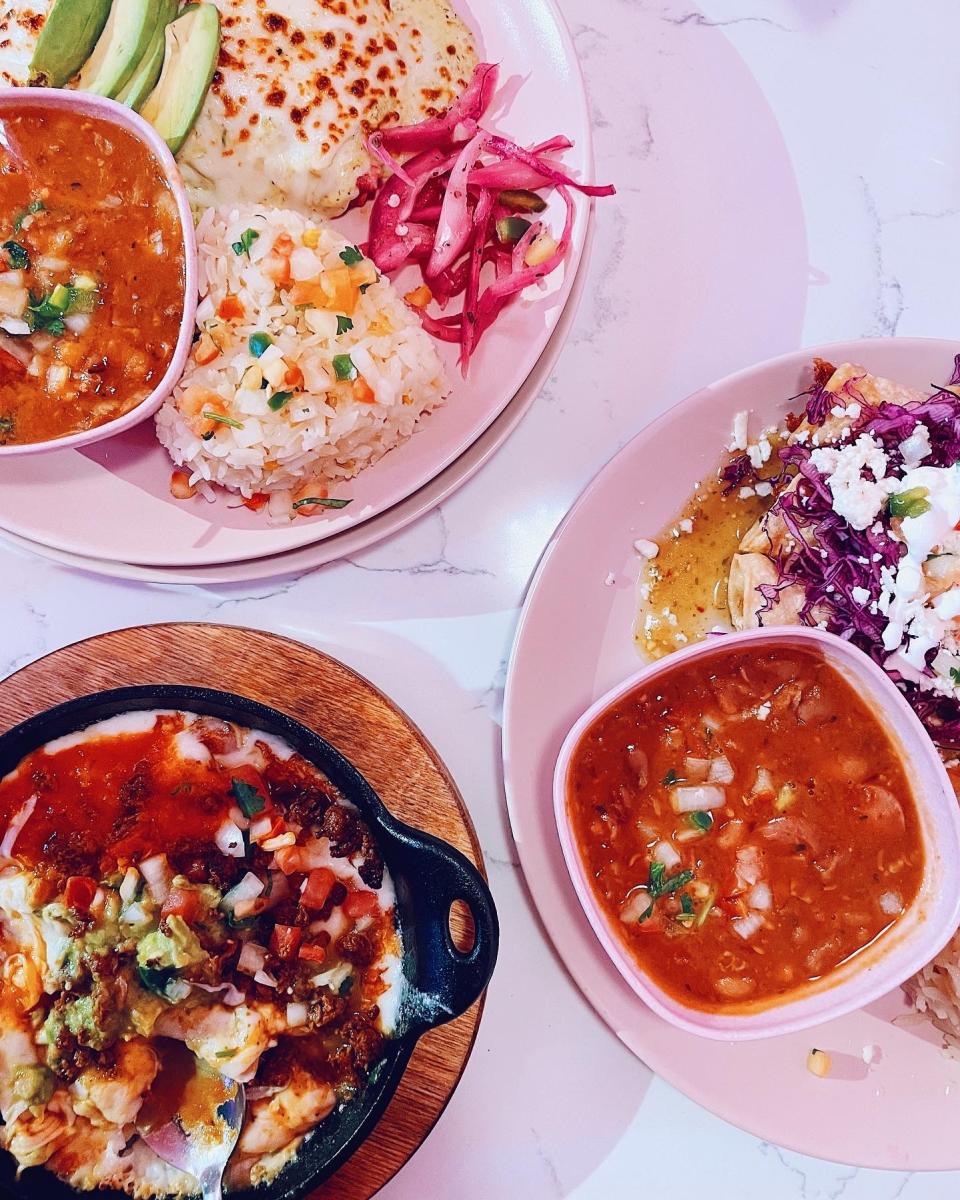 ATMOSPHERE
Dripping in pink feminine energy (yes! pink velvet chairs, pink booths, pink ceiling, pink mood lighting), this cute little taqueria is becoming one of Austin's newest staples for women. From intricate light up signs to floral decor, the wall is entirely made up of designs that are vibrant and glamorous creating an instagrammable experience, as well.
THE FOOD
The pink does not just stop in the decor. It is perfectly strewn throughout, even in the food. Pink tacos, sign us up! Even the chips come in baskets with Taquero Mucho x Louis Vuitton style paper (so extra, so fabulous, so mucho!) For apps, try the Elote and Choriqueso! And for entrees, we always get something from the Taqueria, but the Avocado Cream Enchiladas were heavenly!
DRINK UP
Home of instafamous juice boxes labeled "High Maintenance and Anti-B Juice"! Or get a drink that comes with heart shaped shades…the details are just too good! Drinks are infused mainly with hints of watermelon or strawberry and have names like Actin Kinda Shady, X Boyfriend, Cucumber Sugar Baby, making our girly dreams come true!
+ MORE
There are so many amazing drinks and food items on the menu, you just have to go and try for yourself! This spot is the perfect GNO spot, bachelorette lunch or celebratory photo opp! Come for Brunch on weekends from 11 AM - 3 PM or Happy Hour from 3 - 6 PM Monday through Friday!
---