We're once again looking for all the ways to stay cool this summer, and bars with some sort of entertainment are our go-to's. From arcade bars to spots with video games, board games, and more, here's a round-up of all the best spots!
Updated July 2023
---


One of the most underrated bars and restaurants with tons of games and activities is Sidecar Social! Step inside a massive space (with an awesome, string-light patio for cooler weather) with games galore! And the best part.. they're all free! Enjoy pop-a-shot, Jenga, karaoke (there are even private rooms!), foosball, a variety of corn hole boards, and more!
Plus there are hundreds of TVs surrounding the space creating the most exciting and lively vibe!
Addison | Directions
BARS WITH ARCADE GAMES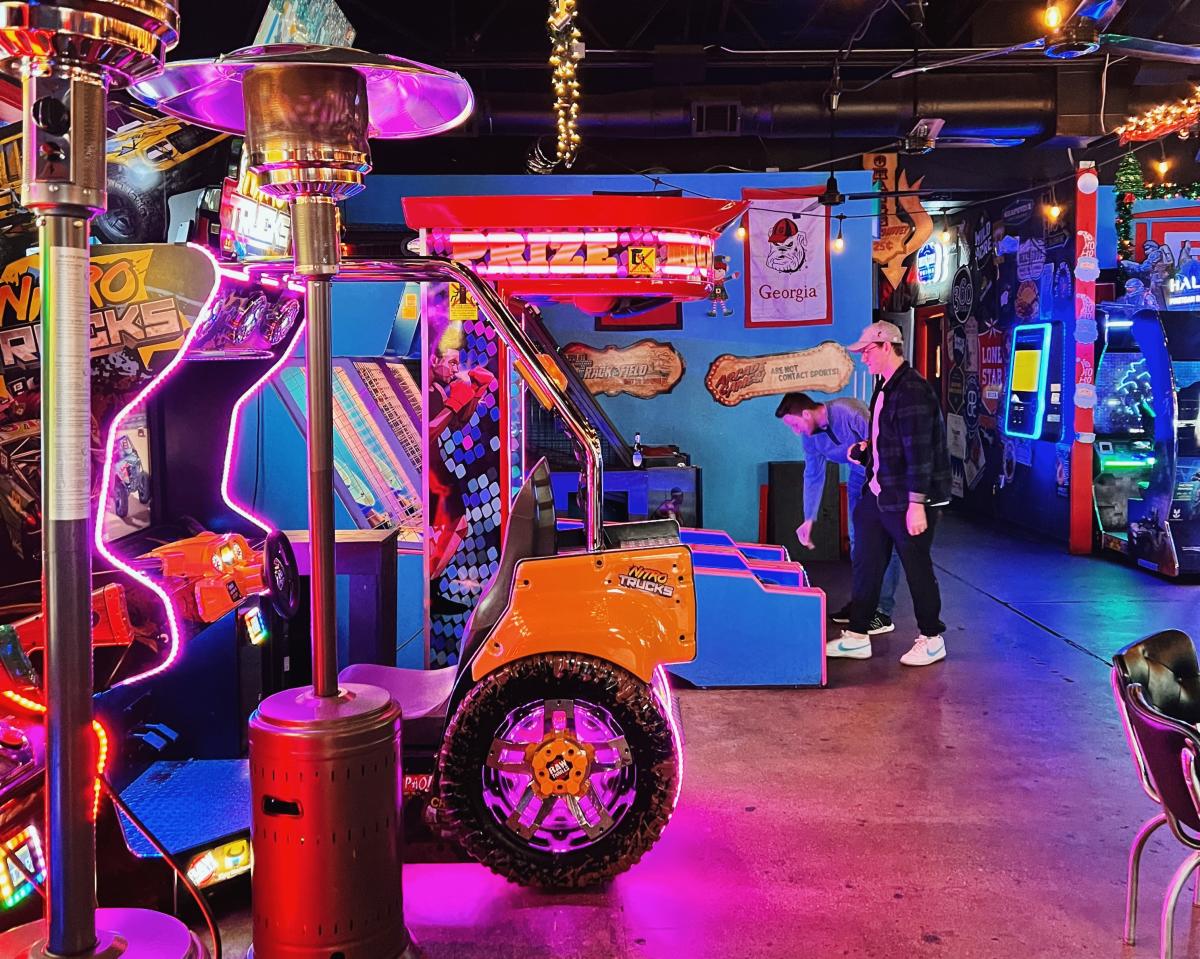 True to its name, Barcadia is a blend of a bar and an arcade! Located on the bustling Henderson Avenue, this spot features vintage arcade games, skeeball, and a huge patio with life-sized Jenga. While you play, enjoy dozens of beers on tap and bar bites like burgers, wings, and pizza – plus their kitchen is open 'til midnight, perfect for late-night munchies! (Pictured)
Henderson | Directions
 
If you're a fan of Bishop Cider Co., stop by their barcade to enjoy great drinks and fun games! Enjoy open play of 140+ arcade games for just $12, while you sip a wide selection of in-house crafted ciders, seltzers, and wines. They also have rotating food trucks outside so you can game and grub!
Design District | Directions
This massive barcade has huge amounts of fun for low prices! Play 95+ retro arcade games for just $12, or try a monthly pass for just $20. While you play, enjoy a large menu of speciality cocktails and bar bites to keep the fun going.
Multiple locations | See locations
 
You can both watch and play games at this massive sports bar! Located next to American Airlines Center, find games like air hockey, arcade basketball, and more scattered throughout the multiple bars. Don't skip on their beer buckets and healthy menu items either!
Victory Park | Directions
You never know what fun you'll get into at this massive bar on 7th Street! Inside, play dozens of arcade games like Guitar Hero, Dance Dance Revolution, Skee-Ball, and even retro pinball machines. They also have a great patio with cornhole, Jenga, and more. Stop by on a Sunday for free open play all day, plus mimosa specials!
Fort Worth | Directions
Step back in time at Dallas' oldest dive bar! Pretty much anyone can bank on having a good time, here whether you're having a  patty melt in one of the booths or having a fun night out with arcade games and pitchers of beer in the back. 
SMU | Directions
This corner neighborhood sports bar is a go-to for watching sports or just enjoying a sunny day! Their patio is always lively with cornhole, jenga, and multiple TVs with sound, so you can watch while you play! They also have an extensive food menu with wings, burgers, and nachos, and an impressive drafts and cocktails menu.
State Thomas | Directions
This 24,000-square-foot fun factory in Deep Ellum is two stories of excitement with 3 bars, a kitchen, bowling, karaoke, and wide variety of old-school arcade games.
Deep Ellum | Directions
This flashy spot brings an arcade bar to the Deep Ellum nightlife scene with weekly specials, bottle service, live DJS + your favorite retro arcade games and occasional free play.
Deep Ellum | Directions
BARS WITH VIDEO GAMES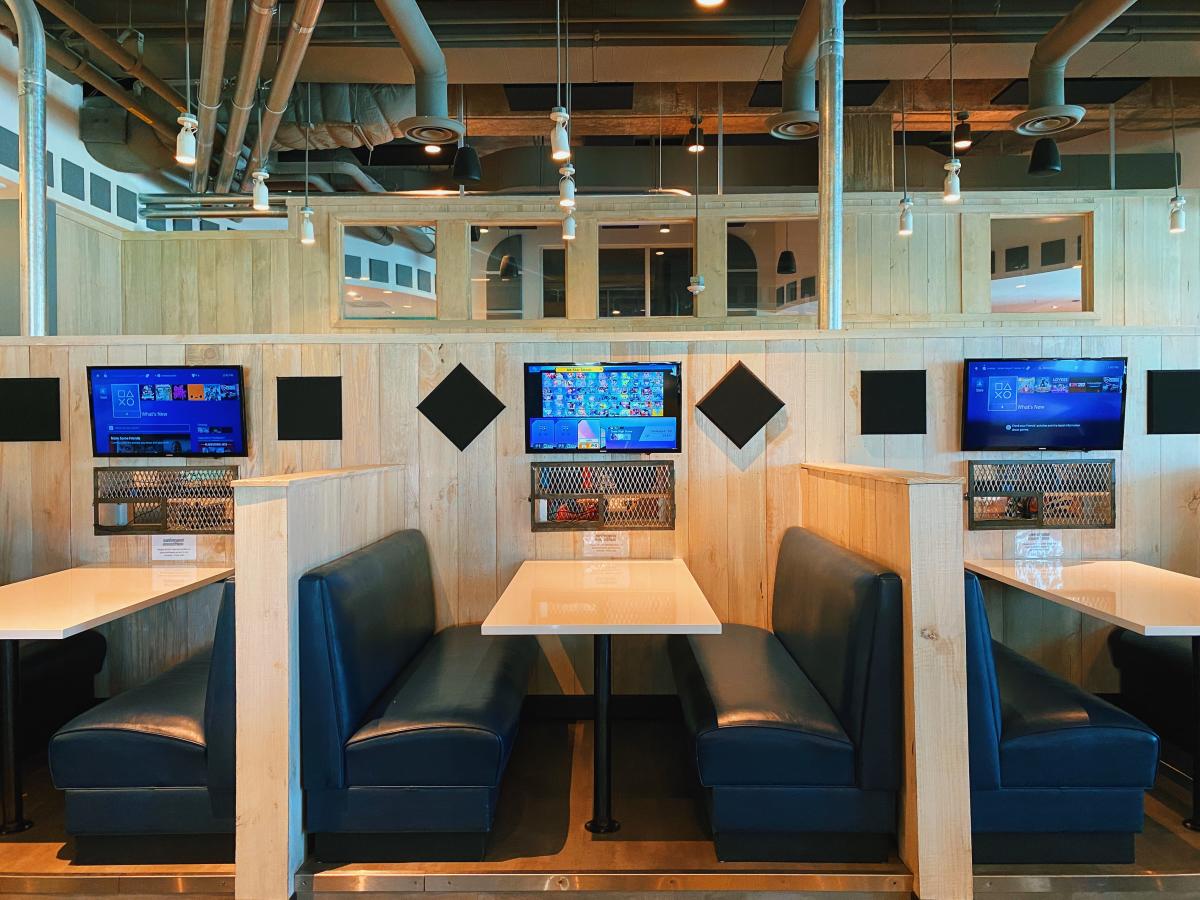 A restaurant entirely devoted to games?! Sign us up! Reserve a booth, duo, or single PC to play 100+ video, arcade, and board games. While you get your game on, sip creative cocktails made from AI-Generated recipes. Plus, pair your sips with upscale munchies like Kimchi Sweet Potato Cheese Fries, Popcorn Chicken Skewers, and Smashburgers!
Plano | Directions
Unleash your inner nerd and play dozens of games right from your table! This spot truly makes gaming an upscale experience, with a scratch kitchen, unique cocktails, and a coffee bar -- all with gaming-related names to really embrace the theme! (Pictured)
Frisco | Directions
BARS WITH BOARD GAMES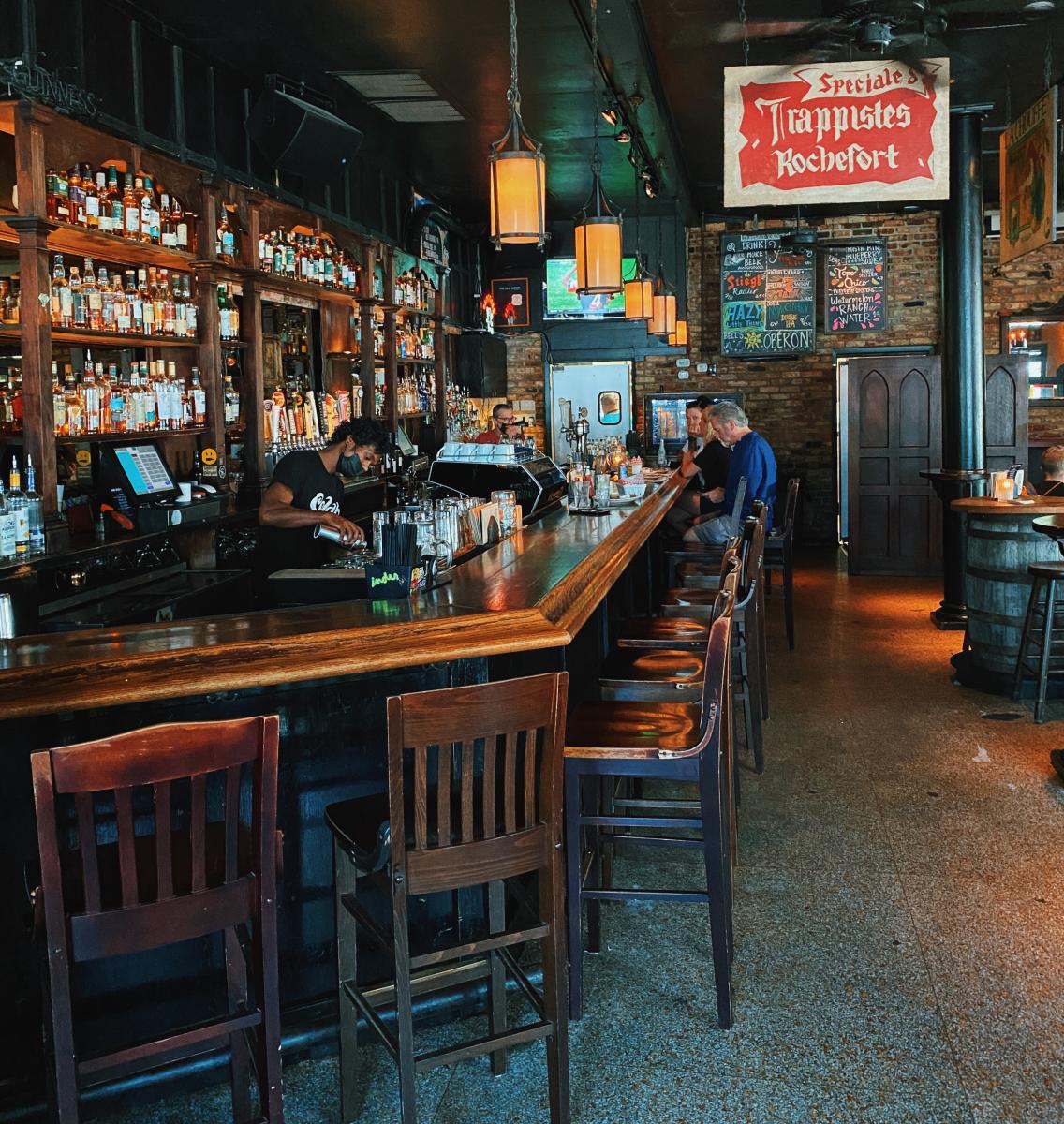 This brewery in the 'burbs features four locations to drink and game! Play on the mezzanine, in the beer garden or open-air beer hall, or enjoy the air-conditioned taproom! You can also find dozens of brews, some exclusive to the brewery location. We love the Strawberry Fields and the Tigers Blood!
Carrollton | Directions
 
This neighborhood spot offers 52 taps including craft beers, wines, and even root beer, plus 10+ board games to play! In addition to delicious drinks, you'll also find bar bites like pretzels, sliders, and Meat Pies which are a classic from South Africa, the chef's home country. We recommend stopping by between 4pm and 6pm weekdays for $5 select beers and wines -- the perfect afternoon break!
Love Field | Directions
 
If you haven't yet, you need to try mead! Mead is a traditional drink is made from fermented honey, contains probiotics, and is naturally gluten-free. Breaking Brew is the first mead taproom in North Texas, serving up this lighter sip in their casual and industrial bar, complete with games and tons of seating!
Farmers Branch | Directions
This adorable brewery is full of shapes, stars, and disco balls, with a celestial theme that combines art, science, and beer! They offer more than a dozen types of beers, from sours to IPAs to pilsners -- our go-to is the Color Confinement sour. Grab a board game off the shelf and play in the casual, colorful indoor taproom or outside on the patio, complete with fun murals! 
Medical District | Directions
Founded by the creators of Big Texas Beer Fest, Civil Pour is the perfect combination of a brewery and your neighborhood cafe! This spot is great for a casual hangout any time of day, serving coffee, beer, and sandwiches galore. You'll also find a few board games so you can play while you enjoy a delicious panini!
Walnut Hill | Directions
This happening coffee shop is perfect for day or night, serving coffee and cocktails from 8am to 10pm! Whatever you're sipping, the bright and airy space has plenty of large tables for your group to gather around and play classic board games. If the competition gets your stomach growling, they also offer a delicious menu of healthy breakfast bites, sandwiches, and snacks to share!
Lower Greenville | Directions
Step into a low-key spot with all the vintage European vibes! You and your crew can settle into a table inside the dimly lit bar with board games! We also love their happy hour, which features $6 cocktails and half-priced bar snacks like crispy mac & cheese and muenster fries, offered Monday through Friday from 4pm to 7pm!
Lower Greenville | Directions
Taste dozens of in-house brews in this biergarten-meets-taproom! The industrial-style space is filled with murals, picnic tables, and board games like Battleship and Jeopardy. 
Oak Cliff | Directions
Featuring wood interiors, Guinness always on tap, and solid comfort food, it's no wonder Old Monk made it on our coziest restaurants in Dallas list. To add to the coziness, they have plenty of board games to play at the pub! Bring your friends for some competition paired with amazing drink specials, a great patio, and one of the best hearty, Irish brunches in town! (Pictured)
Henderson | Directions
If you're out shopping in Mockingbird Station, this is the perfect detour for a drink! While you sip, shuffle through their card games on the rooftop patio or on the cozy couches inside. Their cocktails are just as fun as the games, with unique ingredients like pink peppercorn agave, butterfly flower, and tobacco-smoked bourbon!
Mockingbird Station | Directions
Get your game on and get rowdy inside your quintessential dive bar! This spot serves strong drinks and stronger competition, with both card games to play and sports games to watch on TV. Sip classic cocktails all night long and be ready for high stakes and high energy!
Uptown | Directions
This pub has been a Texas fave since 1985, serving 100+ beers in a rustic bar atmosphere! Enjoy games at the bar next to the retro jukebox, or on the stunning plant-filled patio. While you sip and play, feast on hearty dishes like fish and chips, stuffed jalapenos, and even pesto pasta!
Irving | Directions
Anything that reminds us of NOLA is automatically a good time, and this spot's rooftop and games make it even better! Sip on classic cocktails in a dimly lit corner inside, or head to the rooftop to play under the sun!
Uptown | Directions
 
This well-known Irish pub is rowdy at night, but a chill hangout during the day! Their expansive patio is one of our favorite spots for day drinking and games. If you feel like raising the stakes, bet a round of El Chapos!
Henderson | Directions
 
Twilite Lounge is an OG Deep Ellum neighborhood bar, with a retro neon sign calling you inside. Cozy up in a booth and play some board games while you sip their famous frozen Irish coffee! They also offer fun events like live music, trivia, themed nights, and more.
Deep Ellum | Directions
This no-frills spot started as a few simple home brews, and still embraces that "at home" feeling today! Enjoy simple beers like the Y'all Star IPA or the Fast-n-Light while you chill on the couch or at the bar with card games. Don't skip on their food menu either, featuring options like flatbreads, wings, and three kinds of pretzels! 
Deep Ellum | Directions
---
YOU MAY ALSO LIKE