Fall has arrived in Dallas and there's no better way to enjoy the lower temps than kicking back with brews, bites, and good company! Explore these epic beer gardens around DFW and make your plans to sip and soak up the sun this fall.
Updated September 2023
---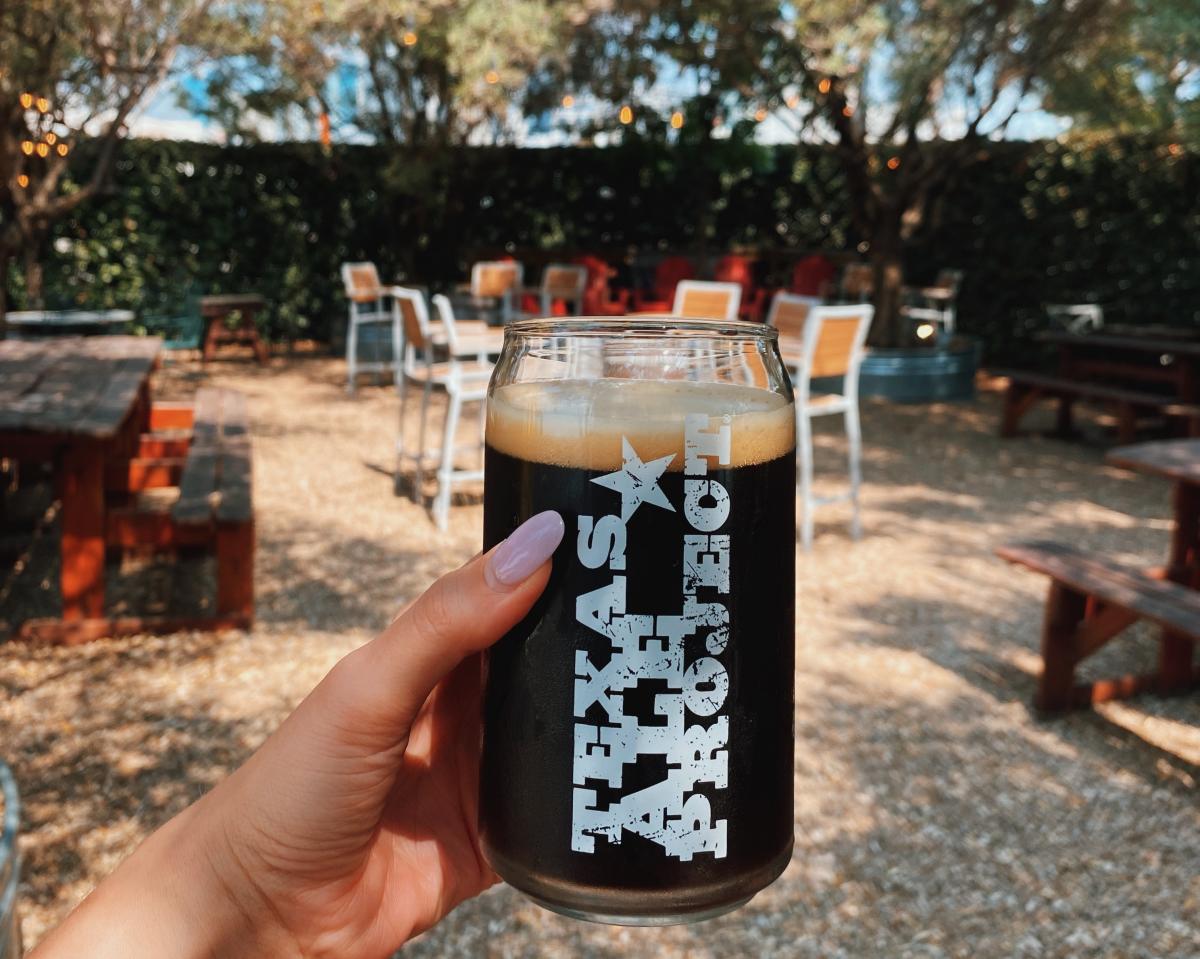 Texas Ale Project has been serving Dallas since 2014 as a family and veteran-owned brewery and tap room with year-round beers and creative limited releases. They also have a refreshing selection of seltzer flavors if beer isn't your thing! Enjoy their shaded beer garden year-round, plus tons of fun live music and launch party events too!
Design District | Directions
This colorful beer garden is full of picnic tables, lounge seating, 30+ TVs, and upcycled shipping containers that serve as stylish bars! As the name suggests, ArtPark features art from local artists which is super fun to look at and great for photo ops. They also have tons of food options, local brews, lawn games, and more!
Trinity Groves | Directions
Overlooking a large, shady dog park at The Shacks with a huge deck, Grrrowlers appeals to both dog lovers and beer enthusiasts! They have 26 taps and over 45 packaged beers for you and your crew to indulge in. With plenty of room for pups to play and even 4 wines on tap, there's enough fun for everyone!
The Colony | Directions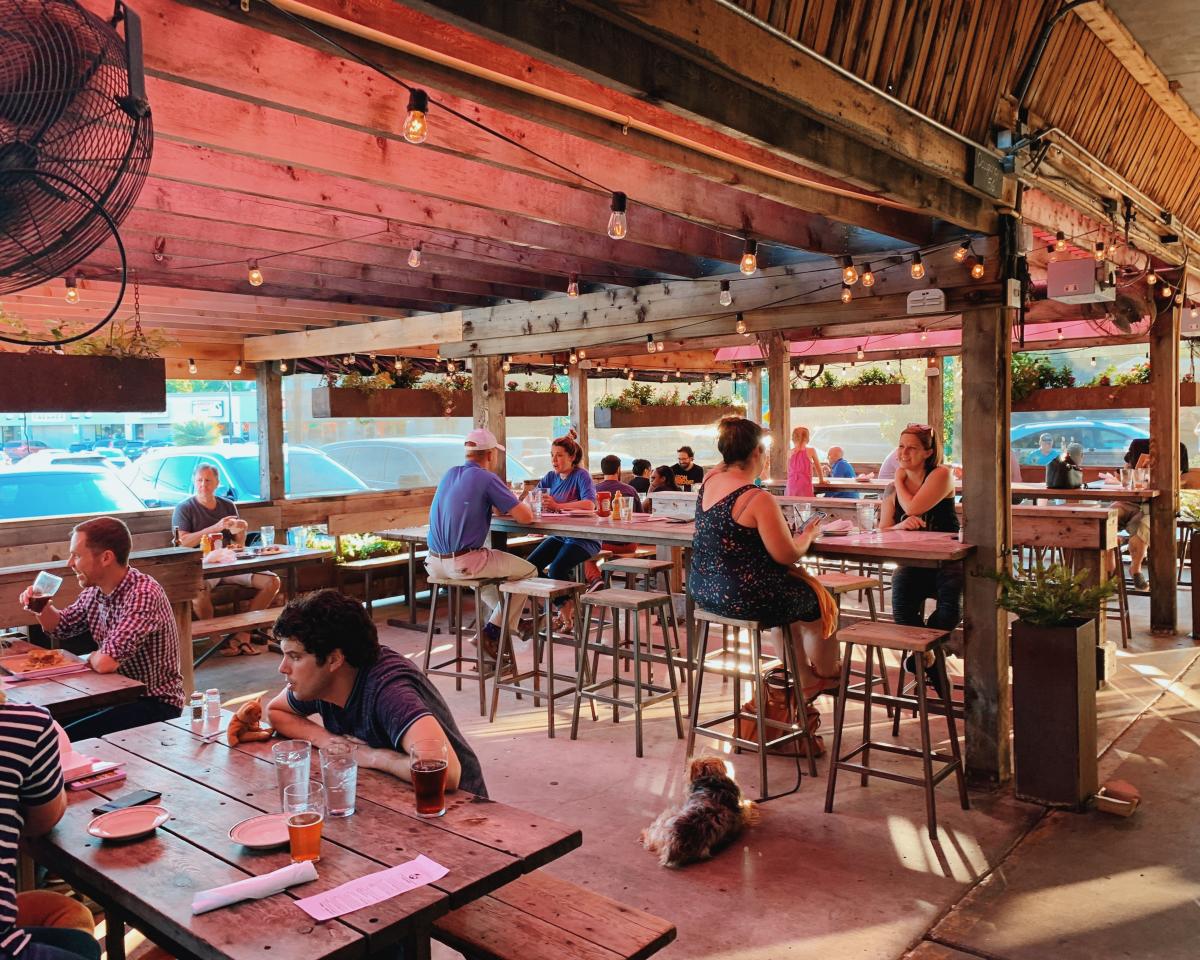 This neighborhood bar features ice-cold beers, specialty burgers, and a great patio! Here, all good pups are welcome and all of your good friends can come together. Catch up over some grub drenched in savory house-made sauces, try some of their creative sides, and have yourself an amazing time!
East Dallas | Directions
Hop & Sting has a huge beer garden with covered seating and an indoor taproom with up to 16 freshly brewed beers on tap for you to try! They are always featuring new flavors and fun events like live music that you and your friends can enjoy. Make sure to grab a bite from their amazing food trucks and pop-up vendors while you're there!
Grapevine | Directions
This craft brewery has a large outdoor space, games, weekly events, and covered seating! HopFusion has been voted as the best brewery in Fort Worth year after year, and there's definitely a reason for that. They have 24 beers on tap, trivia nights, live music, karaoke, and a fun atmosphere that ensures a great time!
Fort Worth | Directions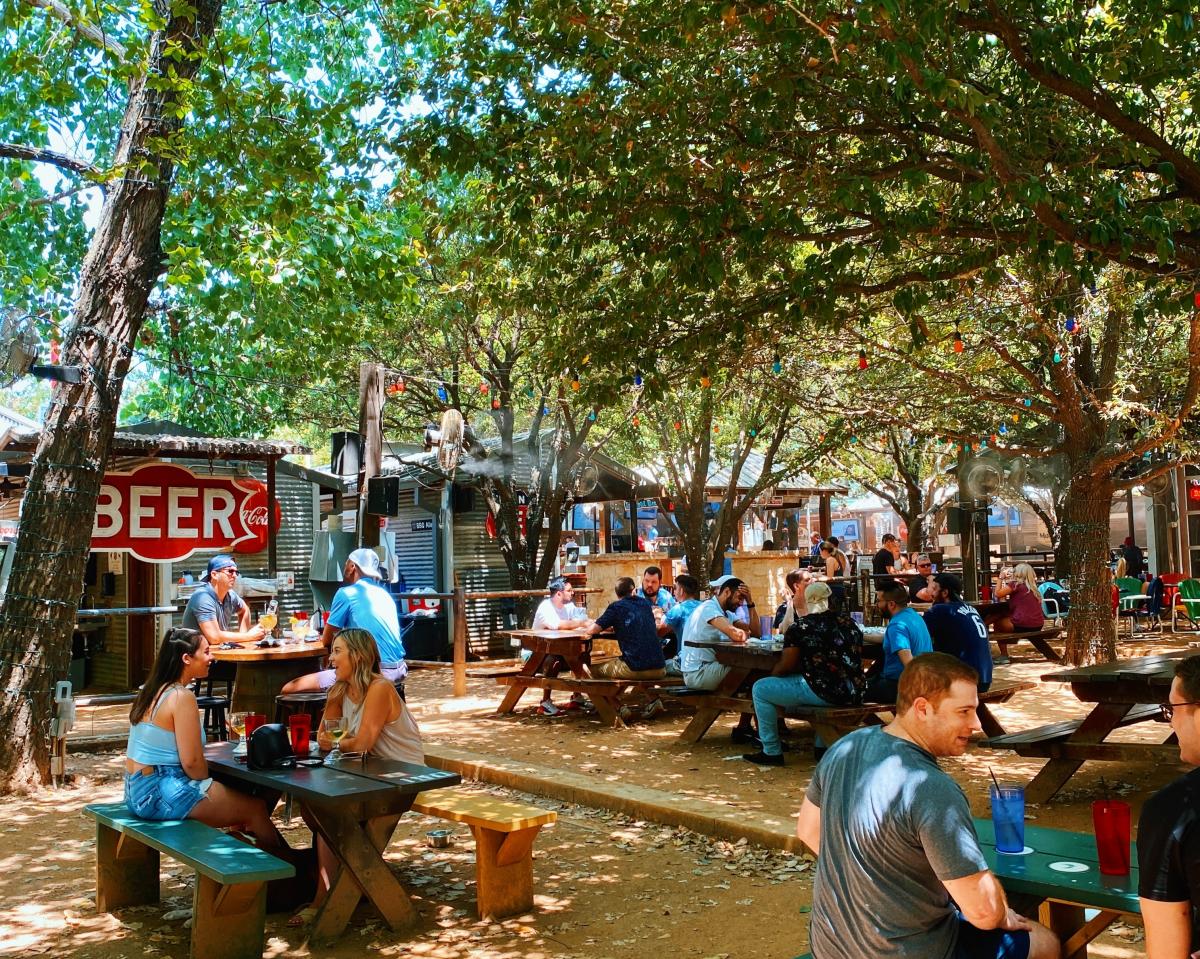 This Austin-style beer garden is a Dallas icon, with over 50 beers on tap, delicious scratch-made food, and perfect Texas vibes! Probably the most iconic dog-friendly patio in Dallas, with one in Plano aka the Katy Trail Ice House Outpost too. This is like a backyard party for your pooch to socialize with other dogs. Whether it's summer or winter, their patios are primed to host their guests comfortably, furry friends included!
Uptown | Directions
This 20,000 square-foot beer garden has 2 outdoor bars, misters, scratch-made dishes, and live music! Sip 30+ brews on tap including local taps like Manhattan Project and 3 Nations Brewing, and channel your inner Matthew McConaughey, who inspired the space. To make things even sweeter, they have outdoor games like ping pong and rentable cabanas that each have their own theme, including a Cowboys one! 
Richardson | Directions
Located in one of the oldest houses in Denton, Oak St. Drafthouse is the first beer garden in the city! Pick from over 70 brews on tap to sip on their huge back patio that is both dog and kid-friendly. Looking for some live music to kick back to? They've got you covered for that too!
Denton | Directions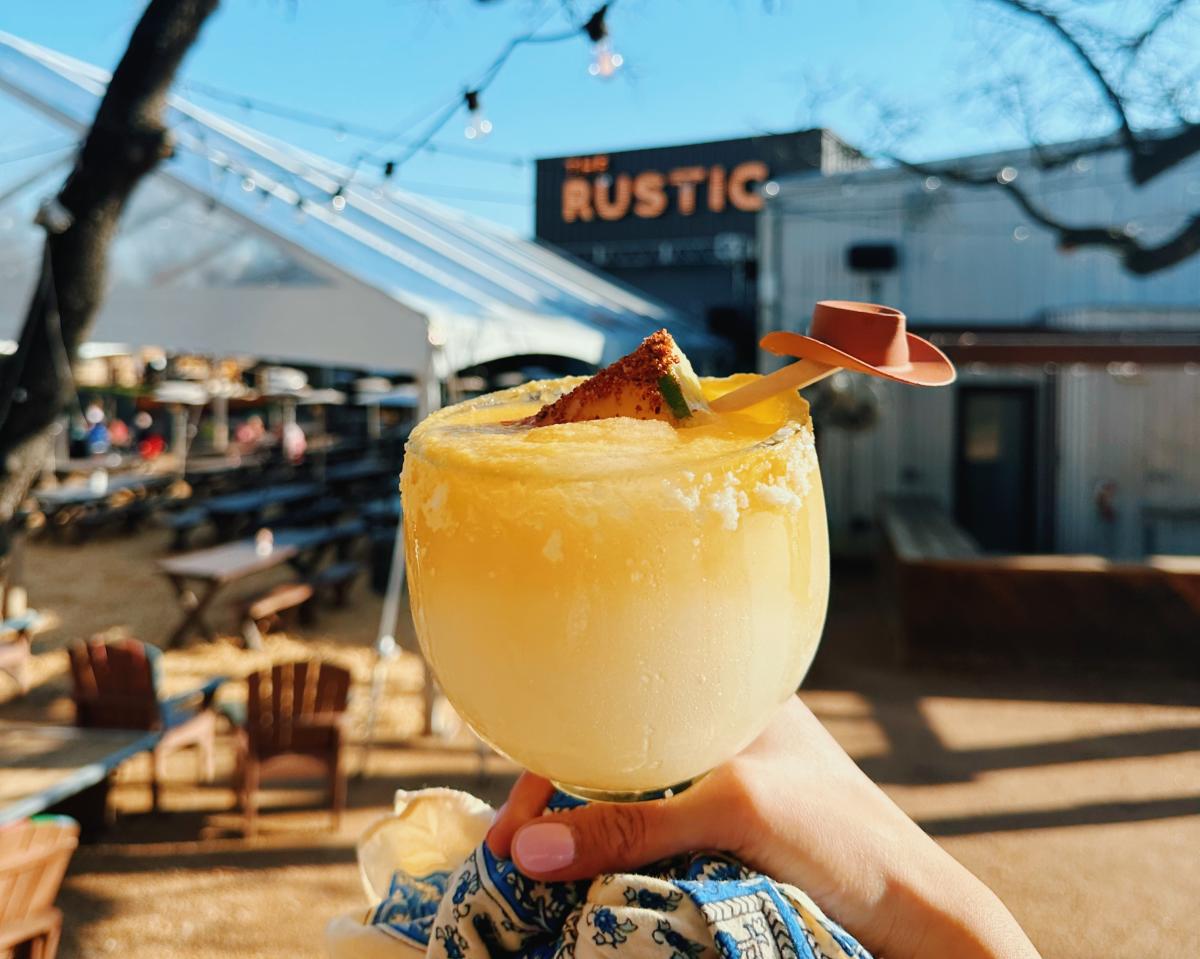 This down-home venue features locally sourced American eats, some of the best Texas brews, and of course, an incredible outdoor patio! Sip on one of the 40 beers on tap or a cocktail under the stars. You and your crew can also get together and catch a live performance from local and national artists at The Rustic!
Uptown | Directions
This Irish-influenced pub is always packed late at night! Open all day, this sunny patio is a great spot for starters, sandwiches, burgers, and beer in a rustic setting. With two expansive patios, delicious comfort food, and rotating taps, you'll always find it lively and bustling!
Lower Greenville | Directions
Here you'll find a 14-acre icehouse with tons of games, a treehouse, live music, and incredible food! With plenty of forms of entertainment from ping pong tables and corn hole to a 9-hole disc golf course and swings, it's the perfect place to bring the family for a fun-filled day. Since Stix is open seating, you can choose wherever you want to hang out whether it be one of the picnic tables by the treehouse or a table on the porch!
McKinney | Directions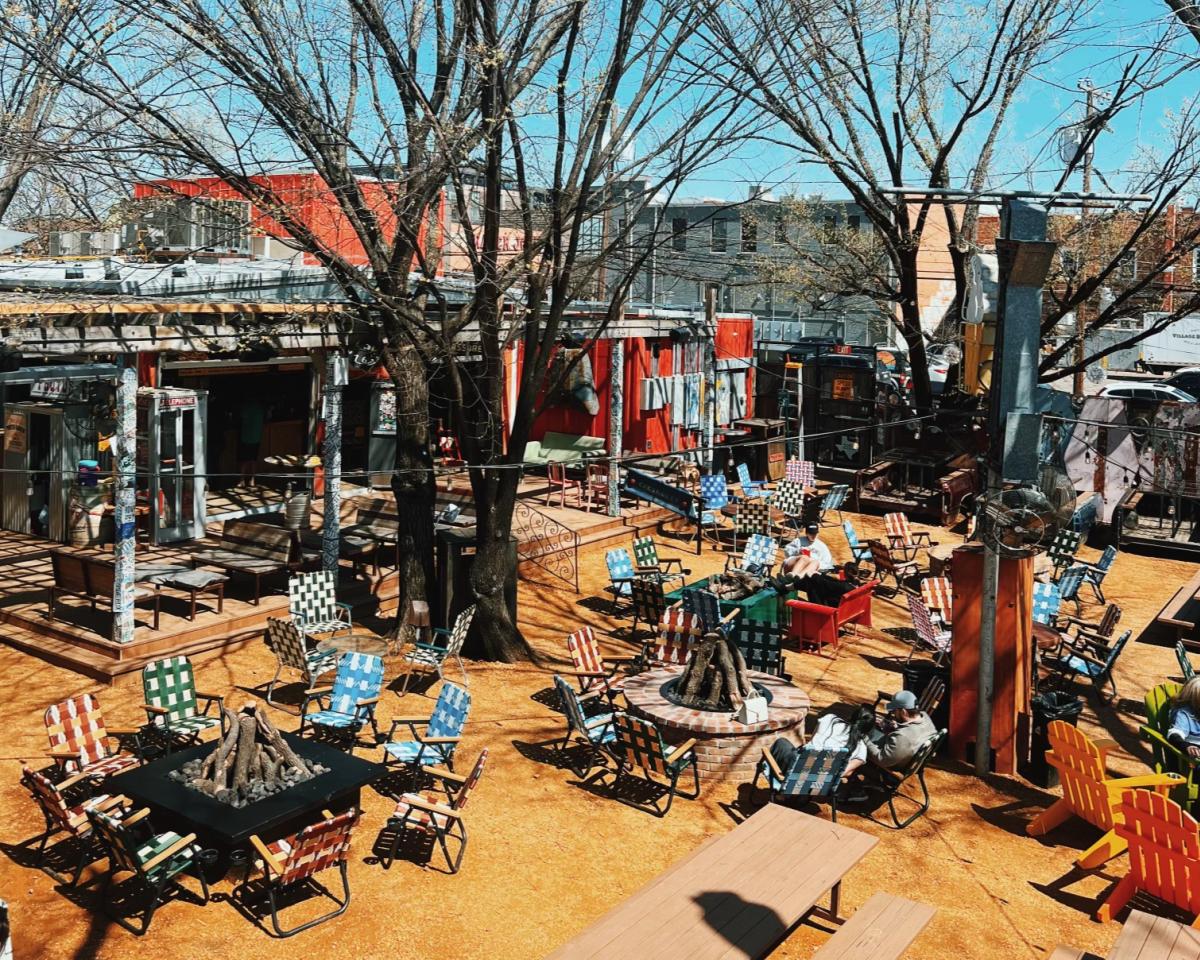 Being at Truck Yard feels like you're at a backyard party, with live bands, food trucks, booze, and plenty of pups throughout! The space has a junkyard-look of recycled cars made into seats with funky metal decor all around. Snag a seat at one of the picnic tables, a truck bed, on the swinging chair, or if you're lucky, a spot in the tree house for the best views of the yard!
Multiple locations | See locations
It's an alehouse, it's a brewery with a beer garden, and it's a good time in a great location! WRAB has the local, hometown sports bar feel, with the craft beers and delicious food of a high-end restaurant. They have unique beers like the Peanut Butter Jammies and the Sporting Turtle among all of their other endless drinks, so you are never short on flavor at White Rock Alehouse & Brewery!
Lakewood | Directions
White Rock Brewing Co. is a Texas craft brewery and taphouse with all of the best vibes! Sample locally handcrafted and award-winning brews in the taproom, on the covered patio, or out in the open at the beer garden. Bring your pups for a fun day out and treat yourself to a pizza and an ice-cold beer!
West Dallas | Directions
A family-friendly brewery with a playground, misters, and dozens of beers on tap! Lounge out on their comfy furniture, sip on craft beers with local flavors that are ice-cold and bold, and indulge in some hand-crafted burgers. Cheers to some fun hangouts and making good memories!
Fort Worth | Directions