The Texas Wine Country has some of the best wineries in the nation, from breathtaking estates to intimate family-owned boutiques. Fredericksburg has that vast wine country vibe with a small town feel. With over fifty wineries to choose from, use this carefully curated list to find the perfect winery for you!
Updated January 2022
Augusta Vin has a stunning property with a timber framed two story tasting room, members balcony, and vast outdoor space. Take a tour of the entire estate and the production facilities for an inside-peak into wine making. Sit back on one of their various pet friendly patio areas and take in the gorgeous vineyard views. 
Signor Vineyards is truly a floral paradise. Sip and smell the roses in the French country gardens or sample some of your favorite wines in the private tasting room. After your tasting, take pictures by the famous Wine Barn or head over to Joanna's Market, the farmhouse style boutique that sells handcrafted gifts and goodies from the popular Emma + Ollie bakery.
This Italian chateau style winery has the perfect European ambiance with a beautiful water fountain in the center of the grounds. Book the night in one of their guest or master suite villas for a cozy hill country stay. With other locations in Georgetown and Granbury, continue your Barons Creek experience beyond Fredericksburg!
Tuscany Meets Texas at the Grape Creek Vineyard. Ride the wine tram across the Italian-esque estate for a private tour of the vineyards and after be sure to experience the group barrel tasting. If you would like more of a self paced experience, enjoy a bottle of wine on the terrace and imagine you are in the Italian countryside. 
Settled on 145 acres of land, Pedernales is one of the largest vineyards in all of Fredericksburg — known for their unique Spanish and Rhone style wines, while still honoring Texas terior. Sit out on the shaded outdoor patio with a glass of wine in hand and take in the breathtaking views of the Pedernales River Valley.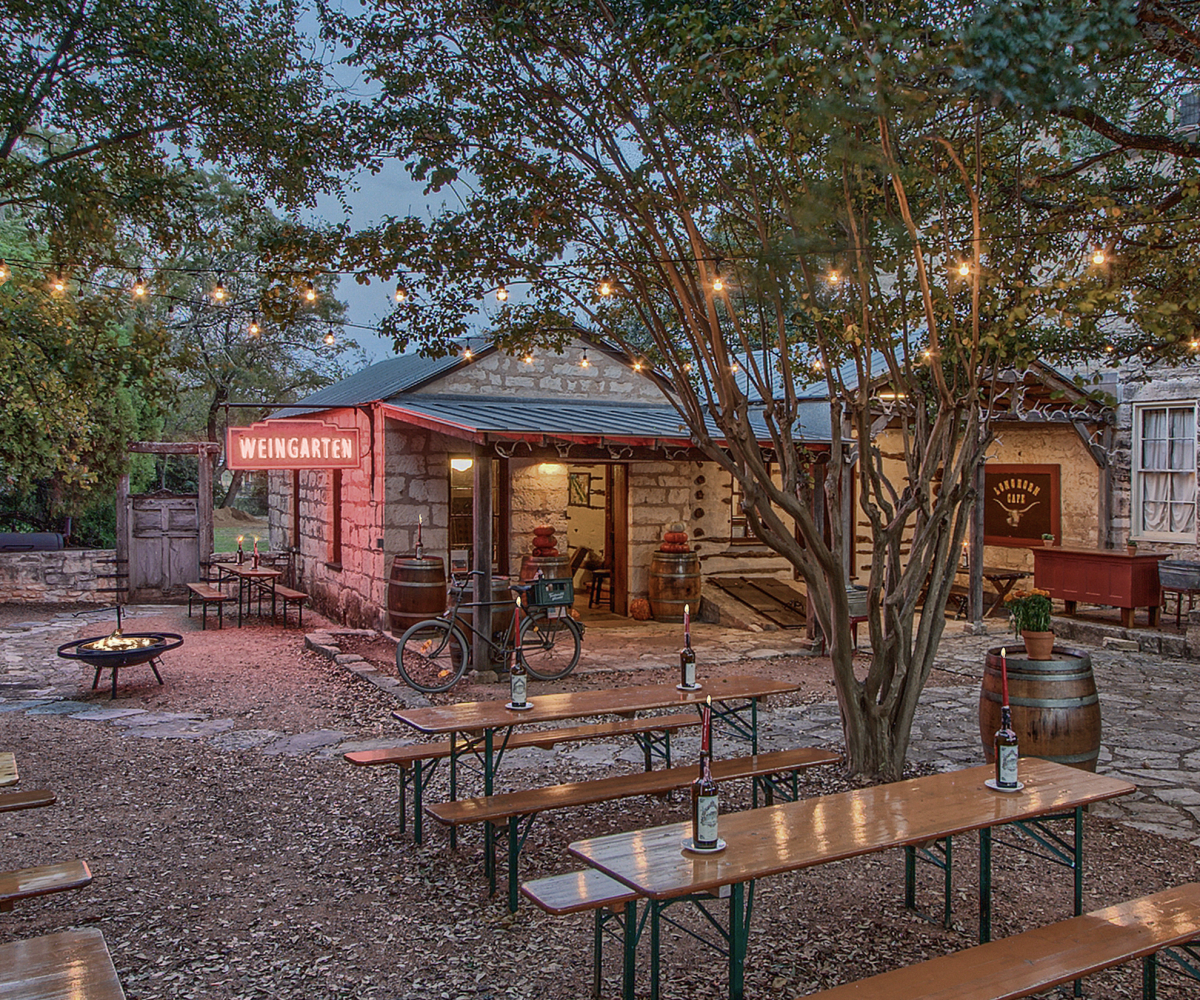 Photo courtesy of Pontotoc Winery 
Pontotoc, meaning Land of Hanging Grapes, is an historical vineyard with wines made exclusively from grapes in the Texas Hill Country. Their Austrian weingarten is a massive patio with sandstone walls that give it an old school touch. Enjoy a glass of their vintage wine and a Pontotoc picnic basket for a nice outdoor lunch.
As the pioneers of Texas Hill Country grape growing, The Auler family started Fall Creek in 1975 as the first winery in the region! Inspired by French winemaking, their wines embody rich flavor combined with the taste of Texas terior. With an incredible view of Lake Buchanan and a vineyard set on 400 acres, Fall Creek truly has it all. 
With a rich history dating back to 1936, Lost Draw Cellars has been a strong source of grapes for a handful of Texas wineries. To honor their West Texas roots, the owners created a Western vibe with things from the Lone Star State. Sip on your wine while listening to live country music or kick up your boots and two step if you feel so inclined.  
Nestled in the Pedernales River Valley, Texas Hills is the perfect winery to share a day with friends in a homey atmosphere. With a vineyard on twenty five acres, all of their wines are made from their sweet Texas grown grapes. Using a rammed earth technique, their team is dedicated to environmentally friendly wine production.
Becker makes sure you have access to their wines at all times with their estate winery tasting room, a tasting room on Main Street, and virtual wine tastings on Wednesdays. But a trip to the main winery is well worth it, the entrance to the massive 10,000 square foot estate is a gorgeous German style stone house! As the largest purchaser of French and American oak barrels, Becker wines have a distinct taste than any other.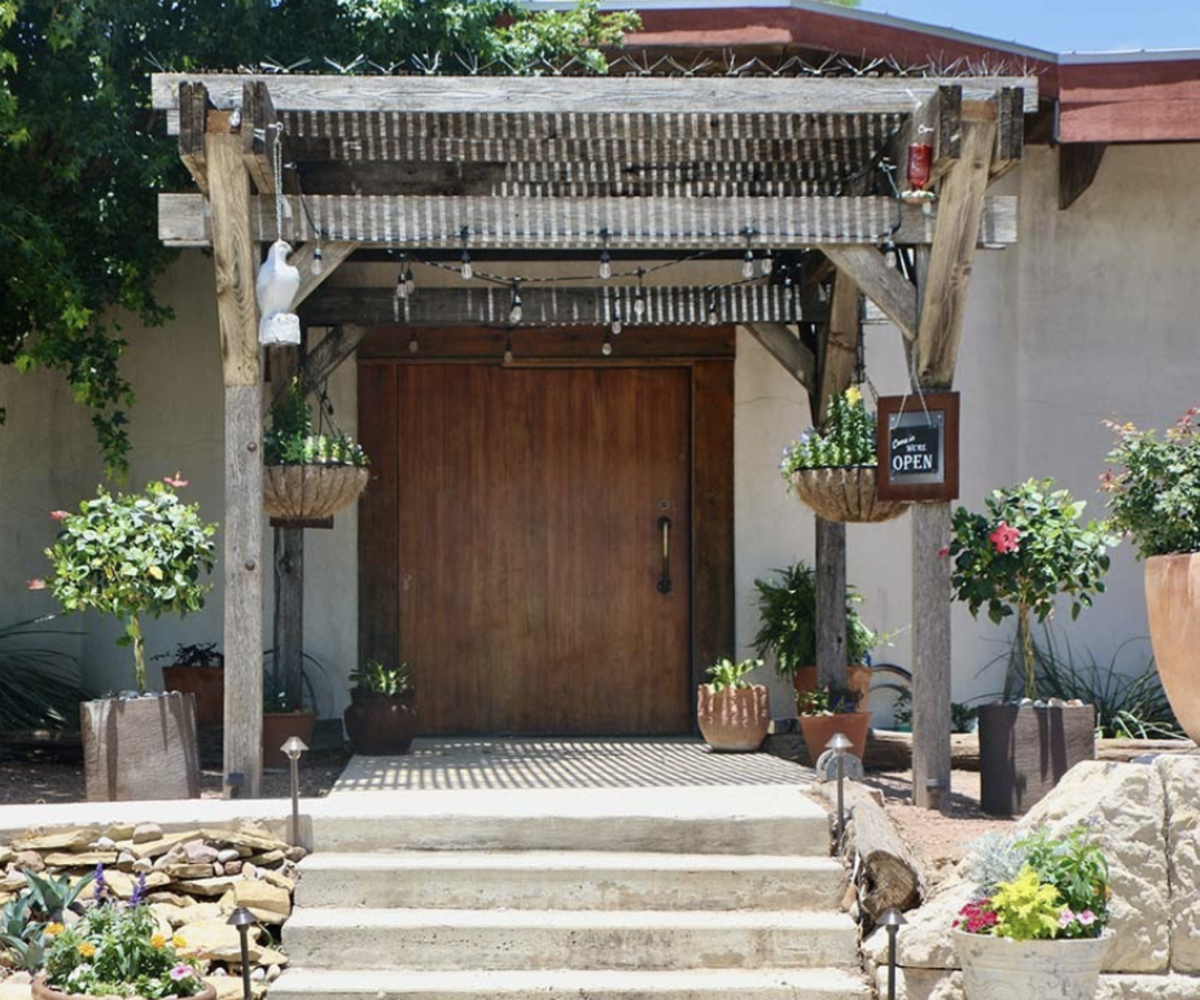 Photo courtesy of Hilmy Cellars 
You'll know you've made it to this rustic chic artisan winery by the iconic large wooden door. With a terra cotta roof, cactuses surrounding the property, and the walls of artwork from local artists, you'll feel as though you've entered a Southwestern bohemian home. After your tasting, play on the bocce ball court for some afternoon fun!
Just five minutes from the town center, Kalasi Cellars is a small winery producing dry wines using grapes exclusively from the local Narra Vineyard. If you're an animal lover, this winery is the spot for you, with sheep and llamas to pet right after your tasting. Relax under the cedar trees in the Adirondack chairs and watch the Texas sunset.
For a boutique winery, Ab Astris' twelve acre property is truly impressive. Get your contemporary Western fix in the tasting room with their sleek accents that complete the modern look. Sip on your wine out on the covered patio or in the tasting room with floor to ceiling windows to allow visitors to see the stunning Texas countryside views.
Calais may look like a tiny wooden house at first, but there is an entire unsuspecting cave below. Take a tour of "The Cave" tasting room and cellar to get the full effect of the technique used to make their premier wines. Due to the owners' French heritage, they use local yeasts in their wines with a combination of French Oak barriques for a distinct taste. 
Photo courtesy of Heath Sparkling Wines 
As the first winery in Texas dedicated to the art of making sparkling wines, Heath is truly a unique experience. Their wines shine just as much as their aesthetic decor. Similar to champagne, they use secondary fermentation and aging on their wines to get that delicious crisp flavor. 
Just like the name, the slate grey exterior gives this winery a sleek touch. With its various small tasting rooms for lease, Slate Mill is first full service winery incubator in the state of Texas. Kick back at one of their tables or fire pits out on their spacious outdoor patio for a relaxing end to your day.
What started as a small room in their family barn has now progressed to an upscale winery with a contemporary outdoor patio. All of Narrow Path's wines are made with grapes from their local estate vineyard, which you can see while looking out of the beautiful floor to ceiling glass windows. Their separate tasting room down on Main Street is an intimate cafe for a downtown day. 
Not only does Foyt Winery have fabulous wine, but it doubles as a museum for professional motorsports vehicles. Two grandchildren of race car driver A.J. Foyt created this beautiful modern winery to continue their grandfather's legacy. With grapes sourced from the finest vineyards in Sonoma and Napa, their wines express the true core of the fruit.
Photo courtesy of Southold Farm + Cellar
Kuhlman Cellars truly provides a unique and upscale wine and food experience. Enjoy an educational 45 minute wine tasting where you will sample five wines paired with appetizers by the sommelier. Some of the foods included are smoked cauliflower, whipped goat cheese, creamy blue cheese & honey, red pepper hummus, and their famous herbed almonds.
With an elevated tasting that includes seasonal food and four wine samples, William Chris serves both hot and cold culinary creations to complement their fine wine. On a nice sunny day, have a picnic outside and enjoy lunch made by chef Josh Tye, including gourmet sandwiches, seasonal salads and fruit. 
For a Fredericksburg fine dining experience grab reservations for Sunset Supper, which includes an all inclusive eight course dinner made with fresh ingredients unique to the region. Watch the sun set over the beautiful hill country and enjoy the company of your loved ones. If you want a more casual dinner, try The Prologue, which consists of a tasting of four wines and a set of composed entrees. 
With four locations, Fiesta Winery truly has something for everyone, from a Main Street wine bar, tasting room and patio, and a beautiful vineyard. They serve their food Tapas style and are known for their cream cheese topped with habanero jelly and gourmet sandwiches. On a hot summer day, enjoy one of their sweet  wine slushies. 
This is the winery to get out of your comfort zone and try some fun flavored wines. With unique wines such as the apple pie, country peach, strawberry, and chocolate, your taste buds won't know what hit them. After you work up an appetite from all that wine tasting, grab a bite to eat at the various food trucks and enjoy the live music on their outdoor patio while petting the donkeys!