In some cities brunch is just a basic breakfast meal, only without an alarm. But in Dallas, that's not the case. Here, the pairing of boozy mimosas with delicious dishes has redefined the standard definition of this meal, making brunching in Dallas not just a meal, but a culture. So we've rounded up the best brunch spots in town for every occasion. Be sure to only hit the snooze once this weekend, these are bites you won't want to miss! 
Updated November 2021
Let's be honest, brunch without prosecco is just a sad, late breakfast! Head to these spots for some of the booziest brunch beverages at a price you can't resist. Cheers! Bonus: a full roundup of the best mimosa deals in town!
Our love for Ziziki's is bottomless and so are their mimosas. Head down to Knox for the ultimate brunch menu, where the mimosas and amazing prefix plates are all you can drink and eat... for just $30!  
This hotspot may be named 'sundown' but here they believe as soon as the sun is up, it's time to drink up! Wash down your delicious Crab Cake Eggs Benedict and Banana Foster French Toast with $2 mimosas and $9 carafes, or sip some slightly stronger like a $6 white peach sangria and Bloody Mary. 
At Standard Service, the brunch is anything but standard! With $3 mimosas, specialty cocktails, and dishes like the Nashville Hot Chicken Biscuits and Blueberry Lemon Pancakes, what more could a brunch babe ask for? 
You may know Taverna to be a pizza and pasta paradise, but have you been for brunch? Their brunch menu includes eggs Benedict, beignets, and $3 Bellinis!
Looking for a sophisticated, stylish spot? Visit Rosewood Mansion on Turtle Creek to enjoy $9 spicy Bloody Marys, smoked salmon bagels, and stunning southern architecture. 
Go ahead and holler, Maracas' mimosas are $1! And the deals don't stop there, at Maracas you can enjoy a big tex- mex brunch on a budget with their $10 pancakes, chilaquiles, and omelets.
They say brunch is the most important meal of the day, so why not share it with the most important people! Head to these spots for the best time with your brunch bunch! 
After a while, everyone's brunch game needs a little refreshing... but don't worry this Hero will save the day.  Located in Victory Park, this massive open-air eatery has an extensive, mouthwatering brunch menu along with tons of boozy beverages including an enormous shareable mimosa or "mega-mosa". This spot is sure to seat and satisfy even the biggest of groups! 
Need birthday brunch plans? Party at Pie Tap! At this spot, you and your favorites can pop a bottle of prosecco, share slices of pizza, and blow out your candles with their delicious glazed cinnamon rolls. 
At this spot, brunch with your friends is an absolute fiesta! Here you'll find fun tunes, tropical tequila cocktails, and one of the tastiest avocado tostadas in town. 
Calling all gin and tonic lovers, this spot is for you! Gather up the gang and head to brunch at Henry's Majestic for a build your own gin bar, Buttermilk Biscuits with Spicy Gravy, and Beer Braised Corn Beef Hash. 
Want to make the most out of your brunch? Take a trip to Standard Pour where you and your pals can make your own mimosas and even mix and match flavors. Be sure to order their famous spicy chicken strips, they're worth all the hype! 
If you and your besties haven't brunched at Sixty Vines, have you even brunched at all? Known as one of the hottest brunch spots in Dallas, this light and airy spot serves up the best vibes with their famous froze, don't want to miss mimosa bar, and amazing almond chiffon french toast - this is an insta moment you don't want to miss!
For many, Sundays are family days, so grab the fam and visit The Rustic for a family-friendly and family-style dining experience. Here, you can enjoy all of their best breakfast bites for $17.95, dance to live music, and sip on specialty cocktails as the kids run around the patio! 
To some, brunch may be considered as "breakfast without an alarm clock" but that doesn't mean it has to be a total snooze! Head to these fun brunch spots for a buzzworthy brunch!
Nobody craves a hangover, unless you're brunching at Smithy's. Home to the famous jumbo, buttermilk, yolk dripping,  hangover sandwich, this spot is known for satisfying your comfort food craving in a chic setting. Plus, tons of great brunch cocktails if you feel like branching out from your typical mimosa.
For a cool, casual, comfortable brunch vibe head to Oddfellows. While their interior is relaxingly rustic, their menu showcases bold flavors and creative twists with items like their Bread Pudding French Toast, Buffalo Mac and Cheese, and Red Velvet Pancakes. 
Need a brunch spot that will raise the roof? The Henry is for you! This rooftop serves up scrumptious bites including a  Hot Honey Crispy Chicken Sandwich and Carmel Apple French Toast, along with spectacular views of the city! 
All aboard the brunch school bus! This classroom-inspired brunch spot gets an A+ not just for its schooltastic theme, but their excellent Eggs Benedict Pizza, Pumpkin Spice Waffles, and BBQ Shrimp & Grits. Don't forget to study their 'Liquid Education Lesson Plan" for a mimosa before you head out to recess!  
For a traditional, timeless, tasty brunch pay Breadwinners a visit! For almost 3 decades, this brunch spot has consistently made the city's best brunch list and it's no secret why...  their French Ham Benedict and Fried Chicken and Waffles are award-winning, literally! 
For a brunch spot that will satisfy every type of bruncher, visit Saint Roccos. Thiis NYC Italian-inspired rooftop patio is great for breathtaking views of the Dallas skyline, plus they have Bellinis, and a $30 brunch buffet! 
Who says you can't start your mornings where you ended your nights? Head to these pubs for good drinks, vibes, and food! 
For one of the best hearty, Irish brunches in town take a trip to the Old Monk! Here you'll find the heartiest of plates that are sure to make your heart, and stomach, happy. Be sure to try the Irish Smoked Salmon, Eggs Benedict, and of course The Traditional Irish Breakfast. 
Looking to chill at a casual pub but indulge in great drinks and upscale food? Lochlands pub is for you! Here you'll find modern brunch plates such as avocado toast, chocolate chip pancakes, and a breakfast flatbread along with pub favorites like Fish & Chips, Smoked Salmon Potato Cakes, and Shepherd's Pie. 
You may know this spot for its great nightcap deals, but have you given their brunch menu a swig? From 11am-4pm each weekend, Hardwood Arms serves up some of the best British-inspired brunch plates including Waygu Corned Beef Hash, Guinness-Braised Short Rib Benedict, and even a Jameson Infused French Toast! 
To start your morning with a delicious cold brew, visit the Skellig! This Irish-inspired spot serves up $8 cold brew Irish coffee which pairs perfectly with their famous Pub Breakfast. Pro tip: sub your side toast for bagel! 
Not a morning person? Don't worry! Head to these spots for food so good that even the grumpiest of risers will be in a brunch morning mood!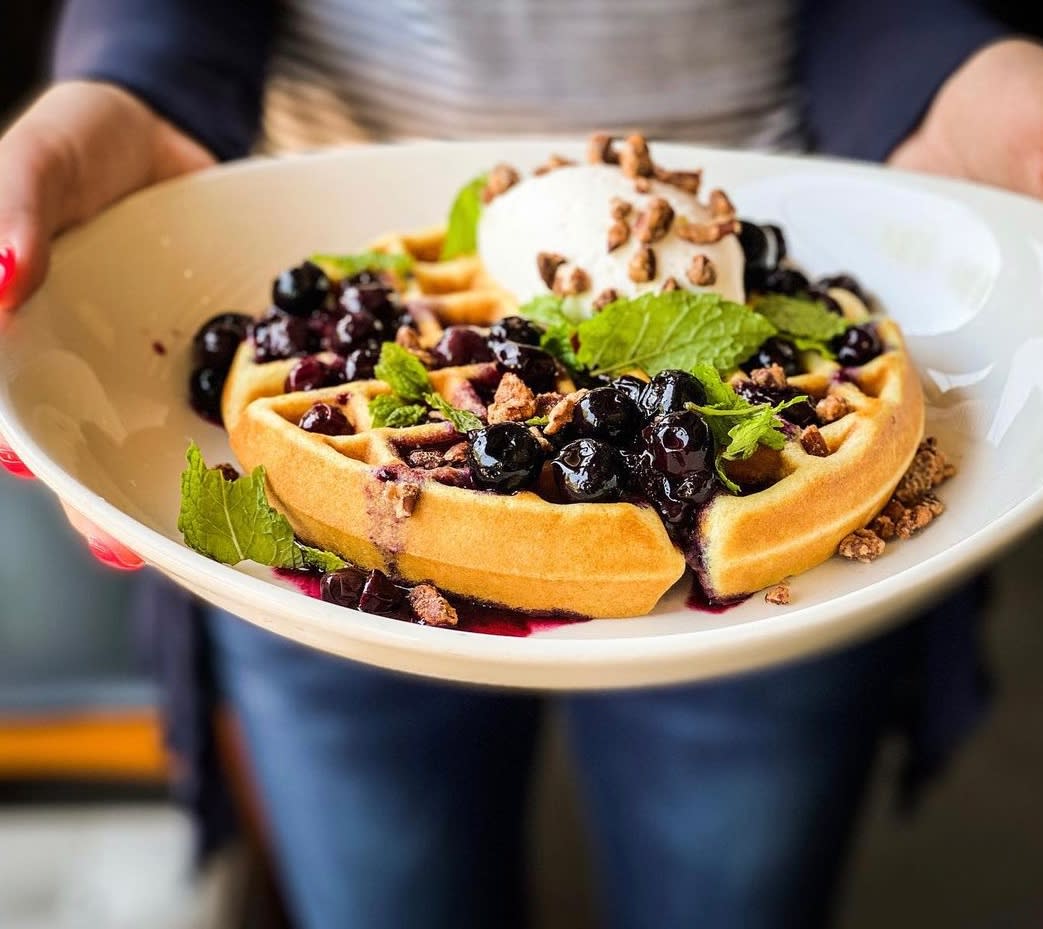 Photo courtesy of Encina 
Tempted to take a chance? Try Stock & Barrel's unique, untraditional brunch menu that features American fusion items like the Waygu Brisket Burger, Lump Crab Fried Sticky Rice, Pear Waffles, Avocado Chilaquiles, and Toffee Croissant Bread Pudding. 
For a brunch menu that focuses on farm fare and fresh flavors visit Encina. This Bishop Arts spot prides itself on being 'uncomplicated yet adventurous' so here you'll find dishes that are simple, yet spunky like their Blue Corn Pancakes, Turkey Hash, and Kale Biscuits with Chorizo Gravy. 
Wake up, it's time to take a trip on Knox! At Up on Knox you'll find the fluffiest Lemon Ricotta Pancakes and Challah French Toast along with their famous Chicken & Waffles that come drizzled in a finger-licking Fresno Chile Gravy Sauce!
This brunch menu may be small but boy are Rapscallion's flavors mighty. With only 13 items on the menu, this cozy, culinary gem keeps its menu items minimal in order to provide perfection with every bite. For the best experience be sure to order the Veggie Hash and Maple-Glazed Pork Belly. 
If you're brunching at Beverly's you're in for a meal that mix and matches flavors from all over! Chef Greg Katz showcases his rich Jewish-Texan-French culture in his delicious Matzoball Soup, Chilaquiles, Spinach and Mushroom Quiche, and Challah French Toast. 
Looking to take your brunch game up a notch? Head to these upscale spots for a sophisticated, scrumptious brunch!
For a brunch that screams très chic, visit Le Bilboquet! Grab the gang and take a trip to this spot's effortlessly elegant dining room to enjoy french- inspired brunch fare including Blueberry Pancakes, Lobster Eggs Benedict, and Brioche French Toast. 
Paradiso also known as Dallas' Brunch Paradise, is known for its idyllic shaded garden and scrumptious southern European-inspired menu which features items like Potato Tostones with Caviar, Almond French Toast, and  Shoulder Hash. Be sure to make a reservation far in advance as Paradiso is always packed! 
You may know and love their furniture, but have you ever brunched within their soft sofas and sparking chandeliers? Fairly new to the Dallas Brunch scene, Restoration Hardware's Rooftop Restaurant serves a delicious Scramble and Avocado Toast on the third floor of their 70,000 square foot design gallery. 
For a brunch spot that will remind you of Upstate NY's salty waters and cold air, take a trip to Hudson House. Inspired by the culture surrounding the 315-mile Hudson River, this menu serves up northeastern favorites such as fresh Oysters, New York Bagels, and a great Hampton's Breakfast!
Nestled in the Highland Park Village, this charming spot invites locals to "eat, drink, and enjoy life". At this Bistro, you'll find an urbane, upscale dining room that features brunch fare with an American, French fusion flare. For a 'magnifique order' try the Lobster Eggs Benedict, Bistro Galette, and Chocolate Croissant.
Want to try a unique, upscale brunch spot that's on the rise? Rise No.1 is for you! At this restaurant, they believe "money can't buy happiness, but it can buy marshmallow soup, which is kinda the same thing". Which is why here you'll find your favorite brunch flavors in the shape of a soufflé. Be sure to try the Herb & Spicy Sausage, Grand Marnier, Jambon & Gruyère, and Raspberry - they're our favorites! 
Dallasites won't find their typical southern food fare at this brunch spot. Ame, French for "the soul", serves up a French and Indian fusion menu that focuses on incorporating fresh flavors into everyone's favorite brunch dishes like the Tikka Benedict, Biryani Chicken & Waffles, and Chapli & Eggs. 
The sky is up and the sun is out, it's time to pair your favorite brunch fare with a breath of fresh air! Head to these outdoor spots to take your brunch party to the patio! Bonus: a master list of the best patios in Dallas for anytime of the day.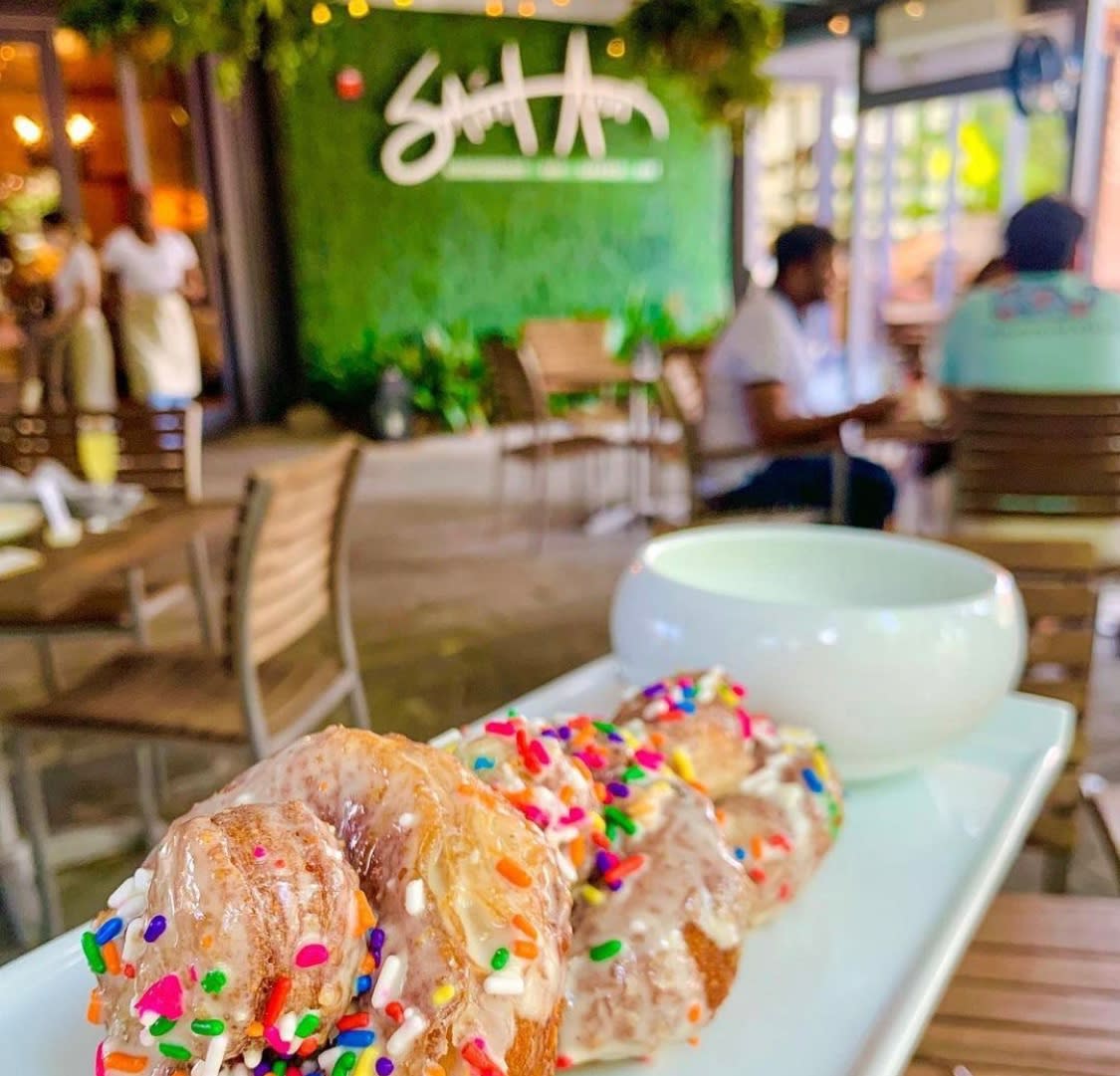 Photo courtesy of Saint Ann
For a brunch spot that has a patio and menu that will satisfy even the biggest of brunch parties, head to Royal 38! Here you'll find both a spacious outdoor patio, open-aired indoor seating, and an extensive brunch menu ranging from basic brunch items like Classic Eggs Benedict and Avocado Toast along with creative plates like their Braised Shortrib Hash, Bacon & Cheddar Deviled Eggs, and Banana Foster Stuffed French Toast. 
Smoky Rose is known for its quality food inside and out, no seriously they have an amazing indoor & outdoor patio! On Sundays only, you can head to east Dallas for brunch dishes like their Smoky Rose Benedict Served with hash browns (Pulled Pork, Brisket, Salmon or Pastrami) or Burnt Ends and Grits which features their award-winning meats that their Pitmaster smokes daily. You'll want to be up early for this one, "because when it is gone, it is gone".
Every bunch is a party here and they even have Funfetti pancakes to celebrate! Located in the Hardwood District, Saint Ann is a stylish spot perfect for you and your besties. Here you'll find a beautiful, Instagram-worthy backdrop, bubbly bellinis, and brunch bites like Apple Pie French Toast and Avocado Eggs Benedict! 
After initially opening its doors in 1974 and restoring the restaurant 5 years ago, Chelsea's Corner is known as the neighborhood's new and old patio. This backyard brunch menu is known for being uniquely creative for items like their Crab Cake & Lobster Benedict, Bourbon Pecan and French Toast and Short Rib Breakfast tacos. And be sure to take a look at their boozy brunch cocktail menu, you won't want to miss the S'mores Espresso Martini! Here's a full list of the best Espresso Martinis around town!
 
As Texans we're a bit biased, but nothing says brunch more than a plate of Southern goodies like warm waffles, crispy fried chicken and fluffy buttermilk biscuits. Head to these spots for some of the best Southern brunches in town! 
This restaurant's name says it all. Home to some of the finest fried chicken in town, this casual, cute, and cozy brunch spot is known for serving southern fare in style! Here you'll find 12 different dishes featuring fried chicken, along with other Southern specialties like biscuits, gravy and fried green tomatoes that taste just as good as when your momma makes them! 
Try your Southern favorites with a swanky twist at Victory Park's newest edition, Yardbird. This buzzy, industrial-chic brunch spot showcases a modern take on southern classics with items like their Brioche Chicken & Egg Sandwich, Creme Brulee Chicken & Waffles, and Strawberry Peach Cobbler. 
This spot serves up food that is south of ordinary. When you're weekend crunching at Ida Claire you are sure to get lost in their timeless Southern hospitality and authentically intriguing dishes like their Nashville Hot Chicken, Fried Green Tomato Benedict, Shrimp & Grits, and of course their mouthwatering biscuits. If you are, or have visitors from out of town, this is a can't-miss Southern spot! 
In the Southern culture, your porch is the place where family & friends gather for great food and company. Take a trip to Dallas' Porch to be immersed in the Southern culture with their friendly, welcoming ambiance and family-style brunch menu that includes favorites like Hot Fried Chicken & Biscuits, Steak & Eggs, and even homemade Cornbread with a Jalapeño Honey Butter! 
Some Saturday mornings are meant for freshly brewed black coffee,  greasy hangover-curing hashbrowns, and melt-in-your-mouth buttermilk pancakes. Head to these diners for a cozy and casual, yet delicious brunch! 
After this diner's owner, Michael Delaurier, an experienced restauranteur native to Canada, couldn't find food in Dallas that felt like home, he decided to bring his favorite dishes here and has been a hit ever since! At this Canadian-inspired spot, you'll find traditional diner delights such as Chicken, Bacon and Waffles, along with Canadian dishes like Poutine Smothered in House-Made Beef Gravy, Canadian Peameal Bacon, and Butter Tarts! 
If you went to college at SMU but didn't go to Bubba's, did you even go to SMU? Located on Hillcrest, Bubba's is known for its big portions and buttery biscuits. Dining at this cozy, comfy dinner will remind you of a small-town southern cafe from the past! 
For the last 6 decades Mama's has been known to be the best home-cooked breakfast in town! From open until close, Mama's menu prides itself on serving breakfast the "ol fashion way". While you can't go wrong with any menu item here, their homemade cornbread is unmatched and 'Mama's Favorite Breakfast' with a side of Blueberry Pancakes is worth all the hype! 
If you can snag a seat at this spot, you're one lucky fella! For over 3 decades this spot has been considered as a THE Dallas Diner amongst locals, as they consistently serve great food with a smile in an atmosphere that feels just like home. Whether you hit the jackpot and snagged a table or decided to wait in the wraparound line, you'll want to order the Banana Cognac Pancakes, Chicken & Waffles, Sweet Potato Hash, and French Toast Sticks. But don't be deterred by the diner's long line, brunch is served all day and is most definitely worth the wait! 
For many locals, John's Cafe has been their biggest and best-kept brunch secret. Since 1972 this family-owned hidden, hole-in-the-wall has been building relationships with locals and serving up some of the most delicious brunch dishes in all of Dallas. Here you'll want to try their Chicken Fried Soaked in Gravy, Huevos Rancheros, and Chocolate Chip Shortstack. 
While Dallas may be considered a Southern cowtown, the vegan trend has sure taken the city by storm. Head to these spots for some of the healthiest, plant-based brunch plates! Bonus: the best vegan restaurants for anytime of the day.
This brunch prides itself on "serving up all the food you grew up loving " — it just happens to be 100% plant-based. Here vegans will find that their favorite breakfast dishes are specifically tailored to them and just as tasty! When ordering here you'll want to try the Gluten Fee Pancakes, Tofu Scramble, and Potato Breakfast Tacos. 
If you have, or are the vegan in your circle, your dream when dining is for everyone to be accommodated, and at Dream Cafe this is a reality! Since the day Dream opened its doors it has been serving locals organic, healthy, and flavorful dishes regardless of their dietary restrictions. For vegans, you'll want to try the Santa Fe Omelet, 90210 Benedict, and You're so Vegan. For our meat lovers, be sure to order the Braveheart NY Strip Chicken Fried Steak and Crispy Chicken Eggs Benedict! ​
At this spot 'clean dining' is at the heart of the culture. Origin Cafe serves up seasonally crafted cuisine with fresh, organic ingredients, making dishes like their Sweet Potato Hash, Brussel Sprout Bowl, and Cashew Queso the perfect plant-based plates! Not vegan but still want to eat healthily? Origin offers a Clean Menu that includes meat and seafood, where all items are free of sugar, dairy, wine, grain/gluten, and unhealthy oils!
Down on the Lowest part of Greenville, this brunch spot prides itself on its farm-to-table service, and great-for-you & great-tasting comfort food. At Company Cafe you'll find some of the city's cleanest breakfast dishes like their Gluten-Free French Toast, Vegan Breakfast Bowl, and Grassfed Brisket Benedict. Perfect for those with busy weekends or complicated diets, Company Cafe serves brunch 7 days a week and promises to accommodate all! 
With a truck, excellent culinary skills, and passion for vegan cuisine Jovan Cole brought one of Dallas' very first and only vegan food trucks to life. Each weekend, the vegan vehicle drives down to the Dallas Farmer Market where locals can order the famous TacoBell inspired Vegan Crunch Wrap Supreme, along with other spectacular side dishes like the Vegan Mac and Cheese, Black Eyed Peas, and Spicy Collards! 
For a brunch spot with buzzy brews, cold-pressed juices, and a unique lineup of healthy dishes head to Tribal All Day Cafe. Down in Bishop Arts, founders and owners Hailey Nutt and Brenton Philips press their passion for organic, quality ingredients into each and every menu item. The contemporary counter-style space serves healthy takes on dishes including 10 different smoothie bowls, wraps, and salads; they even delicious have vegan options like vegan queso & breakfast tacos!