If you love Hudson House, D.L. Macks or Drake's, then get excited because Vandelay Hospitality has a new concept open in Addison. Say hello to Brentwood!
Updated July 2022
---
Taking over the former Houston's space at the Village on the Parkway shopping center off Beltline, Brentwood is yet another timeless American restaurant ready to serve us burgers, steaks, and really good martinis! It's a sophisticated space that feels like a more upscale version of Hudson House (and without the extensive seafood, but with sushi!)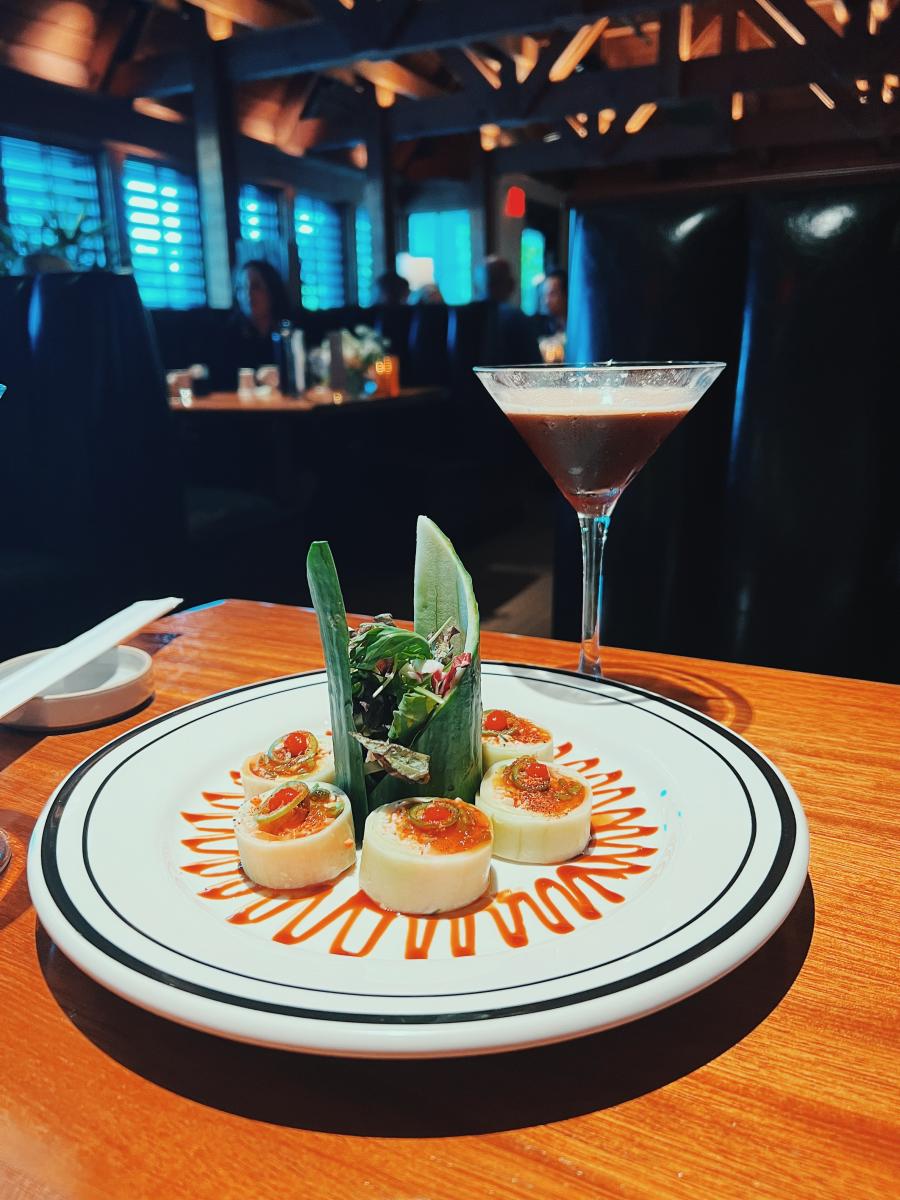 ATMOSPHERE
Step in to find white brick walls and wood paneling all around. The main dining room is filled with big black booths for intimate conversing and the secondary room is a bit more lively and features really beautiful beams to make for a cozier, Aspen-esque feel. There's also a big bar perfect for post-work martinis and a cute outdoor patio (if it's ever cool again.)
MENU
If you're familiar with Vandelay's other concepts, the menu won't be too new. Order timeless American dishes from steaks to shrimp cocktail to three different burgers. And if you know Vandelay, you know they are masters of a great burger! There's a hint of Southwest too like chicken meatballs with a yellow mole sauce and Durango chicken that was delish! 

The most surprising part of the menu: sushi! While it might not fit the "American" menu, it is really good and we'd definitely recommend starting with one of the three rolls, or the nigiri plate!
DRINKS
It's also no surprise that Brentwood has a great and extensive list of martinis: espresso, spiced pear, 50/50 or classic. (It's sister Hudson House claims it makes the coldest martini in Dallas!) There's also a few other classic cocktails like a margarita or old fashioned and wine list to explore.

Brentwood is a great addition to Addison and one that we suspect will become an upscale date night spot or corporate work lunch choice! And if you're a Vandelay fan, we definitely recommend checking it out!
---