Moving can be daunting, but we're here to help make it easier! Whether you're moving across the metroplex or simply a neighborhood over, we've got the 101 to saving time and money while moving! We hope these moving tips and tricks are helpful as you prepare for your next relocation. Explore the below and get ready to make your moving experience as smooth and stress-free as possible!
Updated September 2023
---
Thank you to Rhythm Energy for helping us create this article! If you're moving to Texas and looking for a top-rated electricity company, sign up with Rhythm today! They offer a variety of renewable energy plans that are wallet-friendly and planet-friendly, so you can feel good about your energy. For more moving tips, visit their Moving Hub!
For a limited time, get $200 toward your new home's electric bill after you sign up for Rhythm's Simply Move 24 plan. Terms and conditions apply.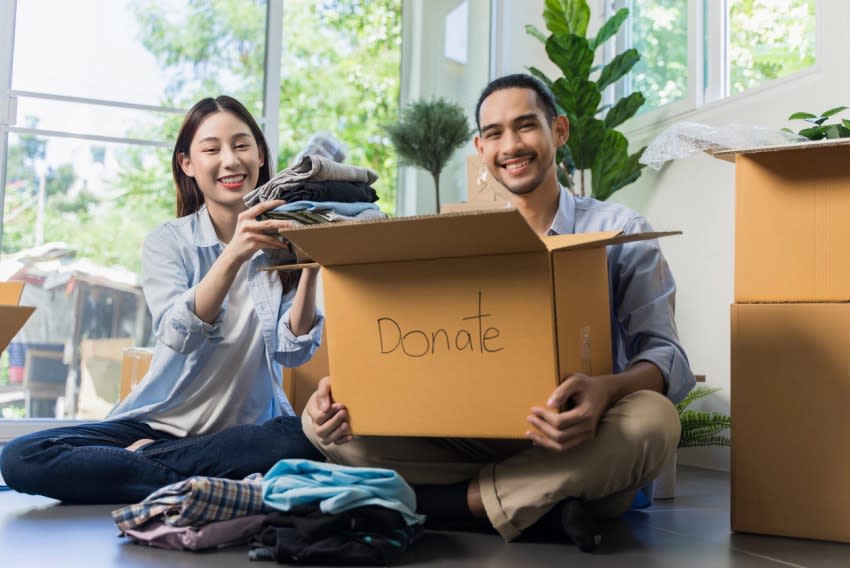 images courtesy of Rhythm Energy

DFW MOVING TIPS
Start packing early
To make the moving process easier start packing early! If you know you will be moving a couple of months in advance, get started one or two months out. Start packing things that you use seasonally or less frequently, like your winter wardrobe, books or holiday decorations. You won't feel as overwhelmed by the big move if you start preparing early.
Get rid of unnecessary stuff
The fewer moving boxes you have to carry, the better. That's why we recommend getting rid of any and all unnecessary things that you no longer want or need! Go through your closet and determine whether or not you really need those clothes that no longer fit. If it's out of style or you don't wear it, consider donating it to a local thrift shop.
Gather packing supplies
Don't wait until the last minute to pick up packing materials including cardboard boxes, packing tape, bubble wrap, a box cutter, plastic wrap, and packing paper. The moving process is much easier when you have the supplies you need early on. When it comes to finding moving boxes, several grocery stores and retailers usually have empty boxes they end up recycling. You can also look on websites like Craigslist and Facebook Marketplace to find free boxes people are looking to give away. This is a great way to save money!
Use small boxes for heavy items
Instead of throwing all of your belongings in any size moving box, consider using small boxes for heavy items. This will make them easier to lift and carry since the items won't be moving around or shifting inside the box.
Wrap fragile items and valuables
Not sure how to pack that wine decanter from your wedding or that fragile piece of decor? Wrap any fragile items or valuables in bubble wrap or moving paper. If you still have the original box the items came in, that's even better. If you don't have bubble wrap, a great workaround is to use paper towels or bath towels instead!
Separate moving boxes by room
This is by far one of our favorite moving tips! To make your life easier (and the moving company's if you end up hiring one), separate your moving boxes by room. This means don't put office supplies in your wardrobe box. Keeping your items separate will make the unpacking process so much more smooth because you'll know where particular items are when you get to your new place!
Label your moving boxes
We repeat. Label your moving boxes! This will save you a ton of time when you get to your new home and start unpacking. If you hire a moving company, this will be a big help to them as well.
Tape your dresser and nightstand drawers
We're all about saving time and supplies. If your dresser drawers are full of clothes, simply tape the drawers to the dresser before the move to save yourself the hassle and a couple of boxes! You can also use plastic wrap to secure drawers on your dressers and nightstands.
Take pictures of your electronic setups
Before you dismantle your TV or collect computer cords, take pictures of your setup. This will save you time when you move into your new place because you'll know which cords and cables go where! Nothing is worse than having a cord and not knowing where it belongs. 
Pack plates and glasses vertically
Packing your kitchenware can be a challenge if you don't know best practices! When packing plates and glasses, be sure to pack them vertically rather than horizontally. These items are far less prone to break when packed in this way.
Cut handles into your cardboard boxes
If your moving boxes don't have handles built into them, you can easily do this on your own! Simply use a box cutter and cut a triangular or rectangular slot on each side of the box. This will create DIY handles that will come in handy when carrying your boxes!
---
YOU MAY ALSO LIKE