For centuries, people have been drawn to the ancient thermal springs at Hot Springs, Arkansas. The city is home to several historical bathhouses which use the spring water as a healing agent for the skin, joints, and other conditions. Although the water is too hot to use directly out of the ground, the bathhouses temper the water to create different aquatic environments for your healing. The town is surrounded by the Hot Springs National Park, which is the first established national park in the United States. Only a few hours away from DFW, enjoy all the things you can do around the mountain springs!
Updated June 2022
---
to do

Image courtesy of the National Parks Service
Downtown Hot Springs includes several historical bathhouses known as bathhouse row. Each of these bathhouses is over a century old, and offer a unique experience at each location! The Hale Bathhouse is the oldest surviving bathhouse built in 1892, and features a thermal cave sauna carved into the mountainside. The Maurice Bathhouse features a luxurious third floor lounge complete with a stained glass ceiling, and the Superior Bathhouse includes a brewery! All of the bathhouses include original architecture and spa services to give you an immersive, pampering experience.
Hot Springs National Park itself is the oldest national park in the United States, and includes tons of great activities. For those of you who enjoy the outdoors, you can camp right next to downtown at Gulpha Gorge Campground. Learn about the unique ecosystem within the forest, or take a scenic drive through the park to experience the spectacular views. You can also climb the Hot Springs Mountain Tower to see the most spectacular view of the entire mountain pass!
Love the backcountry? Explore the source of the springs-- the Ouachita mountains. The national park itself includes 26 miles of beautiful hiking trails and other historical trails-- some of which were carriage trails from centuries ago! The back country area includes a 223 miles hike through the range, called the Ouachita National Recreation Trail. The mountain range also includes dispersed and formal camping options.
One of the most pleasurable experiences at the springs is drinking the spring water. In fact, locals flock to the two accessible drinking springs to fill up on their weeks worth of water! The water is naturally enriched with essential minerals and nutrients, and is free of harsh chemicals typically found in tap water. There are several locations throughout the downtown area where you can fill up jugs of the drinkable water. Many of these locations pour out hot water, however two locations-- Happy Hollow and Whittington Spring-- have cold spring water!
Enjoy a luxurious spa treatment at one of the several spas in the area. Within the city you can find organic spas, unique treatments, medicinal spas, and more! One of the most famous of the spas includes Whittington Place, which is outfitted with the most stunning architecture. You can also find spas within famous landmarks such as the Arlington Hotel or the Quapaw Bathhouse.
The Hot Springs has a very long and colorful history spanning thousands of years. Visit the historical places scattered throughout the town and park, learn about the historical visitors of the springs, and visit fascinating museums and archeological sites which piece together how this springs came to be so impactful on the American South.
Only 15 miles from downtown Hot Springs, have some fun mining for your very own Arkansas mountain quartz and other precious gemstones! Not interested in mining yourself? The Hot Springs area includes several gemstone shops for local and imported stones, one of which is right in downtown next to other unique local shops and artisans!
Mountain Valley water is a spring water distributor found throughout the United States. They distribute their water directly from the Hot Springs in Arkansas, and have a museum located in historic downtown Hot Springs. Here you can learn about their history and sample their variety of still and sparkling waters.
---
where to stay

Image courtesy of The Arlington Hotel
The Arlington Resort is one of the oldest hotels in downtown Hot Springs, and has a rich cultural history. When you enter the city, the historical building rises high above the town as a beacon of luxury. The hotel is an easy way to experience the haunting antiquity at a reasonable price, and also includes a bar, restaurant, and spa!
This luxurious resort offers all the amenities you could as for and more. Enjoy private wine dinners, gourmet food, sunset boat cruises, and unique crystal and bike tours on top of their already luxurious rooms and spa access. This lovely stay is the perfect romantic getaway for couples, and is a great place to host weddings and honeymoons!
Hotel Hale is located right on Bathhouse Row, meaning ease of access to your spa experiences. The hotel is the oldest built bathhouse in the row, but has been converted with modern amenities for added comfort and quality. The hotel also includes an upscale restaurant Eden, and mineral water bathtubs in their suites.
Experience an amazing historical bed and breakfast, complete with cottage suites and mansion rooms! This gorgeous Victorian style inn is fitted with an eclectic atmosphere that transports you into the 1800s. Each room is finely decorated, and includes individual bathrooms and other modern amenities. This is a wonderful option to experience an immersive, beautiful piece of history. The house also includes historical rooms such as a parlor and ballroom entry.
This historical inn includes a variety of rooms to suit your needs, and has a modern feel while inside a historical Victorian home. This is a great location for small weddings and couples, and includes breakfast daily! The historical inn is fitted to make you feel as if you've stepped into a Victorian corner of modern day life.
If you are looking for upscale in the heart of downtown Hot Springs, the Waters Hotel is the place for you. This lovely modern hotel is complete with luxury amenities such as valet, a rooftop bar, a local concierge to plan all of your adventures and more!
where to eat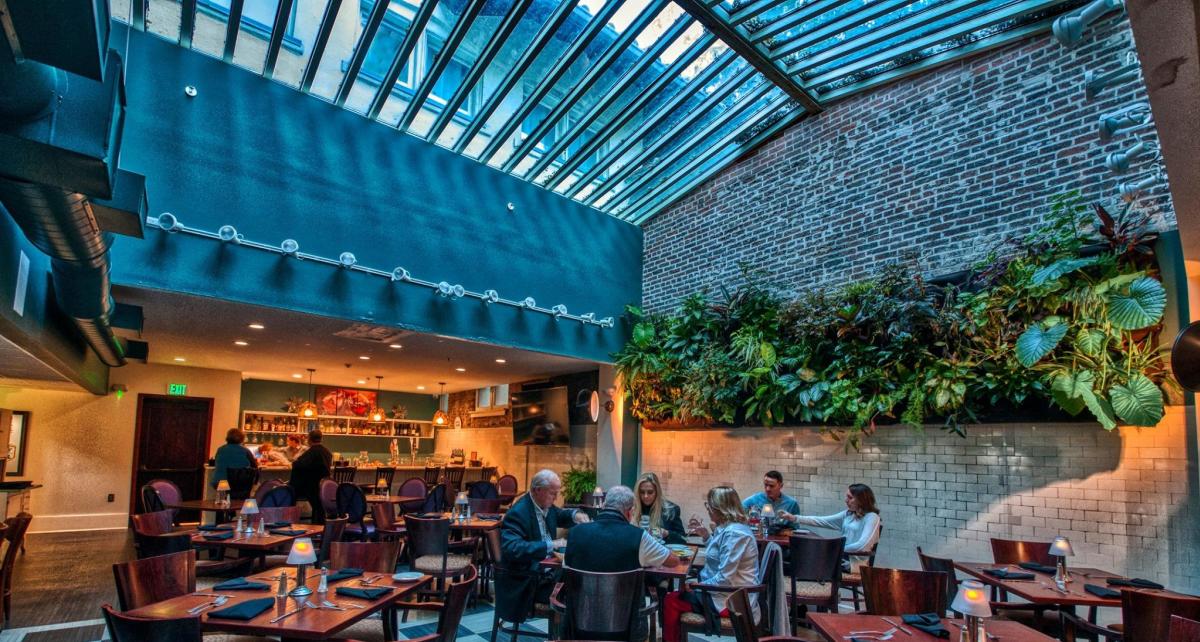 Image courtesy of Hotel Hale
Described as a black tie steakhouse, Brick House Grill is a great place to enjoy an upscale evening with signature Arkansas cuisine. The restaurant also offers party reservations, and is perfect for special occasions! They also offer catering for any events you plan locally.
Missing Mexican food during your stay up North? Diablos tacos-- located in downtown across the street from bathhouse row-- is a great option to have some authentic ad delicious Mexican food after a long day of pampering. The restaurant also offers a dessert of the day and a full mezcal bar!
This restaurant and overnight loft offers a delicious selection of upscale foods that's perfect for a date night or any formal occasion. It's the perfect option for a delicious meal to accent your vacation, and also offers hotel rooms to book above the restaurant-- the perfect way to sweep someone off of their feet!
Noted in the New York Times and Southern Living as one of the best places to eat in Hot Springs, this breakfast joint is an oldstanding tradition for locals and regular visitors. The restaurant has been open for almost 70 years, and includes delicious treats like fresh squeezed orange juice, homemade pancakes and sausages, and award winning ham.
Need a seafood fix? Fishermans wharf offers all the usual delicacies, right on the water! It's a great way to enjoy fine seafood without the upscale prices of other restaurants. Enjoy gulf oysters, crab legs, and more while watching the sunset over the harbor.
Enjoy a family style breakfast and lunch restaurant that specializes in homestyle southern cooking. This restaurant is located right in downtown, and offers wonderful hospitality and familiar southern fare.
This unique restaurant serves Ecuadorian cuisine, and includes authentic delicacies as well as traditional Mexican dishes. The restaurant is located in historic downtown Hot Springs, and also hosts a cantina for your drinking pleasure.
This casual creperie is the perfect light snack in between meals, or a great lunch spot for those who want something a little classy. Enjoy a variety of sweet or savory crepes, as well as Eastern European delicacies such as pierogies or kopytka.
Specifically noted as Southern Italian fare, Delucas offers delicious and authentic pasta and pizza at an affordable price. Their pasta and pizza dough is homemade, and they have a variety of unique specials to choose from!
501 Prime is touted as the most unique dining experience in Hot Springs. This upscale restaurant includes tons of different delicacies, and was voted the best restaurant in the city. As such, we would recommend making a reservation!
Located inside Hotel Hale, Eden is an upscale American restaurant that offers dinner as well as brunch on the weekends. Their menu is unique, with interesting dishes such as the cucumber jalapeno gazpacho, or their vegan charcuterie board. Stop in while on bathhouse row to experience the amazing atmosphere.
Within the historic district you can find this delicious steakhouse, which includes cuisine fit for the whole family. Their fare includes steakhouse classics, fresh seafood, a wide variety of wine, and quite the selection of dessert!
---
where to drink

Image courtesy of The Waters Hotel
Located within the Waters Hotel, the rooftop bar is the perfect place to unwind with a view after a long day on the town or in the national park. They also offer light appetizers, and are located right in downtown.
This casual irish style pub is a great place to let loose! The bar offfers a full selection of cocktails, beers, and wine, as well as a full restaurant to keep you satisfied. Try their unique beers, some which aren't available anywhere else in Hot Springs!
This historic cafe and bar is a great place to unwind and get to know some unique hotel faces. Located within the Arlington Hotel, the establishment is a short walk from bathhouse row, and includes an upscale atmosphere without any hassle. This is the most popular spot within the hotel!
If you are looking for a unique spot, this is the place to go! This Argentinian joint includes regional delicacies such as empanadas, Argentinian coffees and a wide range of imported wines! The bar also offers noshes like pizza, sandwiches, and more. They also have an oxygen bar inside!
Located within one the Superior bathhouse on bathhouse row, this brewery has a variety of unique, homemade beers to experience. They also offer beer to go, an outdoor patio, and a selection of bar noshes.
This grateful dead themed pizza and beer garden is the perfect place to have some fun after a long day of vacationing. Enjoy their wide selection of beers and fire baked pizzas on their open patio, in the heart of downtown!
Known as the best night in town to many, the Ohio Club offers a romantic and beautiful atmosphere with classy drinks and a high quality menu. The bar is also a venue which features live music three nights a week, as well as a jazz night.
Splash Wine Bar is a classy, upscale bar which also hosts live music and light dishes. Enjoy their full bar complete with unique and luxurious drinks, as well as an extensive wine menu that gives the bar their namesake.
This local spirit distillery creates unique types of legal moonshine-- inspired by the long history of prohibition in Arkansas. Here you can tour their facilities, or participate in a tasting of their various spirits and craft cocktails.
---
you may also like