Live music has returned and not just in Dallas! The 'burbs have been bustling with music series, festivals, and weekly shows, perfect for the idyllic weather on the way! 
Updated May 2023
---
UPCOMING/CURRENT SERIES & EVENTS


3 Nations offers the community something fun every day of the week! Wednesday night is bingo, Thursday is trivia, New Beer Friday promotes fresh beer from their small-batch system ... and they schedule live music every Saturday night at 7pm! They are a dog-friendly and family-friendly brewery, so bring along the whole fam for a night of fun.
Carrolton | Directions
Find superbly fine foods in a lively atmosphere at Arthurs! Enjoy live music to elevate your dining experience with friends and family. At Arthurs, you can find talented musicians showcasing their skills every Monday and Wednesday at 7pm, Tuesday and Thursday at 8pm, and Friday and Saturday at 8:30pm to 12:30am! 
Addison | Directions
Where tequila and tunes meet for dinner! Baja Rita's is a laid-back Mexican restaurant, with an amazing outdoor patio for great bands and weekly entertainment, fueled by their famous margaritas and tacos. Fuse your evenings with bold tastes and high-spirited music!
Lewisville | Directions
BarnHill Vineyards is a stunning vineyard, winery and outdoor venue nestled outside the 'burbs. They're known for their wine tastings, amazing weekly entertainment, beautiful scenery and incredible vibes! Stop by every weekend for their 'Sip n Jam' hours, which feature amazing cover bands and tributes to famous musicians!
Anna | Directions
Bedford Icehouse is Bedford's local hangout with live music every day starting at 7pm! Cold drinks are poured from two full-service bars, classic American grubs are served, and a cozy patio is waiting for you and your besties to occupy and liven up. 
Bedford | Directions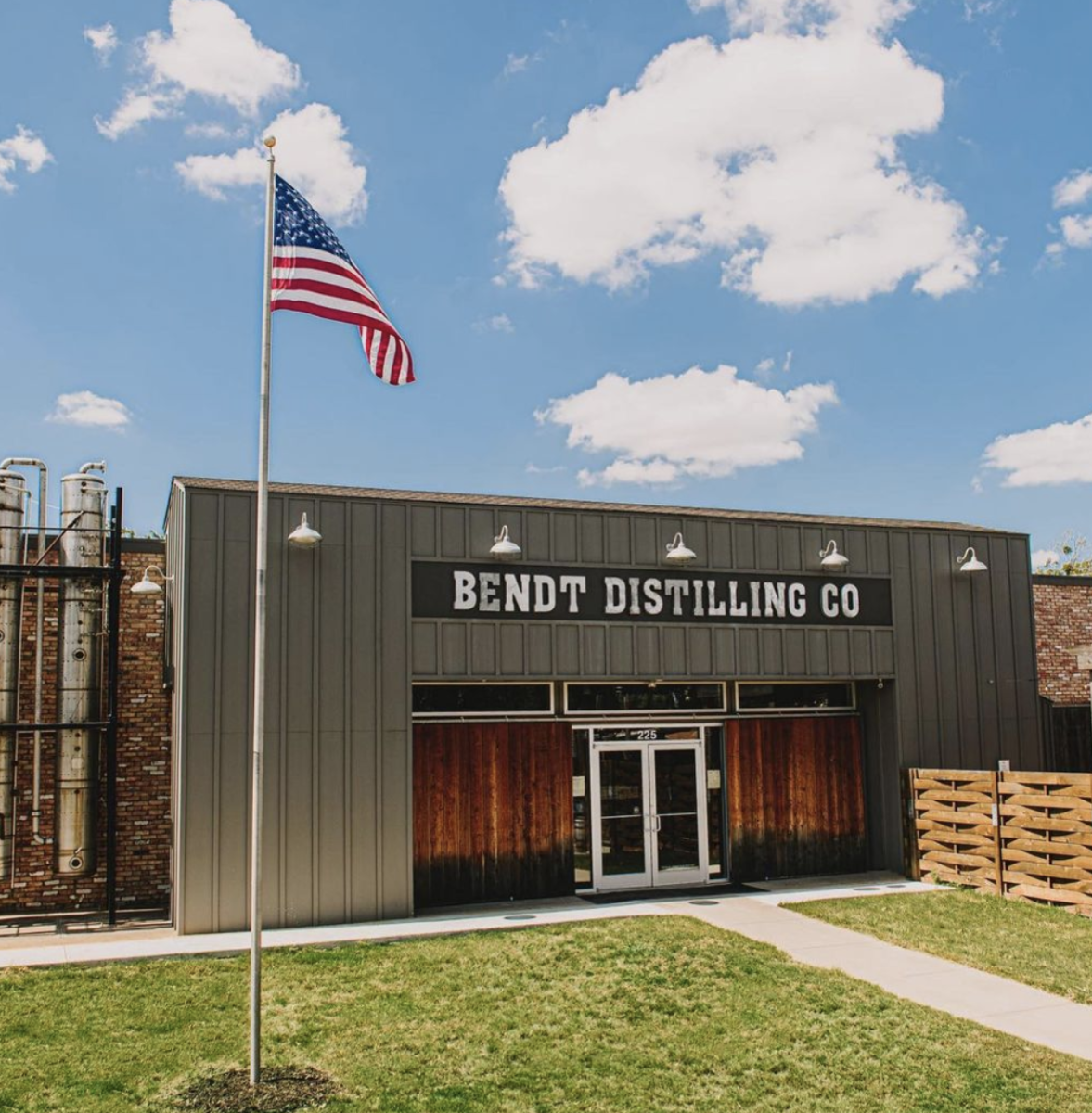 Enjoy live music Fridays and Saturdays from 6pm to 9pm at BENDT Distilling Co. Grab your friends, enjoy some whiskey, and keep the fun going!
Lewisville | Directions
Cadillac Pizza Pub has the best pizza and live music every Friday and Saturday at 9pm. So grab your fellow pizza lovers and plan your visit!
McKinney | Directions 
Experience Roanoke ChopShop Live, the ultimate entertainment destination with indoor and outdoor fun! Enjoy live music, delicious food, and a vibrant atmosphere. Watch sports on big screens, play pool, and savor local beers or their famous ChopShop Frozen Margarita.
Roanoke | Directions
Offering a late-night lounge with live music on the weekends, Chído is the watering hole for the wanderer! Sip-worthy libations also await at Chído's Taco Lounge, with a refined bar program serving craft cocktails. 
Frisco | Directions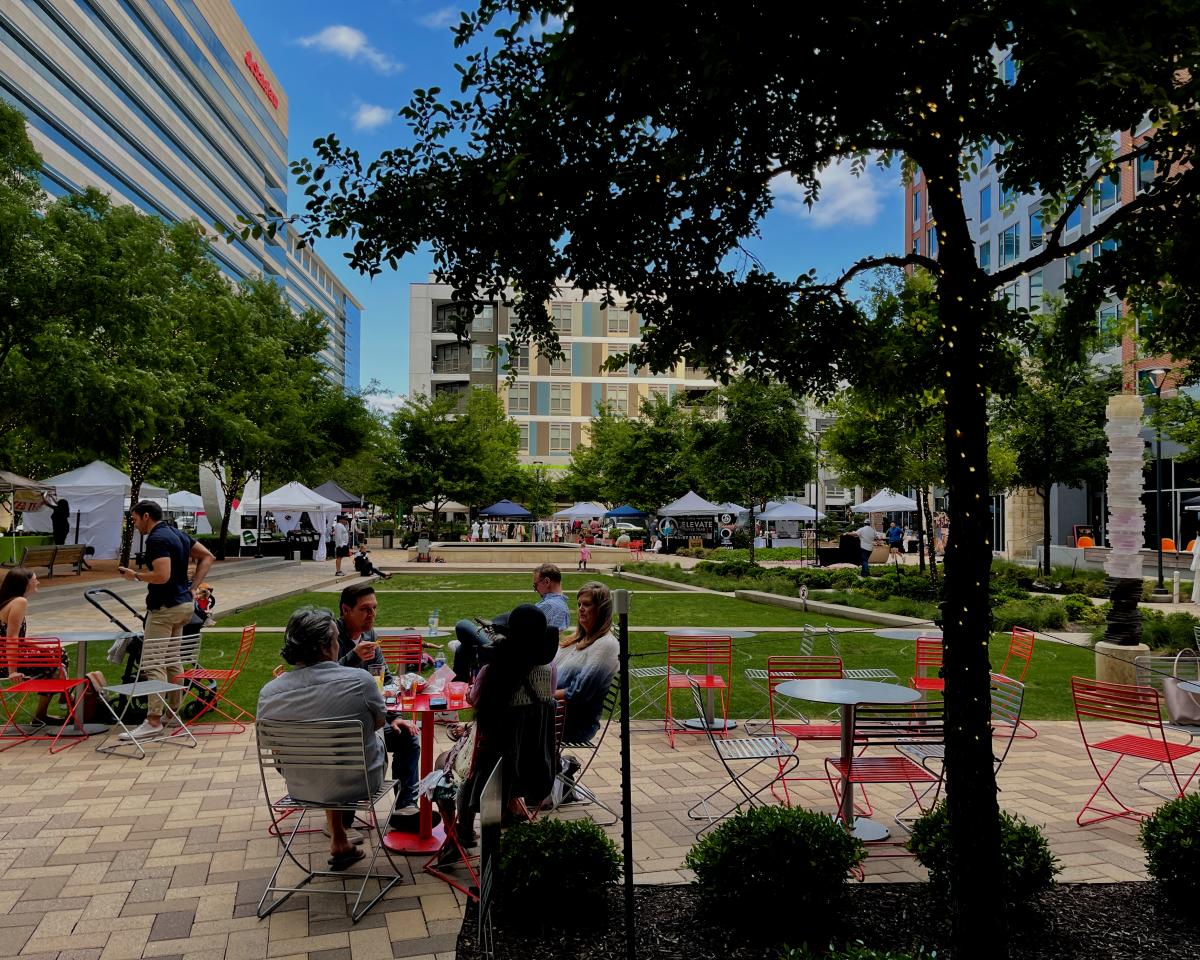 CityLine brings the best parts of the city closer to you. Enjoy CityLine Live Series in a fresh and convenient urban environment near the intersection of President George Bush Turnpike and Central Expressway. You will love the urban design and unique music on Fridays and Saturdays at 6pm!
Richardson | Directions
Looking for some wonderful southern hospitality and a legendary music line-up? Look no further! Find Didi's calendar on their socials to see who you'd like to see next and enjoy their outstanding classic American burger while you're at it!
Frisco | Directions
Margaritas and chilaquiles are a perfect way to keep the weekend's fiesta going and the Monday blues away. Enjoy Mariachi brunches every Sunday from 11am to 3pm at El Patio Mex-Tex! 
Lewisville | Directions
Garcia's is not only known for Salvadoran, Mexican, and Peruvian food but their Sabor Tropical Series on Fridays and Saturdays at 9pm! Grab your partner and dance the night away to their infectious Latin music!
North Richland Hills | Directions
Make waves at the Glass Cactus, an ultramodern nightclub and bar with live music on Fridays and Saturdays. They also have a dazzling outdoor patio for you to enjoy a cocktail and cool off! 
Grapevine | Directions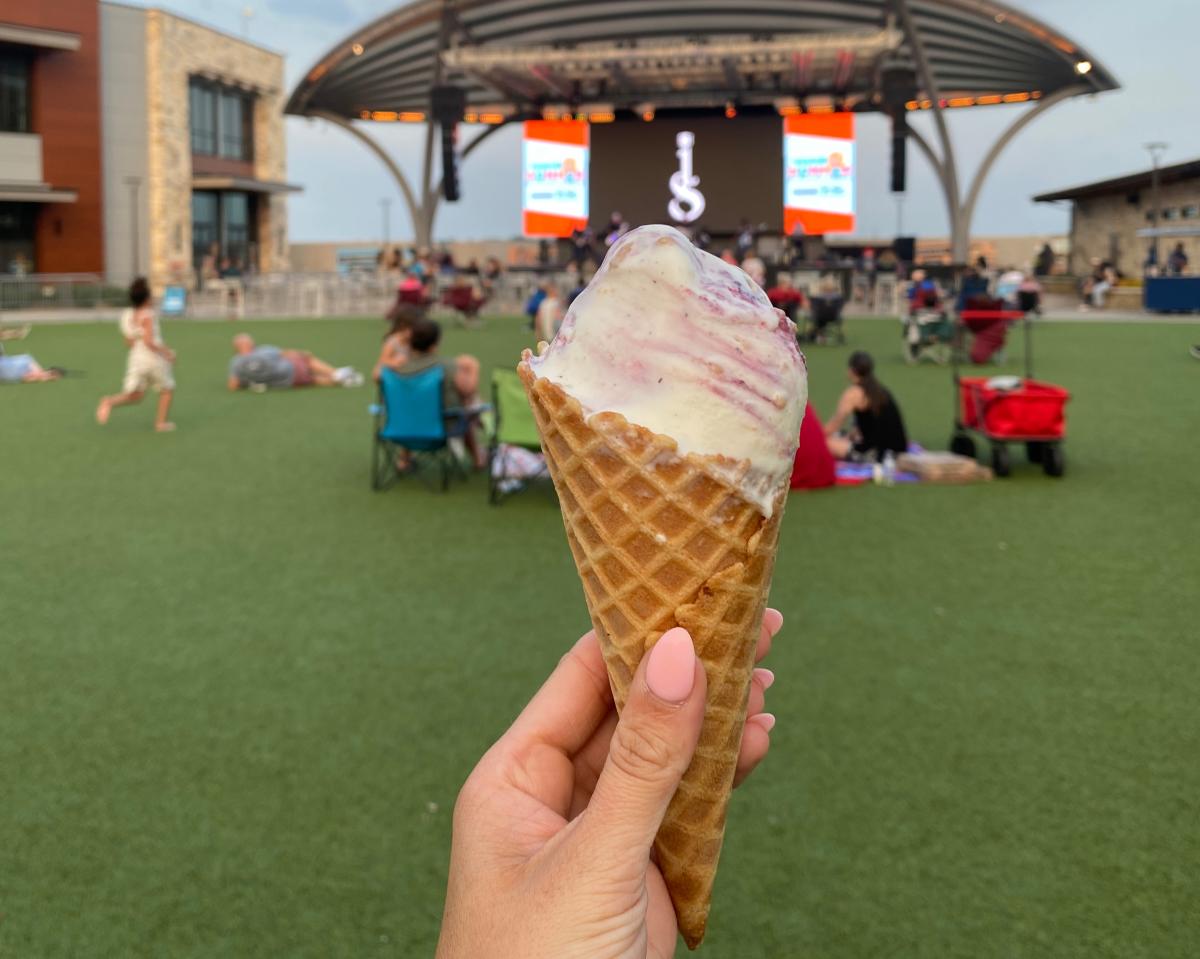 Enjoy live music on Fridays and every other Saturday at 7pm, here at the most unexpected shopping, dining, and entertainment center! Perfect for the whole family to relax and spend time together.
The Colony | Directions
A fun atmosphere, delicious food, and some good 'ole southern hospitality! Hard Eight is where you will be served "Texas Style" straight from the pit by the Pit Master and have great times listening to talented musicians from all over the metroplex and beyond. Grab your crew for brews, tunes, and fun-filled afternoons! 
Multiple locations | See locations
Lava Cantina is North Dallas' premier live entertainment venue also serving scratch meals and craft bar selections! Check out their lineup on their calendar for the best live music to enjoy around the area.
The Colony | Directions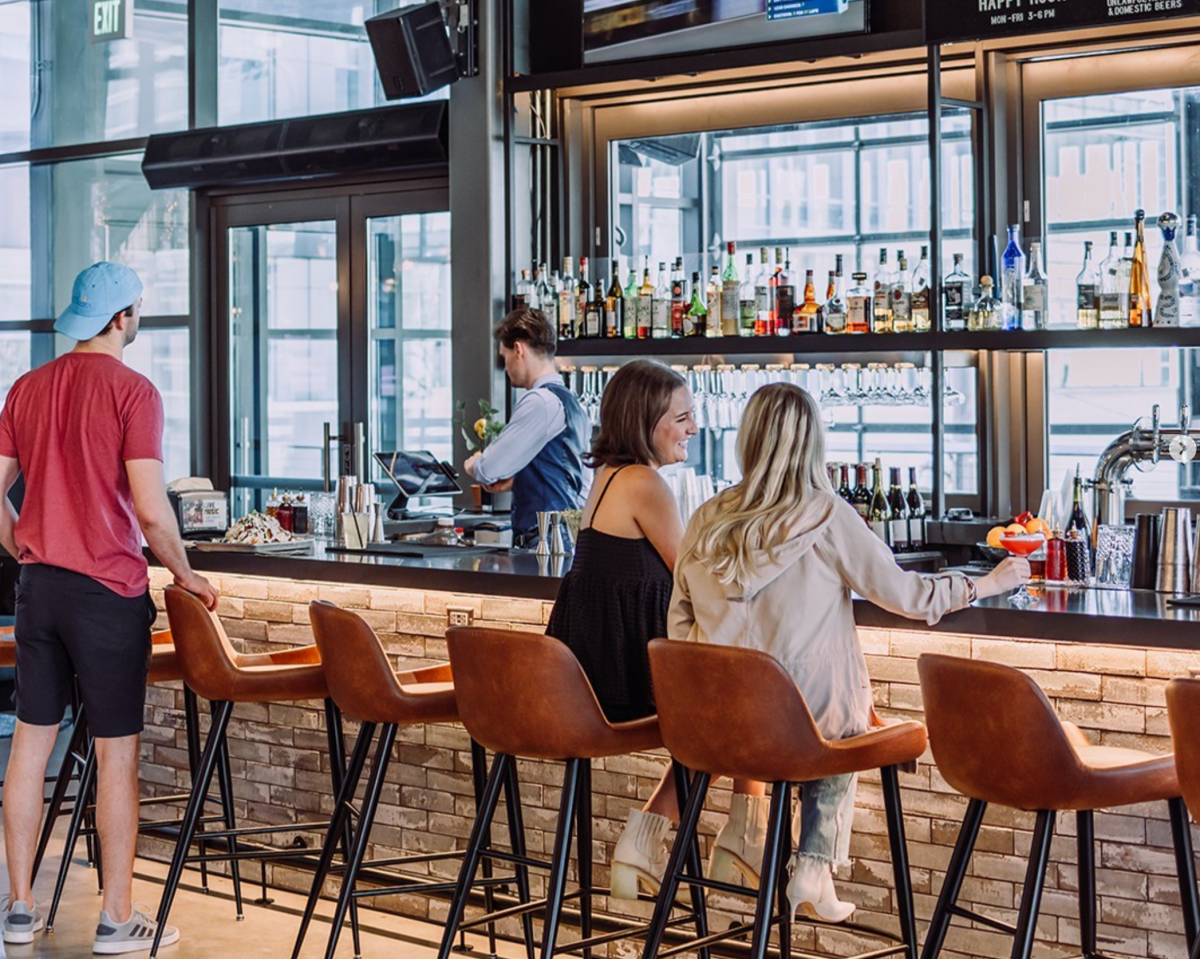 Mark your calendars for some of the best live music in town! With 20+ eateries & bars available at Legacy Hall, you'll have no reason to leave!
Plano | Directions
Texas music, Texas food, Texas heritage...what better what to embrace your inner love for the state? Every other weekend, you can enjoy Texas tunes at Love and War in Texas!
Plano | Directions
Located inside Toyota Music Factory, this honky tonk sports bar has a music venue featuring live country music, from Bluegrass to classic country hits, to outlaw. Enjoy free live music every weekend!
Irving | Directions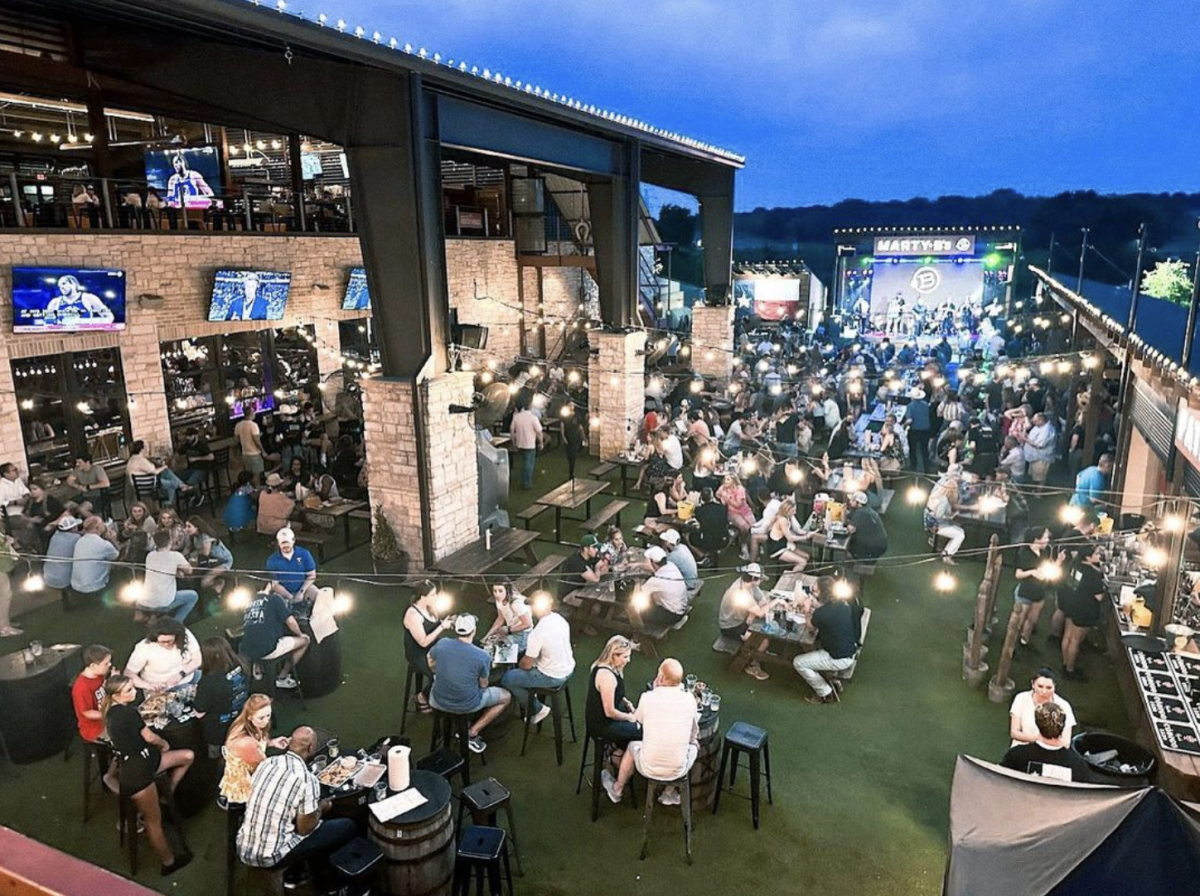 Find the complete Hill Country experience at Marty-B's! Enjoy Live Music from their Hometown Music Series every Sunday from 2pm to 5pm!
Bartonville | Directions
Photo courtesy of Marty B's
Start the week off on the right note with Mariachi Mondays at 5:30pm! Liven up the weekend with Weekend Bodega Brunch on Saturdays and Sundays with a live DJ at 10am.
Plano | Directions
Each Spring and Autumn, North Richland Hills presents the Sounds of Spring Concert Series and the Autumn Sounds Concert Series. Enjoy Friday nights with free live music by the area's best performers. Plan to join at 6pm and bring your friends and family, along with your picnics, lawn chairs, and blankets - out for fun, great music, and relaxation under the stars!
North Richland Hills | Directions
Rockin' Taco Bar is all about serving some bangin' street-style tacos and tracks! Indulge in their mouthwatering selection of homemade tacos, handcrafted cocktails, and ice-cold brews. With their lively atmosphere and ongoing selection of local artists and musicians, Rockin' Taco Bar is the perfect destination for a fun-filled night out with friends and family. Don't miss out on the party!
Frisco | Directions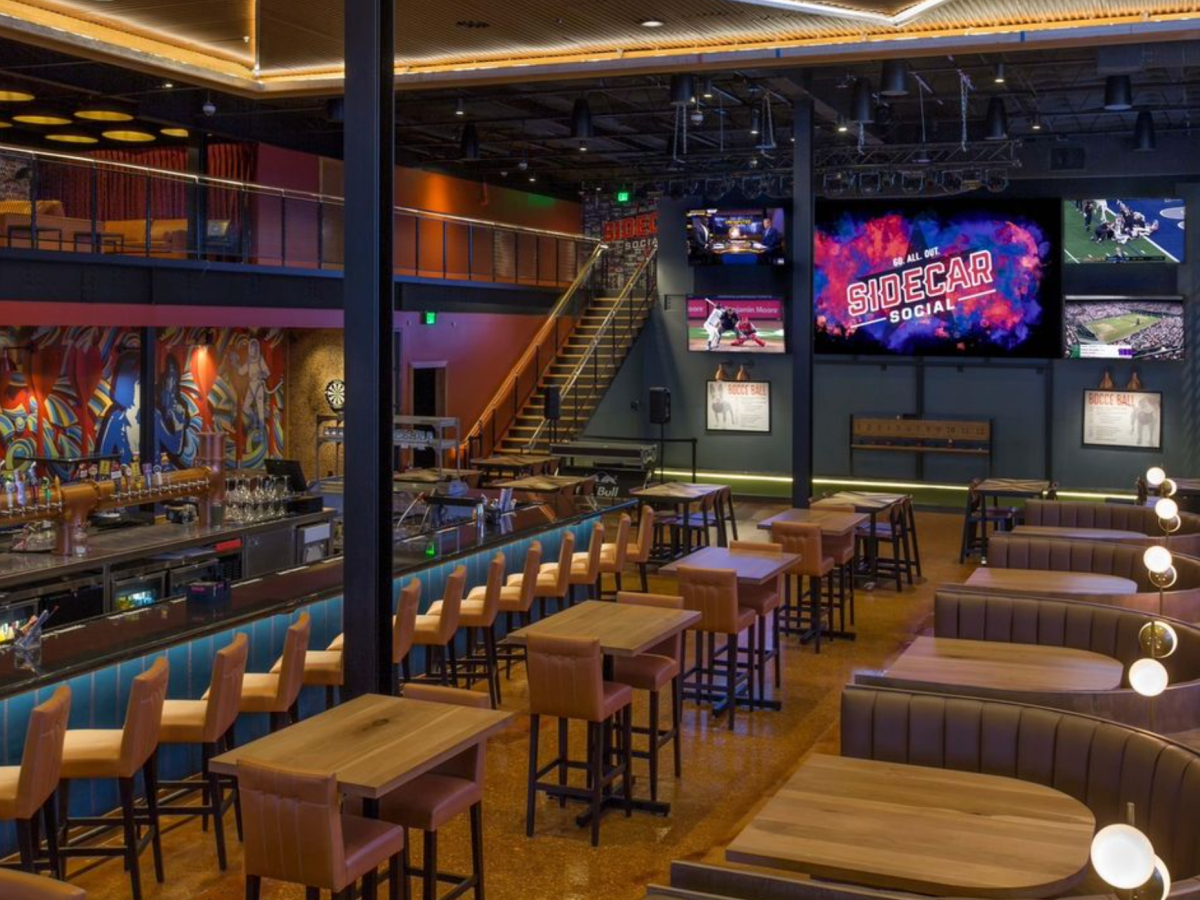 Feeling brave? Line up for a pop-a-shot or karaoke it out with the live band at Sidecar Social on Wednesdays at 8pm! Down to chill? Kick back and relax with your four-legged friend on their all-season patio any day, with live music performances throughout the week as well!
Addison | Directions
Six Springs Tavern has a rich live music history, as it is housed in the remodeled revamped location of a venue with over 40 years of live music history! They strive to put only the best local, regional, and nationally touring acts on stage in all genres, so there's everything for everyone to enjoy. 
Richardson | Directions
Enjoy live music every Friday and Saturday at 7:30pm at Taverna Rossa. With a slice of craft pizza and a cold one, you know it'll be a great weekend! 
Multiple locations | See locations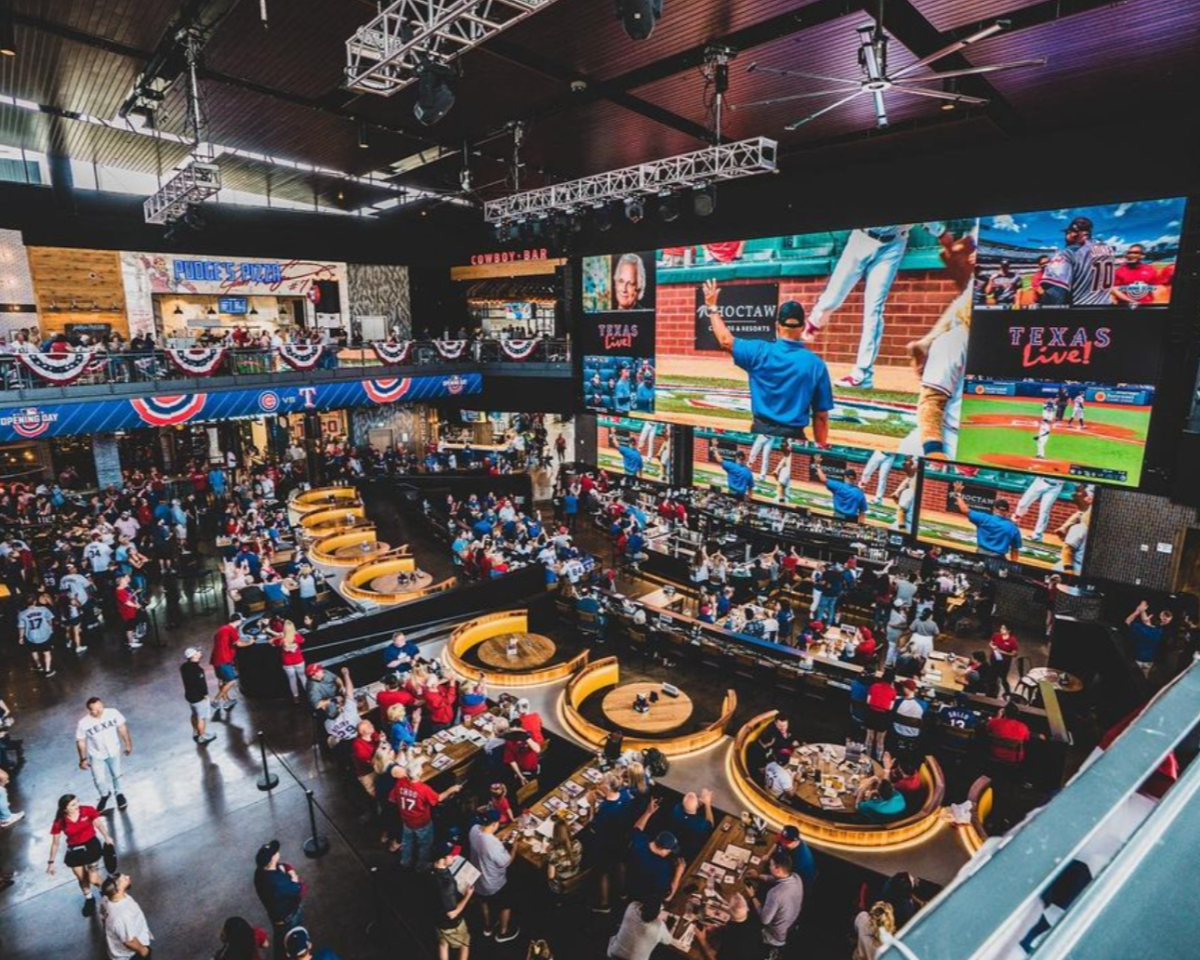 True to its name, you can expect a great night of live tunes at Texas Live! every night. This is the perfect spot to relax and play games outside or sip on one of their signature cocktails. 
Arlington | Directions
At "Center Stage," you can expect to see curated live music performances, bringing acclaimed musicians to The Bartonville Store Restaurant for an unforgettable evening of entertainment. Check out the upcoming events on their website to see when the next musician is rocking the night away!
Bartonville | Directions
The Gin serves as the perfect place for friends and family to get together and enjoy a cold beer, craft cocktails, and live outdoor music! With true Texas roots, you'll feel at home from the moment you walk in the door. Find out who's playing next and get your friends together for a hang out on the patio!
Prosper | Directions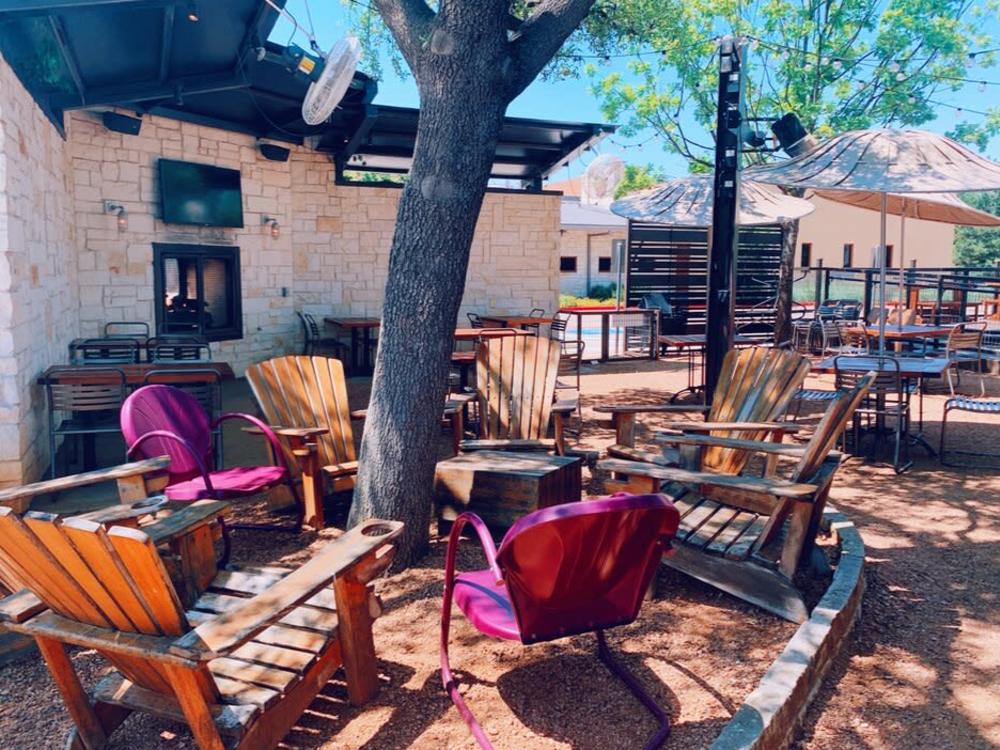 Enjoy the best of what Texas has to offer when it comes to live music on The Ranch's porch. From Amarillo to Austin, if they've rocked Texas, they'll be playing here every Tuesday-Saturday night!
Las Colinas | Directions
Drinks, dining, and a huge dog park are what The Shacks in Austin Ranch are all about! Six restaurants all share open-air patio spaces (some covered) looking down on the one-acre dog park below. With such an array of food types, you can get a wide variety of dishes to share before letting the pups roam and play, even at night because they light it up! We've seen so many different kinds of pooches here, half the fun is the puppy watching!
The Colony | Directions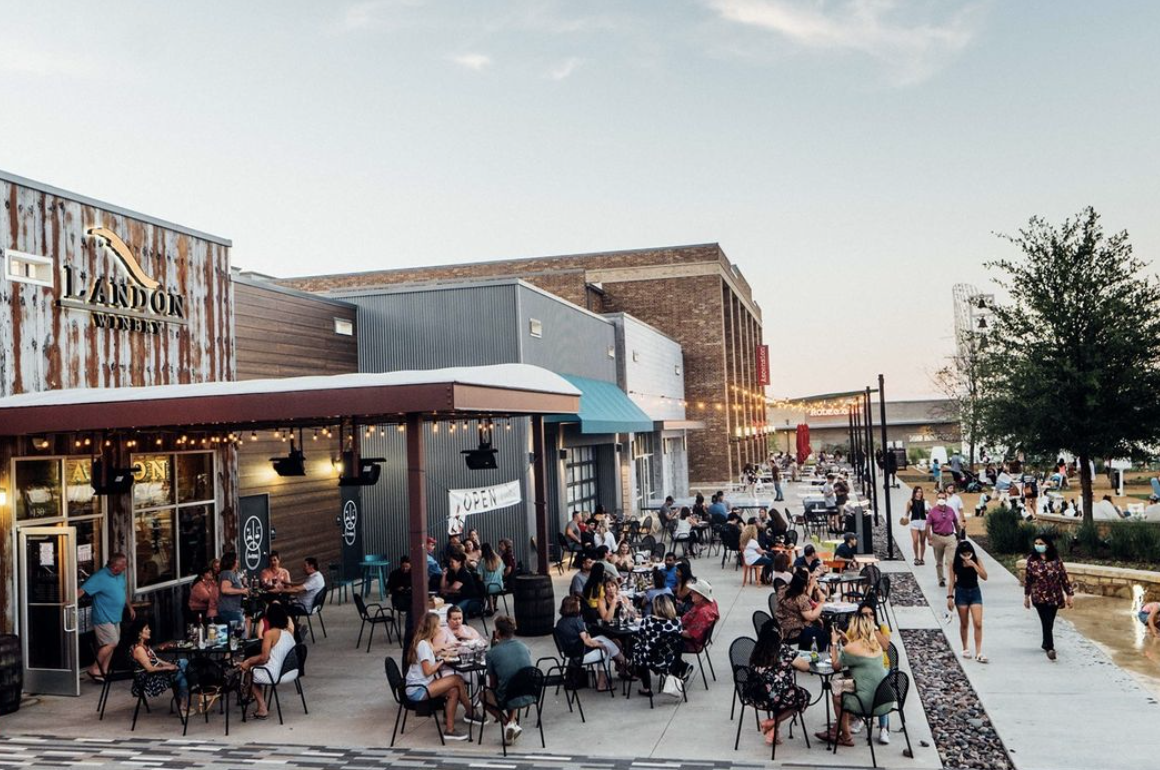 When dining at The Sound, there's no shortage of spots to choose from which means there are also lots of patio spaces to choose from! They sit in the middle of The Sound's entertainment hub that overlooks the lake and live music from popular local artists and more! It's the perfect place to sip drinks past sundown and explore the Lakeside Live Series with friends every Friday and Saturday starting at 8pm!
Coppell | Directions
Toyota Music Factory hosts a variety of bars and musical venues, each with a distinctly-themed musical component that allows everyone, from rap to country fans, to mingle together among the indoor and outdoor spaces! The center of the space is an outdoor Plaza with programmed events year-round. There's also an open-container license so you can enjoy and relax in the outdoor space with a cold one. Enjoy everything from sushi, to a blues bar, to a Mexican tequila lounge as well!
Irving | Directions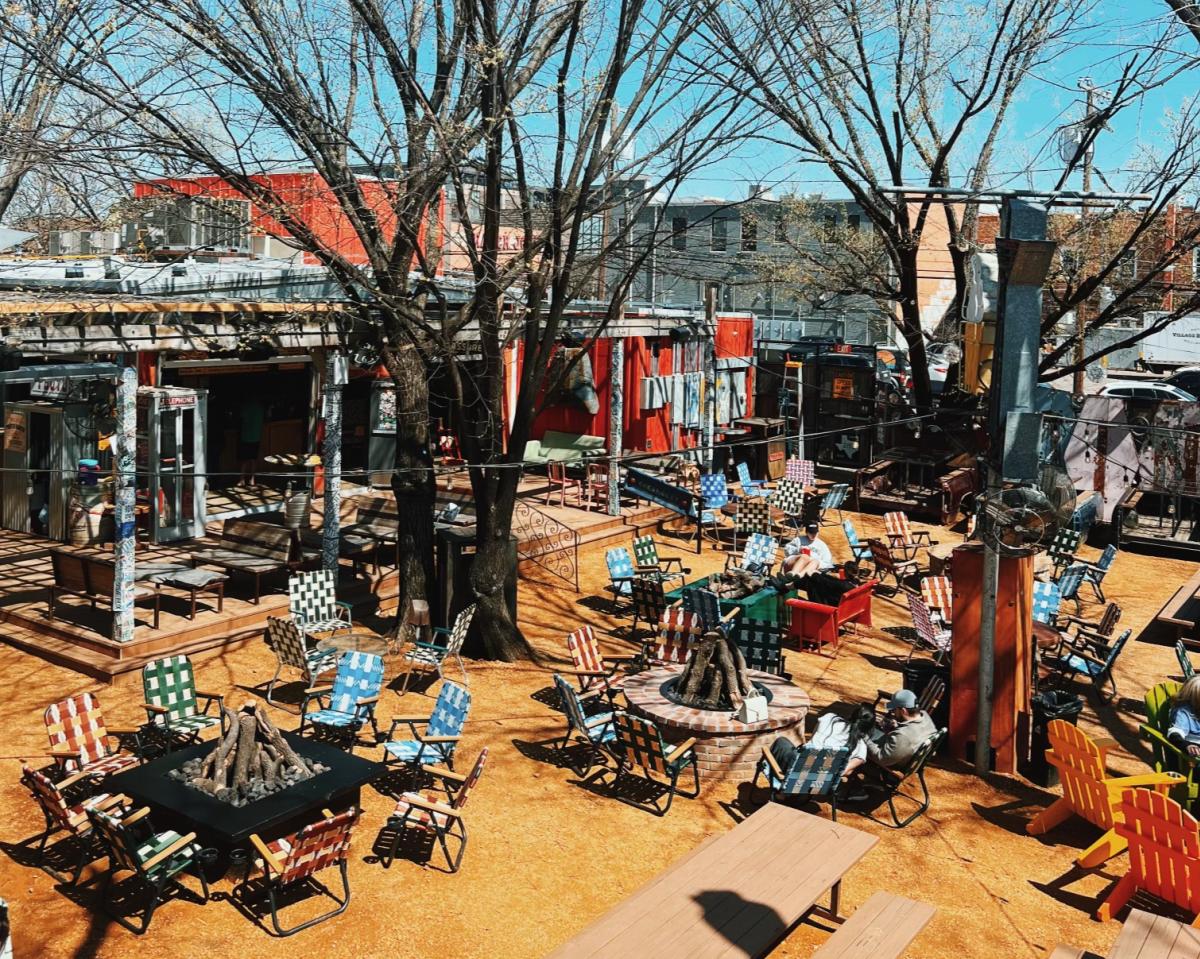 The perfect laid-back suburb destination for drinks is Truck Yard! The giant beer garden gives plenty of room to space out with various quirky features like retro seating options and a toilet seat museum. The beer garden is the best place to post up with friends on the weekends -- and they're dog friendly, so bring your pups along for the outing!
Multiple locations | See locations