A few weeks ago, we had the pleasure of trying out Desta, a Black and female owned Ethiopian restaurant located on Greenville Ave right before 635. Having never tried Ethiopian cuisine before, we didn't know what to expect, but ended up having a delicious evening experiencing traditional plates alongside the sweet owner. 
And we are so excited to share it out for y'all to try too! 
Updated June 2022
---
Desta was opened years ago by an Ethiopian couple who were tragically killed in 2012. But the restaurant survived, moving under the ownership of a woman from Ethiopian who moved to Dallas decades ago, and she has been bringing to life authentic cuisine for the neighborhood ever since! And she is damn good at it!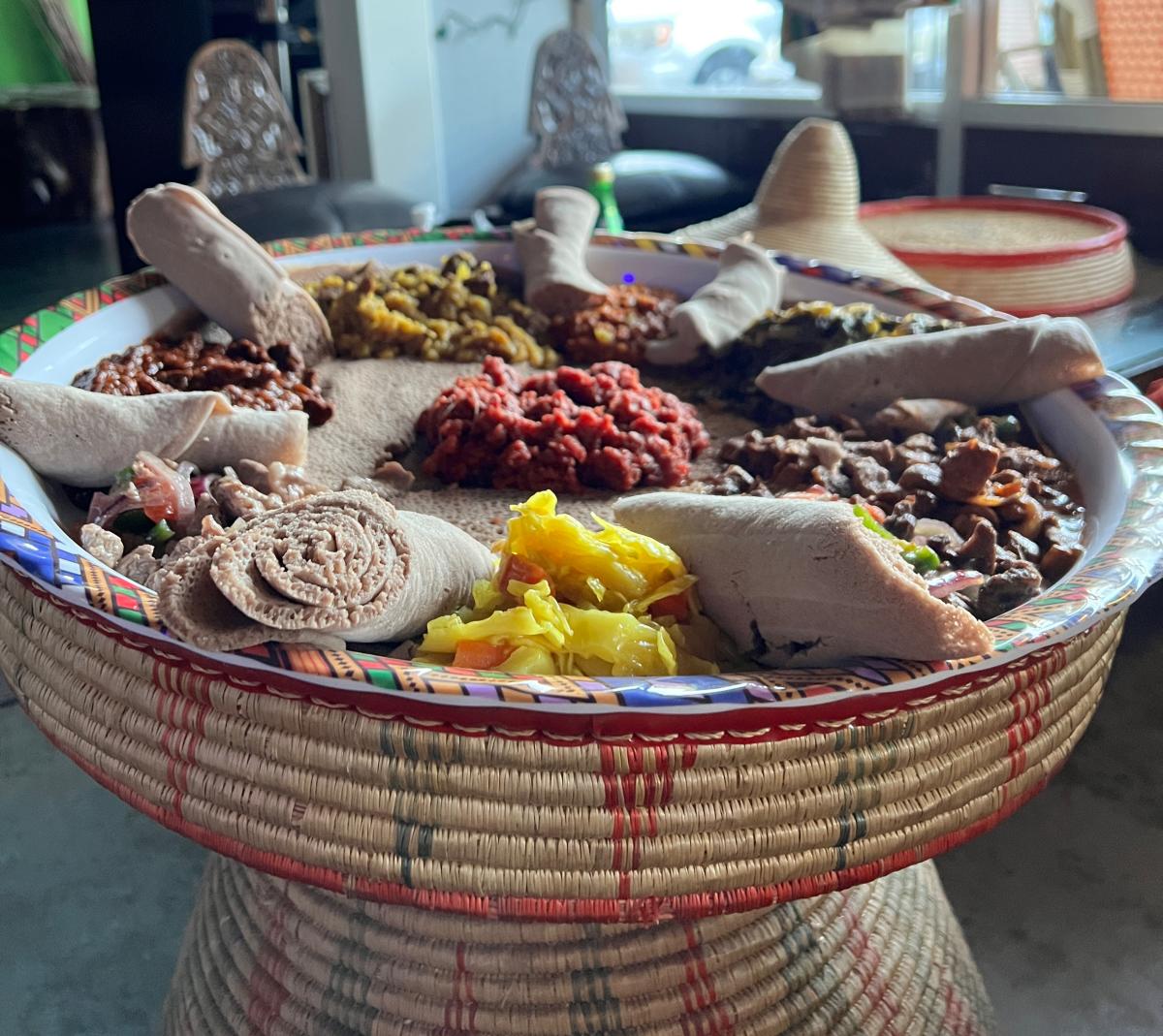 THE PLACE
The restaurant is located in a shopping center that houses other African owned businesses and restaurants. There's a small patio outside but inside you'll find big tables to sit and share food with, plus an illuminated bar serving fun cocktails and Ethiopian wine. And on the weekends, stay long enough to enjoy DJs and music on the stage!
MENU
The first dish we were introduced to is Injera, a sourdough flatbread that has a sponge like texture and is a quintessential ingredient in Ethiopian cooking and the foundation for their cuisine. We had it first in our appetizer but saw it again in our main course too. 

For our entree, we enjoyed a platter of different meat and vegetable dishes scattered around a huge piece of Injera, and served on a "gebeta" or large circular platter. We grabbed rolled up pieces of bread to use as our utensils as we grabbed a variety of meat stews and cooked vegetable dishes including tibs (a beef dish), atkilt wot (a cabbage dish), azifa (lentil salad) and more!
TO FINISH
Everything was delicious and we topped our meal off with a fresh pot of Ethiopian coffee!

Desta is open daily from 10am to 11pm, serving food all day, and they have a full bar for evening fun! It is definitely a hangout for the Ethiopian and African communities on weeknights and weekends and we loved experiencing it!
---