There are a lot of new places coming to Knox Street and one of the first to open in the new wave is the highly-anticipated Mister Charles! The team behind beloved restaurants The Charles and Sister have done it again with their most elegant and elevated concept yet!
Updated July 2023
---
Find the gorgeous building and patio across from Starbucks and Knox Bistro in the former soda fountain space (there's even a sundae on the menu to pay respects!) You're welcomed by a European-style patio before stepping into a breathtaking space with high ceilings, floor-to-ceiling windows, checkered tile, and chandeliers. It's truly stunning!

Wander to their left side of the space for an intimate experience, known as their "Devil" side, or dine in the main room known as their "Angel" side with a lively crowd and people gathering around the bar. We dined on the angel side during golden hour and it was magical with the sun beaming through the windows and reflecting off the chandeliers!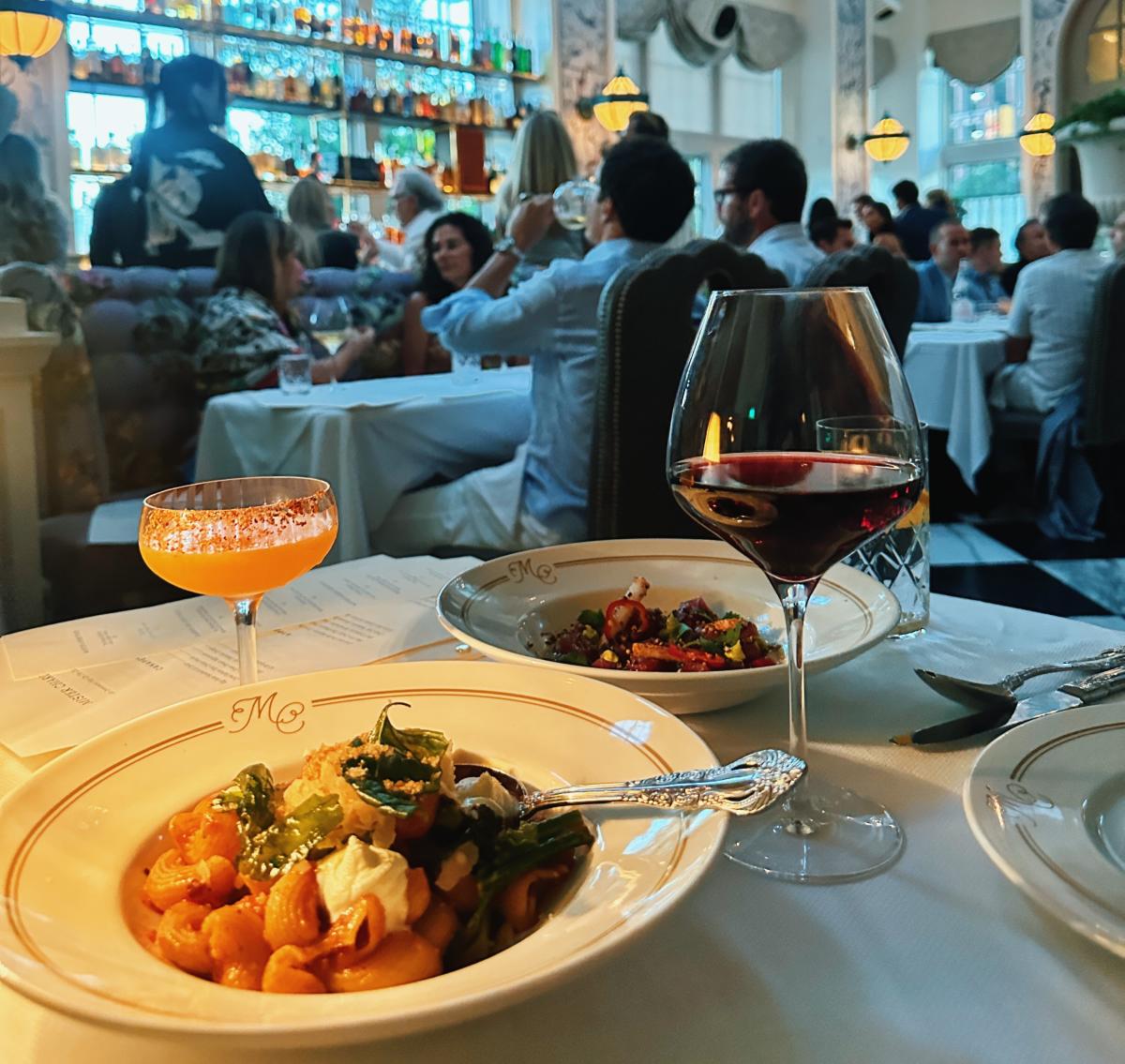 THE MENU
If you're familiar with Duro's other concepts, it's no surprise the food is outstanding and is also meant to share. It's a more confined menu than The Charles, with a new course titled canapes, aka bites, and we 10/10 recommend not skipping these as they were some of the best food we've ever had!

You'll also find small plates, 3 homemade pastas, a variety of fish and steak dishes, and sides. It's definitely a fine dining, special occasion experience!
WHAT WE ORDERED
+ Egg salad and caviar
+ Striploin on brioche (a must)
+ Passionfruit crudo
+ Corn and truffle beignets (good serving size)
+ Arrabiatta pasta with broccolini
+ Crime of passion cocktail

Next time we want to try the lamb Wellington and the "Highland Park" cocktail!
 
THE 101
All in all, we had a lovely experience and the service was incredible! The decor and details are unmatched, with even a little devil and angel logo on the plates. It's going to be a great spot for an elevated date night or special occasion, and there is truly not a bad seat in the house! There's also a private room upstairs for events!
TAKE A TOUR