There's something about a secret bar that's exciting and intriguing…stick the word 'speakeasy' on a bar description, and you're set for all the Millennials to come rushing in to experience it. And while Dallas doesn't have the most bustling speakeasy scene, there are some hidden gems scattered around the city that are definitely worth the visit or two!
Updated October 2022
The sushi restaurant, Musume, across from the Dallas Symphony made a recent addition to its restaurant: a secret bar known as Akai. To get in? An Instagram post by Musume touts that you must eat dinner there! And then after your meal, you'll be transported to the red-lit sultry lounge through the kitchen. However, an article by GuideLive states that anyone can enter upon finding the side door on Crockett Ave on the street - the Japanese symbol and bouncer will give it away!

Atlas is your go-to in Bishop arts for a one-of-a-kind global experience via food and drink! You can order bratwurst or beef pho from their global bites, or a drink from their Well Traveled or or Local Stops menus. They're open until 2AM every day except Tuesday, and we're pretty sure such unique menu items are few and far between that late at night six out of seven days a week!

In Oak Cliff, stop by Xaman Cafe for coffee and then head back past the bathrooms for a dark and delicious Mexican culinary experience! The dinner and cocktail menus are both heavily influenced by Central Mexican flavors. The focus is mezcal, sotol, and tequila forward drinks and flights. This speakeasy is truly an experience that'll make you feel like you're not in Dallas!

The Statler's renovation and reopening was nothing short of grand, so you might already know they have their own speakeasy. This one is the most "authentic" in terms of how you enter. You can't just walk in - you have to find the phone booth and type in the password. If correct, the door will open for you!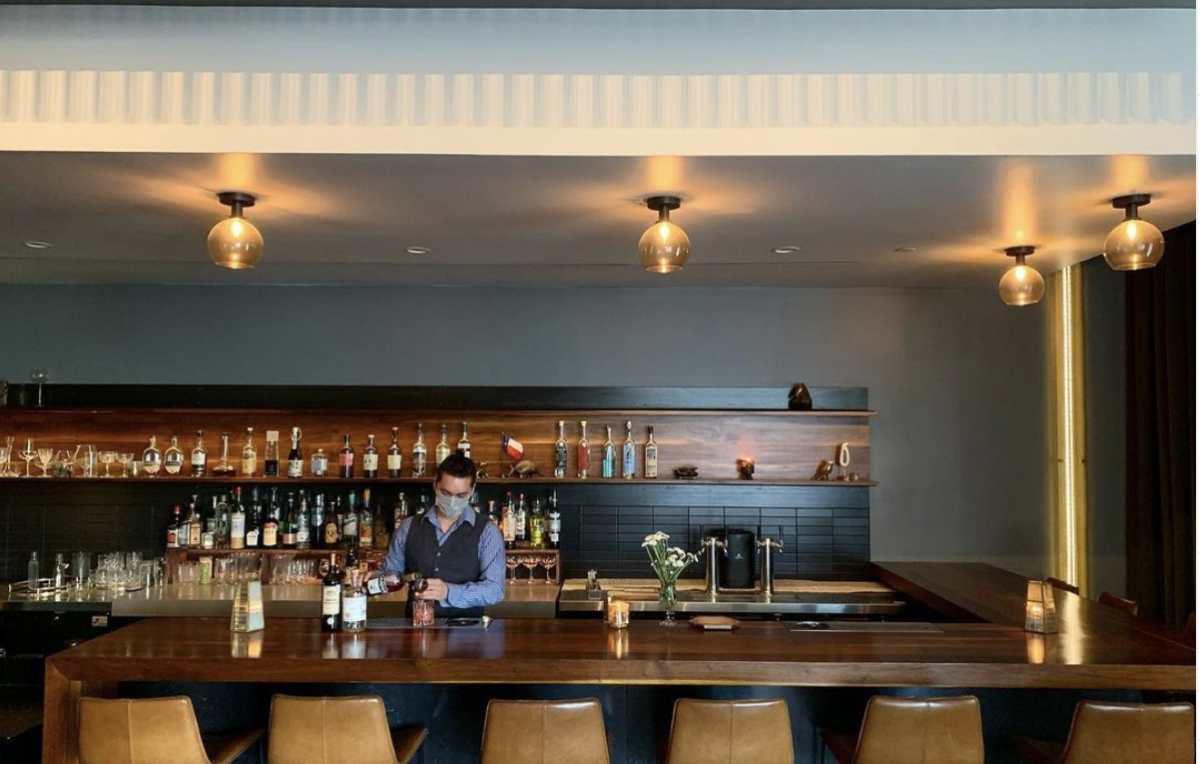 photo courtesy of Jettison
We love Houndstooth and its three beautiful coffee shops it has around Dallas. But coffee isn't the only thing Houndstooth is good at making - they are pros at craft cocktails too! You can find those inside Jettison, a tiny offshoot to the right of Houndstooth Sylvan Thirty. Just one room with seating for maybe 15 people, it's an intimate atmosphere.
The door isn't marked and is blacked out, so you might think you're about to step inside a utility closet or empty space, but don't hesitate, as what lies beyond is so worth the adventure!

A sketchy looking bridal store on the outside, a colorful and intimate Latin speakeasy on the inside. La Vuida Negra is the hidden bar from the team behind our favorite taco spot El Come Taco on Fitzhugh! The cocktail menu is always changing, fusing mezcal gin, tequila or other spirits with kiwi, passionfruit, coconut and more!

Midnight Rambler is hands down one of our favorite bars in Dallas. Located in the basement of the Joule, you can find this cocktail lounge to the left when you walk in, across from Americano. Just take the stairs down and follow the corridor and you'll step back in time to the era of prohibition and jazz club vibes. The cocktails are always amazing and rumor has it, that Leon Bridges has performed pop up shows with no prior notice!

photo courtesy of Rare Books Bar
If you're looking for some tasty drinks with a side of good reads, Rare Books Bar is the place for you! They've got every kind of alcoholic drink you could imagine AND a large food menu! Make sure to try one of their twelve cakes before you leave, or at least something else delicious from the bakery.
This new speakeasy is located behind an Argentinian favorite, Chimichurri! To find this intimate space, walk to the back of the restaurant and through the wine cellar. After 10pm, you can also enter through the back alleyway – just look for the red light! Take a seat under the giant chandelier to sip on unique cocktails. The amaro and vermouth are both made in house!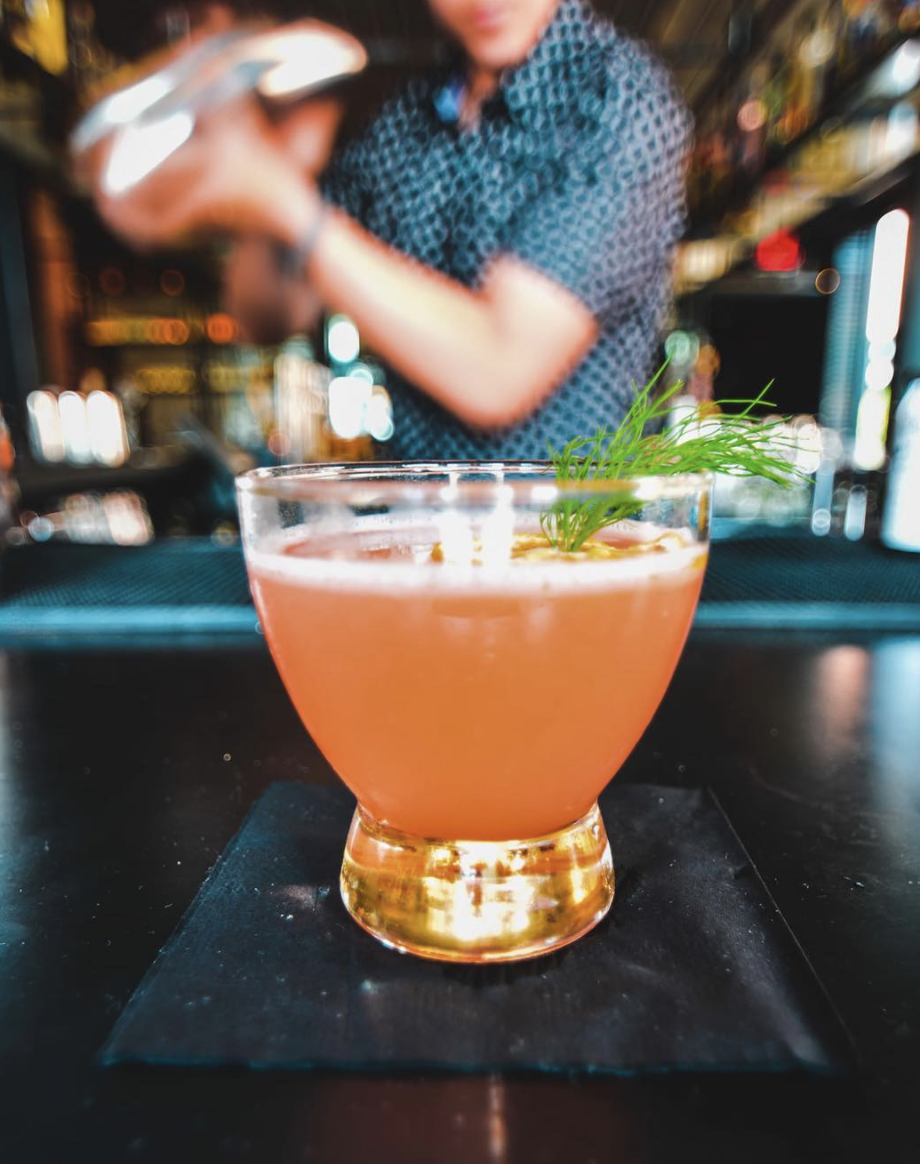 photo courtesy of Trick Pony
Harlowe MXM brought a three-in-one concept with a rooftop bar, beautiful mid-century modern restaurant and a cocktail lounge with a rotating theme. The cocktail lounge called Trick Pony, has a new trick up its sleeve! In the fall of 2018, it opened a bar within its bar - Pony Tail - an amaro bar hidden behind a mirrored wall. It has yet to re-open but is a must visit when the doors open again. You'll find a dark room with no seats and no menu, just seasonal drinks derived from the Italian herbal liquer known as Amaro! But even if you don't like Amaro, it's worth the experience!

For an escape to a Mexican cocktaileria, find a romantic open air enclosed patio in Deep Ellum. There's no sign, so look for the big metal door with a tiny window to look into. On Friday and Saturday nights, dance to DJs spinning latin tunes or go for Mariachi brunch on Saturdays and Sundays!