Let them eat cake… King Cake that is! This sweet dessert is served as a hallmark of the Carnival season and traditionally, whoever gets the slice with the baby in it means good luck and prosperity for them that year! We've rounded up 15+ places you can get yours this Mardi Gras season, plus a few spots with Mardi Gras treats!
Updated February 2023
---
WHERE TO GET KING CAKE IN DALLAS

Available for preorder or walk-ins until February 17th! Call 214-754-0099 with a 48-hour notice. They also have several other Mardi Gras treats, like cupcakes and more!
Multiple locations | See locations
This Cajun spot has Manny Randazzo King Cakes & Ooey Gooey King Cake! In-store purchases only, first come first serve.
Arlington | Directions
Mini or full-size King Cakes, in unique flavors like Nutella Coffee! Preorder online, available through the month of February.
Deep Ellum | Directions
Cinnamon Roll King Cakes are available at the locations listed below! Order online for pick-up or delivery, from now through Mardi Gras.
Addison, Richardson & McKinney | Directions
 
King Cakes w/ cream cheese filling & Gallete de Rois (French version). Available for in-store purchases only.
Multiple locations | See locations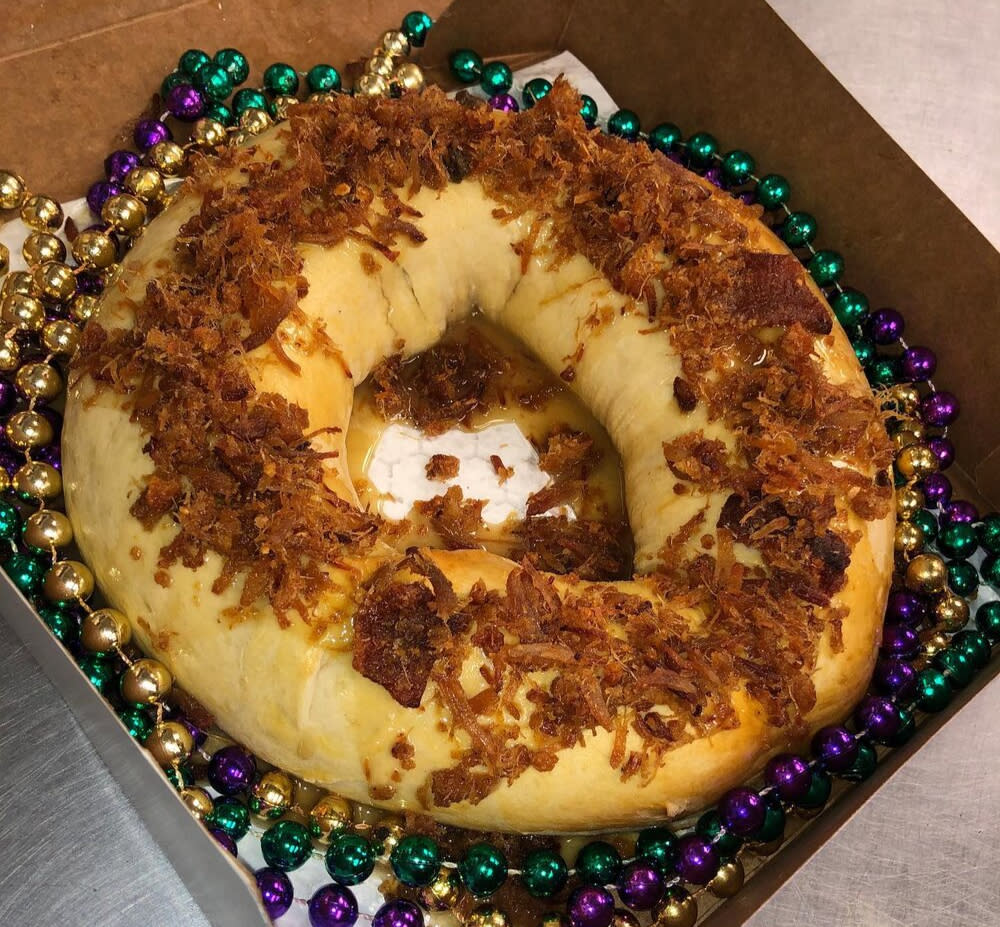 Photo courtesy of Chris' Specialty Foods
Try their Boudin King Cake, a popular savory twist to the traditional King Cake! Order online for pick-up & delivery.
Frisco | Directions
Try their Mardi Gras King Cake Cheesecake by the slice or whole! Available for dine-in or to-go orders.
Southlake | Directions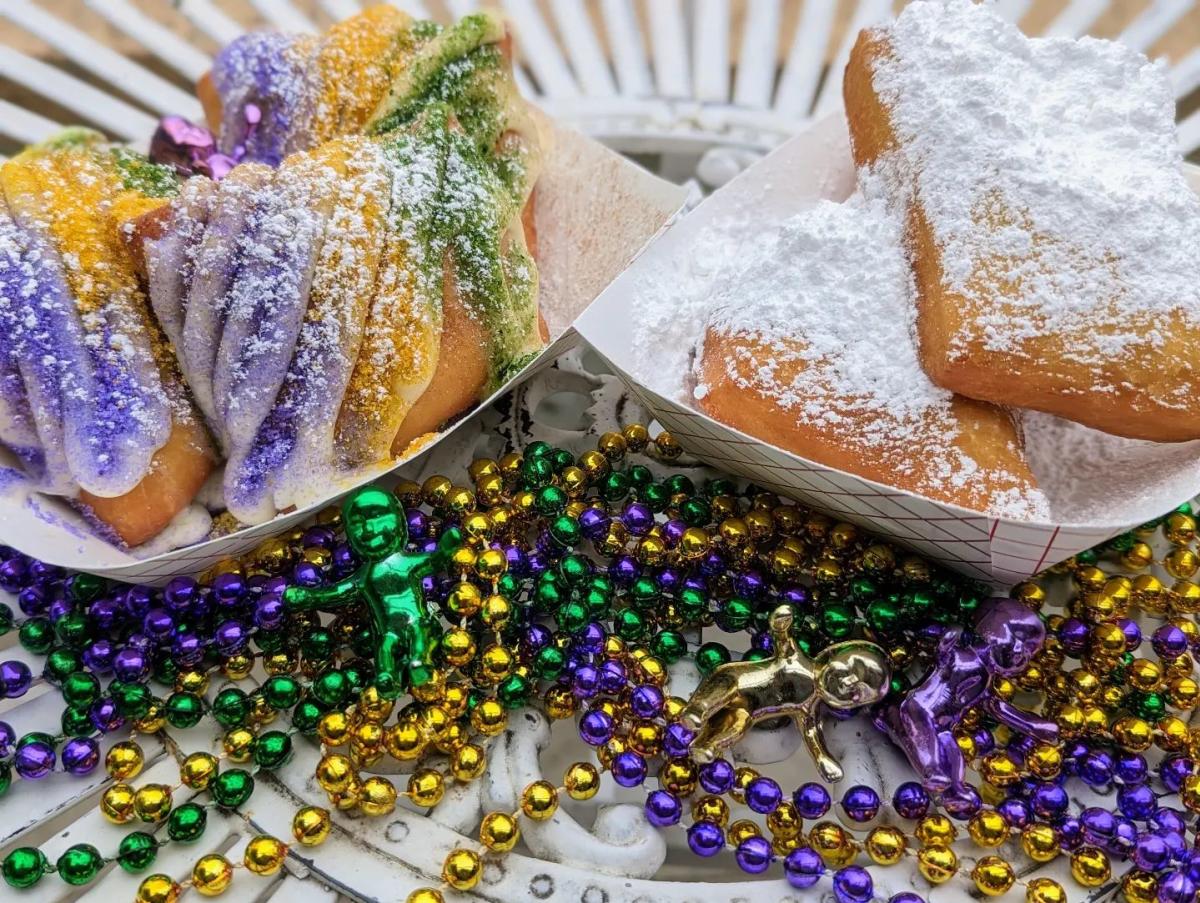 Photo courtesy of Dusty Biscuit Beignets
This popular Fort Worth spot has King Cake Beignets & mini King Cakes! Order online for pickup or delivery, through the month of February.
Fort Worth | Directions
 
Stop by for a Brown Butter Pecan King Cake! Available every Friday & Saturday in February. first come first serve.
East & Inwood  | See locations
Mini or full-size made by a New Orleanian. Preorder closes February 11th at 5pm, for pick-up now until February 21st. Available in traditional cinnamon flavor, $35 for a 10 inch cake, for $5 for a mini. They even have King Cake Bread Pudding!
Lake Highlands & Richardson | See locations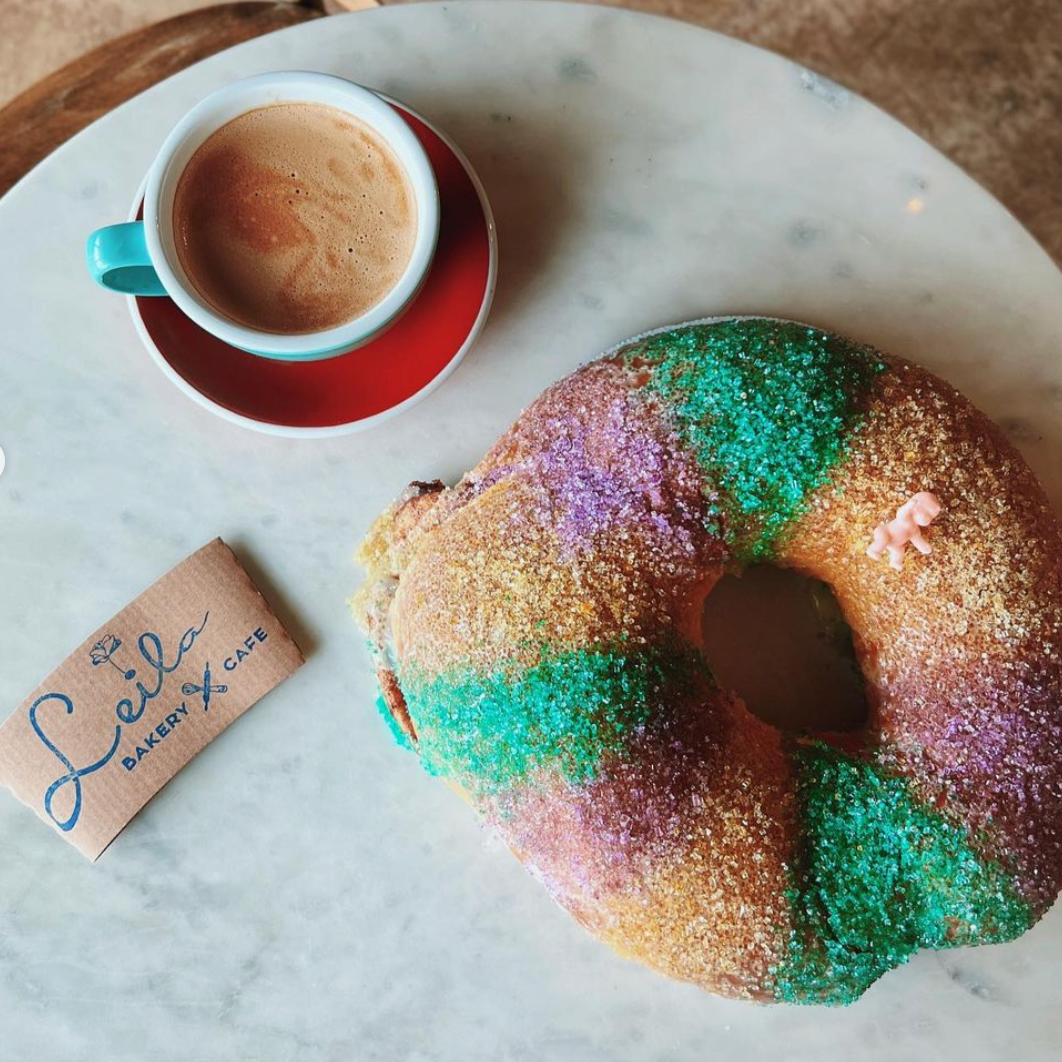 This bakery has both mini and full-size King Cakes! Available for pre-order thru February 12th, with pick-up from February 17th to the 25th.
East Dallas | Directions
This NOLA based chain is offering King Cake flavored coffee drinks! The seasonal menu includes a King Cake Latte, King Cake Cold Brew with Sweet Cold Foam, and a blended King Cake Velvet Ice. All are flavored with vanilla and cinnamon, and topped with purple sugar or cinnamon!
Multiple locations | See locations
Vegan King Cakes are available in six flavors -- cinnamon, cream cheese, strawberry, vanilla cream, chocolate cream, and strawberry cream cheese. Preorder for online until February 21st, or stop by every Saturday from now till Fat Tuesday for a $5 slice.
Richardson | Directions
Keto King Cake can be found at any of their locations, and online available to ship anywhere nationwide! Let them know if you have any dietary restrictions – the bakery accommodates gluten free, grain free, low carb, zero sugar, keto, and dairy free needs.
Multiple locations | See locations
GET KING CAKE SHIPPED TO DALLAS
Selling traditional King Cakes since 1949… a King Cake staple! Order King Cake online from Baton Rouge for delivery anywhere in DFW. Plus they ship internationally!
Order online | More info
---
YOU MAY ALSO LIKE