Can you name a better combo than a warm summer night & live music? We've made a list of all the upcoming summer concert series around town, plus a few fun one-offs you won't want to miss! Mark your calendars, send this to your concert buddy, and get ready to groove all season long!
Updated May 2023
---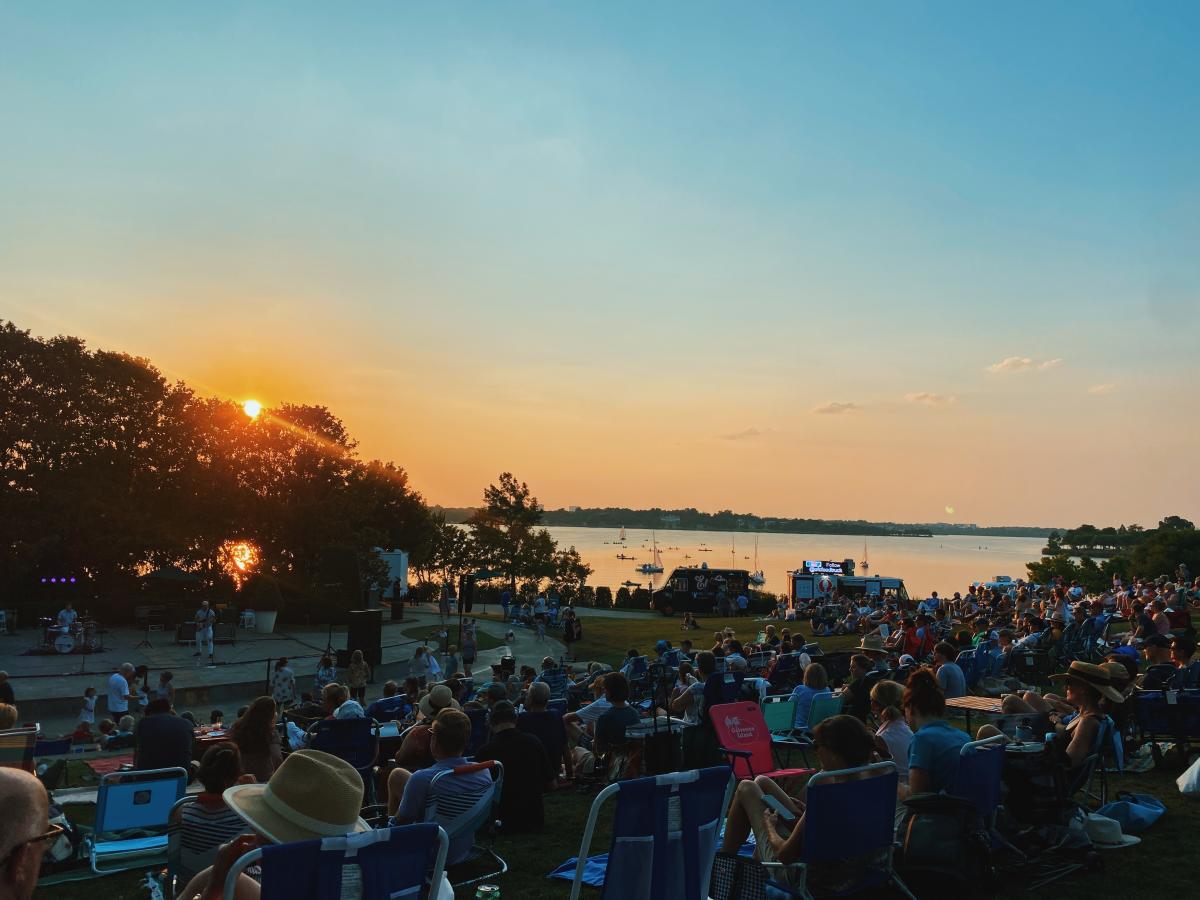 Get ready for stunning sunsets over White Rock Lake while listening to music from bands from all around the country- they're so fun you'll be running out to the dance floor! Pack your own picnic basket, grab a bite from rotating food trucks, or pre order food from Beyond The Box Catering or Dallas Culinary Co.
Tickets are $39 for non-members and $29 for members, but be sure to get yours ahead as they can sell out! Gather your crew, fill your picnic baskets & make this your new Thursday night tradition at the Arboretum!
Arboretum 
MORE WEEKLY CONCERTS
 
Support local vendors while enjoying live music + find 30+ dining options, or pack a picnic!
CityLine Plaza | Every Friday & Saturday from 6pm to 9pm until 5/29
Bring chairs, picnic blankets & either pack a picnic or grab a bite at the harbor. Plus it's BYOB!
Lake Ray Hubbard | Every Thursday at 7pm until 7/27
Enjoy patriotic music & American classics performed by the DSO!
Multiple locations | 5/29, 6/1, 6/6, 6/8, & 6/13 at 8:15pm
Bring lawn chairs, grab a bite to-go downtown & enjoy this award-winning concert series.
Downtown Denton | Every Thursday from 6:30 to 8pm
Every Friday until 6/30 from 7:30pm to 9:30pm at Peace Plaza
Grab a bite from food vendors & find an activity area for the kids
Every other Friday at 7pm until 6/30, multiple locations
Bring lawn chairs & shop vendors like Donuts NV and Kona Ice!
Frisco Square| Every Friday in June from 7pm to 9pm
Enjoy live music, scenery, putt-putt, backyard games & drinks!
Sammons Park | Every Thursday evening from 5:30 to 7:30pm
Bring picnic blankets & chairs to this family-favorite concert series in Old Town Lewisville.
Wayne Ferguson Plaza | Every Tuesday night in June and July from 7pm to 9:30pm
Enjoy live music & gourmet food trucks in Addison!
Vitruvian Park | Every other Thursday from June 14th to August 23rd, from 6pm to 9pm
JUNE CONCERTS IN DALLAS
 
6/02 Shrek Rave / The Factory in Deep Ellum
6/02 Rebelution / The Pavilion
6/02 Heartless Bastards / Granada Theatre
6/03 Abraham Alexander / The Kessler
6/04 Bryson Tiller / House of Blues
6/04 Fonseca / Margot and Bill Winspear Opera House
6/06 Weezer / Toyota Music Factory
6/08 Chris Lake / Stereo Live Dallas
6/09 ReSet: Concert Series w/ boygenius / Texas Trust CU Theatre
6/10 ReSet: Concert Series w/ Steve Lacy / Texas Trust CU Theatre
6/11 ReSet: Concert Series w/ LCD Soundsystem / Texas Trust CU Theatre
6/16 Billy Currington / Billy Bob's
6/16 Logic / South Side Ballroom
6/16 Angela Aguilar / The Pavilion
6/17 Walker Hayes / The Pavilion
06/24 Pixies / South Side Ballroom
6/27 d4vd / The Echo Lounge & Music Hall
6/27 Bebe Rexha / House of Blues
6/27 Wavves / Tulips FTW
6/27 Hobo Johnson / Deep Ellum Art Co
6/28 Fall Out Boy / Dos Equis Pavilion
6/30 TLC, Shaggy & Sean Kingston / Toyota Music Factory
6/30 Outlaw Music Festival / Dos Equis Pavilion
JULY CONCERTS IN DALLAS
 
7/1 Illenium / Dos Equis Pavillon
7/2 Mike and the Moonpies / Billy Bob's
7/5 Blink 182 / AAC
7/8 Paramore / Dickies Arena
7/9 Don Tolliver / The Pavillon
7/13 binki / Club Dada
7/19 The Drums / Granada Theatre
7/21 Shania Twain / Dos Equis Pavilion
7/21-22 Randy Rogers / Billy Bob's
7/23 Sublime with Rome / The Pavilion
7/23 Erykah Badu / AAC
7/26 Jason Mraz / Music Hall at Fair Park
7/27 Greta Van Fleet / Dickies Arena
7/27 Yellowcard / The Pavilion
7/28 Eric Church / Dos Equis Pavilion
7/29 ZZ Top & Lynyrd Skynyrd / Dickie's Arena
7/29 Young the Giant / The Pavilion 
7/30 Steve Miller Band / Dos Equis Pavillion
AUGUST CONCERTS IN DALLAS
 
8/05-06 Post Malone / Dos Equis Pavillion
8/06 Jesse & Joy / The Pavilion
8/09 Manchester Orchestra / The Pavilion
8/12 Jai Wolf / South Side Ballroom
8/13 The Offspring w/ Simple Plan and Sum41 / Dos Equis Pavilion
8/15 The Smashing Pumpkins / Dos Equis Pavilion
8/16 JVKE / South Side Ballroom
8/18 + 8/20 Metallica / AT&T
8/20 Rick Springfield / Dickies Arena
8/21 Beck & Phoenix / Dos Equis Pavilion
8/22 Bay Ledges / The Cambridge Room at House of Blues
8/24 LL Cool J / Dickies Arena
8/25 50 Cent / Dos Equis Pavilion
8/29 Less Than Jake / Granada Theatre
8/30 Jonas Brothers / Globe Life Field
---
YOU MAY ALSO LIKE