Bagel towers, lox, sticky buns and lots of pastels in a modern meets classic New York dining experience! The long awaited Sadelle's from Major Food Group has arrived in Highland Park Village!
Updated December 2022
---
Sadelle's opened in 2016 in the SoHo neighborhood and just six years later, they've expanded to luxe international cities like Miami, Paris and Las Vegas, and now Dallas! They're known for their take on the traditional New York deli, in a much more glamorous setting. And the owners are Major Food Group of the new-to-Dallas, Carbone, a legendary Italian restaurant also from NYC!
Sitting in the former Royal Blue Grocery in Highland Park Village, the space has been given an upgrade. The coffee area remains similar, with a walk up counter and booth side seating, but the bar is now dark wood and marble with pink upholstery. Their signature blue and green patterns can be seen in wallpaper, paint and packaging. 

The space where the grocery piece used to be is now a wide open room of dining booths and tables. A mirrored wall, art deco chandeliers and glass light bulbs give the space a 20's brasserie feel, and the patio has new, huge striped blue and white umbrellas for a shaded and picturesque patio moment.
Stop in for coffee, a pastry or breakfast tacos on the left side of Sadelle's or make a reservation for lunch or dinner in the formal dining room. Their signature is of course brunch, served all day long! French toast, eggs benedict, and avocado toast are available staples, but they're known for the Sadelle's tower of your choice of fish. Bagels will come stacked with lox and accoutrements placed on a 3-tier plate. You can also order omelettes, latkes and beautifully arranged salads.
If you're looking to enjoy some not-so-brunchy foods, they've got you covered there too! Sandwiches, quesadillas, soups, caviar, and steaks are just a handfull of their other delicious entrees. You truly can't go wrong no matter what you order! You also must try the sticky bun sandwich for dessert!
Sadelle's is open 'til 9 PM every day except Monday and Tuesday. So book your reservation now on Resy and experience all the delicious dishes they have to offer!
THE MARKET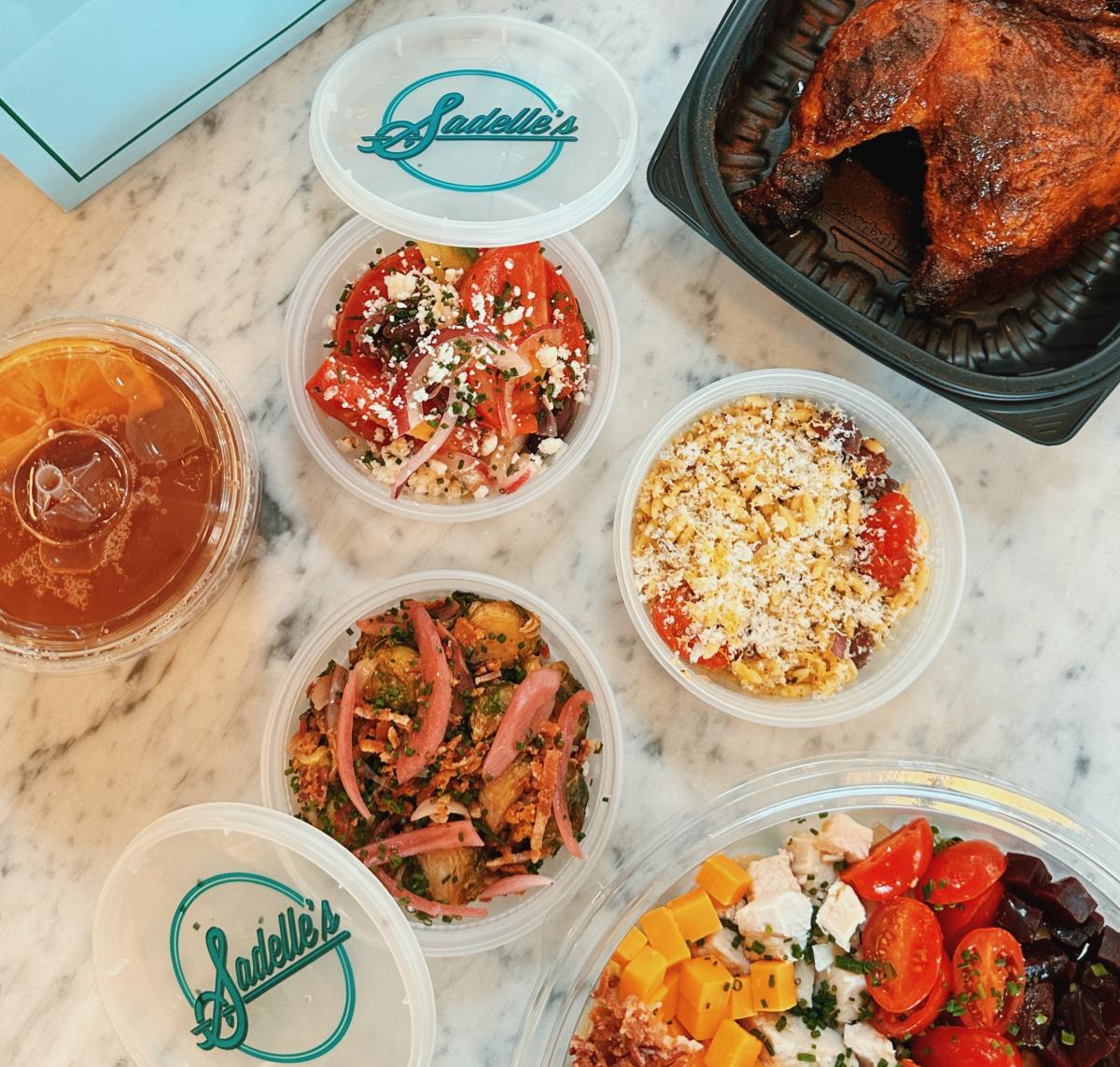 Sadelle's is all over the world, even London, but this is the first ever market! Sadelle's in Highland Park wanted to bring back the neighborhood market and they delivered! Create your own lunch with any of their rotating menu items including roasted chicken, orzo, Brussels sprouts, greek salad, and even caviar! Or opt for something even quicker and choose one of their pre-made salads and head to the patio for the perfect lunch break.