Some things like cheesy enchiladas, street tacos, loaded nachos, and frosty palomas are just so delicious that they're always in season. We've rounded up our favorite Mexican flavors in Dallas for every type of occasion, so quit sitting and check out these spots for chip dipping and marg sipping!
Updated May 2023
---
Dating decades back, Tex-Mex is an integral, delicious Dallas tradition! Check out these spots to find the tastiest Tex-Mex in Dallas.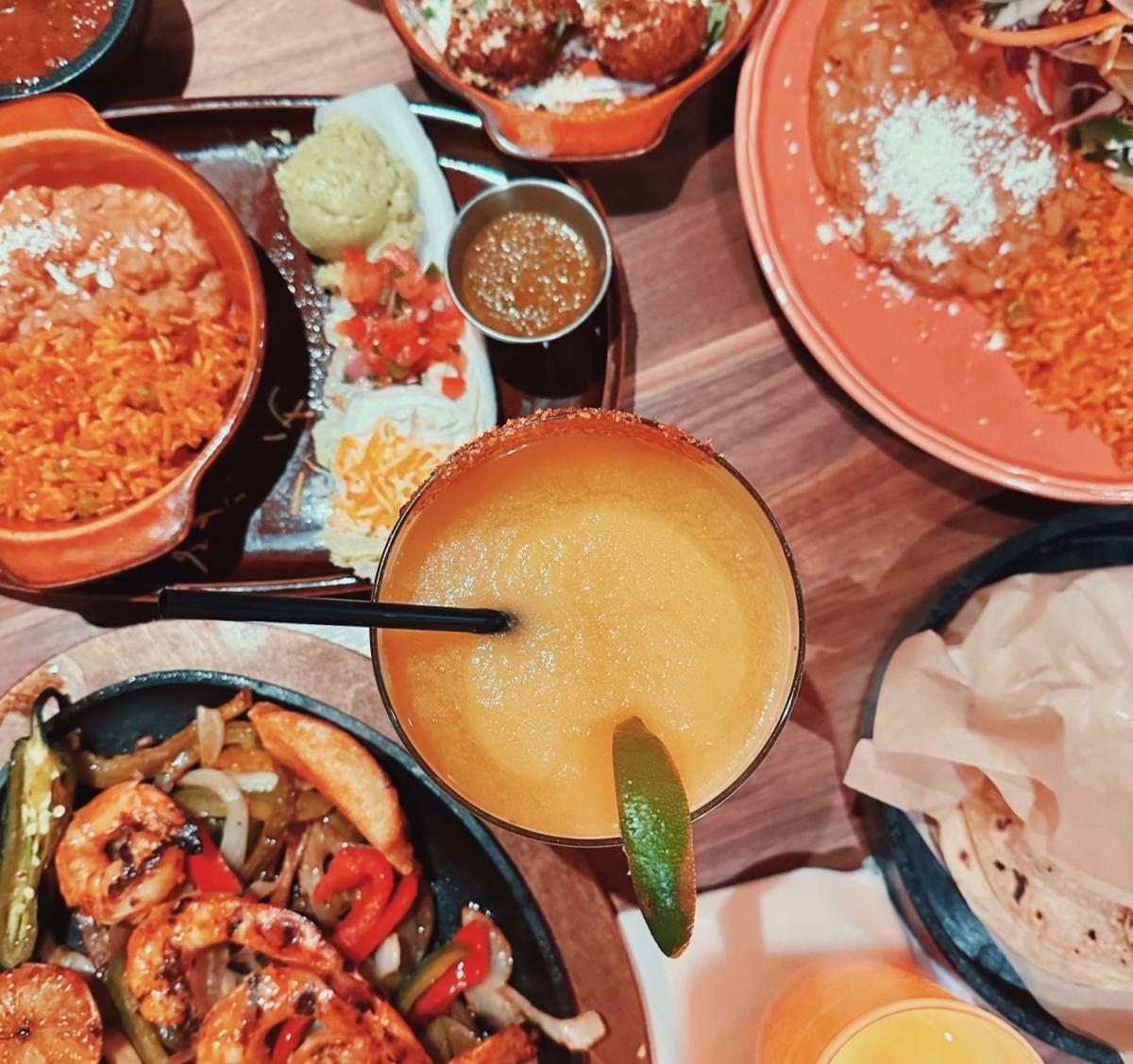 ​For a menu that features your typical Tex-Mex favs along with hidden gems check out Avila's whose family's specialty menu include dishes like Shrimp Avila, ​​Guisado de Puerco, and Pollo con Calabaza - which you can't find anywhere else! Directions
Medical District | Directions
Experience a trendy take on Tex-Mex, at E-Bar, where you'll find Spinach and Mushroom Enchiladas, Taco Salad, Spicy Elote, and daily drink specials.
East Dallas | Directions
Jon Alexis, the owner of TJ's Seafood and Malibu Poke, has done it again! This time in the form of Tex-Mex, with an epic resort-style patio and an indoor/outdoor bar heated or cooled year-round. On the menu, you'll find Mexican classics like Chile Relleno, Quesadillas, Tortilla soup, and Enchiladas (which are made to order and never pre-wrapped), as well as dishes with a twist like the Mexican Caprese Salad and Tex-Mex Pizza. Order the Elote Fritters and thank us later!
Preston Hollow | Directions
La Comida (featured header image)
The casual and inviting Mexican eatery is owned by two brothers from the Yucatan region of Mexico who worked their way up in the industry from bussers to owners! Their Addison location was a popular spot for many years before it had to shutter its doors due to the pandemic. Since then the brothers have been working tirelessly to reopen and do what they love again - serve great Mexican food to the Dallas community. On the menu, you'll find 4 different types of queso, fresh ceviche, tons of tacos and enchiladas, sizzling fajitas, plus entree plates and sides like Mexican caviar and elote.You can't miss the massive one painted on the exterior brick wall, and the theme continues inside too!
Oak Cliff | Directions
Looking to impress your colleagues at the next work happy hour? Las Palmas has got you covered. With $4 draft beers, $7 craft cocktails, and $8 appetizers including Tamales, Nacho Fries, and Crispy  Chicken Tacos you're sure to become your work's MVP!
Uptown | Directions
Known as a Dallas Institution since 1991, Mia's cozy Tex-Mex cantina invites locals to 'join their family' over their original brisket tacos, extra cheesy chimichangas, and homemade rellenos.
Oak Lawn | Directions
Big fan of sizzling fajitas, flautas, and family-style dining? Ojeda's is a family-friendly tex-mex spot where owner Mama Ojeda and her 14 children promise to serve you their favorites, like Ribeye Fajitas, exactly how you like them!
Medical District | Directions
To taste tex-mex brunch or the Beef Tacos Nortenos that drove Guy Fieri 'loco' on Diners, Drive-Ins, and Dives visit Pepe's & Mito's colorful cantina!
Deep Ellum | Directions
We love a good low-key spot, but sometimes you want to level up a Mexican meal! Check out these upscale spots with options like wagyu tacos, gold margaritas, and an overall classy vibe!

From the team behind iconic spots like The Charles and Sister, El Carlos Elegante is an over-the-top space inspired by a traditional hacienda, serving Mexican faves with a contemporary twist! Highlights from the menu include their extensive masa program and their one-hitters, aka one-bite dishes. Enjoy some of those, a few cocktails, and two stunning patios for the perfect night out!
Design District | Directions
La Neta is a spot that'll make you feel like you're on a tropical getaway with both a restaurant and lounge! Not only is it a stunning space, but also features an amazing menu with locally sourced ingredients. Curated by Food Network 'Chopped' champion, the menu features over-the-top Mexican inspired dishes with a Vegas flair, in Texan sized portions! Highlights of the menu include the BFTs & BFDs - big f***ing tacos and desserts! Stop by for dinner, then stay late to enjoy their extensive tequila and mezcal program and dance the night away! 
East Dallas | Directions
​Fairly new to the Mexican contemporary scene, Miriam's exudes exotic flavors to pair with zingy cocktails. The menu items range from brisket empanadas and lobster enchiladas to 16 unique margaritas — one visit here simply won't be enough, you'll definitely need to come back for more!
Downtown | Directions
This cosmopolitan spot out of Mexico City is gleaming with gold! Inside, you'll find intricate Mexican tilework, an illuminated bar, chic velvet furniture and booths, and a tequila cabinet on the back wall filled with over 300 options. Cue the inventive margaritas (one is $250!!) and tequila tastings headed by an in-house "tequila sommelier." For food, enjoy filet & bone marrow tacos, a sea bass that was divine, four types of enchiladas, many different elevated tacos, or a list of beautiful meats and seafood to choose from.
Design District | Directions
All dressed up with nowhere to go? Travel to Oak Lawn to soak in relaxingly elegant vibes that will make you feel like Dallas is thousands of miles away. Here you can expect an upscale, exotic culinary experience along with innovative Mexican-inspired cocktails. Be sure to grab a drink at their Jungle Bar before your trip is over, it's a must-see sight!
Oak Lawn | Directions
UNIQUE

Coco's in Bishop Arts menu serves fun flavors with their Lobster Tacos, Sombrero Sampler, and Picadillo Tostadas. And be sure not to miss out on the Millionaire Margarita with mandarin napoleon liqueur.
Bishop Arts | Directions
From a small establishment with only 12 tables (or mesas) back in the 90s to the contemporary coastal front runner it is today, Doce Mesas serves fresh takes on Mexican classics. Snatch a seat on their breezy outdoor patio and enjoy their famous Carolina Chicken Adobo along with one of Dallas' favorite margaritas, and you'll never want to leave!
Knox | Directions
In Mexican cuisine, the mole sauce is not only critical but also extremely complicated to nail — Jalisco's signature mole sauce is made from more than 50 natural ingredients. Relish in these flavors on their Seared Scallops or Pollo con Mole for a truly mouth-watering Mexican experience.
Oak Lawn | Directions
Enjoy an adventurous menu of authentic dishes that celebrate true Mexican flavors. Try one of the top chefs in town, Chef Anastacia Quiñones-Pittman's, award-winning Carnitas de Olla, and Potato and Cheese Flautas. We recommend making a reservation but if not they're so worth the wait!
Lovers Lane | Directions
Herbs, homemade adobos, and hand-ground tortillas, oh my! At Meso Maya, they are dedicated to paying homage to their culture with each and every plate, down to every last detail. In fact, the chocolate used in their mole sauce is made from specialty cocoa beans they grind in-house, and the garlic in the sought-after Camaron al Mojo de Ajo is peeled from whole cloves. This hot spot is a foodie's heaven!
Multiple locations | See locations
Traditions are easy to pass down but culture is hard to replicate. In the nooks of Bishop Arts, the Xaman family invites locals to take a glimpse into their childhood by serving the same plates and brews they grew up eating every morning. Their chilaquiles are to die for and the coffee, which can be traced back to independent Mexican farmers, is so rich you'll have a hard time refusing a second cup.
Bishop Arts | Directions
With all the taquerias in town, why limit tacos to one day? Check out these taquerias to make any day taste just as good as Taco Tuesday. 

​For tacos that will transport you right to the streets of Mexico, visit Chilangos — some of the most authentically simple yet scrumptious tacos in town. Don't forget to order the al pastor taco, you'll thank us later!
Northwest Dallas | Directions
​If you're looking for a taco spot that will appeal to every type of taste bud Del Sur Tacos has you covered; here you'll have a diverse menu to choose from starting with basics like Barbacoa, plus specialty super tacos like Chile Rellano, and Sanchez (grilled beef).
Oak Cliff | Directions
​Torn between traditional and modern tacos? At El Come Taco you can enjoy the best of both worlds with traditional options like carne asada and al pastor, along with vegetarian options and beer-battered tilapia tacos.
East Dallas | Directions
In case you haven't heard, birria tacos are the latest buzz, and at Frida's, you'll find the best beef broth to dunk your tacos or tortas in for that trendy taco-bouted bite.
West Dallas | Directions
​A truly unique dining experience. Either order at the counter for a casual and authentic taco, or step into the reservation-only tasting room to try chef Regino Rojas' seven-course Michoacan-inspired prix fixe menu for $95.
Deep Ellum & Downtown | See locations
​Hole-in- the wall or hidden gem? Ask any local taco lover about their favorite street taco spot and Tacos La Banqueta is the answer. Here you can't go wrong with any menu item, but the Taco Cabeza is unbeatable! They also have tons of other items such as Tortas, Quesadillas, Alambre, Gringas and more.
Multiple locations | See locations
Calling all pork lovers — Trompo tacos is known for its bright red, juicy pork meat. But don't worry if pork isn't your passion, they also have a meatless Gringa Taco or a shredded chicken Tinga Taco! Directions
Oak Cliff | Directions
Just because Dallas is landlocked doesn't mean you can't enjoy fresh seafood! Check out these coastal spots for some of the finest plates from the sea. 

Hugos Invitados is the newest addition to West Village serving healthy Mexican fare with an emphasis on seafood! Hugos has a variety of cocktails with unique twists including smoked pineapple, cucumber Serrano, and blueberry smash margs. Their menu is expansive and elevated with a combination of unique and classic recipes. Everything was so refreshing and colorful and of course - instagramable.
Las Colinas & West Village | See locations
Initially opened as a charming, renovated house over 3 decades ago, this family restaurant continues to carry the city's coastal cuisine scene with its friendly smiles and family-favorite recipes such as the Campechana, Camarones a la Diabla, and Chile Relleno de Mariscos.
Multiple locations | See locations
​Mariscos la Reyna means Seafood Queen in English and the name is fitting. This spot takes the throne for having the most extensive seafood menu in Dallas since 1989. They have put their Mexican flare on every dish starting with their Fried Oysters and Caldo de Camaron to Catfish, Shellfish, and Snapper.
Multiple locations | See locations
To try Dallas'  "original seafood spot", head to this spot on lower Greenville. This cozy, casual, coastal spot is an absolute catch; here seafood lovers are sure to drool over the Ceviche Dorado, Parrillada Marisquera, Tacos Zarandeado, and Camarones en Agua Chile.
Lower Greenville | Directions
What goes great with good food? Even greater vibes! Check out these spots to add a fun flair to your Mexican fare!
Las Almas Rotas may translate to 'The Broken Souls' but we promise the vibes here will make your heart sing! Located in Fair Park, this hot, hip spot is the best way to start or end your night on the town. Their 5pm to 7pm happy hour deals include both cocktails and appetizers and some of their best bites like the Burrito Bowl and Esquites are offered all the way until midnight!
Fair Park | Directions
To grab drinks "Oaxacan-style" visit the Ruins bar where Mezcal + Mexican Bites + Music is considered the perfect combination! In their limbo room, you'll get to find artists of all mediums, national acts, weekend dance parties, and weekly karaoke along with an amazing appetizer menu and unique tropical cocktails. A night here is one you definitely won't forget.
Deep Ellum | Directions
This stunning space has both a delicious menu and swanky yet approachable vibes! The massive rooftop with trendy decor, a stunning floral wall, and fantastic views of downtown is the perfect spot to meet your friends for a fancy cocktail before a game or concert at the AAC or just to wait and sip before your reservation downstairs in one of the 4 dining rooms.
Harwood District | Directions
Everyone knows Deep Ellum is the life of the Dallas party and Vidorra is no exception. This vibrant Mexican rooftop restaurant makes your dining experience a celebration with their frozen patron margarita flights, shot platters, daily happy hour deals, and amazing tunes - just 5 minutes here and you'll be up on your feet!
Deep Ellum | Directions
Some nights are meant for good conversations over great food, and Yellow Rosa is just the spot. Modeled after the cantinas found in San Miguel, this spot has a cozy, charming indoor patio, creative appetizers like the Mushroom Al Pastor, and a compelling cocktail list. To take your chill night up a notch, visit on Thursdays for live music and $5 frozen margaritas.
Deep Ellum | Directions
Food, family, and friends who are like family are all hugely important in the Mexican culture. Check out these spots for a great time with your gang! 

Originating in Chicago, this massive industrial open-air space has an energetic atmosphere, plus a love for tacos and tequila! Bring your group and enjoy the patio (which has a retractable roof) while you sip on a Pinche Paloma, a 100 oz drink for sharing. The "must-do" moment at Federales is their Ring the Bell shot station. Order a $10 tequila shot served in an ice shot glass, take the drink and then throw it against the bell that sits over some hot coals and watch your shot glass melt! 
Deep Ellum | Directions
The boys are back in town and you're looking for a spot where you can catch up, but you're all out of ideas. Head down to Henderson's Javier's for Smoked Chicken Nachos, a tender Carne Asada, and specialty cocktail deals. And be sure to check out the cigar lounge for Cubans and a Cognac nightcap.
Highland Park | Directions
It's your turn to plan the next family dinner and you need a place that will make everyone, even your in-laws happy... Mesero is for you. At Mesero you'll find an authentic tex-mex menu along with kids, American, drink, and brunch menus that will please even the pickiest of eaters. Worried your party is too big? Not a problem! Mesero is ready to cater or host your private event at one of its 5 locations just be sure to let them know 3-4 weeks in advance.
Multiple locations | See locations
For a great girls or guys night out, Mi Cocina is the place to go. Share some laughs and good memories with your gang over Brisket Tacos, Sunset Enchiladas, and of course their famous Mambo Taxis. Just be sure to order a taxi after, they're stronger than they look! The new Mckinney Ave location has a rooftop bar, Seis Segundos, offering drinks, an exclusive dinner menu, and a lively atmosphere -- also perfect for a group!
Multiple locations | See locations