Known as the Grand Canyon of Texas, Palo Duro is one of the most iconic pieces of Western scenery in the panhandle, and is the second largest canyon in the USA! Located just south of Amarillo, there is so much to do and see- take a horseback ride through the vast canyon, learn all about the history, and listen to the coyotes as you gaze at the starry sky. Here is your guide to experience the beautiful desert wonder of Palo Duro Canyon!
Updated June 2022
---
to do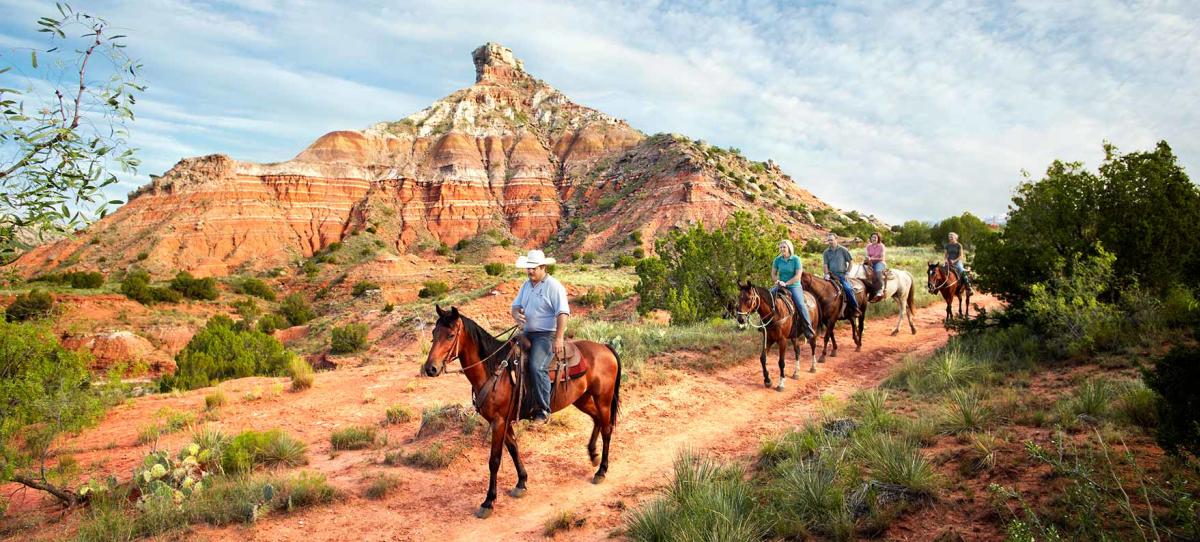 Image courtesy of Old West Stables
Take a guided equestrian tour through the canyon with Old West Stables private tours. This is the official state park's riding outfitter, and it is a quick and easy way to see the notable spots in the canyon. The tours accept anyone over the age of 6, under 225 lbs, and up to 12 people per ride! If you'd rather use your own, you can BYOH (bring your own horse) to the park and explore miles of trails through the canyon without a guide!
Palo Duro has over 30 miles of hiking, biking, and equestrian trails which go deep into the canyon. Some of these trails include historical landmarks and interactive exhibits as well! This is a great way to spend the day with family and discover the life of the canyon. Don't forget to bring water!
In the summertime, Texas Outdoor Musical provides shows at the state park's amphitheater. The musical runs Tuesday-Sunday and tells the story of the lives of Texas panhandle settlers. It is a perfect family-friendly activity that also includes fireworks! And be sure to go early for a barbecue dinner on their covered patio.
Want to get out of the afternoon heat? The Panhandle Plains Historical Museum is the perfect way to learn about the rich history of the panhandle! The museum hosts several different exhibits, ranging from natural history to contemporary topics, as well as a diverse set of special exhibits!
If you decide to hike into the canyon and make it down to the canyon floor, reward yourself at the trading post with unique souvenirs, classic American food like hamburgers and grilled cheese, and beautiful views. The post also sells basic camping supplies and groceries for any last minute purchases.
From roadrunners to turkeys to vultures and more, Palo Duro hosts a wide variety of unique birds which are abundant throughout the canyon! Use the linked bird checklist to try to find the different species!
---
to stay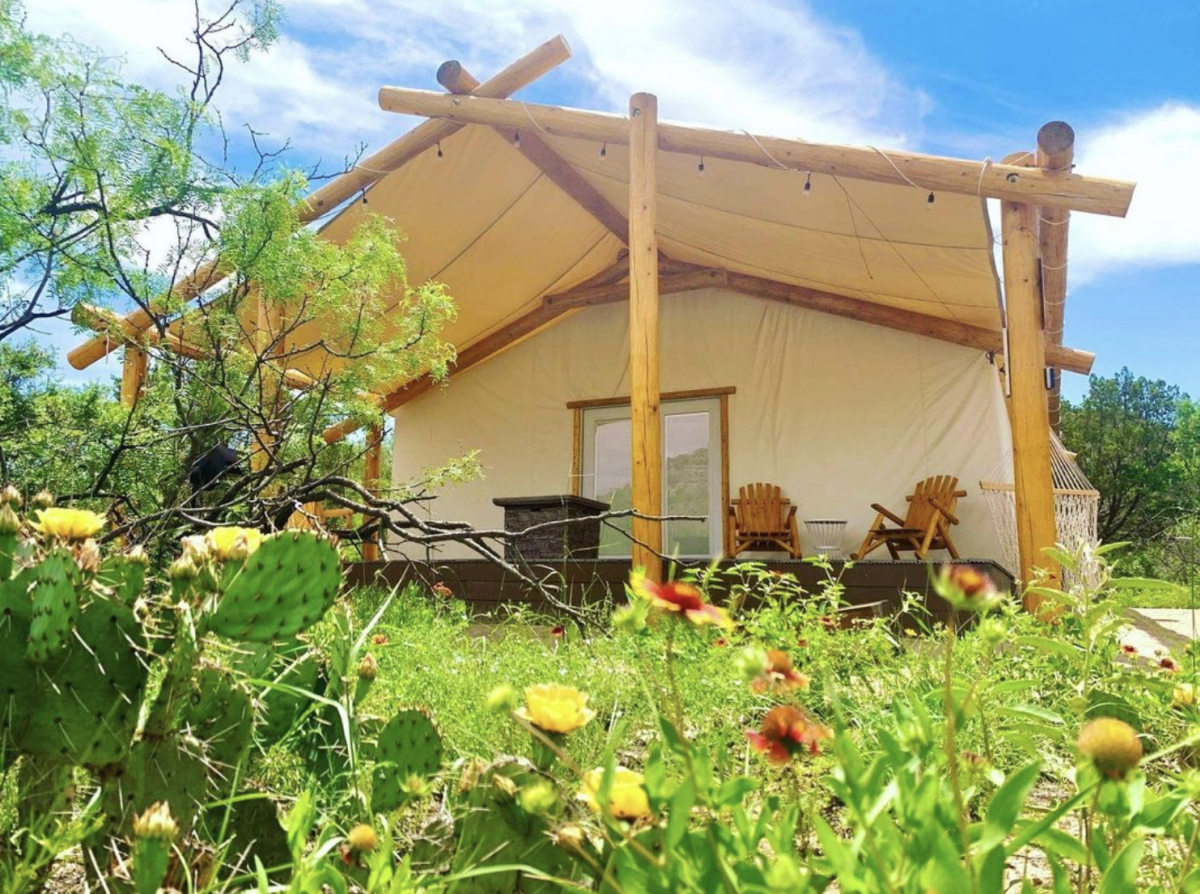 Image courtesy of Palo Duro Glamping​
Palo Duro provides a range of different camping experiences fit for first timers and experienced backpackers! Enjoy full RV hookups with electricity and water, equestrian sites, tent camping sites or backcountry backpacking sites. All of the campsites sit at different locations in the canyon-- enjoy the company of others at a car or tent campsite, or you can choose to hike to a private spot deeper in the canyon.
For those who want to experience the outdoors while still enjoying modern luxuries, Palo Duro offers a new selection of glamping sites throughout the park with fully furnished and air conditioned cabins. Perfect for taking in the beautiful sights and sounds from the privacy of your own secluded cabin!
The state park offers a selection of cabins in the outer rim and in the basin of the park. These beautiful stone hideaways provide an affordable stay without sleeping outdoors, and includes amenities such as A/C, heat, full bathrooms, a queen sized bed with linens, and more!
Doves provides a range of different cabin stays including adobe, stone, and wooden houses. The houses are quite large and can house a variety of party sizes. All cabins are equipped with modern luxuries, and some even include a hot tub!
This unique bed and breakfast provides comfort and luxury like no other, including homemade breakfast delivered right to your door! This is a great way to experience luxury at an affordable price. In addition, all rooms are outfitted with beautiful southwestern decor.
---
to eat in Canyon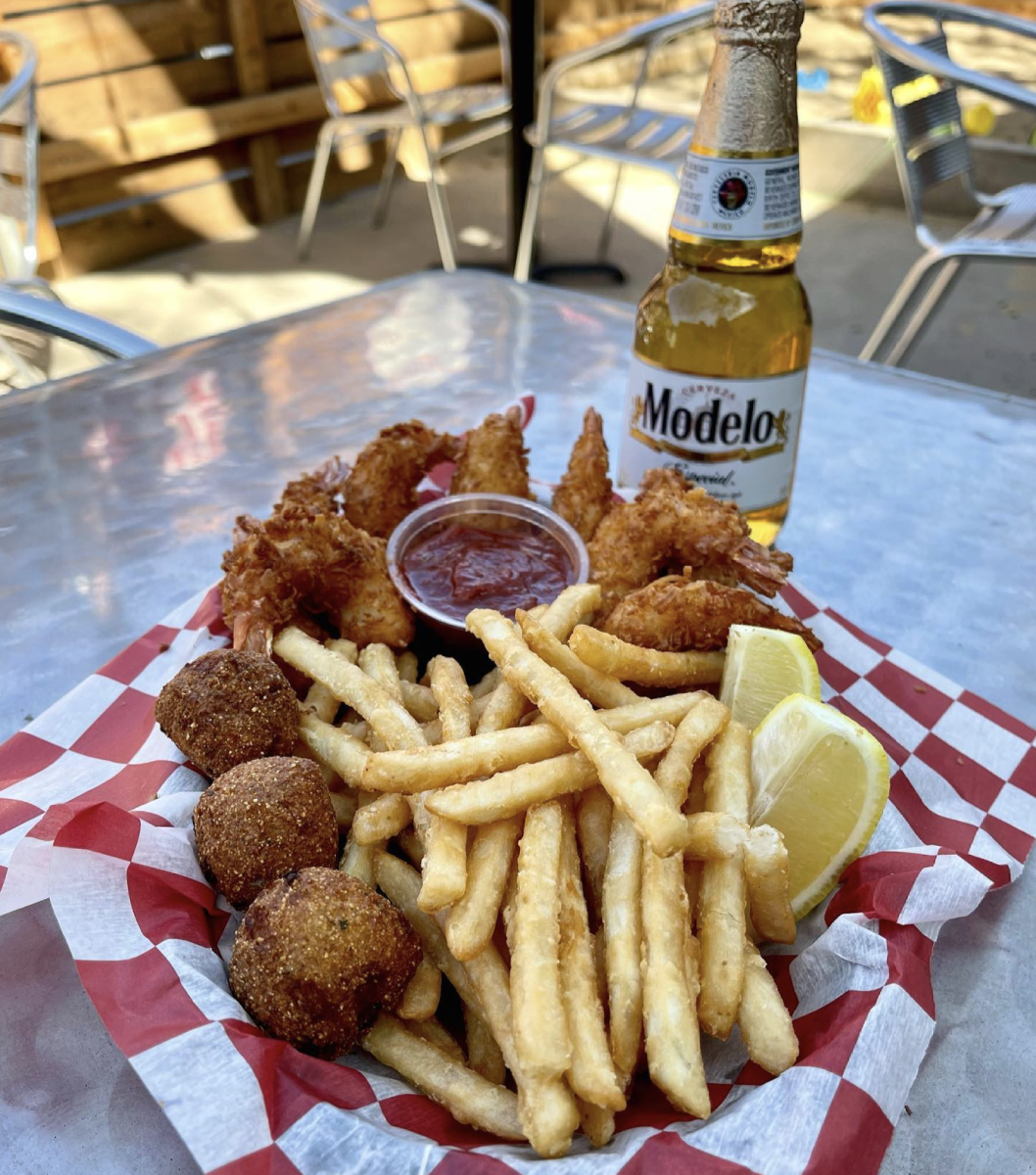 Image courtesy of Buff's
Located inside Palo Duro State park, the Trading Post offers a delicious selection of American fare that's perfect for a hot summer day. This is a great place to stop for lunch while you're hiking the canyon, and it's an easy way to get out of the heat.
Described as an old school diner with a new school touch, Buff's carries delicious breakfast, burgers, fried pies, cherry limes and more! Check out this joint for a real taste of local flaire.
This quirky diner is a local staple, and serves up all your diner favorites! The restaurant also has a selection of toy train models and other unique features, which makes it the perfect place to take kids!
Pepitos serves authentic Mexican and Tex-mex with specialties such as tamales, enchiladas and more! This restaurant is a wonderful, hearty option that's perfect before or after a long day  in the canyon.
Craving something Italian? La Bella is a local pizza favorite and serves up a variety fit for the entire family! The pizzeria is 100% homemade and delectable, and they serve classic Italian pastas, desserts, and more!
If you are looking for Japanese fare, the King and I is the best in the town! This unique restaurant serves authentic and American style sushi, as well as Texas classic rolls. It' the perfect way to cool off after a long day in the sun.
This authentic Thai restaurant is the most popular in the town, and dishes up delicious and authentic cuisine such as curries, pad thai, fried rice and more! The restaurant also features a full bar with special thai style drinks.
---
to drink in Canyon

Image courtesy of Bar Z Winery
This store sells hundreds of different sodas, candies, local goods and meals from a variety of different local vendors. The soda shoppe is very important for the local community, and provides several different foods and local favorites all year long!
Enjoy local wine selections at this farm to table winery. All of the wines are locally grown out of Panhandle area, and are award winning! The bar also hosts a selection of unique events throughout the year such as wine tastings and live music.
This local sports bar and steak house serves up delicious beer, unique drinks and amazing steakhouse selections from locally raised cattle! This joint is the perfect place to unwind, watch some sports and enjoy the local company.
---
you may also like