Located in South Texas, Galveston is a charming Southern retreat. This family friendly island is full of culture and adventures, along with tropical bars and stunning seafood restaurants. From the historic downtown district to its sandy beaches, there is a vacation waiting for every kind of person!
Updated May 2022
Photo courtesy of Hotel Galvez
Just steps away from the beach, Hotel Galvez is the epitome of Southern elegance. Start your weekend of relaxation off with a trip to the spa before lounging by the palm tree covered pool in your cozy cabana. With ocean views from your room, it doesn't get better than this! 
Set in the downtown district, see the historic side to Galveston. With a boutique hotel feel, The Tremont House is a posh hotel where each room has a unique aesthetic that gives it that Southern charm. Grab a drink at their rooftop bar with friends and soak up the incredible views of this coastal beach town. 
Not only is Moody Gardens known for its adventures, but they have suites large enough for the entire family to stay. Truly a nature lover's paradise, there are massive glass pyramids with an aquarium, a rainforest and a waterpark all on the property, so everyday is an adventure!
In downtown Galveston, The Strand District is the historical heart of the city, dating back to the 1800's. Marvel at the Victorian architecture while shopping along the quaint streets. Be sure to stop by the iconic LA King's Confectionary for some Mardi Gras memorabilia and the best ice cream of your life!
Located right on the beach, Pleasure Pier is a fun spot for the whole family. As an amusement park over the water, soar over the gulf on the thrilling rides and games. No trip to the pier is complete without scoop of ice cream, funnel cake, and cotton candy!
Galveston is made up of several beaches that have activities for every type of person. Head to Stewart Beach for family friendly activities from volleyball to kids playgrounds, or make your way to the the East Beach for live entertainment on the boardwalk. If you're a nature lover, spend the day at Galveston Island State Park for kayaking and birdwatching and enjoy the serene surroundings.
Not only is Moody Gardens known for its wildlife adventures, but it is a hotel too. Get a break from the Texas heat and check out the three indoor pyramids of Aquarium, Rainforest, and Discovery Pyramids or splash around on the waterslides at Palm Beach Waterpark for some fun in the sun.
Photo courtesy of Galveston.com
 At the San Luis Hotel in Galveston, Grotto is an Italian trattoria that will make you feel like you've been transported straight to Italy. Serving Old World dishes with a seafood twist, try the shrimp and crab capellini or their signature "meatzza".  Sip on their famous peach bellini or a glass of wine and admire the vibrant decor.
Located on the marina, Waterman's is the ideal waterfront dining spot in Galveston. Enjoy your ceviche and crab cakes in the cozy dining room with its striking wooden beams and plush chairs. As it is set on Galveston Bay, hop on a boat for a relaxing sunset cruise after your seafood dinner.
Set on the water, Gaido's is THE spot for an upscale dinner out in Galveston. Split a plate of oysters that pairs nicely with a mojito or spicy bloody mary, before indulging in your steak dinner. End with their famous pecan pie + bourbon sauce, you'll thank us later!
On Pleasure Pier, Bubba' Gump's is inspired by the iconic movie Forrest Gump. Dive into your shrimp basket with a side of seafood hushpuppies. Be sure to order the Rum Forrest Rum drink or one on their margaritas, shaken right at your table so you know it's fresh!
Located in downtown Galveston, Hearsay provides a less beachy and more upscale dining experience, with its antique chic atmosphere. Whether you dine for their boozy brunch or elegant dinner, you are sure to be stunned by the quality of their food, and they even have an entire vegetarian menu!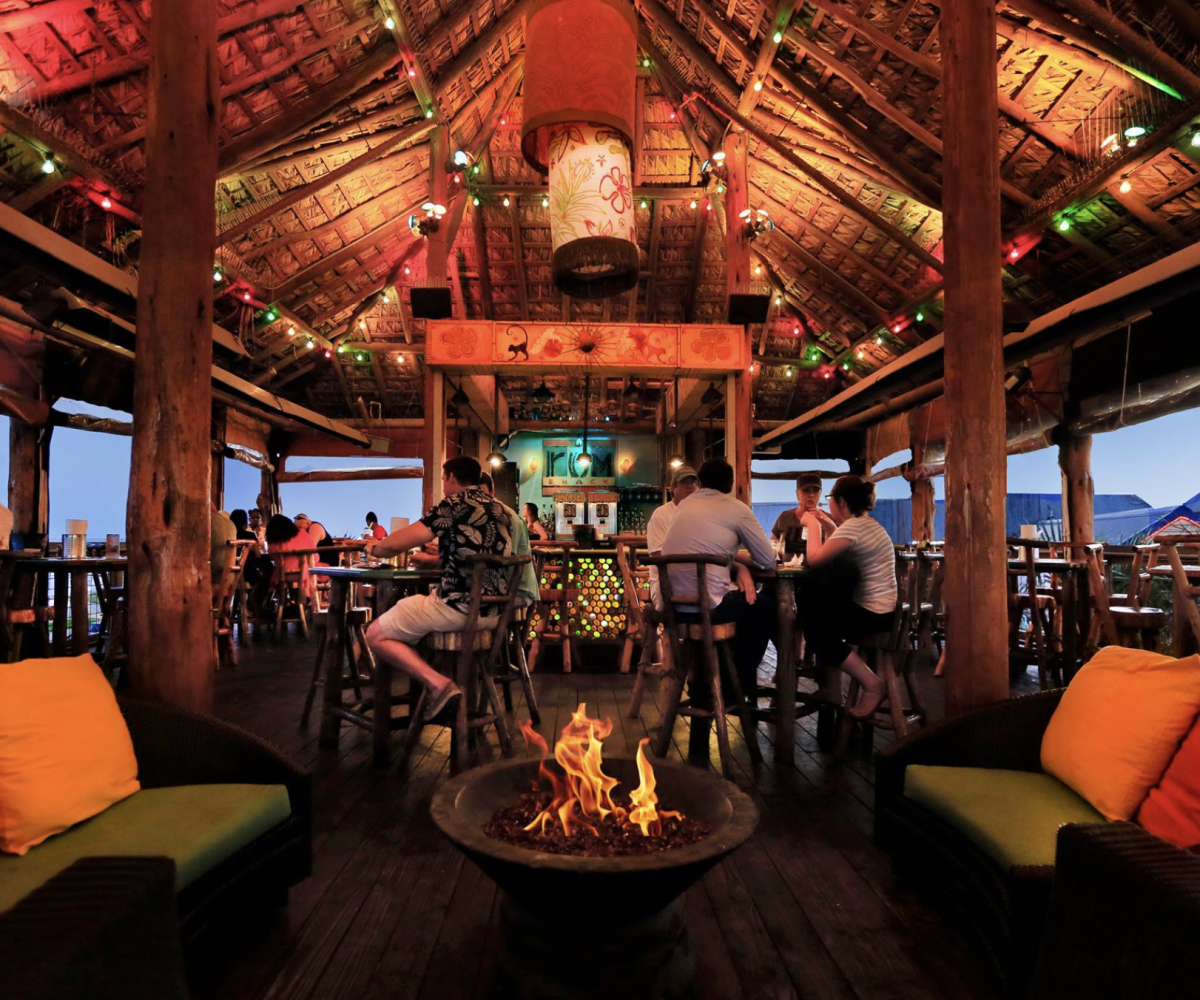 Photo courtesy of Rum Shack
Just off the beach, this tropical beachfront bar will transport you straight to the Caribbean. With its tiki bar vibes and island music, relax by the fire pits while sipping on some colorful cocktails from giant margaritas to their signature rum punch. Hit up their happy hour from 5-7pm for $5 cocktails and $ bar bites!
Sip on your ice cold beer in this lively beer garten or head up to the rooftop bar a cocktail at their full liquor bar. Embrace your competitive side and play some games with friends from pool to shuffleboard, and you can even bring your pup along too! Pop in for their lively karaoke nights and live music on weekends!
After your beach day in the hot Texas sun, pop over to this waterfront bar. Cool off with a drink at the swim up bar or head to the upper deck for some stellar ocean views. Dance your heart out to the DJ jams from morning until night, where the party never ends!
Embrace island life and make a tropical trip to Daiquiri Time Out. Indulge in a classic craft cocktails from a refreshing frozen strawberry daiquiri to a soothing mai tai. Stop by their happy hour for $6 drinks weekdays 4pm-7pm and all day long on Mondays!