Just a 90-minute drive from Dallas, Granbury is a quaint small town that oozes with Texas charm. From the historic Town Square to beautiful Lake Granbury, there is so much to do and see. After a relaxing weekend getaway here, you'll know why it's featured on the best Texas small towns list!
Updated March 2022
---
Photo courtesy of Hotel Lucy
This boutique hotel is the ideal location for your perfect Instagram photo op. Each room has a distinct theme from chic pink with chandeliers to boho chic with bohemian decor. Lounge by the luxurious pool or sit in the outdoor fire pit area and bask in the Texas sun!
There is no better way to experience Granbury's natural beauty than at this lakefront bed and breakfast on Lake Granbury. Wake up to a gorgeous sunset with your morning coffee in hand as you take in the stunning lakes views. Just two blocks from the town square, premiere shopping and dining are just a bike ride away!
Right on the Granbury Town Square, this adorable bed and breakfast is truly a hidden gem. With three luxurious rooms, this is the perfect intimate spot for a romantic getaway. The famous Farina's Italian restaurant is just down the stairs, you're in for stellar food along with your excellent accommodations.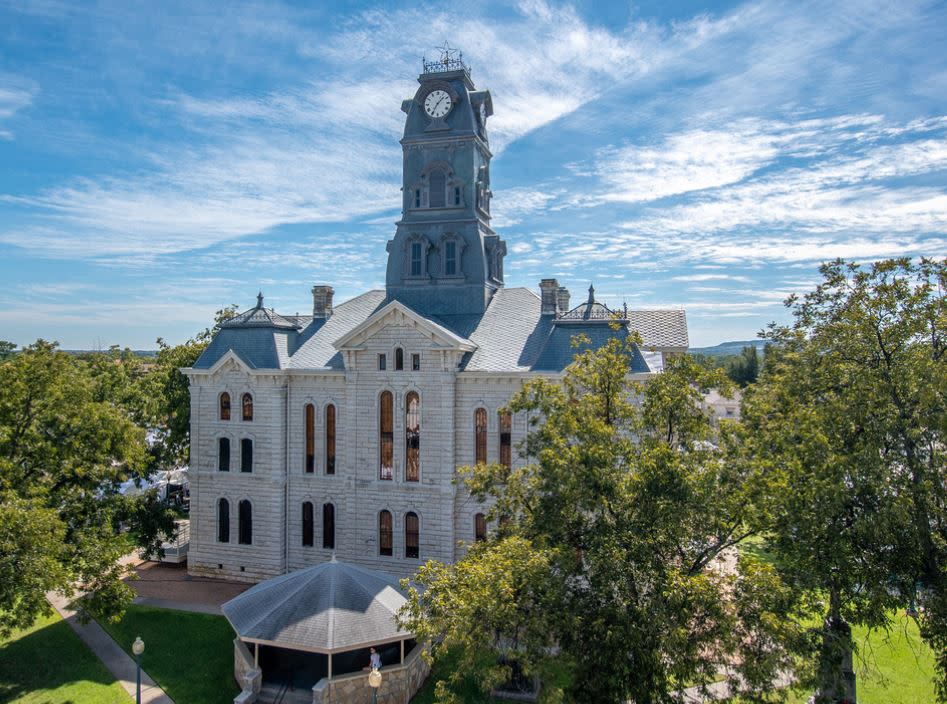 Photo courtesy of VisitGranbury.com
This historic town square is so quaint that it's ranked one of the best in all of Texas! It serves as the town's lively hub of attractions, lined with restaurants, boutiques, bars, saloons, and wineries. From farmer's markets to ghost tours, there's always something fun happening here! Fun Fact: Parts of the show 1883 were filmed on the square!
Set right in the center of town, Lake Granbury is a narrow lake formed by the damming of the Brazos River. Go for a boat ride, jet ski, fish off the pier, or even camp on the nearby grounds. Right on the edge of the lake is City Beach Park that looks like an actual mini beach and you can rent kayaks, paddle boards or play sand volleyball!
Right on the town square, the Granbury Opera House is truly iconic. This state of the art historical venue hosts a " Broadway on the Brazos" season with nine different productions each year. Open every day of the week, catch a matinee or a nighttime showing of one of their fabulous live musicals and plays performed by the Granbury Theatre Company.
About a thirty minute drive from Granbury, Fossil Rim in Glen Rose, Texas is a wildlife conservation facility. Take a day trip to see the wildlife with over 1000 animals and over 50 different species. Whether you drive the seven mile path in your own car or take a guided safari tour, you'll get to experience the animals up close and personal, they will even eat out of your hand!
Photo courtesy of Farina's
Feel like you're on a trip to Venice at this authentic Italian spot on the town square. Farina's has some of the best Italian food in town, from classic pasta dishes to their famous spaghetti pizza. Sip on your glass of wine at their bar or on the patio after enjoying your decadent meal in the ornate dining room.  
The best way to indulge in some good Southern food is family style! Babe's serves up some finger lickin' good fried chicken, mouthwatering sides, and the best of all, biscuits. We know you'll be stuffed after your meal but be sure to try one of their homemade pies before you roll out of there, literally!
On the Granbury town square is a classic upscale steakhouse that is the epitome of Southern charm. The limestone stone walls give it a historical feel while the sleek decor adds a modern touch. After your amazing meal, pop over to the market next door! They sell products from olive oils and seasonings to recreate your favorite dishes in the comfort of your own home.
Once you walk through Ketzler's doors, you'll feel like you've been transported to Germany! This schnitzel haus and biergarten is a unique experience serving authentic German food in a quaint cottage setting. Enjoy your schnitzel with live entertainment from Karen the accordion player to Maurits on the guitar. After a few beers here, you'll be yelling Prost!!
 A visit to a Texas small town is not complete without some good ole' barbecue! The Mesquite Pit is the best bbq joint in town, serving burgers, steaks, and seafood all with their signature mesquite flavor. Dive into your hearty meal in the Western themed dining room or out on their spacious patio with killer views of Lake Granbury. 
Set in quaint little house just off the lake is an elegant restaurant called Anise. Serving cuisines from around the globe, their seasonal menu has been carefully curated with dishes that taste divine and have a beautiful presentation as well. Picture yourself here for a romantic date night out with a glass of wine in hand.
Photo courtesy of Oz Coffee Bar
You may know the name from their main winery in Fredericksburg, but Barons Creek gives you a taste of Texas wine country right on the Granbury town square. Order a food paired flight or a charcuterie board with friends while sipping on your wine. Take a bottle with you to enjoy their delicious wine in comfort of your own home!
Get a taste of the Wild Wild West at the Silver Saddle Saloon! Pair your favorite beer or wine with Beth Marie's delicious homemade ice cream. Better yet, try one of their boozy ice cream concoctions while you play some board games or during one of their Texas Hold Em' nights!
Drinks, but make it Wizard of Oz themed. This colorful coffee bar off the square has a menu completely dedicated to the movie characters, from Glenda to the Wicked Witch of the West. Not only do they sell some top notch coffee, but they have beer, wine, cocktails, sake, tea and matcha of course!
Just off the square, Bob's is a Granbury hidden gem right behind Babe's Chicken! Grab one of their juicy burgers and a beer then enjoy the live music show out on the patio. Be sure to snag one of Bob's beignets before you head out! 
Right on the square, Brews is the perfect drinkery for you! Pair one of their bowls, pizzas, or gourmet sandwiches from the bistro with a beer, wine, cocktail or a hard cider. If you're looking for something lighter, a coffee, tea or kombucha is the way to go!