Did you know Texas Chicken Fried Steak Day is October 26th? Since it's a true Texas staple, Dallas knows how to serve chicken fried steak the right way. We've rounded up the best spots to order your favorite comfort food, from casual diners to elevated Southern spots!
Updated October 2022
---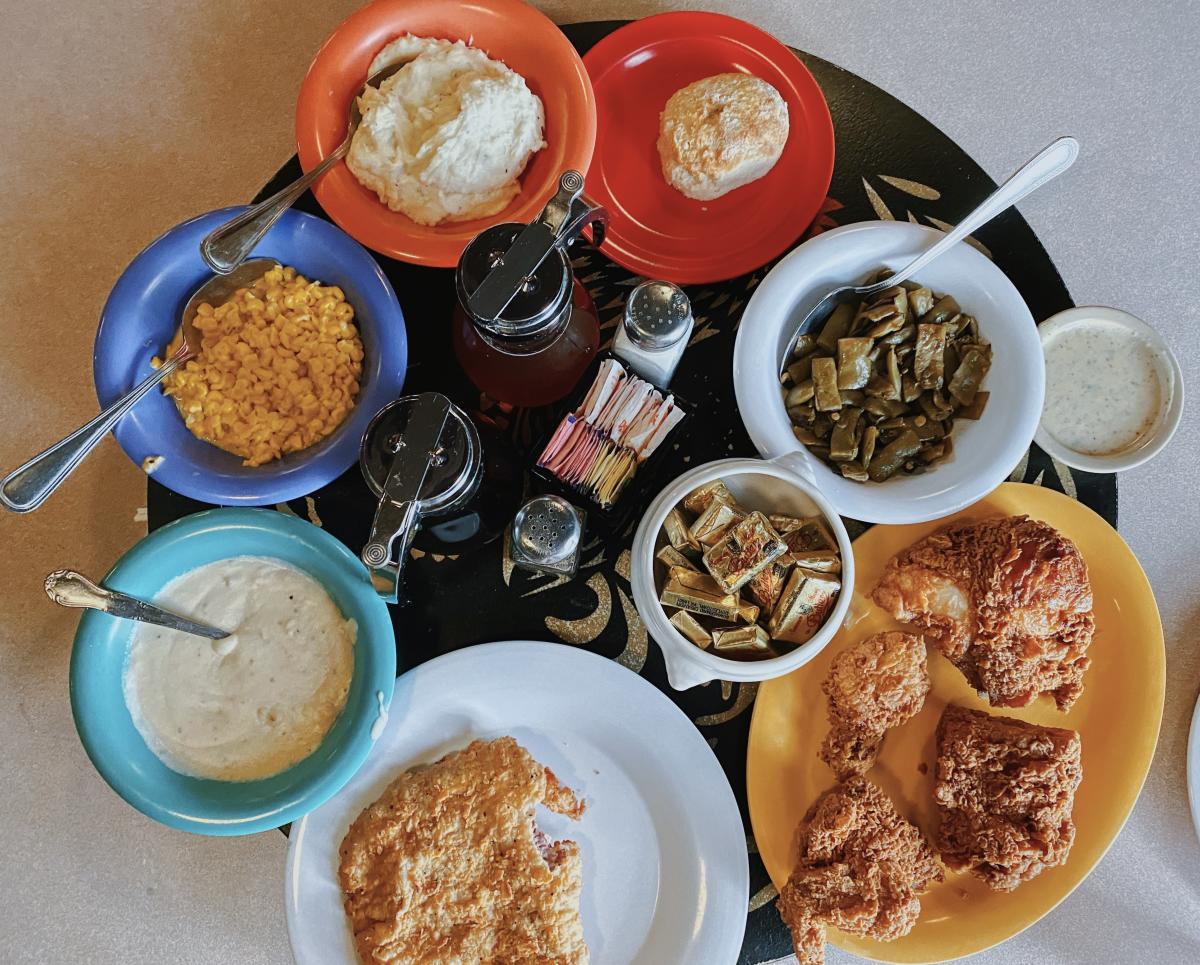 Once you see this delicious Southern spread, you'll boot scootin' boogie your way down to Babe's. Their chicken fried steak with all the sides and fixins is the way to our heart!
Multiple Locations | Directions
AllGood may be known for their live music and funky decor, but the chicken fried steak with cream gravy is definitely the main event. Plus be sure not to leave without a bite of their renowned Texas pecan chocolate sheet cake!
Owned by the same people as Babe's, Bubba's is a fast casual diner with some of the best chicken fried steak in the entire state! Pro tip: do not pass up their heavenly rolls, with extra butter and honey of course!
Highland Park & Frisco | Directions
Celebrate any occasion with your friends or family at this homestyle Southern cooking restaurant on West Lovers Lane. Served family style, they are known for their Texas grass-fed chicken fried steak with traditional or jalapeño cream gravy!
Not only is Company Cafe a great brunch spot, but they have a delicious chicken fried steak on their menu served with green beans, garlic mash, and honey jalapeño gravy. Be sure to check out their bakery too, with gluten free baked goods from biscuits to Italian wedding cake!
Serving breakfast all day long, Ellen's is a homey Southern food spot that will remind you of Grandma's cooking! Pair your stack of buttermilk pancakes with their tender chicken fried steak, topped with sausage cream gravy and two sides. 
Downtown Dallas & Allen | Directions
With locations in Uptown and Legacy West, Haywire is an upscale restaurant that serves elevated Southern food. They pair their tender Texas wagyu beef with buttermilk chive whipped potatoes and sautéed green beans, plus jalapeño sausage gravy on top for good measure!
Uptown & Legacy West | Directions
Moving from their original spot in Oak Cliff over to Forest Lane, this cozy comfort food spot is a Dallas hidden gem. Jonathon's does their chicken fried steak breakfast style with two eggs, brunch potatoes, & toast! 
Retro American diner, Lucky's Cafe is a Dallas brunch hot spot that serves breakfast all day long. Out of all of their comforting classics, the angus beef chicken fried steak with red eye cream gravy is our absolute favorite!
Stop in this cozy diner during breakfast or lunch for some homestyle cooking that feeds the soul. They make their chicken fried steak from scratch with all the Southern sides to choose from, and their pies and cakes are to die for!
With five locations around DFW, Mama's Daughter's Diner is a Dallas fan favorite! Whipping up breakfast the old fashioned way, you've got to try their Texas Size Breakfast with grits, hash browns biscuits & gravy, rolls, and cornbread.  
Multiple Locations | Directions
This Canadian diner serves traditional dishes that will make you feel like you're dining in Toronto! Pair your poutine with the chicken fried steak served with creamy white gravy and a stack of pancakes.
You may know Matt's as your favorite authentic Tex-Mex spot, but they make a mean chicken fried steak too! Try their different variations, from the classic country and cowboy styles, to the Tampiqueño & Bob's versions with an extra kick!
Lakewood & Royse City | Directions
As soon as you step foot in Norma's Cafe, you'll see plates of their award winning, double dipped chicken fried steak smothered in gravy wizzing all around the diner, as it's their most popular item! You can't forget about their delicious rolls, cornbread & pies too!
Multiple Locations | Directions
Serving elevated comfort food, The Porch has a juicy chicken fried steak, with garlic mashed potatoes, green beans, & topped with black pepper gravy! Be sure to order the gooey butter cake to really top off the experience.
Although the name may say differently, there is nothing odd about this chicken fried steak. It is quite unique though, with its Akaushi beef and mashed potatoes, green beans & poblano gravy on the side!
Prego may be an Italian restaurant, but we'll let you in on a little secret. You would never expect it, but they serve an amazing giant chicken fried steak. It's an off the menu item, so let your server know you want to try the best thing on their menu! 
Ozona is an American bar and restaurant near SMU with a fabulous patio. Famous for their hand battered chicken fried steak topped with cream gravy & Texas toast, step up your comfort food game and try your CFS queso or cowboy style with chili, cheese & red onion!
This casual spot specializes in fried delicousness! A trip to Street's is not complete without trying the buttermilk chicken fried steak smothered in jalapeño gravy & green onion, with one of their buttery biscuits of course.
Cedar Springs & Forest Lane | Directions
After a trip to Whistle Britches, you won't be able to fit in your britches, it's that good! After diving into their skillet cornbread, order their angus chicken fried steak with whipped potatoes & milk gravy, you won't be disappointed.
Multiple Locations | Directions
---
you may also like