With Prosecco, Aperol, soda, and an orange slice, this drink always transports us to the Mediterranean coast. Check out some of the best spots in Dallas to sip this Spritz!
Updated May 2023
---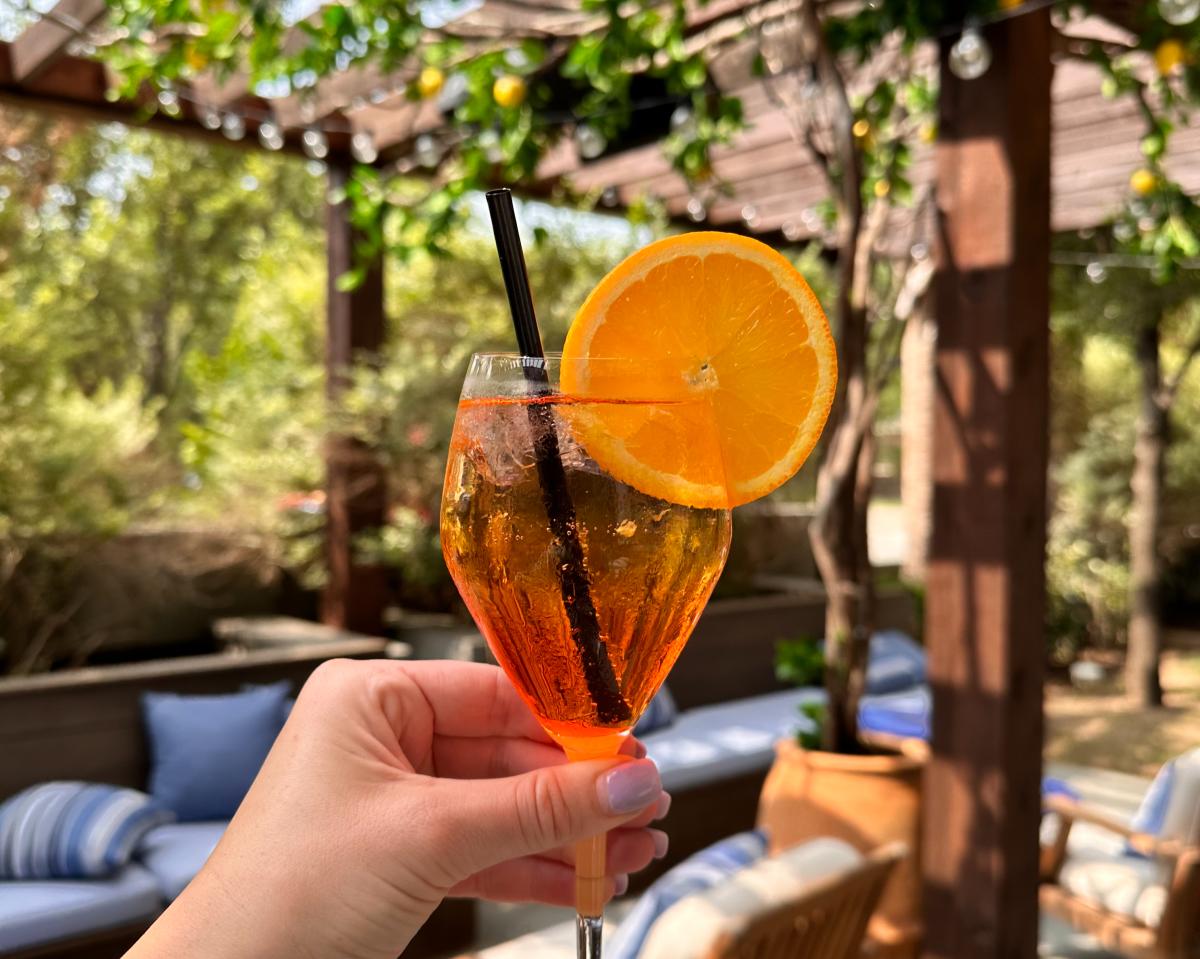 Venture to the Italian Riviera without leaving Dallas at Dolce Riviera, one of the most gorgeous restaurants in Dallas. A fan favorite for its elegant & upscale dining experience, stunning patio and coastal Italian vibes, there's no better place to enjoy a refreshing Aperol Spritz. With a charming, intimate indoor bar and a traditional dining room, our favorite spot is the covered patio adorned with a beautiful, looming lemon tree that transports you straight to Capri. Sip on a drink & indulge in homemade pasta or light bites for the perfect aperitivo.
Harwood | Directions
MORE APEROL SPRITZES
Alamo Club is a cozy spot with a large variety of spirits and cocktails, including their Classic Spritz, that blend wonderfully with the perfect comfort food. The expansive back patio is perfect for a quiet date night, a meal out with the family, or drinks with your friends!
Lower Greenville | Directions
Avanti Restaurant offers an intimate dining room with a sleek, Uptown bistro atmosphere where you can enjoy live music nightly. Dine al fresco on the patio under colorful umbrellas, while you sip a spritz! Their menu features Italian-Mediterranean-inspired cuisine with seafood, steaks, veal, and homemade pasta as well as a Padova's Rose Drink made with grapefruit rose vodka & grapefruit juice!
Uptown | Directions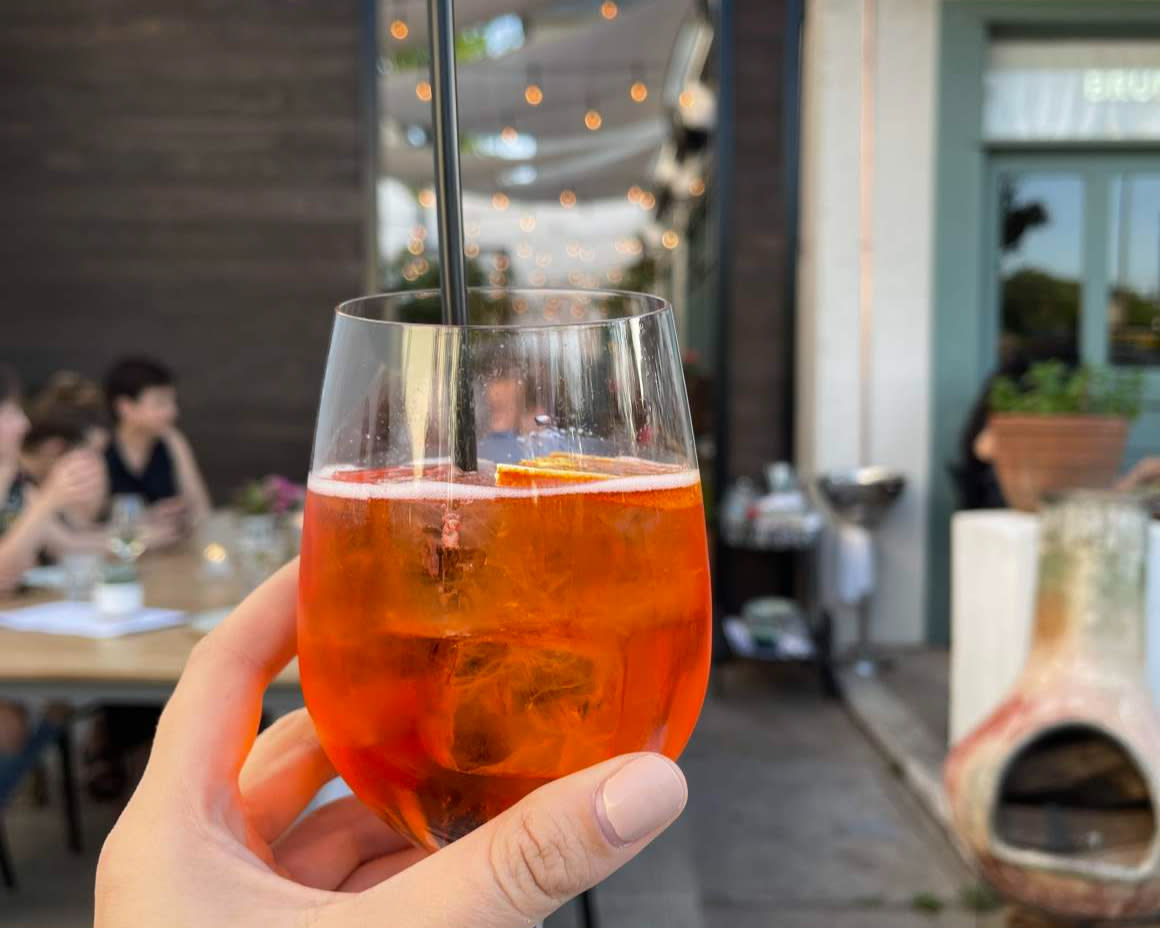 Another spot that loves the Aperol Spritz, Beverley's bar is lined with Aperol bottles (so obviously that means they make an outstanding spritz!) The best place to sip an Aperol Spritz is on their pup-friendly patio. The green and white striped booths, French-style bistro chairs, and twinkling lights overhead make for one of the most beautiful cocktail cheersing zones you can imagine! Their Fitz Spritz also has Rhubarb, Grapefruit & Lemon!
Fitzhugh | Directions
This corner of town is where your neighborhood restaurant and bar meets a beautiful beer garden! One of Dallas' most popular happy hour spots, Chelsea's Corner offers a spacious garden patio, amazing drink specials, and heavenly smoked pizzas. Enjoy a Spritz & some bites on their large patio during the week or on the weekends!
Knox | Directions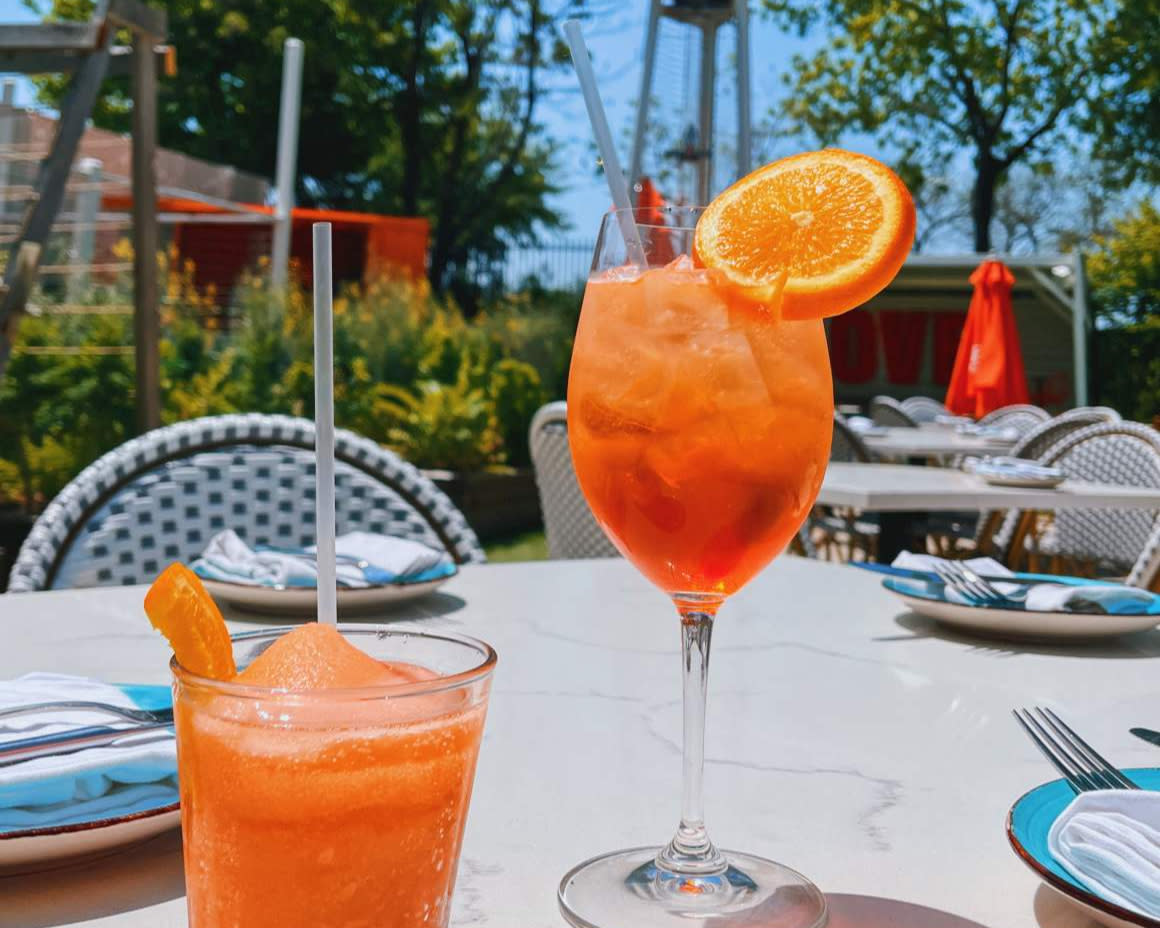 This adorable restaurant is Aperol-themed, and even offers half-price frozen or classic Aperol Spritz on Thursdays! Their darling outdoor bar pays homage to the Aperol Spritz with a light-up sign behind the bar, branded umbrellas, and orange everywhere! Speaking of the outdoor area, it's more like a combo of a giant backyard, lush garden, and patio all in one! It's truly an Instagrammable Italian playground and the perfect spot to spend some time in the patio weather sipping frozen Aperol Spritz!
Fort Worth | Directions
Italian food and a refreshing cocktail are the way to kick off any weekend, and Il Bracco is the real deal! All their pasta is homemade, with drinks made from scratch! The patio is decked out with stylish tables and modern umbrellas which makes it a go-to for cocktail hour. The best part? Il Bracco serves frozen Aperol so on hot days, this frozen drink is a go-to but you can also order the traditional version too!
Preston Center | Directions
An iconic spot for Italian in Dallas, this is your go-to authentically made regional Italian food and of course, Aperol Spitzes! This cozy Italian bistro has a refreshing classic Spritz & authentic Italian. Their menu also changes seasonally, so you can always count on something new when you visit!
Highland Park | Directions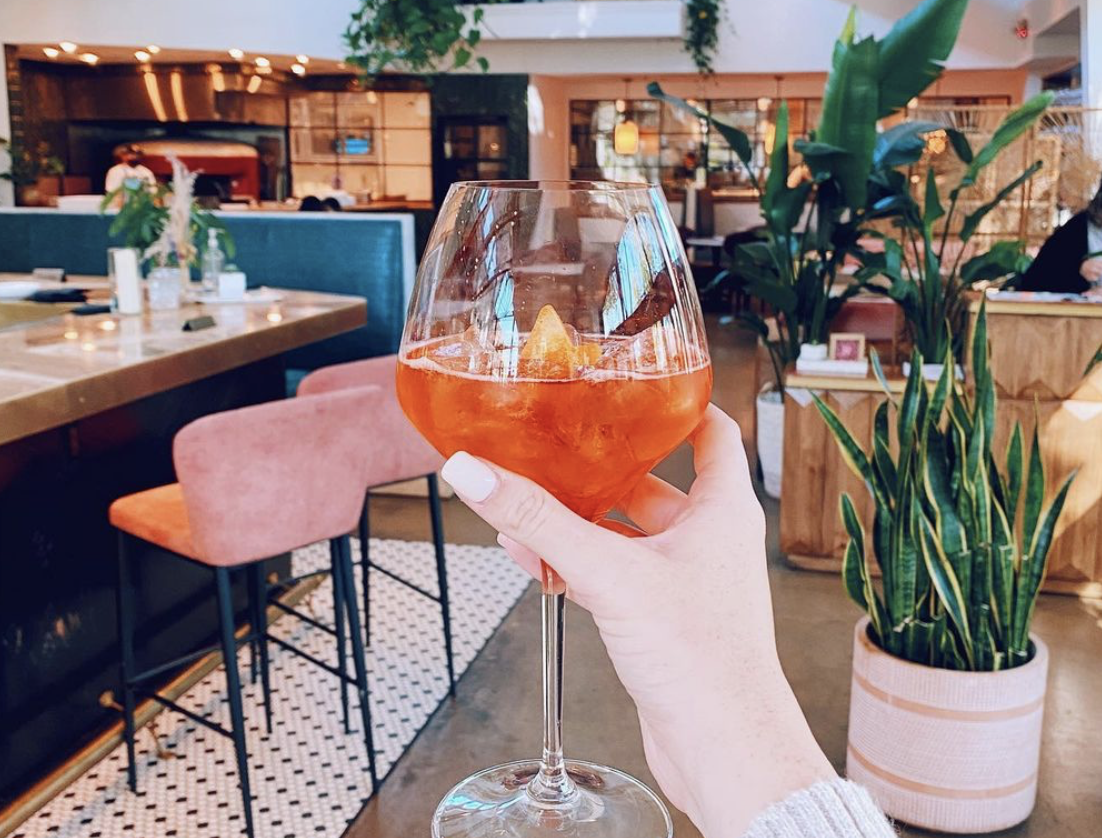 Sip on a Spritz at the stunning Southern-European-inspired restaurant! Paradiso has a vibrant and eclectic vibe, making it the perfect aesthetic for Aperol Spritz! Grab your girls, order a Spritz along with oysters and craft pasta, and don't forget to snap some pics!
Bishop Arts | Directions
Partenope is one of the only places in Dallas where you can find traditional Neapolitan cuisine. It's a somewhat hidden gem located downtown in a 91-year-old building offering all the old European vibes. You'll be transported to a romantic Italian restaurant with blue and white tones, dim lighting, and of course a beautiful Neapolitan pizza oven. According to Italian tradition, no meal is complete without an Aperol Spritz here!
Downtown | Directions
Sit back, sip a Spritz, and enjoy the live music of The Revelers Hall Band and other musical acts! You'll definitely be lured in by the music, but will definitely want to stay for a cocktail and flatbread.
Bishop Arts | Directions


Bagel towers, lox, sticky buns, cocktails, and lots of pastels in a modern meets classic New York dining experience! Enjoy a Spritz by the glass, by the pitcher, or for $8 during happy hour at Sadelle's.
Highland Park | Directions
Step inside a cozy yet bright and airy trattoria with neighborhood vibes! Indulge in elevated Mediterranean and Italian cuisine at this stunning, Italian-inspired spot with a classic Spritz! Don't forget to head to the bar for an Instagramable moment with the branded "sister" awning.
Greenville | Directions
This swanky lounge features red-hued lighting, red leather booth lounge seating, a massive wood-burning oven, and a u-shaped bar! Get dressed up with grapefruit cordial, lemon & thyme for a classy night out -- Spritz in hand of course!
Henderson | Directions
Sixty Vines is a casual Italian kitchen and wine bar offering bites and dishes alongside wines on tap in spacious, modern surroundings. Their Aperol cocktail has agave, lemon, angostura bitters & cava, that would pair perfectly with any of their incredible plates! This is one of our go-to spots for large groups, so bring them all for Aperol!
Uptown & Plano | Directions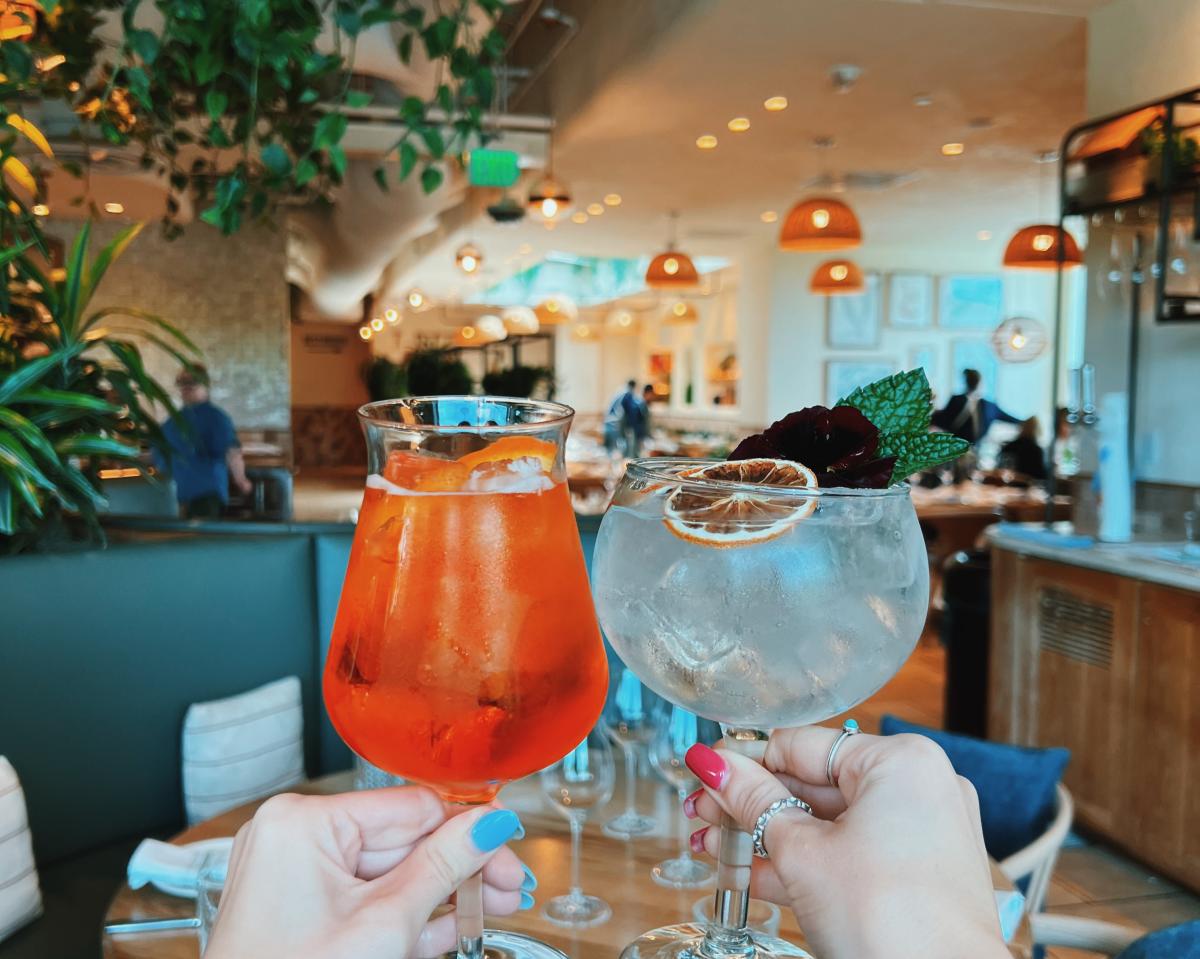 One of the most stunning restaurants in Dallas that will make you feel like you have escaped to an Italian wine country with beautiful greenery surrounding, an airy interior, and the most gorgeous patio! Enjoy a classic Spritz & Italian bites while feeling like you've just been teleported to Italy. Stop by the Eataly market after and bring home some ingredients to enjoy a Spritz at home!
Northpark | Directions