Just because D-Town isn't home to Chinatown, that doesn't mean authentic, delicious Chinese cuisine doesn't swamp our city's streets. We've rounded up the best Chinese spots in town perfect for every occasion and craving, so crack this fortune cookie open for a future filled with sensational soup dumplings, drool worth duck, and heavenly hot pots! 
Updated February 2022
---
Regardless of whether you're a deep fried devout or a sucker for steam, there's dumpling you should know....Dallas is dominating the dumpling game. Head to these hotspots to try the city's most desired dumplings!
This spot had us at hello! At Hello Dumpling you'll find both traditional handmade dumplings filled with your favorite proteins along with authentic rice dumplings . Here, it doesn't matter what dish you decide on because each dumpling is specifically designed to hit the mouth like a 'flavorful explosion'. 
This Dragon sure does breathe the heat! Swept away in the suburbs of SouthLake, House of Dragon remarkably roars with menu items like Honeycomb Fried Dumplings, Pork Dumplings Pan Fried to perfection, and soup dumplings so spicy they'll set your soul and love for this spot afire! 
This house is home to award-winning Chinese cuisine. While everything served at this spot is to die for, the soup dumplings - otherwise known as 'Xiao Long Bao' certainly steal the spotlight. To experience the best broth filled bite the restaurant suggests customers: "Lightly dip the dumpling in your vinegar mix and place it on your soup soon. Poke a hole and let the steaming broth fill up your spoon so you can have a taste"!
Down in the depths of Plano, this spot is known for its dynamic take on a traditional delicacy. Here you'll find a menu with 20 distinct dumpling options ranging from pan-fried classics filled with pork, chicken, and shrimp. Along with fresh flavors like pumpkin, mushroom, and cabbage that are fried to perfection. This dumpling spot is definitely worth the 30 minute drive! 
Founded by Buck Shu-Chang Kao, father, WWII veteran, distinguished military attaché, and diplomat, Royal China has been recognized for its heart-warming story and mouth-watering menu since 1974. While the menu may be a tad bit modernized since its humble beginnings, Kao's delicious dumpling recipe has remained untouched. Here you'll want to order the dumpling sample in order to savor all Shanghai inspired flavors. 
Named after 'zhēng qì', a mandarin term which signifies hardwork and determination, this restaurant embodies just that. With three diverse dumpling menus, Jeng Chi works rigorously to mix flavors and spices and provide a fun flare to ancient fare with dumpling filling like pork & crab, chicken & curry, and even zucchini & mushrooms for vegetarian lovers - you're sure to leave here with a happy heart and tummy! 
Head to these spots for Chinese cuisine that is all that and DIM SUM!
For an unfussy spot with flavorful dimsum, head here. With a spacious dining room and large round tables, Garden Restaurant is the perfect spot for big groups or for a last minute dinner date. Once seated, you will find a plethora of silver push carts serving authentic dim sum dishes - for the best experience be sure to grab your gang and taste test them all! 
The court's called and you've been served....but don't stress you don't need an attorney, just your appetite! Known as Dallas most desired dim sum destination, Kirin Court has been voted as the 36th best restaurant in all of Dallas. Although Kirin Court serves amazing dishes all week long, the real show stopper is Sunday mornings. Locals line up to satisfy their horrible hangovers and insatiable dim sum cravings by indulging in the frying station. Here, diners can watch radish cakes and other specialties get cooked to order - definitely a must have experience. 
Dim Sum, Dumplings, and Duck... oh my! Right in the heart of Richardson, you'll find this discrete yet delicious dim sum spot. Here you can not only taste traditional dim sum flavors but also try menu items that you can't find anywhere else like their Signature Spicy Crab & Lobster, Double Deep Fried Pork Chop, and Egg Custard Buns. With such an extensive menu, groups of all ages and tastes are sure to be satisfied here! 
Add some spice to your restaurant routine by visiting to these Southwestern inspired spots where both the food and flavors are sure to be HOT! 
Calling all Plano professionals, we've got a new lunch spot for you! Take 10 on your next break and grab a bite at ChongQing's where you enjoy have your favorites Chinese dishes like Kung Pho Shrimp, Sweet & Sour Chicken, and Mongolian beef all with a side of rice for $10 or less! Love it so much you want to come back for a round 2? Not a problem! ChongQing's re-opens at 4:30pm and is ready to serve your friends and fam for dinner. 
Looking for the hottest hot pot in town? This spots for you! From the moment you walk in to Sichuan Folk, you'll find yourself smothered with scent of Sichuan spices exuding from their famous dish: the hotpot. Here, they take pride in perfecting their spices levels making sure each dish is spicy enough to shake up your tastebuds but not hot enough to make you reach for a glass of milk! 
For delicious, authentic reasonably priced Chinese food visit Little Sichuan Cuisine. This quaint spot is known for consistently serving up smiles to regulars regardless of whether they're coming in for take in or simply taking out. Our go to dishes here are: Hot and spicy chicken, perfect for sweet & spicy lovers; Beef/fish fillets & Napa cabbage in spicy chili sauce, a Sichuan classic; and Diced chicken with crushed peanuts, a non spicy, super-flavorful option- very kid friendly!
Trying to keep it traditional? This Sichuan spot is known for its unparalleled authentic array of plates with both a hot pot and Sichuan menu to choose from. Chen's is available for dine in & take out and some of their most delicious dishes are: Sichuan Spicy Hot Pot, Eggplant in a Ma-Po Tofu Sauce, and the Twice Cooked Pork. Tip: Be sure to bring some cash handy, all bills paid in cash receive 10% off so make sure to mention the deal when you ask for your check! 
Looking for a Sichuan spot that will satisfy even the pickiest of eaters? This spot has got you covered. With a 10 page dinner menu, discounted lunch menu, and spacious Sichuan inspired dinning room - you're sure to be a hit. Sichuan King offers both traditional and modern menu items and is a great at accommodating large parties with or without a reservation! 
Head to these hotspots to take your tastebuds on a trip to Taiwan Texas Style!
Tired and needing take out? This Taiwanese restaurant  encourages you to stay cozy in your sweats! Taipei, a take out, cash only spot located in the heart of Plano, is the CEO of comfort food. Here you'll find their famous beef noodle soup that is so rich and flavorful it is sure to cure the flu or a Friday night handover with one sip alone. You'll also want to order their Gua Bao because WOW - this spot is definitely worth the 4 or 40 minute drive! 
While the ancient Chinese tradition to 'worship your master' is no longer practiced, this 'Master' will have you doing just that. At Kitchen Master you'll experience a twenty first century twist on Taiwanese cuisine with their 30 different Stir Fry options, Truffle Soup Dumplings, Wood Ear Salad, and Scallion Pancakes. This spot has a great atmosphere and modern interior making it perfect for a casual date night with your boo or besties! 
This couple owned cafe may look like a typical Chinese cafeteria style spot but their food is anything but that. At Taiwan Cafe you'll find traditional Taiwanese dishes like Braised Pork, Eggplant, Kung Pho Chicken, and Spicy Boiled Fish all for a terrific price! Be sure to hit the ATM and save some room for dessert because this cash only spot serves the best Pearl Tea in town! 
Looking for a place to 'wu' your plus one? We've got the place for you! With 4.5 stars and 800+ on Yelp, Wu Wei Din has not only become the Taiwanese talk of the town but one of the hardest spots to secure a spot. You can't go wrong with any menu item here but some of our favorites include: The Pork Wontons (ask for extra spicy oil on the side), Cucumber Salad, Braised Beef Noodles, and The Pork Chop. A trip here may result in a wait but trust us, it's absolutely worth it. 
Noodles may be in this spots name, but that's not their only game. Kings Noodle may have been put on every foodies map for its Tender Beef Noodle Soup but that's not the only drool worth dish here. Here you'll find terrific Taiwanese dishes like their Zha Jiang Mian, Pig Ears, Duck Eggs Preserved with Tofu, and Juicy Taiwanese Fried Chicken Thigh -  along with a plethora of noodle options! 
This Emperor may not be conducting ancient Chinese religious rituals but they still sure are heavenly! First Emperor is a mom & pop Taiwanese spot with traditional dishes and recipes that date back decades. Here you'll feel at home with its amazing service and delicious dishes like The Sesame Cakes, Fried Pork Chops, Fish in Bean Curd, and Green Peas. 
From the Red and Yellow to the Red, White, & Blue these untraditional spots are our favorite go tos!
Nothing says America like Ice Cold Beer and Ice Cream! At Hei Hei you can say hi to some of your American favorites like Miller light and Hot Fudge Sundaes without saying goodbye to Chinese favorites like Sweet & Sour Chicken and Mongolian Beef. The restaurant also uniquely ties the two worlds together with menu items like their Bacon & Egg Fried Rice and Hoisin BBQ chicken wings! 
This hotspot serves untraditional Chinese cuisine ranging from Orange Chicken and Egg Rolls to Lo Main and Lettuce Wraps, all in everyone's favorite 'traditional' take out containers. Whether your looking to dine in or ordering on Uber Eats, this place is sure to satisfy your Chinese cravings- it may not be traditional but it truly is 'Sum Dang Good Chinese'!
This Wok Star definitely makes our Hall of Fame! When taking a a seat at this star's show you'll want to kick off your opening act with a Shrimp Bang Bang and Chicken Lettuce Wraps. With dishes like the Combo Lo Main and Spicy Dry Stirred Beef, the main act will be hard to beat! But be sure to save some energy for the encore, the Cookie Dough Egg Roll and Elderflower Martini will make this show one you won't forget! 
Down in Downtown Dallas Chef Wangs is known as the leading Chinese lunch spot! From 11a.m. - 5 p.m. this restaurant distracts professionals from their daily stressors with their delicious Shrimp in Lobster Sauce, Szechuan Chicken, and Shredded Pork. You'll definitely want to dash from your desk the minute your clock strikes 12pm because lunch line here is sure to be out the door! 
Hungry and in a hurry? Head to these spots for a quick bites with long lasting flavors!
After a long day at work, going home to cooking can be cruel. Instead of looking for lousy leftovers in your pantry simply head to this spot's website to seamlessly order everyone's favorite take out. On Ming Place's website you have full access to the entire menu, can place orders, and can even see how long until your is ready for pick up. Not only is this hotspot quick and convenient but after all what's better than Lo Main, Loungewear, and a Love Island Marathon. 
Rush down to Richardson and you'll find this gourmet Chinese cafeteria style cafe. Here, you can order 3 different, delicious hot menu items such as Kung Pao Chicken, Braised Pork Belly, and Steamed Veggies all with a side of rice and unlimited soup for just $8. Tip: Head to Hometown around 11am for first dibs and be sure to stop at the atm first, as this is cash only! 
For a spot with speedy service and plentiful portions head to Canonese Chinese. This homey, hole-in-the-wall Chinese spot is known for its attentive service and affordable plates. Whether you're too busy and taking out or down to dine in, you'll definitely want to order dishes like their Crab Meat Soup, Salt & Pepper Shrimp, and Mongolian Beef - be sure to pair the shrimp and beef together, it's to die for! 
Toss your take out containers and head to these spots to enjoy some of the city's 'finest China' !
Head to Howards for a hip spot with a great happy hour! Here, on Monday - Friday from 3-7pm you can enjoy Sake, Swanky Cocktails, and Scrumptious light bites like Crab Wontons, Egg Rolls, and Edamame all for half off. Lovin' it so much you want to stay longer? You can! Howard Wangs also has an extensive dinner menu featuring signature plates like their Vanilla Prawns, Glazed Walnut Shrimp, and Mandarin Beef. 
Yao Fuzi is known for uniquely exuding fusion, flavor, and flare! Here you'll find the best of both worlds with their elegant atmosphere yet relaxing ambiance along with their contemporary take on traditional cuisine. Be sure to book a reservation to beat the wait you won't want to miss out on their Spicy Soup Dumplings, Fuzi Crispy Beef, and refreshing Lemondrop-tini! 
For a cool southern Chinese spot that screams with sleek and sexy vibes, visit Jia. At Jia their goal is to "create a space where people can come, eat good food, and stay awhile" - and they do just that. With a stylish interior, full bar which features creative cocktails, sushi menu menu, diverse dinner options, and weekly specials - you won't want to leave! Our Jia favorites include: The Lychee Martini, The Sexy Mama Roll, The Chicken Lettuce Wraps, and The Signature Kung Pao Chicken. 
Barbecue is definitely in our Texan blood but head to these spots to see how differently China does!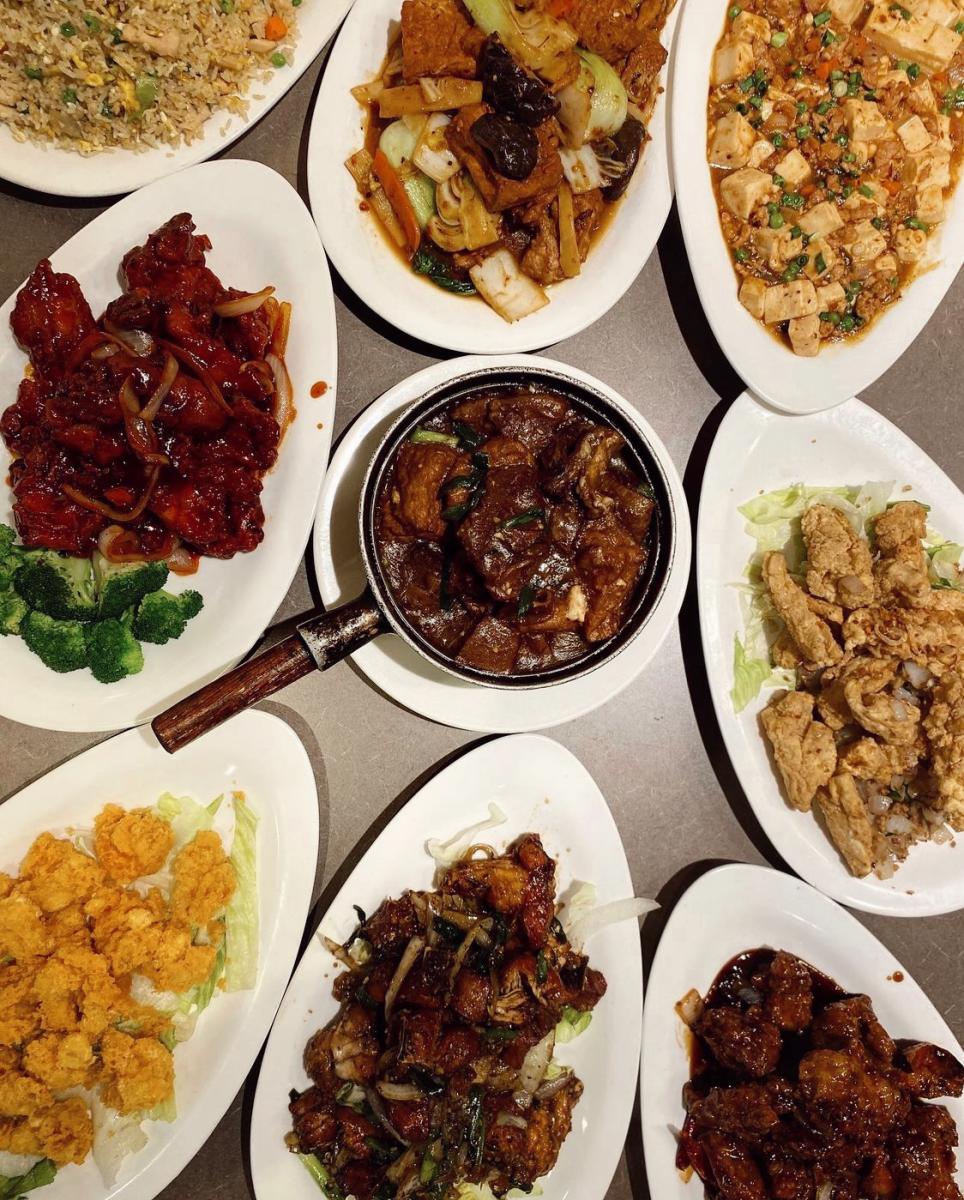 photo courtesy of First Chinese BBQ
While BBQ here may look a little different than what us Texans are used to, there's one thing that has't changed: Family Style Eating. At First Chinese, you'll find an asian twist to proteins you love and portions big enough to share with those you love! You'll definitely want to order the BBQ Pork and Roasted Duck - they're our fam favorites! 
Don't let this spot's ancient, elegant Chinese decor fool you, their BBQ is still finger lickin' good! Little Kaiping's traditional interior may remind you of every other Chinese spot in town but out back, you'll find chefs grilling their most sought after dish: The Peking Duck. Here, you'll find that the duck is not only cooked to perfection but that even its crispy skin is dripping with flavor. 
Calling all meat lovers, this spot is for you! From the moment you walk into this spot you are immediately smothered by the sight and smell of Hiệp Phong's massive array of meats. Not only can you grab a slab of a juicy pork shoulder or crunchy chicken leg at this BBQ joint, but you can also purchase proteins by the pound perfect leaving you with the perfect plate to take to your next game day or family gathering. 
Instant Noodles are so 2000, head to these spots to slurp up the best noodles at an even better price!
Everyone's got a 'cool uncle', head to Plano to meet ours. Uncle Zhou is known for being your warm hug on a cold day and the shoulder you'll cry on when things don't go your way. Here you'll find some of the best comfort food like the Dial Oil Hand Drawn  Noodles and Spicy Beef Wide Noodles - both hot enough to take your breath away, but so delicious they'll make you smile on even the worst days! 
Tucked away in a food court next to an Asian supermarket, this spot may look like a hidden gem - but it really couldn't have more fans! Known as the know-it-all of noodles, Morefan's menu features 10 distinct types of noodles ranging from mild to spicy and thin to thick. Don't be discouraged if the line is out the door, their service is quick and the Biangbiang Noodles can't be beat. 
This spot may be fairly new to the noodle world but it has already taken the throne. Monkey King, formerly a street stand in Deep Ellum, has recently expanded to 3 new locations and there reason is no secret. Here you'l find dishes like The DanDan Pork Noodles and Spicy Garlic Peanut Noodles that will transport you right to back to the streets of Taipei. If you haven't been, you definitely need to add this spot to your list!