Dumplings, curries, coffee, smoothies and more, discover flavors of Nepal at this authentic eatery aka CafeMandu! 
Updated July 2022
---
CafeMandu opened in 2019 on Beltline via a casual restaurant with a menu inspired by flavors of Nepal, where the owner Dipesh Acharya is from. Because Hindus don't eat beef, chicken burgers mixed with Nepali spices are a popular food item to substitute for the American burger, but chicken burgers weren't existent in Dallas so Dipesh set out to change that! 

He opened a stall at the Dallas Farmers Market in 2015 and four years later, his pop up became permanent!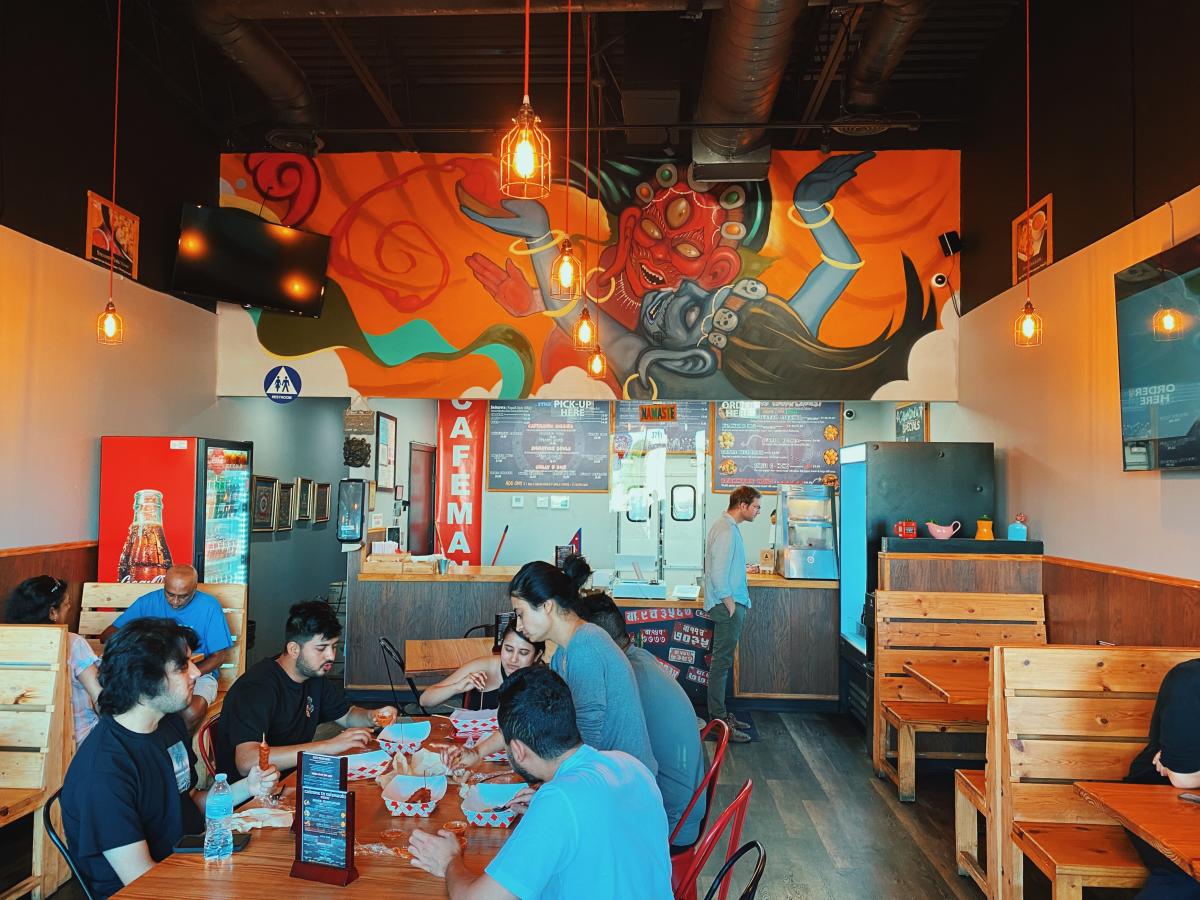 TO EAT 
The hand-wrapped Nepali dumplings with Himalayan spices are a must-order! We tried the Chili C-Momos, the most popular item, tossed with onions, bell paper, tomato and tangy chilli sauce.There's also a variety of street stick foods! We tried the deep fried potatoes with Schezwan garlic rub, and saw many people enjoying the sausage prepared in a similar fashion! 

Onto the curries, we went for the masala vegan and want to go back to try the Gorkhali goat curry! There are a few bowl options too, including chowmein (pan fried noodles), Bhuteko bhat (fried rice) and Khumbu Thukpa (soup noodles). 
TO DRINK 
We hope you're hungry and thirsty!! The mango lassi smoothie is an absolute treat! You can also order a Ranjana Galli soda, which is your choice of soda with freshly squeezed lime and Himalayan black salt! We ended our meal with the Nepali Chiya Tea, which is a milk-based spiced tea, and it left us feeling so warm and satisfied! 

We went on a weekday night for dinner to change up our usual, and it was perfect for that. And when you dine at CafeMandu, know that they donate 1% of their profits to preserving the traditional ancient arts, crafts and cuisine of Nepal!
---