Noted as one of the most beautiful areas in the hill country, Enchanted Rock is famous for its wonderful views and intricate trails. Only an hour and a half outside of Austin, this destination makes for the perfect weekend to relax in nature. The pink stone that makes up the boulder and rock formations is the states supplier of pink Texas granite, a stone which accents many Texan homes. Climb up the rock in the morning to beat the crowds and see an amazing view!
Updated May 2022
---
to do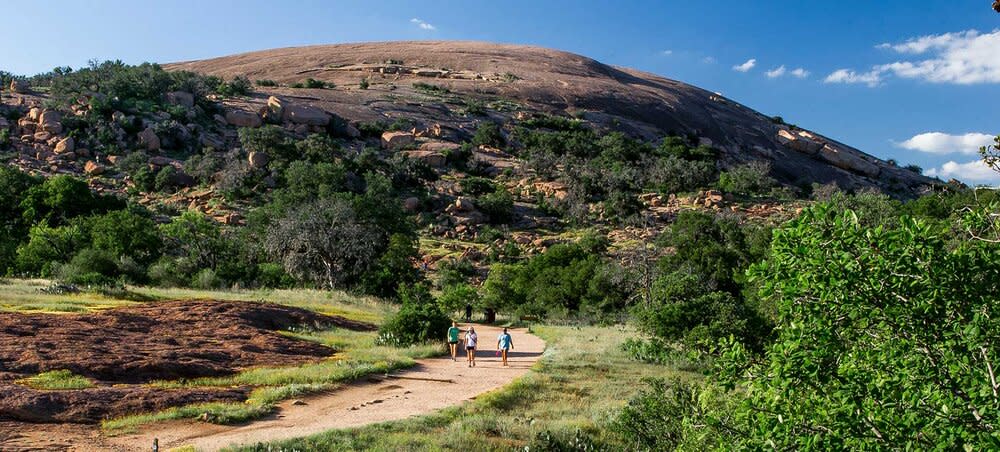 Photo Courtesy of TWPD
Enchanted rock is home to nearly 11 miles of hiking trails that include scenic views, geological wonders, and stunning beauty. Take a look at their interactive trail map to plan your route through the park, and you can even include some points of interest such as the rocks summit or turkey pass on your journey! Make sure to stay safe, bring lots of water and sun protection!
The state park offers tent camping options in developed or primitive locations and is the most affordable option for an overnight stay. The developed campsites include water access, restrooms with showers, picnic tables, and grill access. The primitive campsites include a toilet but require you to bring your own water and other resources. This is a great option for those with adequate camping supplies. Make sure to check local weather and fire or water restrictions before booking.
For the experienced climbers, enjoy some of the best independent rock climbing in central Texas. Enchanted rock allows you to get away from the indoor course and scale insane geological formations, and has a climbing map so you can plan your route. Not an advanced climber? Several companies—such as Austin Ascents, Outpost Wilderness Adventure, Rock About, and Texas Climbing Adventures offer guided tours and classes hosted at the park!
Enchanted Rock has a unique ecosystem only found in central Texas. After a rainstorm, look for the rare fairy shrimp found in the vernal pools throughout the park—an animal crucial to the microbiome of the area. The park is also home to several plant communities. Explore to find rare plants such as rock quillwort, unique lichens, and more! Birdwatching is another common pastime here, and you can ask for a birder's checklist at the front office to identify different species.
Due to its remote location, the park is an international dark sky area—you can still see the milky way if you turn off all of your lights! Visit one of the Rock Star Parties to learn about the constellations and see a shooting star.
---
to stay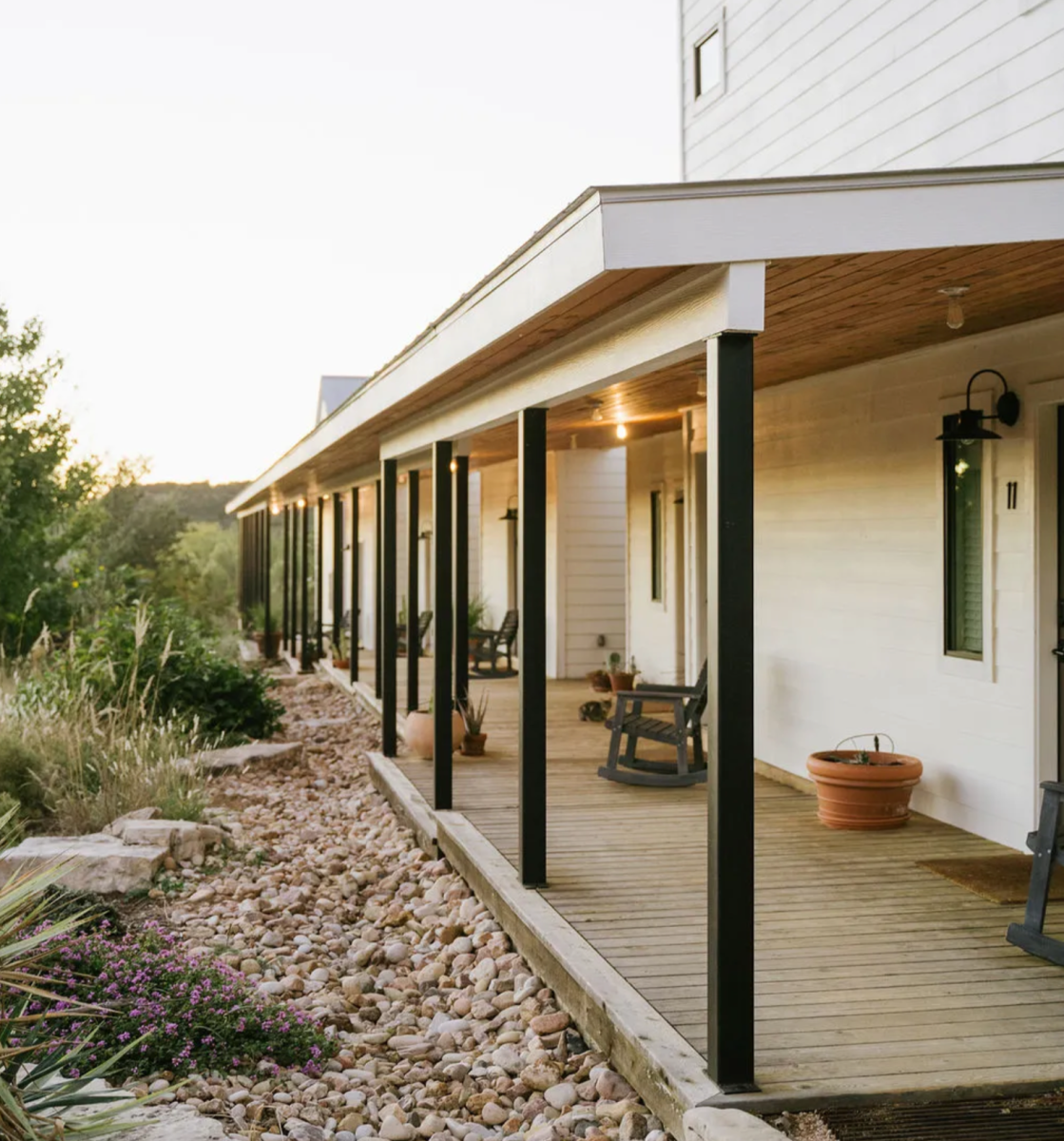 Photo Courtesy of Contigo Ranch
This beautiful and rustic country cabin—located in the nearby town of Fredericksburg—includes an inn about a mile from downtown, and cottages located five miles from town on a 200 acre ranch. At the inn. Enjoy budget friendly and comfortable rooms or enjoy private 1-3 bedroom cottages on the ranch. This stay includes breakfast, WiFi, seasonal pools and hot tubs, housekeeping, and is dog friendly!
Enjoy an old world village in the heart of Texas! Trois Estate is a family owned and operated old world style village nestled in the foothills of enchanted rock. This property is perfect for unique travelers seeking adventure and healing, body mind and spirit. This stay includes a bed and breakfast, lodge, pool, grotto, saloon, rooftop courtyard, restaurant, and reception hall—inspired by San Miguel de Allende.
If your looking for a unique stay, retro resort has it all. Each room is an independent vintage RV equipped with private bathrooms, luxury beds, WiFi, AC/Heat, TV, private yards and more! This option is great for a couple or small family looking for some rustic luxury.
Founded in the historic Loyal Valley, Tres Lunas is a calming and restorative environment. It features a vanishing edge pool, a hot tub, beautiful views and luxurious accommodations. Acres of nature trails, meditation at the Stone Chapel, provided yoga mats, breakfast and dinner options.
Looking for a private escape at a reasonable price? Contigo ranch offers cabins and cottages of many sizes. Experience the wildlife of the Hill Country on their property and meet their longhorn livestock as well! Choose between a historic Kentucky style cabin, or modern cottages—all fitted with luxurious amenities.
This Airbnb near Enchanted Rock is a historic log cabin built in 1846, which hosts a rustic atmosphere on a quiet property. This listing hosts up to six people and is the perfect place to relax in between hikes! The property includes breakfast, a full sized kitchen, a beautiful bathroom, a garden and a grill. It's the perfect getaway on a working ranch!
---
to eat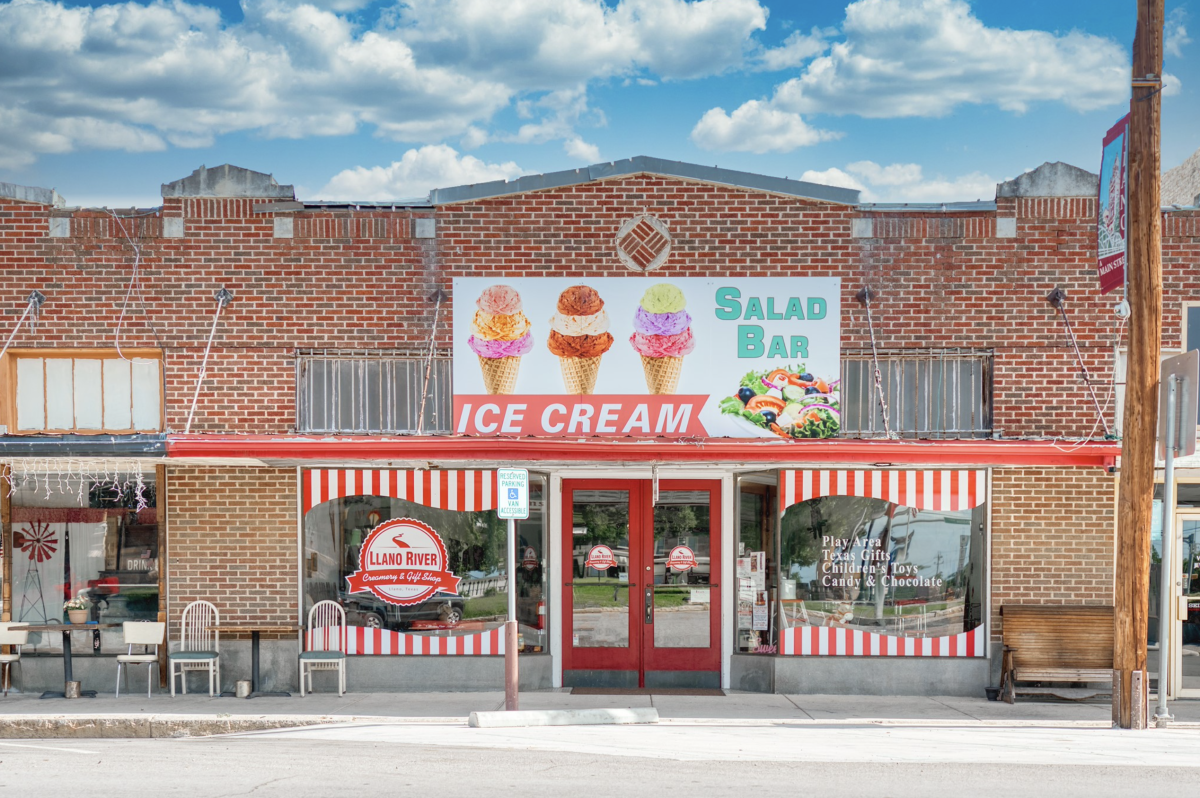 Photo courtesy of Llano River Creamery and Kitchen
A classic and tasty option, Gio's is a Llano, TX staple that serves up traditional Italian fare. Enjoy all your favorite subs, pastas, pizzas, and more at an affordable price. They also serve up delicious homemade drinks at their full bar.
This BBQ joint is one of the most famous in Texas, with multiple locations throughout the state. The location near Enchanted Rock in Llano is famous throughout the region for its delicious meat selection and classic sides. Coopers is great if ordering for a big family, and is perfect as fuel for a day of outdoor activities.
Tumlinson's is a local favorite, and it serves up scrumptious, affordable BBQ eats. The restaurant is complete with all the staples—babyback ribs, brisket and more—and is famous nationally for its delicious fare.
La hacienda is the best place to find authentic Mexican cuisine in the region. They serve up a blend of tex-mex options as well as genuine dishes from our friends across the border. Enjoy their fajita mixes of multiple meats, or their traditional molcajetes de la hacienda.
Perfect for big parties, Llanos Hungry Hunter serves family style meals for breakfast and lunch. Their menu is very extensive, sometimes including a buffet, and has nearly every southern style dish you can think of! They open at 6am, perfect to eat before an early morning hike. They close at two Sunday-Thursday but are open until nine on the weekends.
This food truck is great for a quick bite during lunch, and serve up all your favorite tacos, tortas, and other staples. They are a very affordable option, perfect for the traveler on a budget.
Just as the name suggests, this all-American fare serves up classic ice cream treats, along with traditional burgers, sandwiches, and baskets. The restaurant has a traditional diner atmosphere. It's the perfect place to share a milkshake with your loved one.
Famous for its homestyle cooking, Trailblazer Grille in Llano combines traditional southern dishes with elevated and unique flair. Try their staple chicken fried steak and cowboy queso, or experiment with their Irish cream brulee or Hawaiian chicken.
---
to drink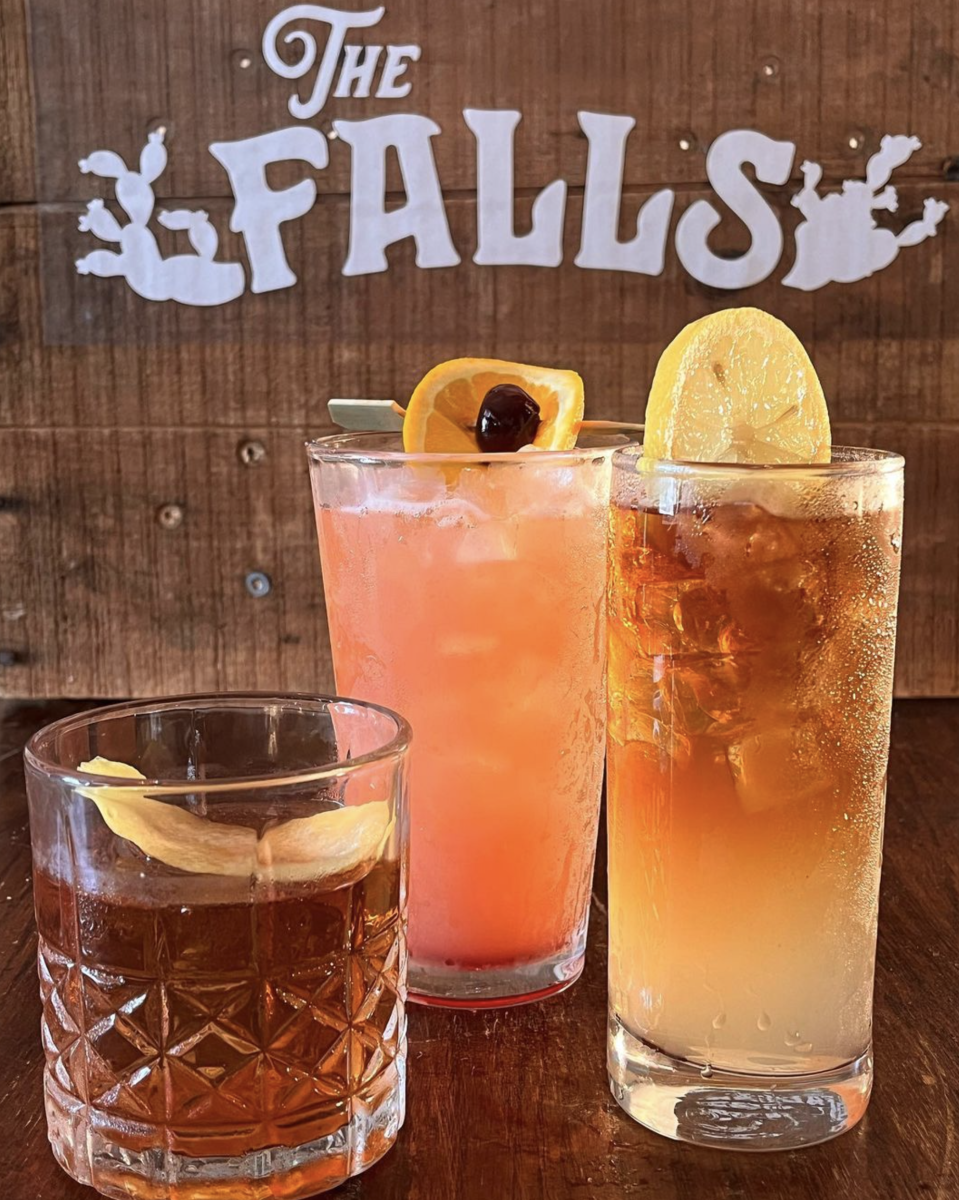 Photo courtesy of The Falls
This traditional Western style bar will make you feel as if you've travelled back in time. Their historic building is home to classic drinks and delicious American food, right on the historic square of Llano.
Looking to recharge with some coffee? Fuel Coffee House is a staple in the Enchanted Rock region for their delicious drinks at very affordable prices. Their café is also the perfect place to use some WiFi if you've been without it while enjoying the outdoors. Check their calendar to find out when they host live musicians!
This house crafted beer company has dozens of creative options on tap. They have 52 taps at their bar, each with different flavors both local, statewide, and international! Enjoy a relaxed atmosphere and get to know the locals at this regional staple.
Enjoy yourself at the Llano Craft Distillery, where you can experience local and award winning top-shelf spirits and handcrafted cocktails. They carry handcrafted staples as well as unusual spirit flavors such as pecan, ancho chile, hatch chile, local habanero and sweet tea.
Known as a popular local spot, this smoking bar is complete with good, affordable drinks, a jukebox, and kind people to get to know. Have some fun and let loose at this laid back pub.
This bar boasts craft cocktails, live music, and hill country hospitality at an affordable price right in downtown Llano. It's the perfect place to unwind after a long day outdoors, and is a great time to get to know some locals!
Sandstone Cellars is a beautiful, boutique winery that grows their grapes and crafts their wines in house! This spot is the perfect way to relax on a long afternoon, as they offer homemade wine for sale, as well as a bar and tasting room access.
---
you may also like