Tiki meets spooky at Swizzle's new pop up, complete with all the decor, themed drinks and Halloween Dole Whip! It's the first bar we've seen to get decked out for the season and for anyone who celebrates Halloween all month long, get excited!
Updated October 2022
---
HALLOWEEN POP UP
What's cool is Swizzle is already a paradise for those seeking a themed night. It's the closest thing we have to Disney in Dallas so you can always expect to have a "Halloween" experience anytime of year! And the dark, Tiki atmosphere already sets the mood too. Then couple that with tons of cobwebs, skulls and skeletons, and you have yourself a spooky shipwrecked version of this fun bar!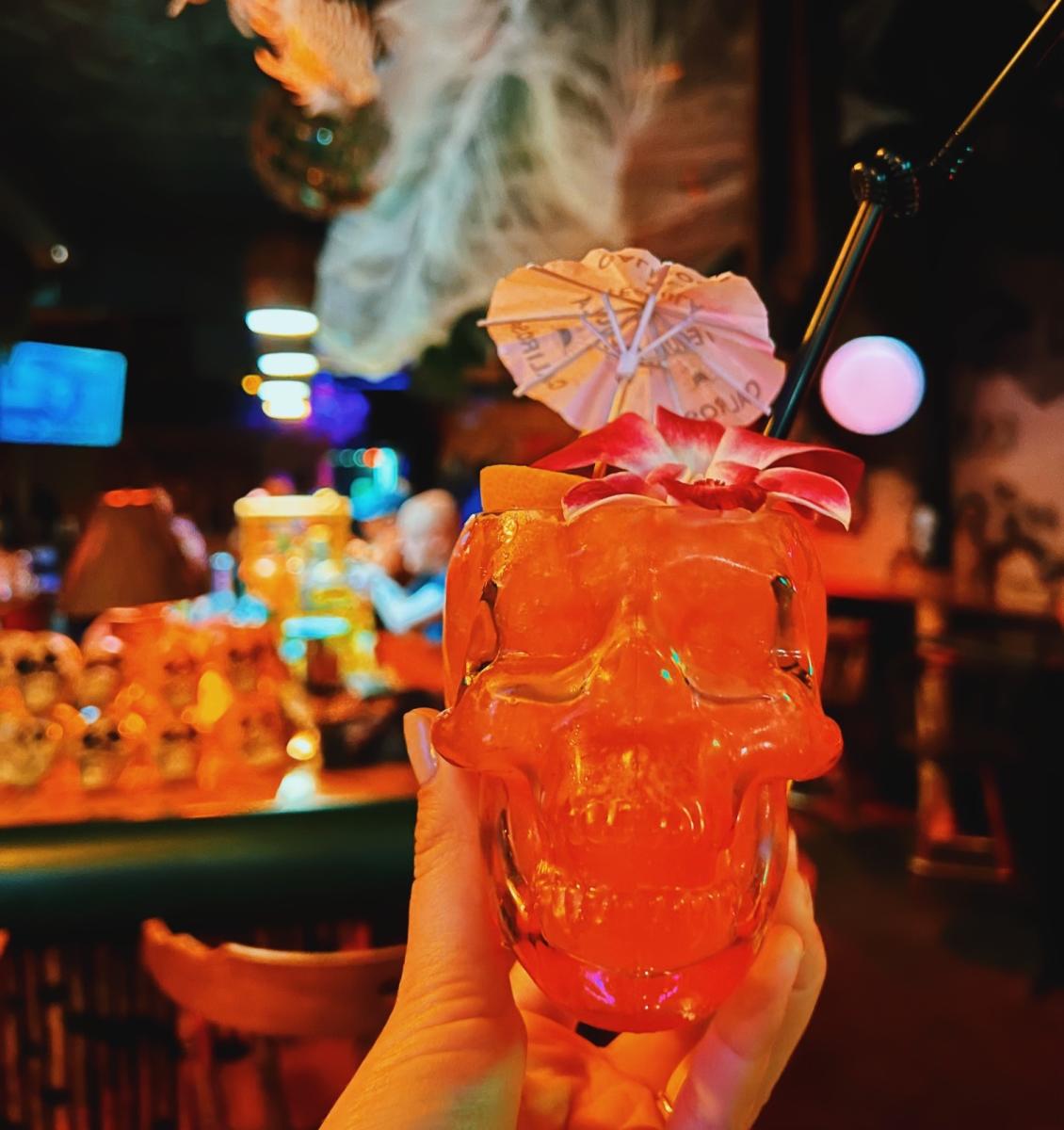 THEMED MENU
Night of the Dead Chi Chis, Calavera Rosa, Caulotops and more make up a menu of 6 themed drinks to enjoy. Some may even come decorated to the theme too with skull glasses or spiders. And for the month of October, Swizzle's delicious Dole Whip is served in the cutest mini pumpkin trick or treat basket and topped with spider rings!


HAPPY HOUR
If you want the experience but at a discount, visit weekdays 4-6pm for $5 Mai Tais, $3 wells, $5 Dole Whip, a $30 pupu platter, and more!
If not familiar with Dallas's resident tiki bar, find Swizzle on Lower Greenville towards Ross Ave. Its lush patio full of colorful, eclectic furniture and tropical plants will make it easy to spot, but it's what's behind the door that's the real treat!

Swizzle is the creation of a husband-wife duo who identify as "Tikiphiles" and have been hosting Tiki pop ups around Dallas since the mid 2010's. Eventually that looked like opening a full blown beachcomber bar to share the history of Tiki art, while serving up some beach vaca worthy cocktails and traditional Polynesian foods like lumpia and spam-based dishes!

So grab your Halloween-obsessed friends and make your plans to get spooky at Swizzle!
---
you may also like