If you love Revolver Taco Lounge, then you'll be excited to learn that this this James Beard nominated taqueria has expanded in Deep Ellum! Their Gastro Cantina is now open, AND they are serving up a great Sunday brunch now too! 
Updated October 2022
---
If unfamiliar, Revolver Taco Lounge is an institution for tacos in DFW. It opened more than a decade ago in Fort Worth before opening in Deep Ellum a few years back! Known for its pulpo taco, owner/chef Gino Rojas has been a James Beard Best Chef semifinalist many times over. If you haven't visited, it's a must on a Dallas taco tour!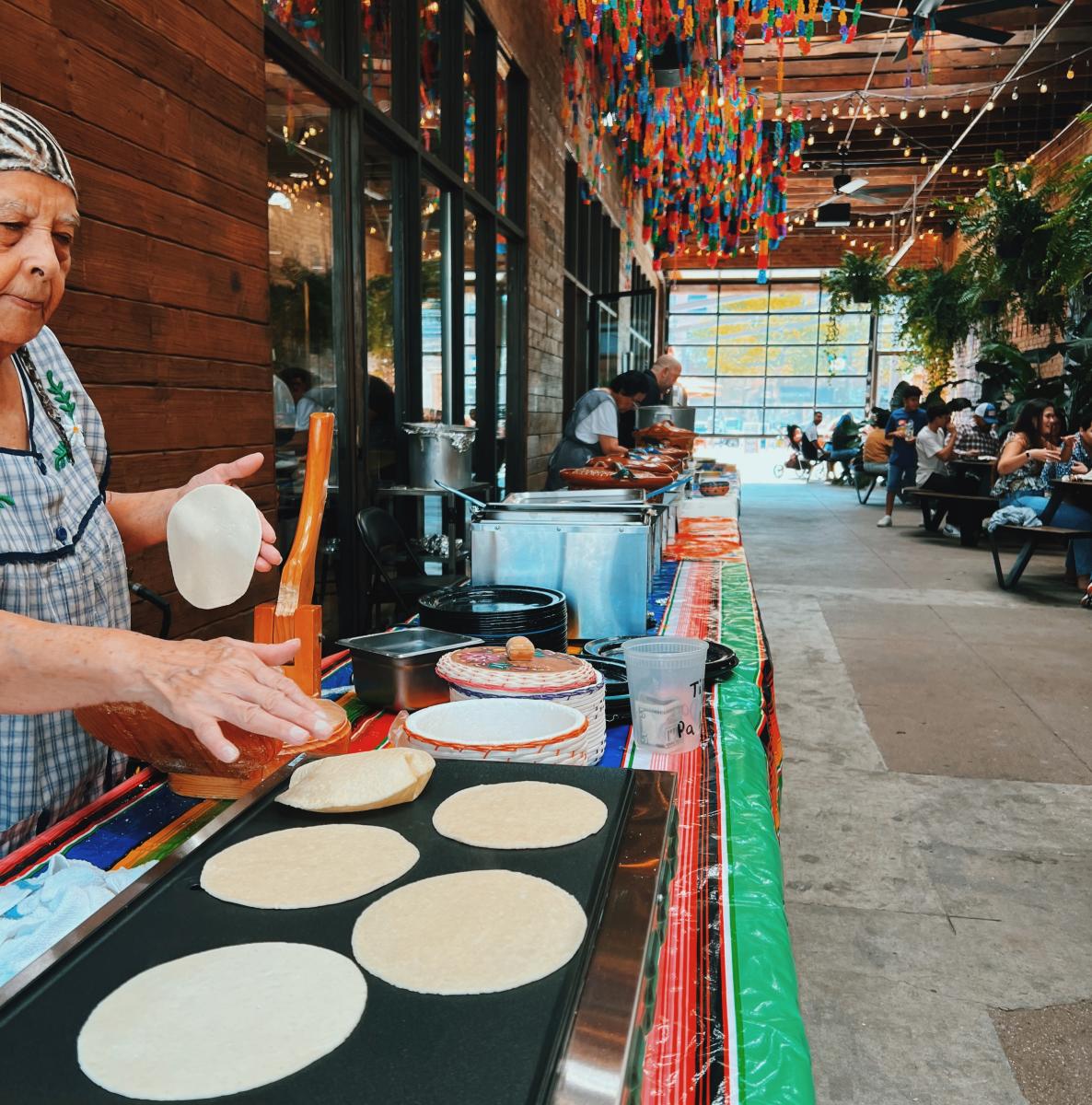 Located in Radiator Alley between Main St and Elm St, Revolver took over, and cleaned up, the alley and empty retail space for one long skinny countertop style restaurant and bar. Outside, the covered alley patio is covered with a sea of plants, colorful garlands and picnic tables. 


MENU
According to Dallas News, the new spot if a cross "between Revolver Taco's offerings and the more upscale dishes at Purepecha Room (the back room featuring eight-course tasting menus.)" We highly recommend the Tostada Tower or the Grilled Japanese Hamachi Kama to start, and one of the ten taco offerings (the Pulpo is a must!)

Pair with a Martini Margarita, or Mexican Manhattan. You can even order a 24 oz marg called a liquarita with a traditional vendor-style fruit salad and chamoy!


BRUNCH
Every Sunday, the alley comes alive for a traditional Mexican buffet brunch. Priced at $35 per person, enjoy homemade tortillas, Chilaquiles, Menudo, Ceviche and a dozen other dishes! Sip agua frescas and Cafe de Olla alongside, and end your meal with candied sweet potatoes aka Camotes Enmielados, Flan and a selection of Pan Dulce.


HAPPY HOUR 
Stop by weekdays 3-6pm for two $15 combo offerings: 5 Michoacán cantina style enchiladas or 3 mini pork carnitas. 

Mark Revolver's new spot down for excellent Mexican cooking, and definitely go for brunch!!
---
you may also like