Just an 11.5-hour drive from Dallas sits a quaint beach town along the emerald waters of the Gulf of Mexico. Seaside, FL is a true gem known for its pastel-colored beach cottages, picturesque streets & charming community. Seaside is the perfect destination for anyone wanting to slow down and enjoy its laid-back, coastal charm where no two fences are the same.
Updated May 2023
---
TO STAY
Homeowner's Collection management group was created by Seaside homeowners in 2017 and encompasses over 175 rentals throughout, making it the largest rental provider in Seaside! With beachside views, rooftop decks, outdoor tubs, and luxury touches like Peacock Alley linens and welcome packages, their variety of rentals are perfect for all ages and groups. Check out two of their properties below, and head to our Instagram to take a tour!
Sleeps: 6 guests, 3 bed, 3.5 bath
The 101: This New Orleans-style luxury condo offers Gulf of Mexico views from an enclosed fourth-floor tower and balconies on every level, all while being located on Ruskin Park within walking distance of the beach and downtown Seaside.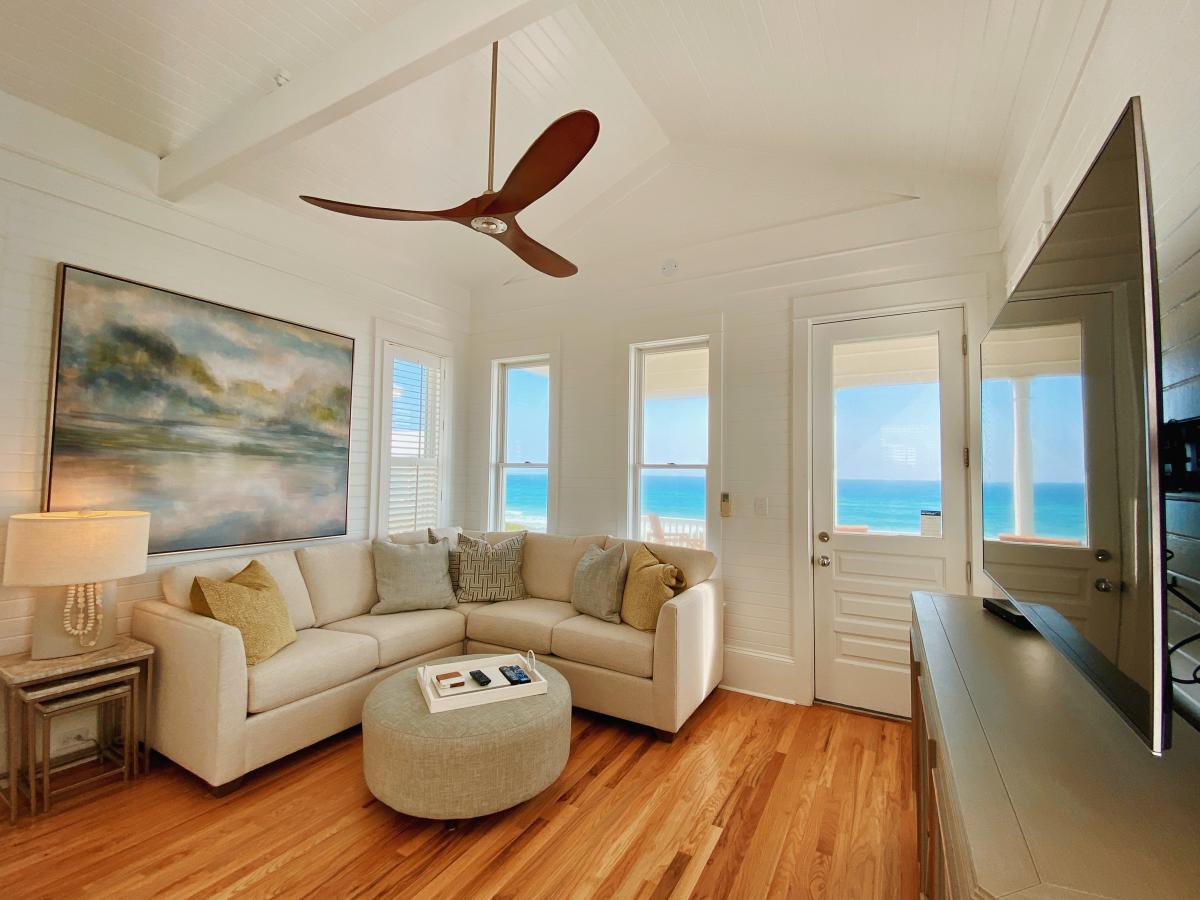 Sleeps: 2 guests, 1 bed, 1 bath
The 101: This peaceful & romantic beachfront cottage features panoramic ocean views (as seen in the header image), a luxurious rain shower, screened porch with a deep soaker tub, and a newly renovated kitchen & balcony.
PRO TIP: Save 12% on fees if you book directly on their website!
---
THINGS TO DO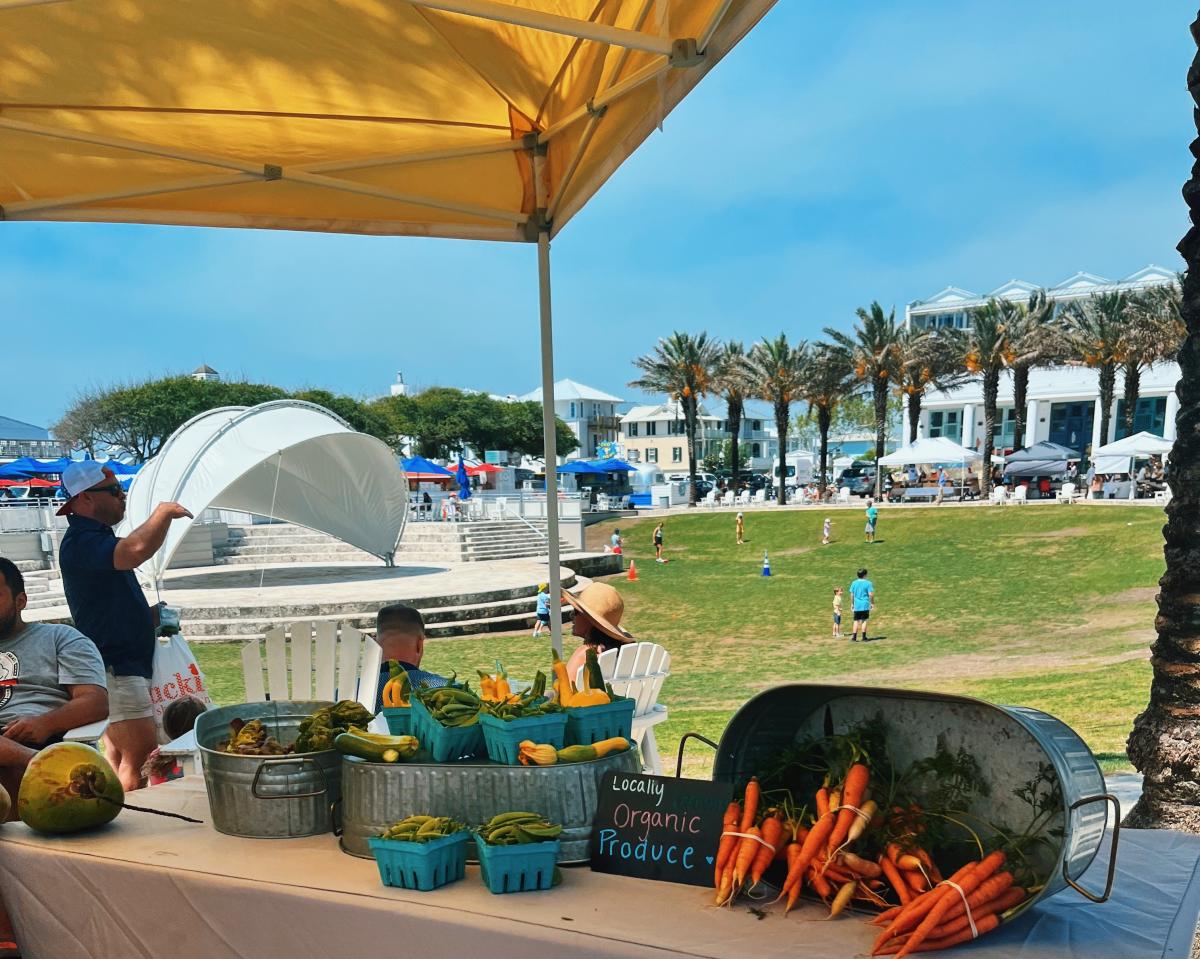 Seaside Shopping District
Shop along the Seaside Shopping District, where you'll find dozens of retail stores, great dining, photo ops, and more! There's nothing better than an afternoon stroll here to relax and pick up souvenirs and beachwear. They even offer several pop-up shops, a few of our faves are mentioned below. Just be sure to leave room in your suitcase!
Forest Street
See Seaside's famous colors on Forest Street! Seaside's iconic house colors flow from muted to really bright in design like the sunset, and Forest Street is the best spot to see the incredible pop of colors at the back of Seaside. Bring your camera, you'll definitely want to snap some pics!
Chapel Memorial Garden
Visit the stunning Chapel Memorial Garden and take in all the beauty! This new garden is both naturally and architecturally beautiful, with a calm and serene vibe throughout. You'll even see e a mirror image of the Seaside Amphitheater behind the Chapel!
Ruskin Place Park
Relax at Ruskin Place Park, a picturesque outdoor space surrounded by art galleries, adorable shops, and stunning homes. This quiet area is perfect for reading and soaking up the sun! You may see some hidden Easter eggs too -- the North part of the part is known as Fairy Forest and full of hidden clay fairies made by local kids!
Seaside Farmers Market (pictured)
Wander the Seaside Farmers Market on Saturdays and Sundays in the Seaside Amphitheater! Here, you'll find a huge selection of local produce, bread, sweets, honey, salsas, pickles, and so much more. This is a great way to support local vendors, meet people, and stock up on groceries for your stay! 
Seaside Beaches
One of the best things to do in Seaside is enjoy the sea, of course! Seaside has the largest stretch of beach on all of 30A, so you'll have plenty of space to soak up the sun, play in the sand, take a dip in the water, and watch a sunset. Other fun activities include planning bonfires and riding bikes along the trails! Definitely do your research on which beaches are public and which are private, so your beach day can be easy breezy!
---
TO EAT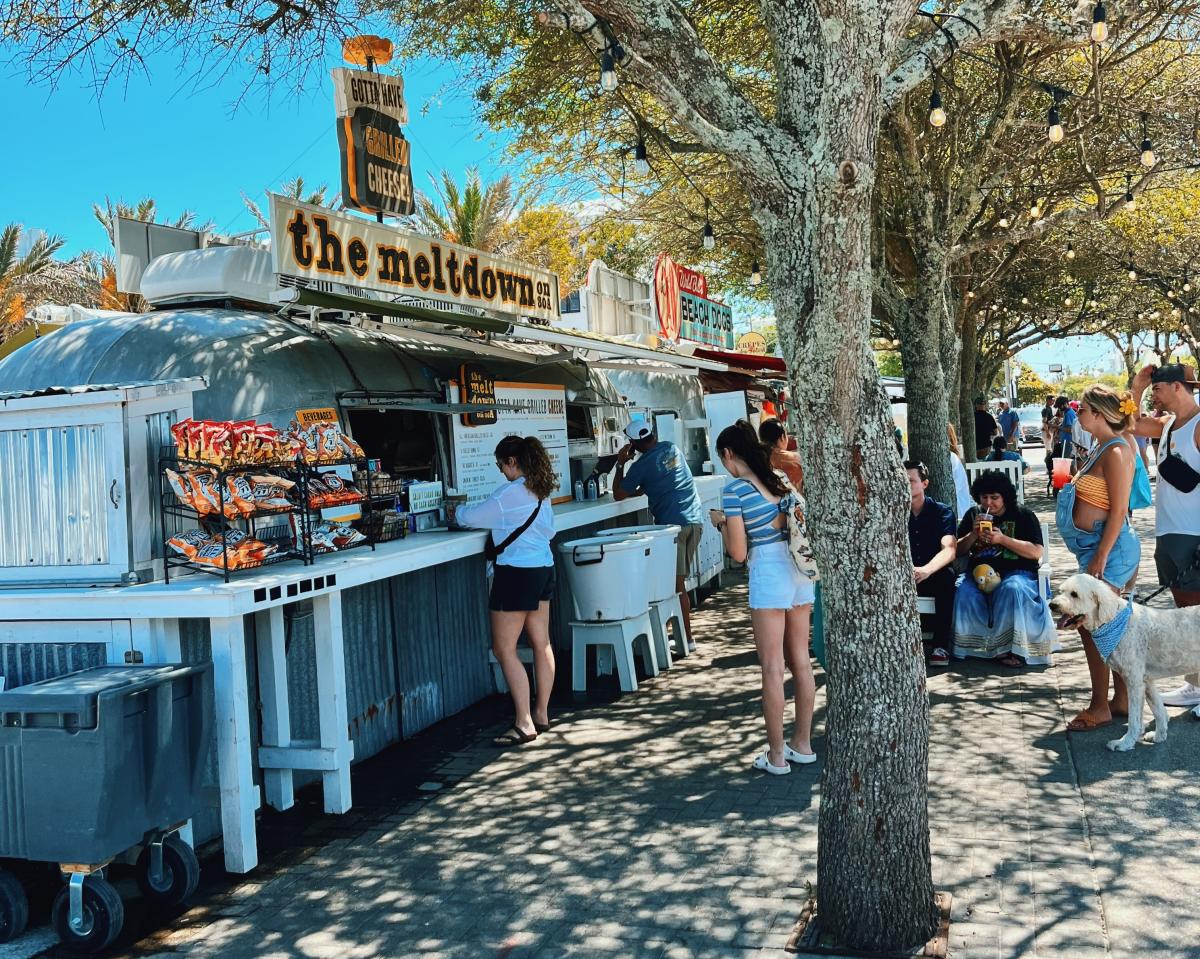 Enjoy gourmet food truck eats like barbecue, hot dogs, grilled cheeses, donuts, snow cones, crêpes, and more! You truly won't be able to pick just one spot to order from, so we recommend trying a few for a full-course meal!
This spot's name means "love life", and their coffee and donuts will have you doing just that! Stop by their brick-and-mortar shop anytime for some quality brews and beachy vibes, and don't forget to grab a donut! They offer a variety of delicious classic and seasonal flavors, and even have a vintage truck you can order from on the weekends!
You may not think of BBQ when you think of Seaside, but this spot will change that! Stop by their retro airstream trailer for quality, antibiotic-free meats with a Caribbean flair. The menu features all your barbecue classics like racks of ribs, coleslaw, and pulled pork sandwiches, plus a variety of lighter items like salads! Pro tip: order a Picnic Platter and take your BBQ to the beach!
Coffee and brunch in a beach town? Say less! This adorable spot is located right off Highway 30A at The Court, in a bright and airy white building! Their menu is focused on seasonal produce and sustainability, so you can feel good about dining here. Definitely try their housemade pastries and breads, which are extra great in breakfast sandwich form!
A Seaside favorite for almost 30 years, this is the go-to spot for beachside dinner! Bring your camera and enjoy fresh seafood while you take in stunning ocean views. Then, stay awhile and participate in their sunset rooftop celebrations, a longtime tradition here!
Cool off after a long day at the beach with some shave ice! If you're not familiar, shave ice has a snow-like texture and is so refreshing on a hot day! Their menu offers dozens of shave ice flavors, lemonades, frozen custards, and even root beer floats. One of their most popular offerings is a "Piggly Wiggly", frozen custard topped with shave ice in the flavor of your choice, then topped with cream!
If you're looking for an al fresco brunch, Great Southern is a great choice! Featuring fresh local produce and fresh seafood from the Gulf, this spot offers Southern brunch classics with an international twist. Highlights from the menu include Lobster Benedict, Grits Á Ya Ya (aka grits with shrimp and all the fixings), Beignets and even fresh squeezed juices!
Tapas, wine, and chocolate are a match made in heaven! This spot is great for groups and date nights, with a huge selection of sharables. The tapas menu includes endless options like paella, ceviche, fondue, cheese boards, crab cakes, and more.
For a casual lunch, pick up a gourmet grilled cheese sandwich from Meltdown! This airstream trailer offers unique combos like the Strawberry Goat Forever, made with goat cheese, prosciutto, and strawberries, or the Cuban McDonnell made with pulled pork, ham, gruyere, pickles, and mustard! Don't forget to get some chips to go with it!
Nigels keeps it simple, offering a three-step process to create your own sweet treat! Step one, choose your base: either a frozen banana, chocolate or vanilla ice cream bar. Step two, they dip it in chocolate. Step three, choose from toppings like coconut, oreos, sprinkles, and more.
This classic burger joint is casual and great for groups, serving staples like burgers, hot dogs, shakes, and of course, pickles galore! Their most popular items are the Fried Pickles, Housemade Pimento Cheese Burger, and the Triple Decker Club Sandwich. They also have a great kids menu!
---
TO DRINK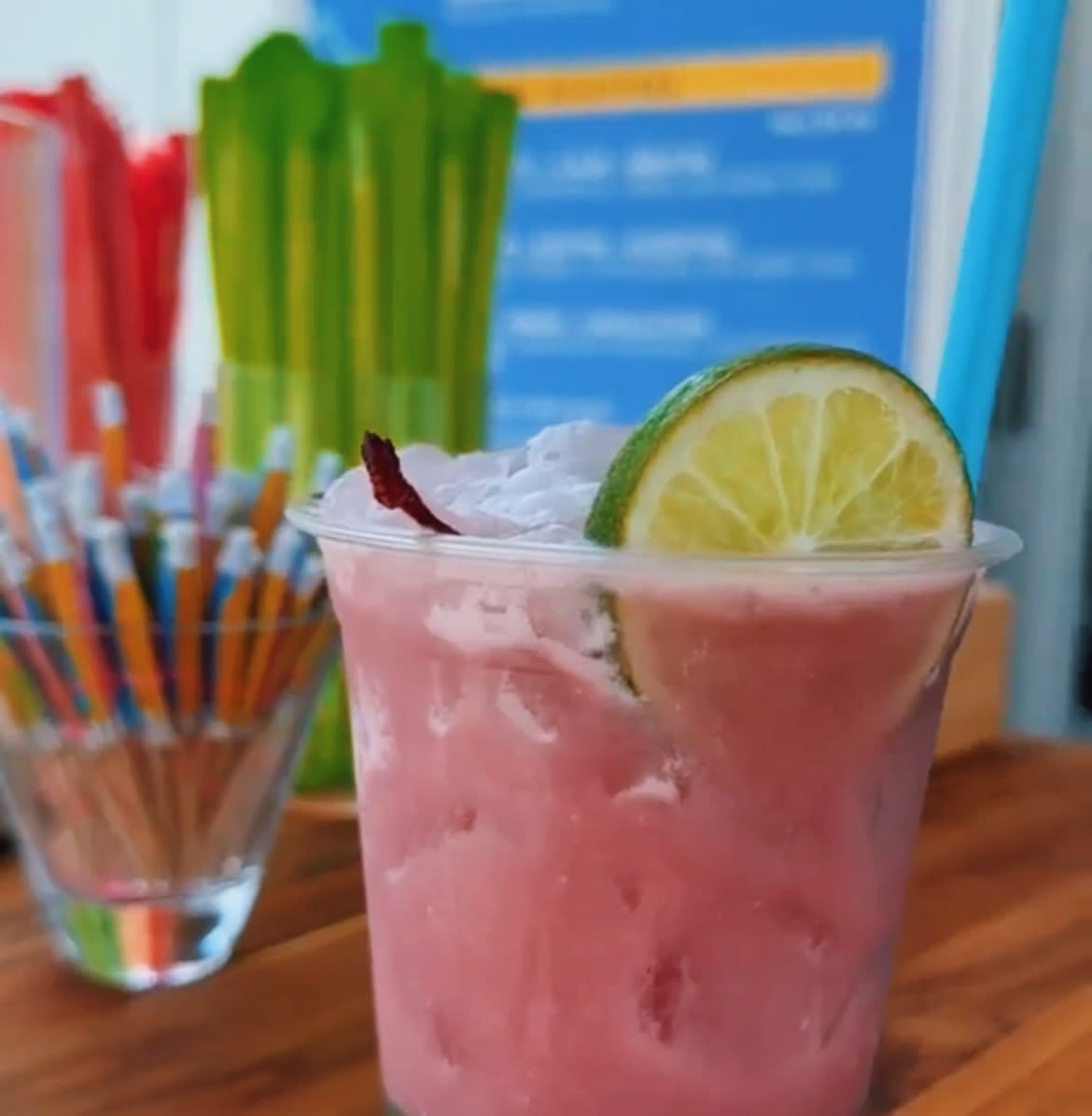 image courtesy of Homeowner's Collection
Located right on the beach in the sand, this beach bar is the perfect spot to soak up some sun while you sip. Enjoy handcrafted cocktails, draft beer, and bites from Pickle's Burgers and Shakes! They even offer happy hour from 3pm to 5pm daily.
Located in Seaside's Pop-Up District, Pop Alchemy serves up delicious gourmet sodas and cocktails! Fan favorites on the menu include Cherry Limeade, Chili Chili Lime Sparkling Lemonade, and Prosecco Pops! Plus, each drink comes in an earth-friendly cup and with a marine biodegradable straw.
---
TO SHOP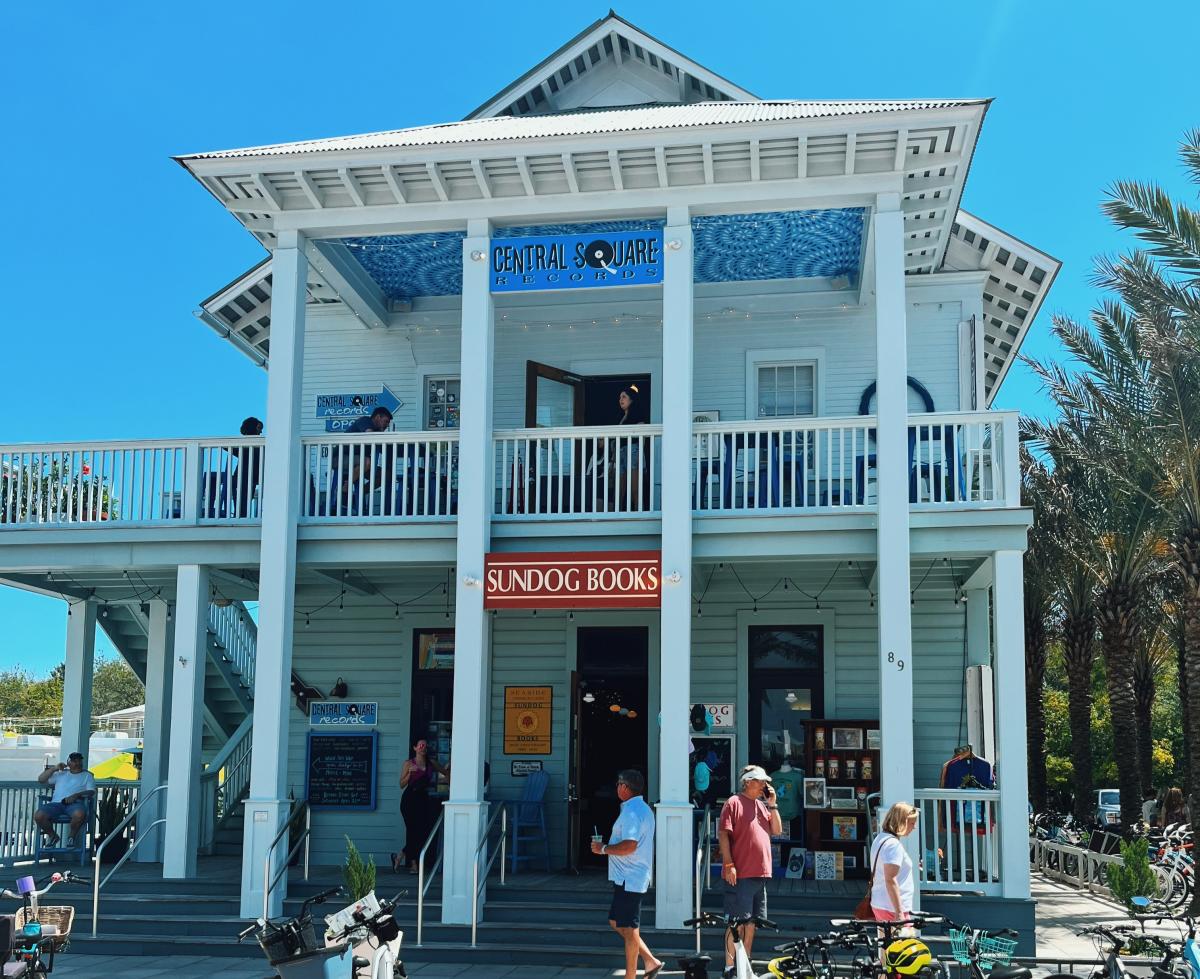 This record store is located in a stunning white house, above Sundog Books! Here, you can shop a never-ending selection of new, vintage, and even rare vinyl. They also offer tons of cool posters, tee shirts, mugs, and more!
What better way to commemorate your trip to Seaside than a gorgeous piece of permanent jewelry? If you haven't hopped on this trend yet, Lala Links can link you up with a simple, high-quality piece that lasts forever! They offer tons of gold and silver chain options, plus charms to customize your look. You can choose necklaces, bracelets, and more -- we think the anklets are super cute and beachy!
Head to the Seaside Pop-Up District to get custom hats from Nashville, Tennessee! The pop-up features a full hat bar with multiple different styles, plus add-ons like ribbons, jewelry, feathers, and more. If you're on a girls trip, Bachelorette, or family vacay, matching hats are the way to go! The pop-up is only available until August 2023, so don't miss your chance now.
Located in a classic white beach house, below Central Square Records, Sundog Books is an adorable shop with the sweetest story! The owners started the shop in a small plywood shack in the 1980s, where it quickly grew a huge fanbase, eventually getting a brick-and-mortar store! Today, you can find hundreds of titles and topics from various authors, so there's truly a find for everyone. We love supporting independent bookstores and this one is a must!
You probably recognize this spot's iconic Seaside logo tees and sweatshirts! Getting Seaside merch from here is a must, with tons of colors, sizes, and styles to choose from. While the classic tees are the most recognizable, you can also find unique items like candles and even beach essentials like tumblers and towels too! Our personal faves are the Gray Malin Seaside Aerial prints -- not only are they stunning, but he's a Dallasite too!
---
YOU MAY ALSO LIKE