It might be hot in Dallas, but it's always the right season for Ten Ramen in our books! If you're seeking great ramen, we can't recommend Ten Ramen over in Sylvan Thirty enough! It's truly one of the best ramen experiences you'll find here!
Updated June 2022
---
Ten Ramen
Ten Ramen is the fast casual ramen creation from Tei An's chef-owner Teiichii Sakurai. If you aren't familiar with Tei-An, it is low key one of the best Japanese cuisine experiences in this city so it's not a surprise that his ramen shop is just hidden, in this case under a stairwell behind Whisk Crepes.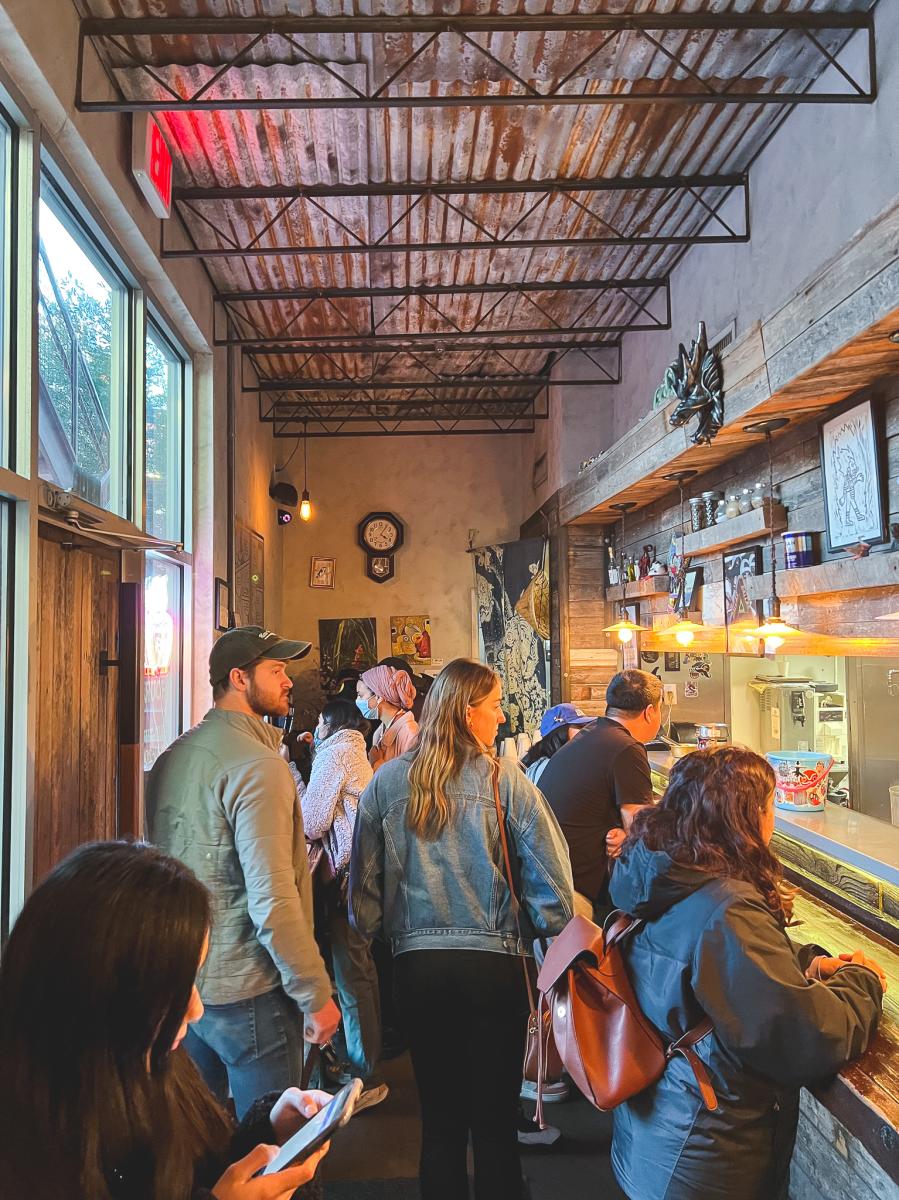 THE ATMOSPHERE
The restaurant might be the smallest in Dallas. There's only one counter and it's standing room only, fitting about 12-15 people at a given time. (But there's also a patio counter!) The space is dimly lit, filled with Japanese decorations and gives off a underground feel like you just walked through a portal and into an alley in Tokyo. 

On one end, find the menu written out chalkboard style and on the other end, find the "Ten" Rules like "no to-gos" and "slurp your noodles."
THE EXPERIENCE
Part of the charm is that you get to be up, close and personal with the chefs bringing your wet or dry bowl of ramen to life. Big bubbling pots are filled with the broths, and you'll see noodles being pulled and tossed and stretched every which way. 
MENU
Choose one of three soup ramens: tonkotsu, shoyu or spicy lobster miso. There's also a dry ramen, two rice bowls and sometimes, specials written up on the board. For drinks, try a Japanese beer or sake. It's a pretty small and no frills menu, but the food itself will blow you away!
HIATUS
While waiting for our meal, we found out that Ten will be taking at least a two week hiatus starting on June 17th. We hope that it returns swiftly but also understand that this might not be the most ideal season for hot ramen, but again, if it's Ten, it's always the right season!
---