We've been fans of Spinster Records for years and were thrilled to check out their latest venture: a 70s-inspired cocktail lounge! The stunning Lady Love Lounge opens Friday, July 7th and we have all the deets!
Updated July 2023
---

From the owners of Spinster Records, LadyLove is a record lounge serving up quality cocktails and small bites! It's located in one of our fave neighborhoods, Bishop Arts, right next to Oddfellows. The menu features 8 cocktails, 3 mocktails, and an array of small bites curated by Jimmy Contreras of Taco Y Vino.

It's the perfect spot for a date night, GNO, or after-dinner drink! They're open from 4pm to late, with live music and DJs every night of the week!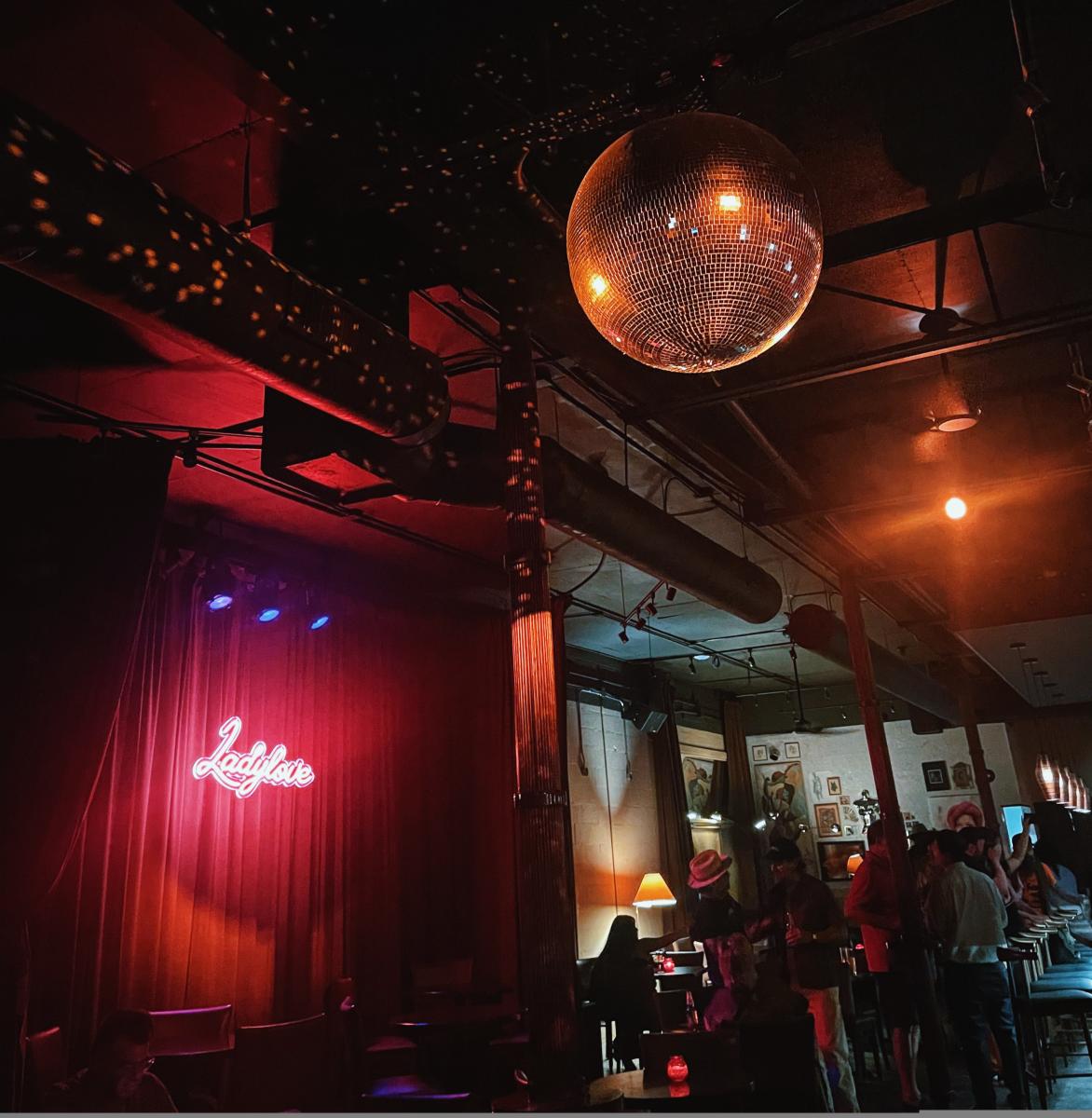 THE SPACE
Stepping inside, you'll feel like you've gone back in time to an upscale 70s nightclub! The giant neon sign gives a warm red glow to the lounge, and a shimmering disco ball sets the stage above the DJ booth and dance floor. Vinyl melodies and upscale cocktails collide at the intimate bar, which features mirrored tile that compliments the disco ball! You'll find quirky vintage art pieces, mainly sourced from local spots Lula B's and East Dallas Vintage, plus a cozy back area with velvet couches and a gallery wall (perfect for a photo op). If you need a break from dancing, they also have an adorable patio area!
THE MUSIC
One of the coolest parts is the DJ booth, where you can hear a variety of tunes all played on vinyl records! We loved watching the DJ flip through crates of albums ranging from reggae to rock and roll. They don't just stick to one genre, making it not only crowd-pleasing but also a fun way to expand your music taste! Right now, you'll find mostly DJs spinning tunes, but they plan to also add live music performances by local artists soon!
WHAT WE ORDERED
🍸 CDMX 1920 with gin + rose water
🥃 The Leather Daddy with bourbon + mezcal
🥔 Caviar + house-made potato chips
🍔 Mushroom Slider + Pesto Slider
TAKE A TOUR