Daily live rodeos, iconic landmark attractions like the Alamo, and concessions including BBQ and ranch water…say less! We saw an article on Texas Monthly about this epic Texas-themed theme park idea based in Houston and had to share immediately to hear our followers' thoughts!
Updated July 2023
---
TexasLand Theme Park was conceived with the vision of celebrating all things Texan, drawing inspiration from our iconic landmarks, legendary figures, and vibrant communities that make TX unique! From the wild landscapes of Big Bend to the bustling streets of Austin, this project would showcase the essence of the state in a single location and visitors would be able to journey through Texas's past, present, and future.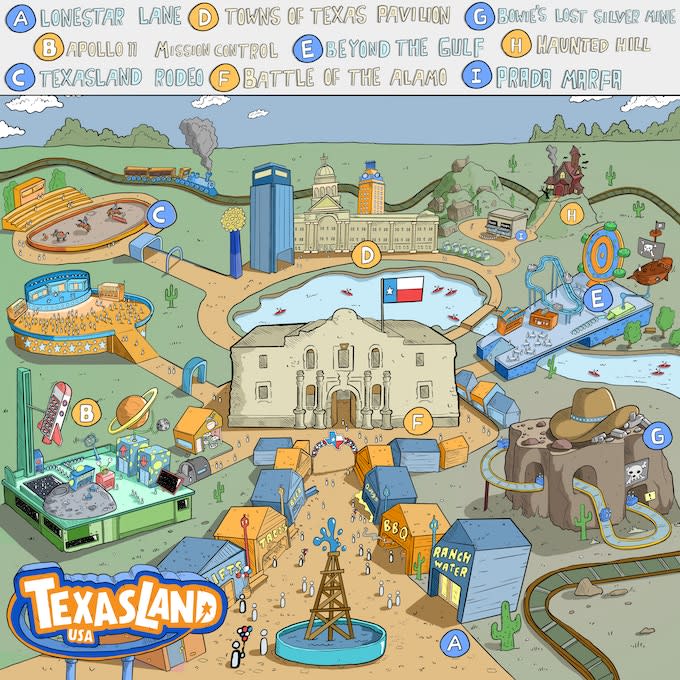 Image courtesy of Texasland. Header photo courtesy of Texas Monthly.
WHO'S BEHIND IT
The driving force behind this epic theme park idea is Lizzy McGee. With an impressive career at Disney, her market analyses for various theme parks, cruises, and hotels, she understands the magic behind successful attractions & creating authentic connections.
According to Texas Monthly, she hopes that TexasLand can be for Texas what Disneyland is for many Californians. "I saw how people in L.A. and Southern California treated Disneyland, like it was in their backyard. Houston's the fourth-largest city in the U.S. We should have something like this in our backyard."
She also makes the comparison of TexasLand to DollyWood in Tennessee, which pays ode to the aesthetic, lifestyle, and great outdoors of Tennessee.
WHAT YOU COULD EXPECT
🏟 Iconic Landmarks: some of Texas's most beloved landmarks, from the Alamo to the San Jacinto Monument to explore the state's rich history
🐂 Entertainment: spectacular daily live performances including a real-life rodeo
🥩 Texan Bites: concessions would sell barbecue and ranch water, of course!
🚀 Themed rooms: rocket ships to honor the space scene, haunted houses for Marfa, riverwalk for San Antonio, & more
Lizzy McGee has started a Kickstarter page to fund the idea, which has gained a lot of traction already! Click the link above to learn more about her mission and donate if you want to help make it happen!
If all goes according to plan, this park could open as soon as 2026! Could this be for Texas what Disneyland is for Californians? Would you go?!
---
YOU MAY ALSO LIKE