From sophisticated bars with hidden speakeasies to classic country saloons, cowtown's cocktail scene is where you want to be. Home to the world's smallest and largest honky tonks, two stepping and live country music are a given. Use this as your guide to going out in Fort Worth in search of a good cocktail!
Updated February 2022
---
CURFEW

Cowtown meets Funkytown at this colorful bar just off Sundance Square in downtown Fort Worth. Dance the night away under the disco ball with their signature painkiller cocktail in hand, or split one of their massive shareable drinks with friends. If you're craving a midnight snack, the Italian stone pizzas are sure to hit the spot, from spicy pepperoni to arugula & prosciutto.  
Phot courtesy of the Curfew
---
BILLY BOB'S

A trip to Fort Worth is not complete without stopping by Billy Bob's. This iconic concert hall at the Stockyards has been entertaining Texans and visitors for the past forty years. Known as the world's largest honky tonk, they host events from country concerts to rodeos and they even have free line dancing lessons. Grab a chili dog or a pulled pork sandwich from their honky tonk kitchen serving some finger lickin' good barbecue. Sip on a beer or frozen margarita and two step your heart out for a boot scootin' boggie kind of night.
Photo courtesy of Billy Bob's
---
THOMPSON'S

In the historic Vybeck building in Downtown Fort Worth, Thompson's screams mystery. Set in a vintage book store, the upstairs bar has velvet chairs and leather accents that'll make you feel like you've been transported to the 1920's. If you're feeling adventurous, go through the secret bookcase door to find the underground speakeasy. The password is your key into this prohibition style space (Hint: It's revealed each night on their Facebook page).
Photo courtesy of Thompson's 
---
WHITE ELEPHANT 

Get a true feel of Fort Worth at this legendary Stockyards saloon that pays tribute to the Wild West. Tim Love really shows his Texas pride through the western decor, the rail bar, and cowboy hats lining the walls and ceiling. With live music every night of the week, the dance floor is just waiting for you to two step your heart out. If you work up an appetite from all that dancing, the chili parlor serves up some of the best Texas red chili with options from Love Shack burgers as well.
Photo courtesy of White Elephant
---
SIDESADDLE SALOON

A new addition to the Fort Worth Stockyards is a special kind of saloon that is inspired by the modern cowgirl. With cocktails and shots named after significant Southern women, you'll know they all have just the right kick to them. Head down to the Sidesaddle Saloon during happy hour for $6 margaritas and their Texas tapas menu, featuring gourmet bites from bacon & cheddar biscuits to hickory smoked sausage. 
Photo courtesy of the Sidesaddle Saloon
---
THE AMBER ROOM 

Inside Wishbone & Flynt, The Amber Room is a vintage speakeasy and cocktail lounge. Enter through the hidden gold door near the bar area or the secret unmarked wooden door on Bryan Avenue. Not only do they make some fabulous cocktails, but they serve delicious gourmet bites from PB&J wings to lobster mac n cheese. Relax in one of their mismatched lounge chairs with a drink in hand and take in the ornate decor and jewel tones that give the space a fun retro vibe. 
Photo courtesy of Wishbone & Flynt
---
PROPER

If you wander down Magnolia Avenue, you'll stumble upon this contemporary cocktail bar. Their drink menu has options ranging from classic craft cocktails and wine to hard kombucha and the beloved espresso martini. When they have four different espresso martinis on the menu, you know it's a good place. If you're feeling snacky, try the parmesean black truffle chex mix or a charcuterie board.  
Photo courtesy of Proper
---
BLACKLAND DISTILLERY

Named after the Blackland prairie, this distillery makes their spirits from grain to glass. The expansive menu features craft cocktails and wine, but they specialize in making five unique spirits, which are displayed on the striking mirrored wall behind the bar. The Texas pecan brown sugar bourbon is divine. Take a tour of the tasting room to try some premium spirits and learn the secrets of their distillation techniques. Sip on your drink of choice at the bar or in the posh lounge accompanied by a carefully curated charcuterie board.
Photo courtesy of Blackland Distillery
---
THE USUAL

The statement "I'll have the usual", comes to life at this Southside bar. As one of the first craft cocktail bar in North Texas, The Usual takes a modern twist on classic cocktails, such as the Don't Ask Don't Tell with lavender and Rose on Rose on Rose with a dash of rosemary. It's dim lighting with candles gives it an intimate ambience perfect for a date night. Try one of the unique drinks and a charcuterie board at their happy hour held on every night of the week!
Photo courtesy of the The Usual
---
LANDMARK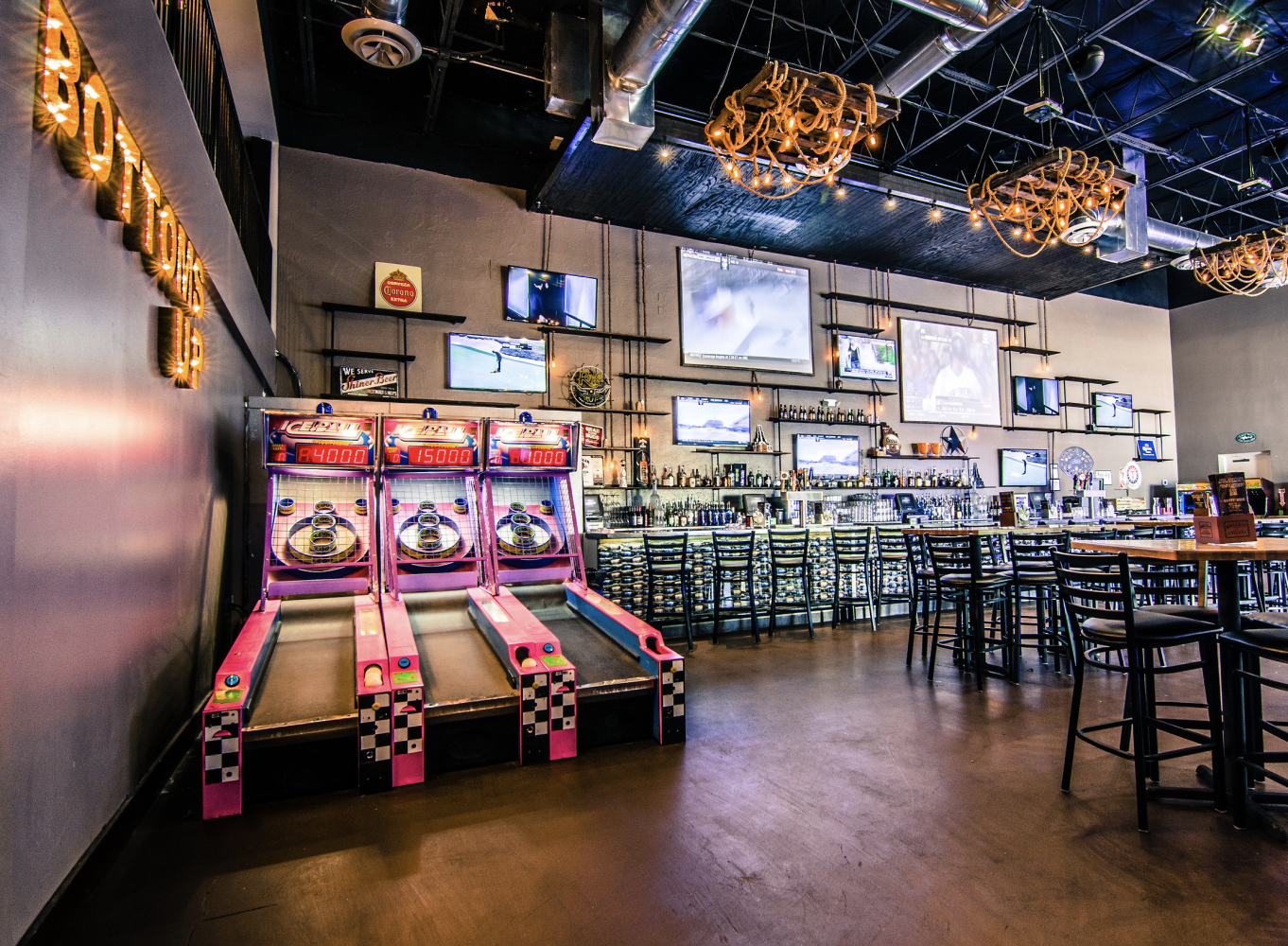 This adult playground on Crocket Row has everything you could want out of a bar. Sit back and watch the game on the outdoor patio or indoor TV wall, then play some fun arcade games with friends. Their menu is stacked with all of your classic bar food favorites from pizza and wings, to burgers and a build your own mac n cheese bowl section. Step outside your comfort zone and try one of their half liter candy carafes, shareable fishbowls, or their specialty shots with unique flavors such as starburst and upside down pineapple. 
Photo courtesy of Landmark 
---
BASEMENT BAR

As the oldest neighborhood bar in Fort Worth, the Basement Bar is a well known Stockyards staple. Located directly underneath the Stockyards, it can be hard to find, but the bright neon sign will lead the way. Considered the smallest Honky Tonk in the world, the atmosphere is dark and intimate with a speakeasy feel. Pop in for a cold beverage at the bar, but stay and for the weekly live country music performances that you can't help but dance along to. 
Photo courtesy of Basement Bar
---
TARANTULA TIKI LOUNGE

Down on South Main Street is a tropical tiki lounge with Polynesian inspired decor that will send you straight into vacation mode. The tiki themed drink menu features cocktails from the classic mai-tai and daquiri to their signature screaming skull and bowls perfect for sharing. Sit back and relax  with your exotic cocktail as you drink on island time.
Photo courtesy of Tarantula Tiki Lounge
---
BODEGA WEST 7th 

When you walk into Bodega's on West 7th you may think it is just a modest grocery store, but think again. This Fort Worth gem is hidden in plain sight with a spacious underground speakeasy with a full bar and a game room. To unlock the secret freezer door entrance, answer the trivia question posted on the Facebook page or buy an item in store to gain access to this lively dive bar.
7TH STREET CULTURAL DISTRICT | DIRECTIONS
Photo courtesy of Bodega West 7th
---