Introducing Winston's British Fish N Chips, a food trailer serving authentic fish n chips and British dishes that were once served to Princess Diana…we're not kidding! Founded as a spinoff of a successful concept in Vancouver, Washington, Winston's brings a touch of British cuisine to Dallas and we're so excited to tell you about it.
Updated July 2023
---
Under the guidance of Queen Elizabeth, Princes William & Harry, and Princess Diana's personal chef, Chef Darren McGrady, Winston's offers authentic British dishes with fish & chips taking center stage. Chef McGrady spent years honing his culinary skills at Buckingham Palace and we're so excited that he brought his talents to DFW!
Fun fact: some of the dishes are exact recipes that were served to the royal family!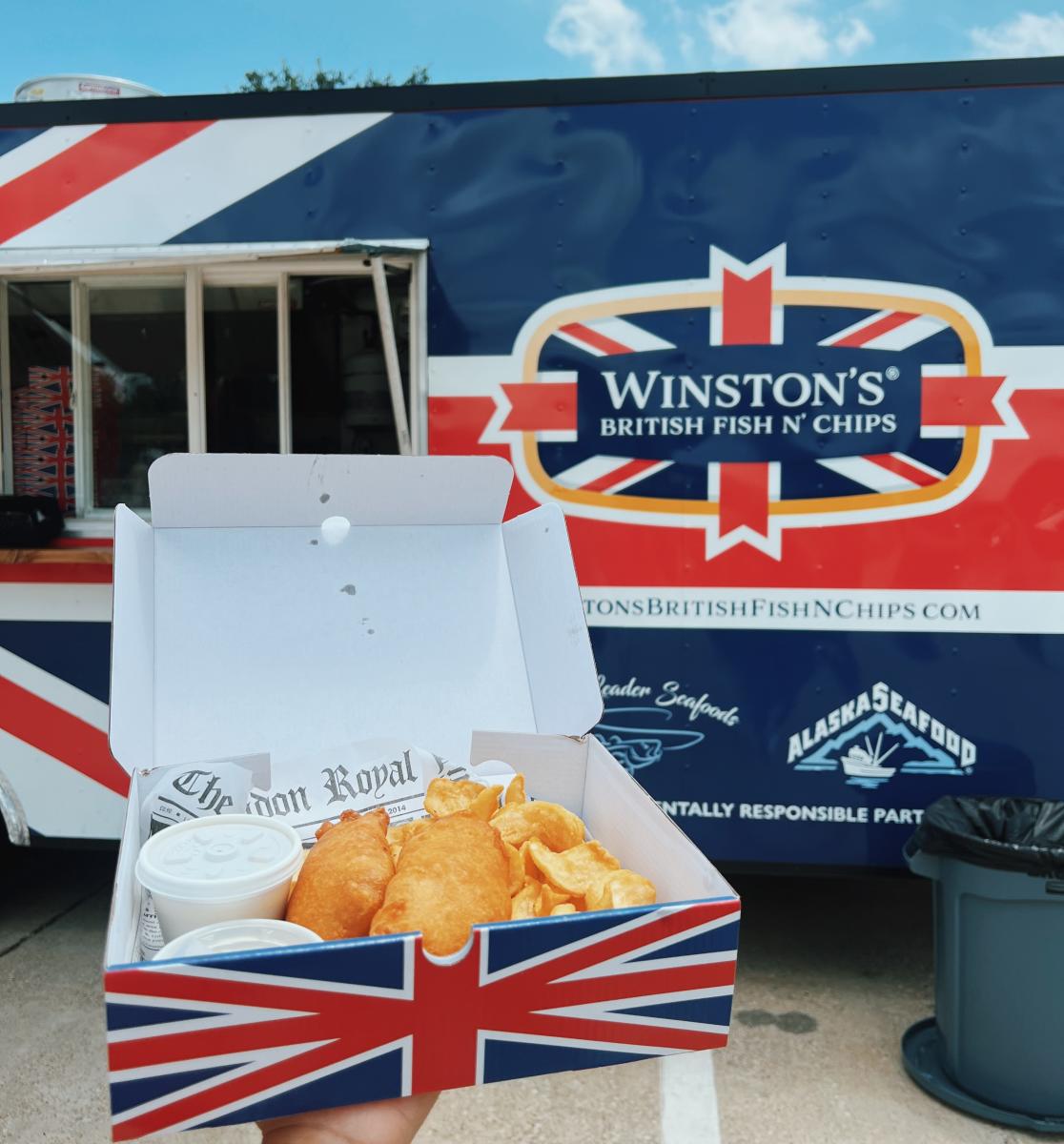 THE MENU
The menu is small which we actually appreciated. Order your Fish N Chips with Mushy Peas or Curry Sauce, or if you're looking for classic pub fare, the Steak & Ale Pie + Chips will transport you to a cozy British Tavern with its buttery crust and rich flavors. The other items on the menu are Cornish Pasties and Sausage Rolls, with both come with "chips" aka french fries in the US.

They also plan to introduce desserts like Princess Diana's most treasured (which Darren also served to the Queen herself)… heavenly bread & butter pudding, which we will be going back for!
WHAT WE ORDERED
🐟 Fish n Chips + Curry Sauce
🥧 Steak & Ale Pie + Chips
P.S. They give you a buzzer so you can wait for your order in your car!
LOCATIONS
Monday through Friday find the trailer at Windhaven Plaza in Plano from 11am-7pm or until they run out, and on Saturdays you can get your fish n chips at Cottonwood Market in Richardson! They're planning to land a permanent location in the future so be on the lookout. In the meantime, stay up to date on their whereabouts & locations by following @winstonsbritishfishnchips … they post their schedule weekly!
CHECK IT OUT