Trust us on this… you need to book this weekend getaway asap!! The Yurtopian is one of the most unique stays we've ever experienced and we can't believe it's only 3.5 hours from Dallas (and 45 min from Austin!) We're sharing all the details on how to book, what to expect, and what to do! Plus, we have a discount code!
Updated March 2023
---
Comprised of 20 hand-crafted, Mongolian-style yurts across 2 properties in Wimberley and Dripping Springs, The Yurtopian is the ultimate glamping getaway founded by a husband and wife duo in March 2019.
We visited the Dripping Springs property which is 46 acres of land and home to 11 yurts!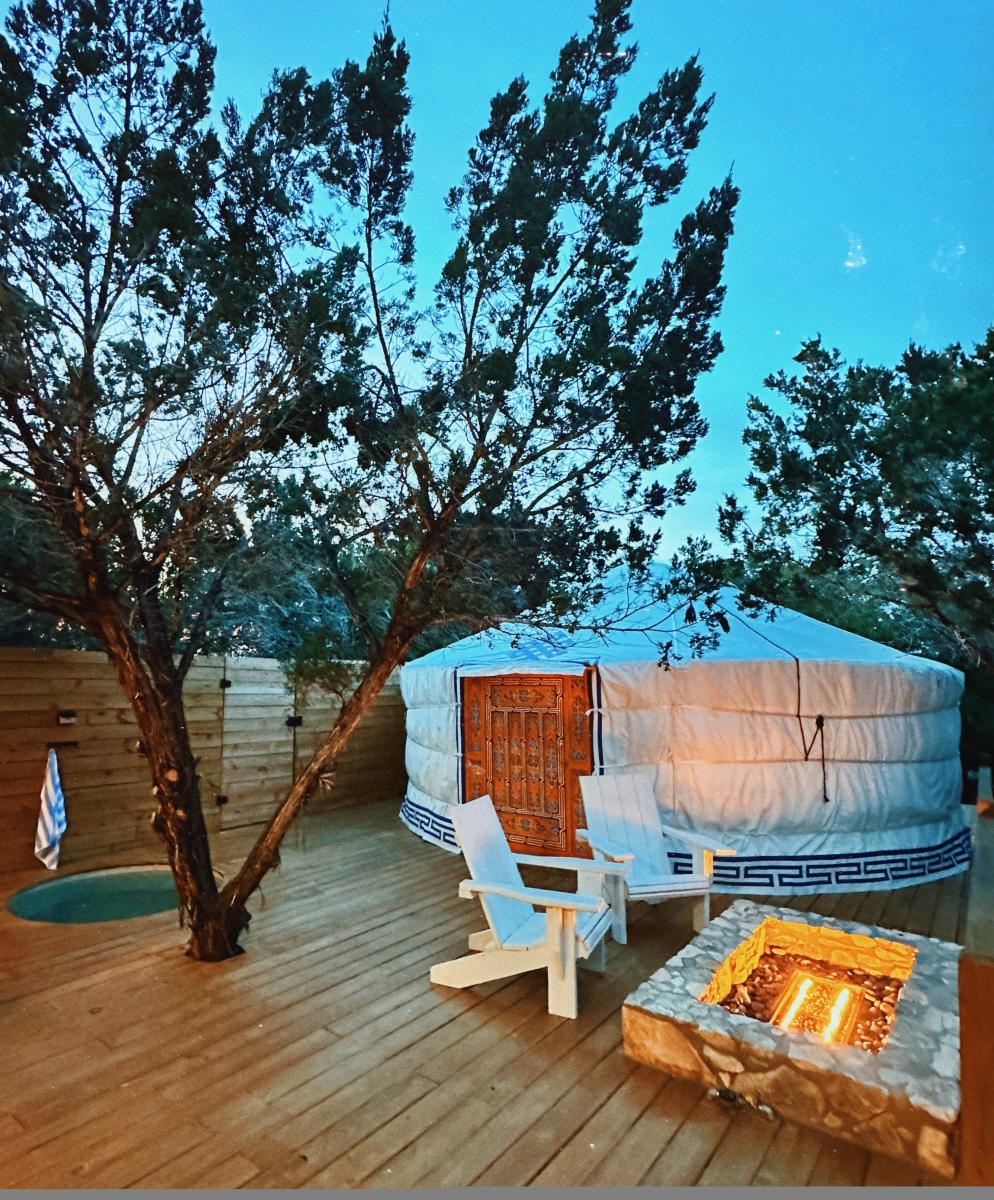 THE 101
We were completely blown away by the beautiful views and the attention to detail of our little abode. We stayed in the Dottie Ger (Mongolian for Yurt) and it included:
⛺️ One bedroom, temp controlled yurt
💧 Plunge pool (can be hot or cool)
🍳 Outdoor kitchen with fridge, sink, grill, stove, & electric kettle
🚿 Outdoor shower (which got surprisingly very warm!)
📺 Outdoor smart tv
🔥 Gas fire pit
🌳 Rooftop deck with hammock
🧺 Picnic table
☁️ Comfiest bed w/ cloud-like bedding
KNOW BEFORE YA GO
It was one of the most peaceful nights ever and we never wanted to leave! We originally had dinner plans back in town, but once we arrived to our oasis we quickly changed plans! Definitely recommend stopping by a grocery on your way to cook simple meals in your kitchen under the stars. We also suggest bringing cards, games, and books to relax and enjoy the space.
If you're visiting in the warmer months, there is a river waterfront and the property provides canoes and stand up paddle boards!
Head to The Yurtopian's website above to explore the yurt options (they're all so different!) across both properties and choose your perfect stay!
Plus use code DALLASITES for 10% off your stay!
DRIPPING SPRINGS LOCATION