Only two and a half hours East of Dallas lies the only natural lake found in Texas. This beautiful landmark is one of the largest cypress bayous in the United States, and should be on every Texans bucklist. Inside the state park find 50 miles of canoe or kayak routes, and fauna like the American Lotus or the majestic alligator. This natural area is a must see!
Updated May 2022
---
to do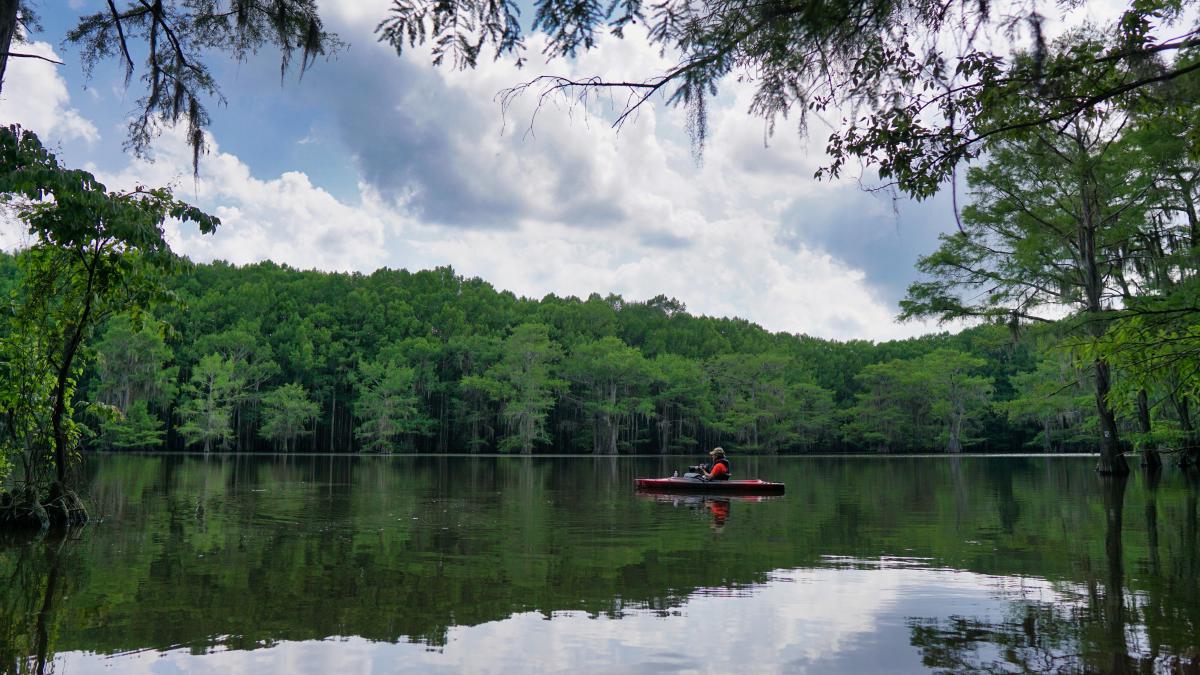 Lake Caddo hosts several different canoe routes throughout the wetland. Some of the routes like Mill Pond have tent sites you can rent through the state park website. Canoeing offers an intimate experience that allows you to get up close to the cypress mangroves, birds, alligators, and other wildlife! The park is only a small area of the entire wetland, however the Paddling Trails offer a clear map to navigate. Grab a map and follow the trail markers posted along each of the trails to explore the maze while getting some exercise in the process! Canoes are available for rent through several locations on the wetland, and some bed and breakfasts include free canoe rentals.
If independent exploration isn't in your fantasies, there are several guided tours throughout the swamps and bayous. These tours offer several different routes, and some even offer fishing and hunting tours from dawn until dusk, or cabin rentals. This is a great option for families as the boats are normally larger than a canoe or kayak, and they allow you to get personal with mother nature without solo navigation. This option is also great for those who want to explore but are not in a physical state to row.
Everything is bigger in Texas, including the animals. Alligators are one of the many predators of the area, and many places offer guided tours to find these magnificent beasts! The guides are very experienced in safety around the gators, know the areas that go off the usual kayak trails, and can give you an experience you will never forget.
For the woodsmen and woodswomen, enjoy a variety of tent campsites—from water only to full hookup sites and screened shelters. These amenities are great for the traveler on a budget, however the cabins include minimal amenities, so make sure to bring some groceries and warm blankets along with you, as well as cooking supplies. Some of these campsites sit right on the river, meaning you can watch the sun rise over the lake. These cabins are available to rent through the state park website, however there are several other lodging options from minimal campsites to bed and breakfasts.
If you hold the appropriate licenses and permits, Caddo Lake is a great opportunity to use them. With a wide variety of wildlife throughout the bayou, the wetland hosts catfish, bass, and sunfish among others. Deer, hogs, waterfowl and frogs are a few of the over 70 species in the region.
Over a quarter of the park is navigable by foot, and is ADA accessible— enjoy a nice hike through the Sabine Piney Woods and walk along the edge of the wetland. There are several hiking trails through this beautiful stretch of East Texas.
---
eats and drinks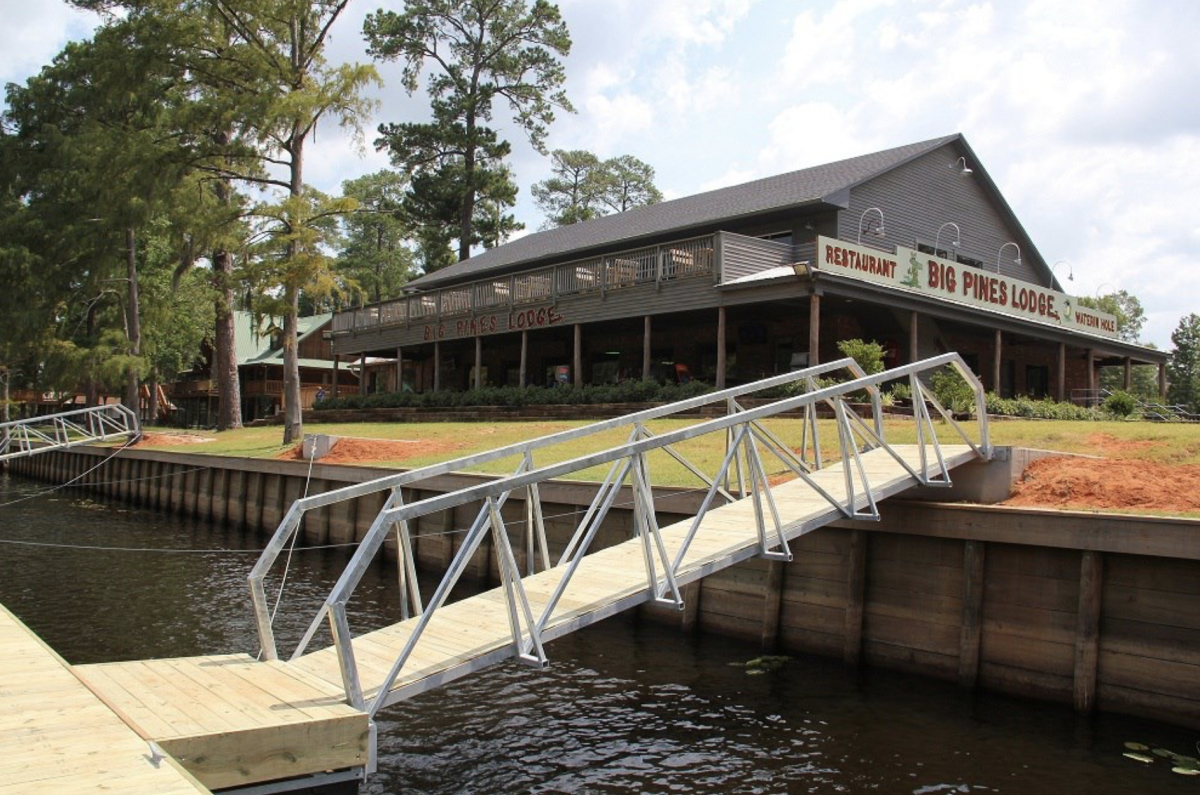 Photo courtesy of Big Pines Lodge
Indulge in delicious and fresh seafood Southern Style! Big Pines Lodge has proudly served the Caddo Lake surrounding area for over 70 years! Keep it traditional with some fried pickles and hushpuppies, or try their Alligator meal with frog legs if you want to try a new delicacy. For those of you who do not like seafood, they also offer "Ranch" style Texas classics such as ribeye or chicken fried steak.
This amazing vacation resort also includes a cafe from 7am-2pm Thursday through Sunday. They serve up country classics like meatloaf, potato salad, and mac-n-cheese. Make sure to call ahead for the exact menu, because they change periodically! This cafe is connected to a lovely resort on the lakeside that makes for the perfect family weekend.
This store offers basic necessities for your camp cooking, as well as a small restaurant with a delicious breakfast and lunch menu featuring Texas staples like breakfast tacos, cold cut sandwiches and more. This is also a great way to immerse yourself with the local old timers of the lake, as this place serves as a regular joint for many!
This delicious bar and restaurant is known for their laid back atmosphere and their delicious menu including steak, chicken fried steak, pizza and more. Come here on a Friday night to feel a sense of community with the locals, meet some great people and have a delicious meal. This bar is also smoker friendly. Friday is steak night so plan accordingly!
Not interested in east Texan homestyle cooking? Pull into this joint for authentic and delicious Mexican food. This restaurant is Mexican, not tex-mex, and serves up delicious tacos, quesadillas, fajitas and more! The owner is also a wonderful classical guitar player, and if you are lucky he will play a small set while you eat. This restaurant sometimes hosts live musicians as well, often playing Texan folk.
---
to stay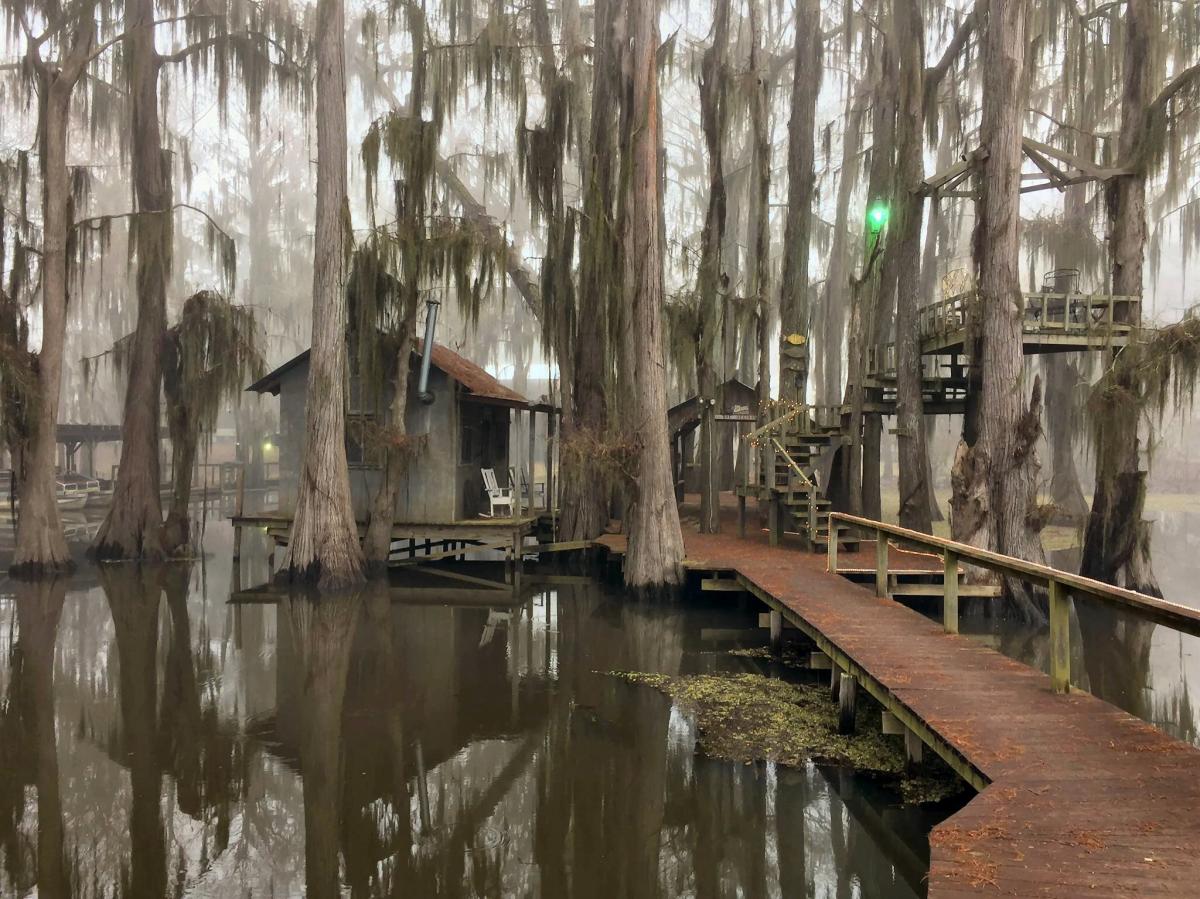 Photo courtesy of Spatterdock
Enjoy a quiet escape in a furnished cabin only 5 minutes from the state park entrance! This country bed and bath includes full amenities such as a private bathroom, a queen sized bed, an extra mattress for 2 kids, TV, central A/C and heat, fishing equipment, cookware, a fire ring and much more. Perfect for two adults and up to two kids, you can experience affordable luxury without a long drive to the bayou.
This cabin-site comes equipped with WIFI, A/C, free canoe access, and lake access without leaving the property! Each cabin comes with kitchens, fishing piers, and a range of cabin sizes for many families to enjoy. Immerse yourself in the natural wonder without leaving behind modern day comforts.
Have a large party? Spatterdock offers a range of vintage cabins that can house up to 12 people! These cabins come with complimentary canoe, row boat and kayak access, and are right on the lakeside under beautiful cypress trees. They even have a romantic honeymoon sweet. Cabins come equipped with pier access, a boardwalk, outdoor cooking and fire equipment, and more.
Relax and retreat at a large variety of cabins, ranch houses, rv lodging and more right on the water. The lodge hosts up to eight guests, while the other cabins host lodging for two people in the Mallard House to ten people in the Ranch House. Every house except the ranch is equipped with kayaks, life vests, a deck and a boat dock, and all rooms come with internet and TV. This company also books through AirBnB, giving you ease of booking and security.
Enjoy affordable, clean, carefree lodging right on the water. Their selection of four cabins and cottages is notably clean-- perfect for immunocompromised guests as they sanitize in between each stay. The cabins also offer bird watching and private boat tours upon reservation. Amenities include WiFi, central A/C and heat, a screened porch, TV, a grill, and kayak access within walking distance.
This bed and breakfast offers comfortable, rustic ambiance that brings southern hospitality to you! They offer breakfast every day from 7:00-9:00AM, and a selection of beautiful and quaint cabins right on the lakefront. If you are a small party looking for a relaxing stay with accommodating staff, this is the place for you!
---
you may also like