In a state filled with an endless amount of great burgers, tacos, Tex-mex, and fried chicken, it can sometimes be hard to find a healthy alternative, and a go-to salad spot. So, we have rounded up some options to help you out! 
Updated August 2022
---
The Emerald Kale & Rotisserie Chicken Salad is so widely talked about around town, it's almost impossible not to love! It's made with fresh mint, roasted peanut vinaigrette and grated Reggiano. The Macho Salad is another huge hit in the Dallas food scene, and it's comprised of roasted chicken, avocado, dates, toasted almonds, goat cheese and corn. You can't go wrong with either!
HIGHLAND PARK VILLAGE | DIRECTIONS
---
If you love toppings on your salad, the Hudson Salad is for you. With popcorn chicken, avocado, cherry tomatoes, bacon, sharp cheddar and green goddess dressing, it's so delicious, you may even forget it's a salad you're eating. If you want something with a little different flavor, try the Beverly! Some of the delicious toppings include grilled shrimp, hearts of palm and crispy shallots.
MULTIPLE LOCATIONS | LOVER'S
---
The Thai Noodle & Chicken Salad
HILLSTONE
The Thai Noodle & Chicken Salad is unique blend of rotisserie chicken, mango, chopped peanuts, basil and mint. You can choose to get it with a prime seared filet, or you can get it without protein. It's delicious -- especially if you pair with the spinach and artichoke dip before!
photo curtesy of Hillstone
---
THE GRILLED CHICKEN CHOPPED
HG SPLY CO.
This loaded salad comes with everything and more! It has crispy uncured-cherry smoked pork belly, pecorino romano, egg, tomato, pickled sweet peppers, shredded carrots and crispy shallots. And if you're looking for a little something different, we also highly recommend the shaved brussels salad!
MULTIPLE LOCATIONS | GREENVILLE
photo courtesy of HG Sply Co.
---
Brussels Sprout Salad
DOC B'S
It's another brussels sprout salad but for a good reason! These brussels come with a little bit of kale and marcona almonds, basil vinaigrette and parmigiano reggiano. This is one of their eight salad options, so if you're looking for something lighter or heavier, they have other great salads to try!
photo courtesy of Doc B's
---
TACO SALAD
DOCE MESAS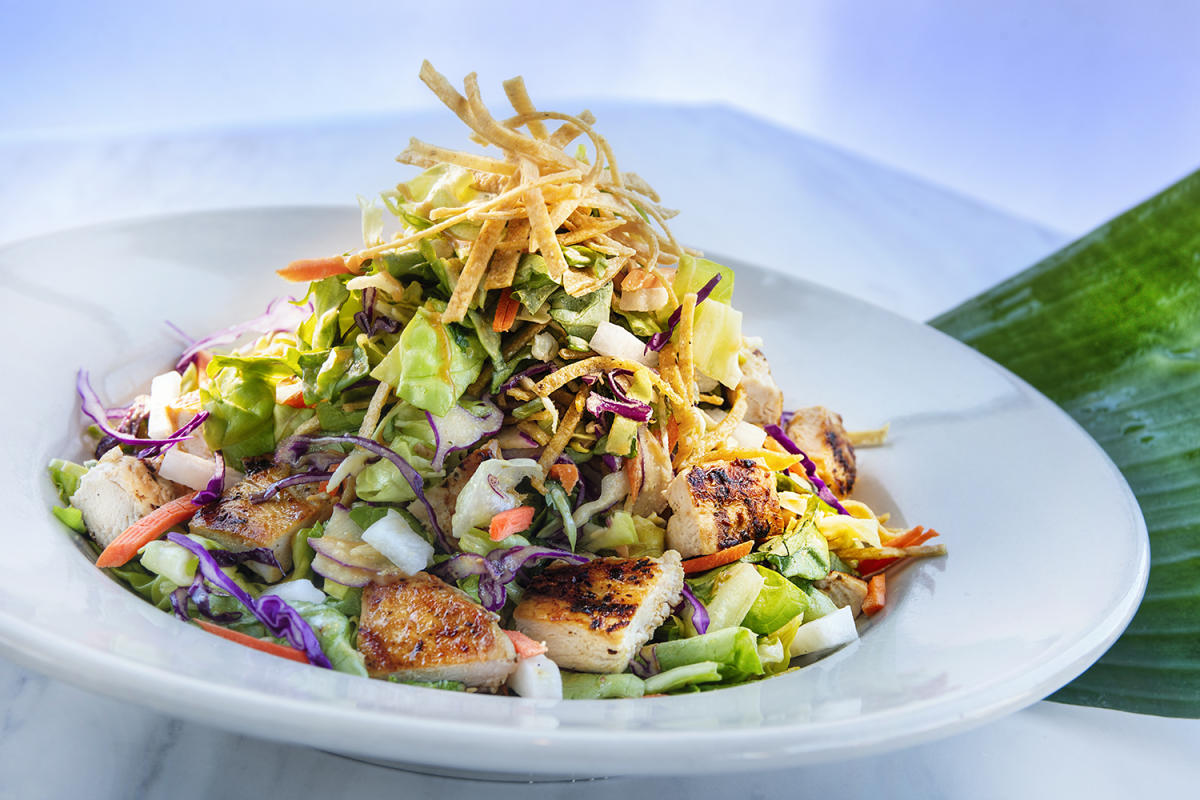 Craving Mexican food but not a taco? Try the fan-favorite Doce Mesas taco salad. This fresh salad is the perfect Tex-Mex salad option filled with lettuce, roasted corn, beef picadillo, avocado, cheese, tostaditas, tomatoes, and topped with a homeade vinaigrette. If you are craving chicken in your salad, order the Chin Chin salad, pictured above. It is the perfect afternoon pick-me-up! 
photo courtesy of Doce Mesas
---

SALAD-FORWARD RESTAURANTS
---