In a state filled with an endless amount of great burgers, tacos, Tex-mex, and fried chicken, it can sometimes be hard to find a healthy alternative or a go-to salad spot. So, we've rounded up a list of salads that are guaranteed not to bore, to refer back to when you're craving those leafy greens!
Updated June 2023
---
Brussel sprout salads have become super popular and for good reason! This popular spot has one of our faves, with brussels as the star of the salad, paired with a little bit of kale and Marcona almonds, basil vinaigrette, and parmigiano reggiano. This is one of their eight salad options, so if that's not your salad vibe, they have other great ones to try!
Multiple locations | See locations
Craving Mexican food but not a taco? Try the fan-favorite Doce Mesas Taco Salad! This fresh salad is the perfect Tex-Mex salad option filled with lettuce, roasted corn, beef picadillo, avocado, cheese, tostadas, and tomatoes, all topped with a homemade vinaigrette. It's the perfect afternoon pick-me-up and a great way to get your Tex-Mex fix in a lighter way!
Highland Park | Directions
 

This loaded salad comes with everything and more! It has crispy uncured-cherry smoked pork belly, pecorino romano, egg, tomato, pickled sweet peppers, shredded carrots, and crispy shallots. And if you're looking for a little something different, we also highly recommend the shaved brussels salad!
Multiple Locations | See Locations
The Thai Noodle & Chicken Salad is a unique blend of rotisserie chicken, mango, chopped peanuts, basil, and mint. You can choose to get it with a prime-seared filet, or you can get it without protein. It's delicious -- especially if you pair it with the spinach and artichoke dip before!
Park Cities | Directions
 
The Emerald Kale & Rotisserie Chicken Salad is so widely talked about around town, it's almost impossible not to love! It's made with fresh mint, roasted peanut vinaigrette, and grated Reggiano. The Macho Salad is another huge hit in the Dallas food scene, and it's comprised of roasted chicken, avocado, dates, toasted almonds, goat cheese, and corn. You can't go wrong with either!
Highland Park Village | Directions
 

If you love toppings on your salad, the Hudson Salad is for you! With popcorn chicken, avocado, cherry tomatoes, bacon, sharp cheddar, and green goddess dressing, it's so delicious, you may even forget it's a salad you're eating. If you want something with a little different flavor, try the Beverly! Some of the delicious toppings include grilled shrimp, hearts of palm, and crispy shallots.
Multiple locations | See locations
 

The Kale Salad: Frisee, Toasted Chickpeas, Fennel, Feta, Pickled Onion, Lemon Honey Vinaigrette
Lower Greenville | Directions
Salmon Kale Caesar: Blackened Atlantic Salmon On A Kale And Romaine Caesar Salad With Jalapeño-grit Croutons And Shaved Parmesan
Knox | Directions
Hearts of Palm: Romaine, Hearts Of Palm, Sliced Avocado, Grapefruit, Hawaiian Sea Salt, And Garlic Citrus (pictured)
Snider Plaza | Directions
The Buddha: Crunchy Kale With Sweet Potatoes, Quinoa, Broccoli, Almonds, Sprouts, Avocado, Lemon, And Vinaigrette 
The Southwest: Beyond Meat Tossed with Jicama, Pico, Black Beans, Roasted Corn, Avocado, And Salsa Ranch
Deep Ellum | Directions
The Picnic Salad: Dried Cherries, Spiced Pecans, Swiss, And Bacon With Balsamic
Multiple Locations | See Locations
Crispy Chicken Ranch: Tomatoes, Bacon, Egg, Cheddar, Avocado, Green Onion, Ranch
Honey Mustard Crispy Chicken: Greens, Shaved Cabbage, Carrot, Cucumber, Toasted Almonds, Orange, Avocado, Green Onion, Honey Mustard Vinaigrette
Victory Park | Directions
Avocado & Quinoa Superfood Ensalada: Chopped Romaine, Curly Kale, Quinoa & Millet, Housemade Superfood Crunchies, Succotash With Roasted Corn, Black Beans & Jicama, Red Onions, Cilantro, Cotija Cheese, Grape Tomatoes, Avocado With Chipotle Vinaigrette
Multiple locations | See locations
Cazera: Jalapeño, Ranch Romaine, Mixed Greens, Applewood-smoked Bacon, Red Onion, Grape Tomato, Roasted Corn, Queso Oaxaca, Tortilla Strips, Avocado Vinaigrette
Multiple locations | See locations
The Rico: Sliced Fajita Chicken Over Romaine, Aged Cheddar Cheese, Tomato, And Bacon Or Chopped And Tossed "Ricardo Style"
Multiple Locations | See Locations
Caesar: Award-Winning Croutons, Parmesan, Arguably The Best Caesar Dressing You Have Ever Had
Oak Lawn | Directions
The Workshop: Creminelli Salami, Provolone, Red Onion, Roasted Pepper, Bacon, Olive, Tomatoes, Pepperoncini, And Balsamic Vinaigrette
Multiple locations | See locations
Salad Niçoise: Mixed Greens, Roasted Potatoes, Haricot Vert, Tomatoes, Capers, Onions, Niçoise Olives, and Sesame-seared Ahi Tuna
Inwood Village | Directions
The Ranch: Romaine, Arugula, Red Grape Tomatoes, Cucumber, Cheddar Cheese, Bacon, And Avocado
Spinach Salad: Spinach, Sliced Strawberries, Dried Cranberries, Candied Almonds, Goat Cheese, And Lemon Basil Vinaigrette
Heath | Directions
The Silver Bowl: Romaine, Bacon Bits, Grapes, Orange Slices, Red Bell Pepper, Spicy Chicken, Balsamic Vinaigrette, and Caesar dressing
State Thomas | Directions
Sprouts and Squash: Roasted Brussels, Maple Glazed Butternut, Kale, Farro, Cauliflower, Quinoa, Golden Raisin, Fig, Pumpkin Seed, Candied Pecan, Pecorino, Mustard Vinaigrette
Uptown | Directions
Texas Baja: Romaine, Black Beans, Corn, Cucumber, Mango Vin, Red Bell Peppers, Oaxaca Cheese, Onion, Blackened Chicken Breast, Avocado Slices, And Tortilla Strips
State Thomas | Directions
Black & Blue: Spring Mix, Moody Blue, Asparagus, Cranberries, Bb-q Cashews, Roasted Corn, Heirloom Tomato, Pickled Red Onion, Cucumber, Honey-mustard Vinaigrette
Downtown | Directions
---
QUICK & CASUAL SALAD SPOTS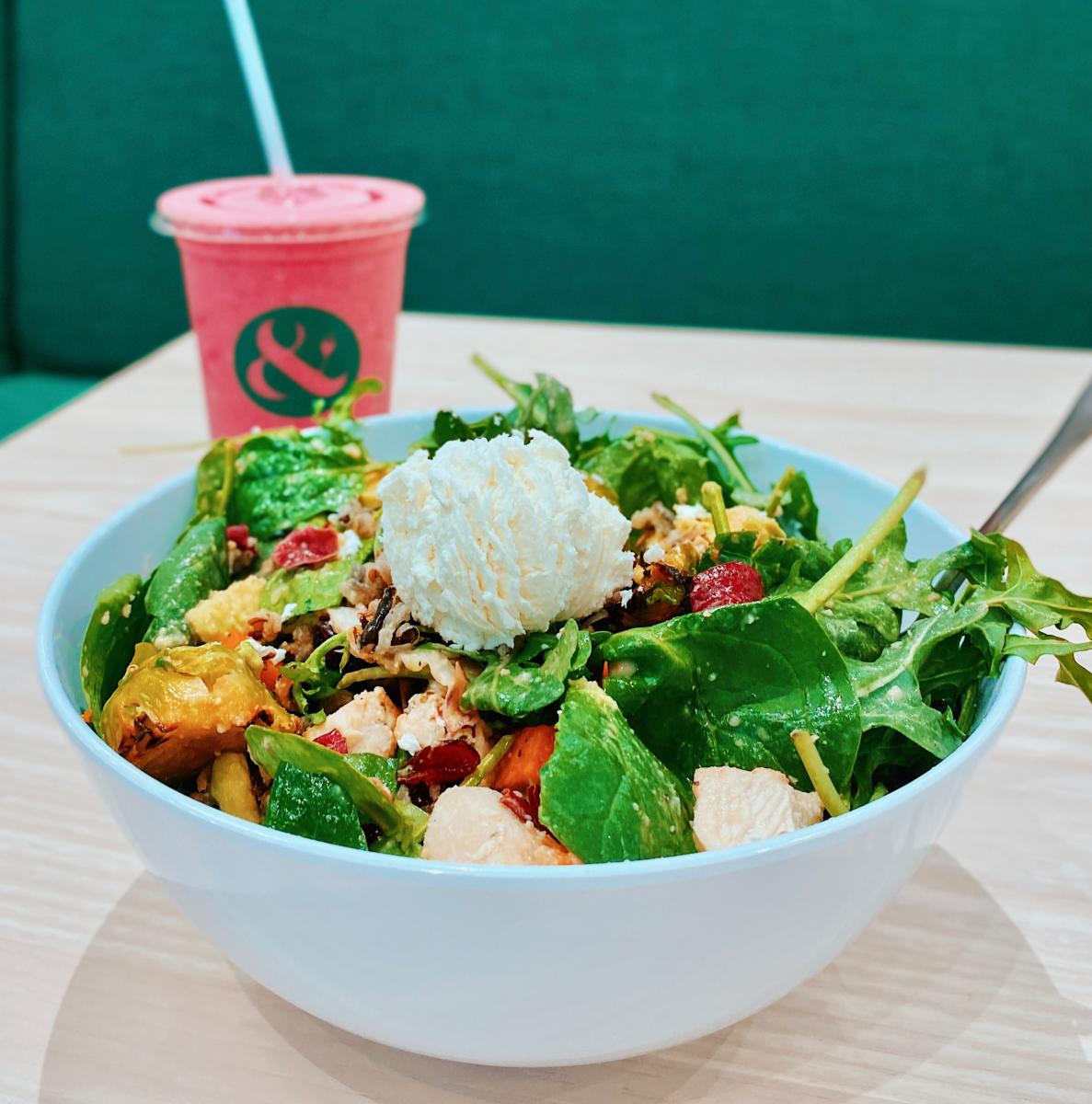 Multiple locations | See locations
Downtown | Directions
Snider Plaza | Directions (pictured) 
Multiple locations | See locations
Preston Hollow Village | Directions
Multiple locations | See locations
Multiple locations | See locations
Downtown | Directions