If you're a fan of Thai food, then you cannot miss the gastronomic gem that is the weekly Sunday Thai Street food market at the stunning Buddhist Temple, a beautiful sanctuary in North Dallas. The Thai Market is filled with street food, desserts, gifts, teas and more. We stopped by and had an amazing culinary and cultural experience!
Updated June 2023
---
Every Sunday from 9am-3pm, the backside of the Temple fills with more than a dozen food stalls cooking up all sorts of authentic and unique Thai dishes. Everyone is so welcoming and excited to share their authentic Thai street foods! We sampled many dishes, some we were familiar with, like steamed pork dumplings, and others, like a tapioca peanut ball, we'd never tried before. It's been a weekly tradition for over a decade and still going strong, with some stalls running out of food before noon even hits so pro tip: GET THERE EARLY! ⏰

Another pro tip: it is CASH ONLY! 💵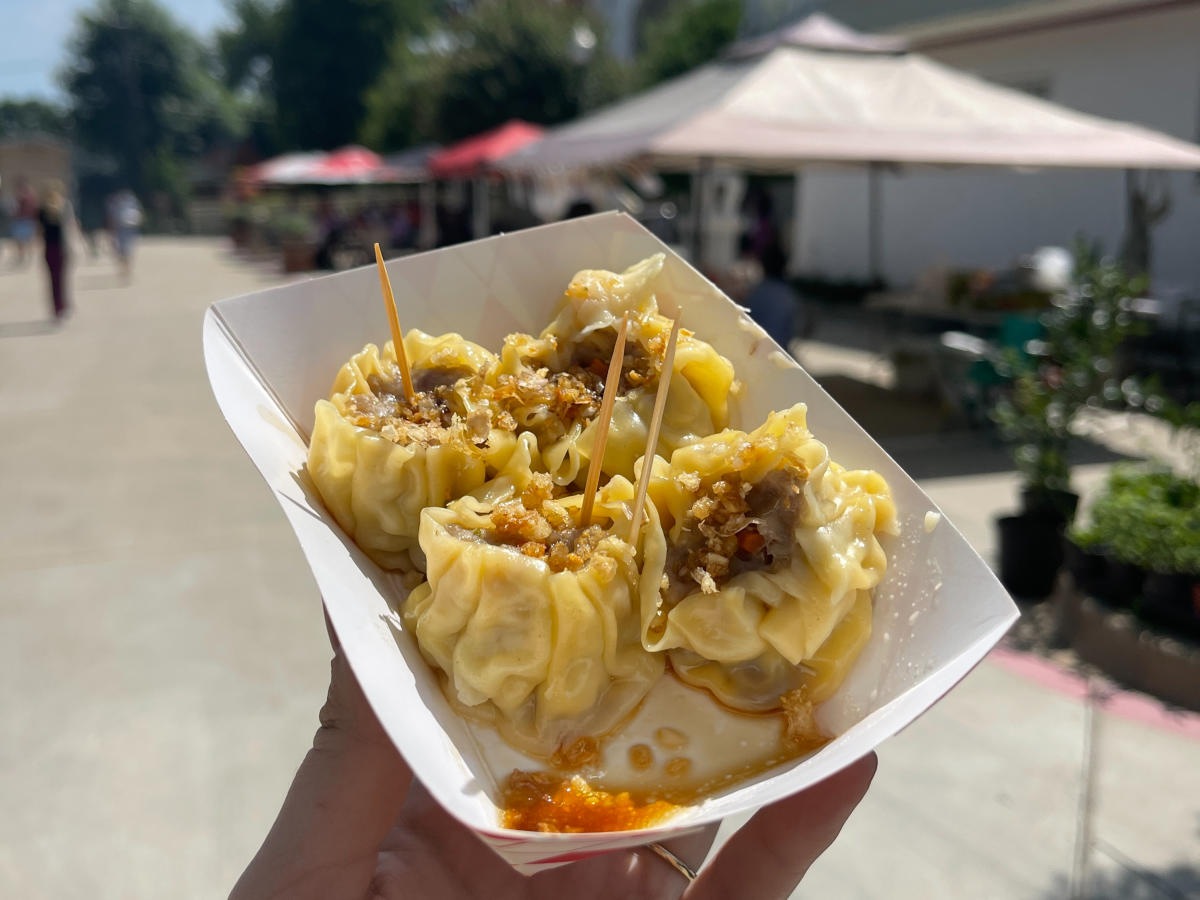 THE STALLS
Run by members of the Temple, proceeds from the market go back to the Temple so it's a volunteer operation that's filled with a lot of community and love. Everyone is lovely and the food being served is so authentically Thai, that you may not find some of the dishes anywhere else in the city. 
Also be sure to dress accordingly, there is some shade but the market is held outdoors. 


FOODS TO TRY
🥭 Mango Sticky Rice
🌶️ Papaya Salad 
🥓 Pork Skewers
☕️Thai Coffee
🌿Basil Chicken
🌭 Spicy Sausage
🍍 Pineapple Rice
🍜 Boat Noodles
🐟 Fish Cakes


& THEN PICNIC
After grabbing a few different dishes, you can grab a table next to the market but we recommend walking to the Temple gardens which are beautifully manicured, to take in the scenery while snacking in a shaded spot. Once you gather your many dishes (it's hard to resist not filling your arms to the brim with goodies), head to the koi pond and garden area to find a beautiful setting to enjoy! A hit for kids too!


THE TEMPLE
You may see monks walking around while on the grounds. You can go inside and see the stunning art and you can even get involved with the Temple! If interested in learning more about Buddhism, they host a Western discussion in English every Wednesday at 7pm after chanting and meditation. 


MAKE YOUR PLANS!
It's easy to put off going as the market happens each and every Sunday but it is truly such an amazing thing that we have in Dallas. It allows you to interact with an amazing culture, support the Buddhist Temple and its community, and all while eating some INCREDIBLE food!
LOCATION