Whether you're visiting Dallas, new to the city, or a longtime resident, you may be wondering what's up with the vintage trolleys that run throughout Uptown! We've got The 101 to The M-Line Trolley, McKinney Avenue's historic streetcar system!
Updated March 2023
---
The M-Line Trolley is a free vintage streetcar system that runs 7 days a week throughout Uptown and the Arts District Downtown and provides 500,000 rides per year! The McKinney Avenue Transit Authority non-profit has operated the M-Line since 1983 to provide safe, reliable, and convenient transportation from West Village to Downtown.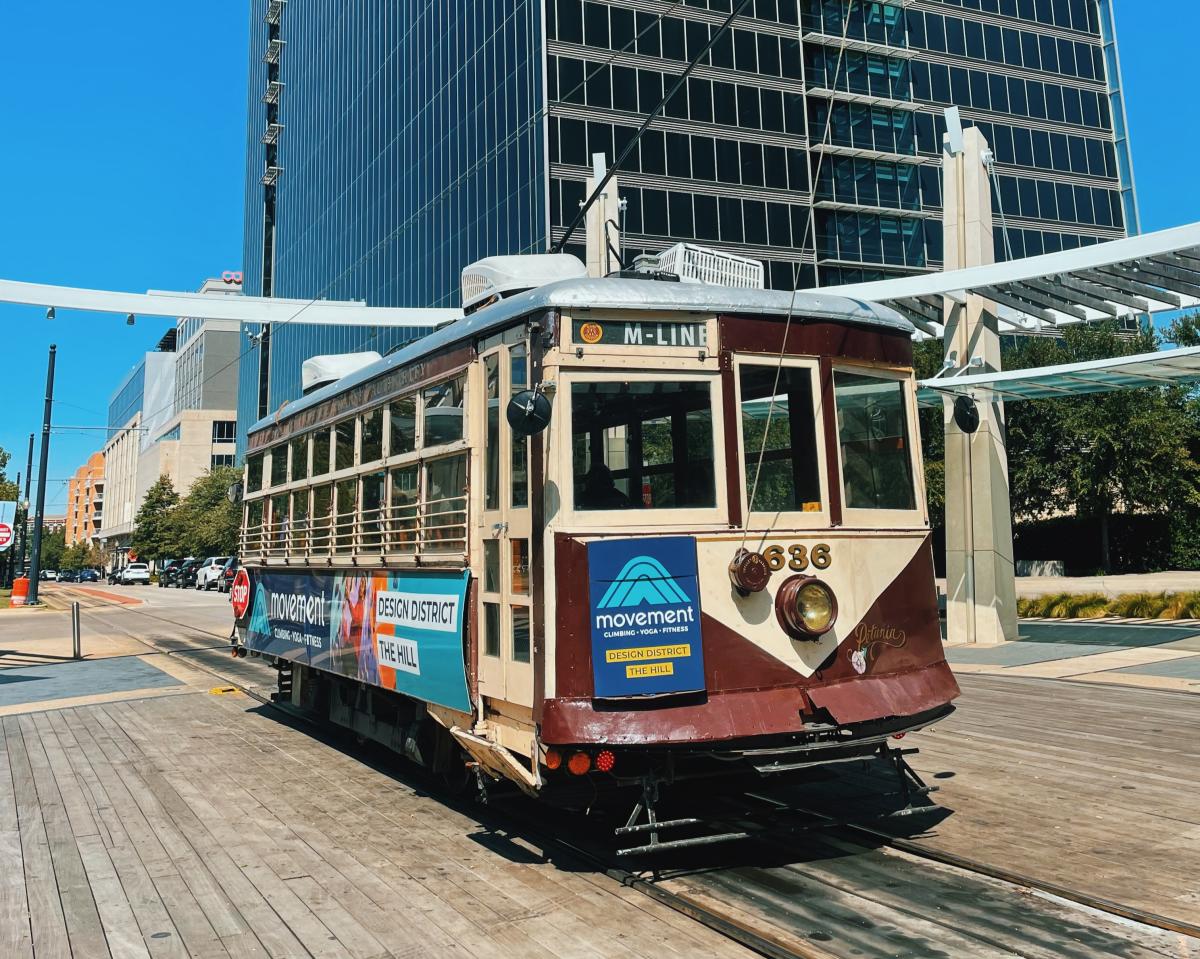 HOW TO RIDE THE TROLLEY
We've heard people wondering how to ride the trolley – we've got you! The trolley is free to ride, but "name your fare" is also encouraged. You can make a donation online, or on one of the trolley cars!
Ready to hop on? Simply find one of 38 stops around town, marked by a round maroon sign and wait for a trolley! You can also track the trolley on their Live Trolley Tracker, or find the stops on their route map. When a trolley approaches, wave at the driver and they'll pick you up! When you want to hop off, ring the bell or overhead string in your row and the car will stop at the next available stop.
SCHEDULE
The trolley runs 365 days a year, with three cars running on most days. They even keep the M-Line running on holidays and during ice storms! Fun fact: during ice storms, cars run 24 hours a day to prevent the wires from freezing. The trolley cars typically arrive at stops every 17 to 20 minutes, and riding the entire route take about an hour. We recommend riding the entire route if you're looking for a fun way to see the city, almost like your own hop on hop off tour! The trolley runs from 7am to 10pm Monday through Thursday. On weekends cars begin running at 10am. If you're out on the town Friday or Saturday, you can skip ordering an Uber – the cars run until midnight!
WHY SUPPORT THE M-LINE?
The trolley, our free community amenity, contributes to sustainability, economic equality, street safety, and education in Dallas! It's also a super cute photo op and a great way to explore Dallas or change up your commute.
CHARTER A TROLLEY
If you've ever rented a party bus or wanted to, we have a unique alternative! You can rent out a trolley for any occasion like birthday parties, company events, or even proposals and wedding send-offs! Your group can book the trolley and ride around town in style, snap photos, and even bring your own drinks and decor. We chartered a trolley for our holiday party and it was a blast!
EVENTS
The M-Line hosts fun events year round, but their largest event is Taste of the Trolley! The annual gala features food stations from local restaurants, a silent and live auction with prizes like artwork, autographed memorabilia, day trip packages, or even all-inclusive getaways. Every holiday season you can also hop on the M-Line's Holiday Express, where you can see Christmas lights, learn about historical landmarks, and even sip hot cocoa. This is a great option for families with little ones! This year you can also check out the Bach on the Trolley event, with classical musicians playing on every car.
VOLUNTEER
The trolley takes volunteers year round! You can be trained as a Motorman or Conductor to operate one of the cars, help restore and maintain the vintage trolleys, help with fundraising, and more. Members of the 101 team have helped with anything from marketing to decorating trolleys for the Holiday Express! Head to their website for more information.
M-LINE ROUTE & OUR FAVE STOPS
The trolley runs up and down McKinney Avenue for the majority of the route, all the way up to Blackburn Street at the West Village and back down to Federal Street Downtown.
NEIGHBORHOODS
ATTRACTIONS
HOTELS
RECREATION
EATS & DRINKS
Honest Taco
Save this article for when you need a ride, or are just looking for something fun to do around Dallas! Header image courtesy of the McKinney Avenue Transit Authority.
---
YOU MAY ALSO LIKE